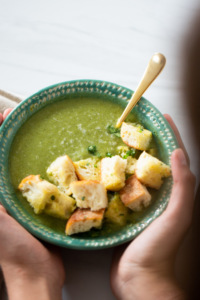 My favorite broccoli soup with spinach, cilantro, and croutons… can't beat this broccoli soup. I have to confess that I was not a soup lover growing up and there was always soup for lunch or dinner. For me, the worst ones were the ones, which had some broth in them. I could manage the creams but the broths….? When I started cooking my food, that story changed… I became a soup lover!!!!Especially when I can top my soups with croutons and crunchy toppings. Croutons are so easy to make and so delicious that you have to be careful not to become obsessed with them. This soup…

Never miss a recipe, subscribe.
Never miss a recipe, subscribe.