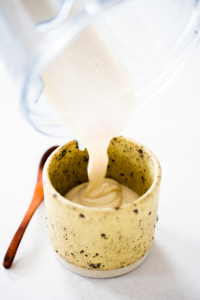 If you close your eyes and think of Mexican food… I imagine that you would see a delicious plate with a dollop of cream on top. Right? Always on enchiladas, quesadillas, tacos… Everything has cream on top. That's why I make my vegan Mexican crema. It's so delicious and only has four ingredients…WHAT?! Crazy, right? 🙌🙌The other day I made, and when my daughter Sofia tried it, she said, " Wow… this tastes like Mexico." The kids were so happy putting a spoonful of vegan crema on top of everything that they ate this week. And the best part about this vegan Mexican crema how…

Never miss a recipe, subscribe.
Never miss a recipe, subscribe.