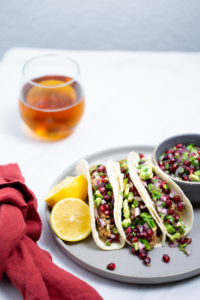 These vegan tacos with pomegranate salsa look super Christmassy, but they are perfect all year round. I'm pretty sure that when you try them, you'll love them immediately and the salsa will be on your favorite Mexican food list forever. The salsa inspiration comes from Kelly from the blog Nosh&Nourish. I have introduced her work to you through Instagram. Do you remember? Last month, I joined team Nosh&Nourish, this is my second recipe, and I'm loving being part of the team. Kelly asked me for this month's recipe some tacos with pomegranate salsa. I liked the idea of the salsa, but I also loved the…

Never miss a recipe, subscribe.
Never miss a recipe, subscribe.