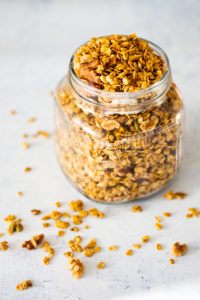 This year has gone by so fast, it just flew by don't you think? I feel like we went from eating watermelon to pumpkin dishes. This pumpkin pie granola is one of my favorite things to eat during fall. It is so easy to make and your home will smell delicious. Just like fall, Thanksgiving and all those great memories that get triggered by the pumpkin pie smell. I love fall, the cooler breeze, the flavors, and warm meals. Fall, in my opinion, has one of the best climates of the year. I truly believe it is amazing in every way. The ingredients that I…

Never miss a recipe, subscribe.
Never miss a recipe, subscribe.