The dog in your life will love these 3-Ingredient Dog Treats. They're made with sweet potatoes, whole wheat flour, and peanut butter, making them vegan, healthy, and easy to make! This is Miko, our dog, and this is the recipe for his favorite homemade peanut butter dog treats.
I have to confess that I spoil him a lot, and he definitely knows it. Any time I make these easy dog treats, he gets so excited. It's adorable! Miko is allergic to certain foods, so these vegan dog treats with simple, real ingredients are a safe and healthy treat for him.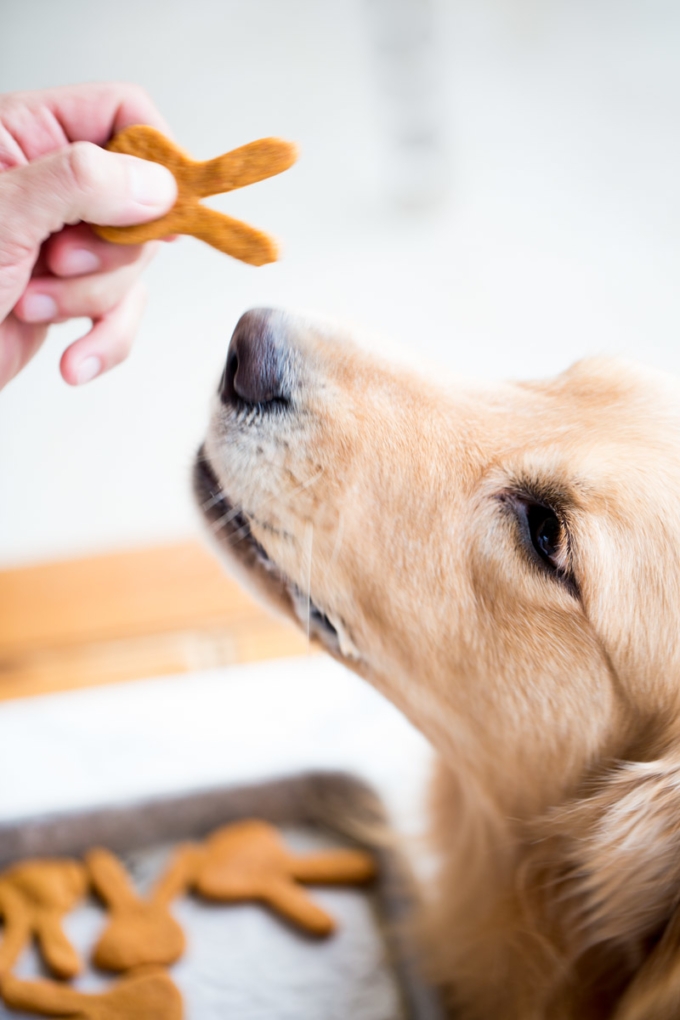 Reasons to make these homemade dog treats
Only 3 ingredients. Yes, you only need 3 ingredients, and they're pretty much pantry staples.
Easy to make. The dough comes together quickly and it's easy to work with.
Vegan and healthy. This recipe uses real, wholesome ingredients so these treats are great for dogs with allergies or sensitivities to certain foods.
Freezer friendly. You can freeze the cookies or even the dough, so these treats can be ready in no time.
Ingredients for easy homemade dog treats
Sweet potato. You'll need to peel and cook your sweet potatoes until they are soft enough to mash.
Flour. I like to use whole wheat flour to keep these treats wholesome. You can also use all-purpose white flour if you prefer.
Peanut butter. Use unsweetened, natural peanut butter. Make sure it doesn't have any added sugar, salt or oil. Just peanuts.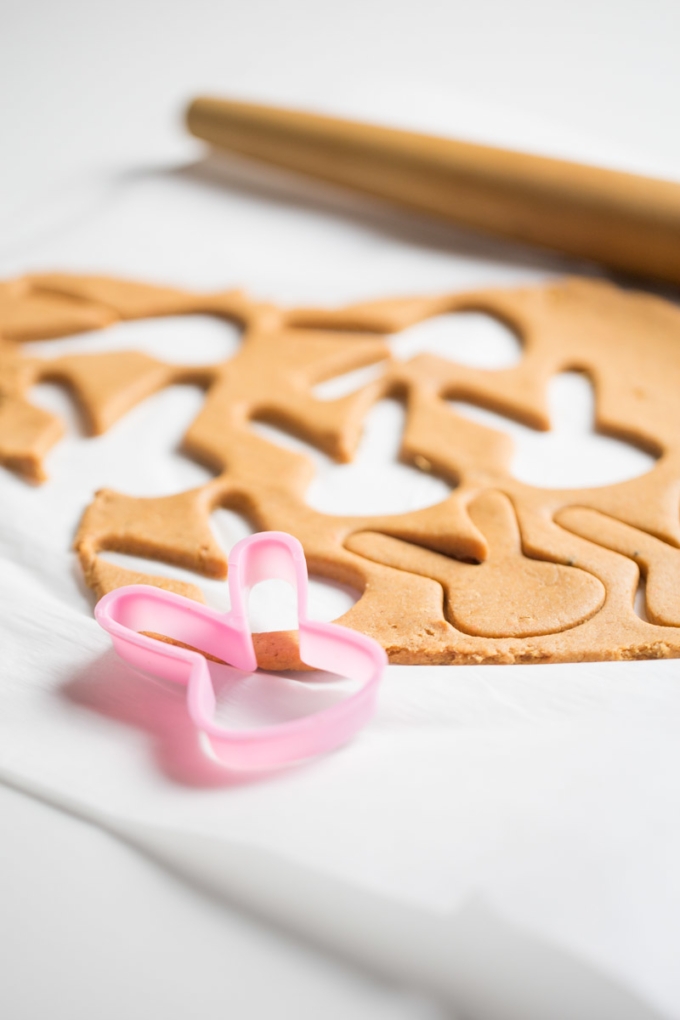 How to make dog treats with just 3 ingredients
Preheat your oven to 350ºF.
In a large bowl, mash the cooked sweet potato. Mix in the peanut butter and flour and mash everything together until well combined.
Use your hands to work the mixture into a soft dough.
Place a sheet of parchment paper or a silicone mat on your work surface.
Roll out the dough and use a cookie cutter to cut out the cookies.
Transfer the cookies (still on the parchment paper or silicone mat) to a baking sheet and bake for 35-40 minutes.
Remove the cookies from the oven and let cool for a few minutes before transferring to a wire rack to cool completely.
Storage and freezing tips
Storage: Store these dog cookies in an airtight container in a cool, dark place. They should last for about a week. You can also store them in the refrigerator for up to two weeks.
Freezing: Once the cookies have cooled, place them in an airtight container and freeze for up to 3 months. You can also freeze the dough. Just wrap it tightly in plastic wrap and store it in the freezer for 1-2 months. Let it defrost in the refrigerator before rolling out and cutting into cookies.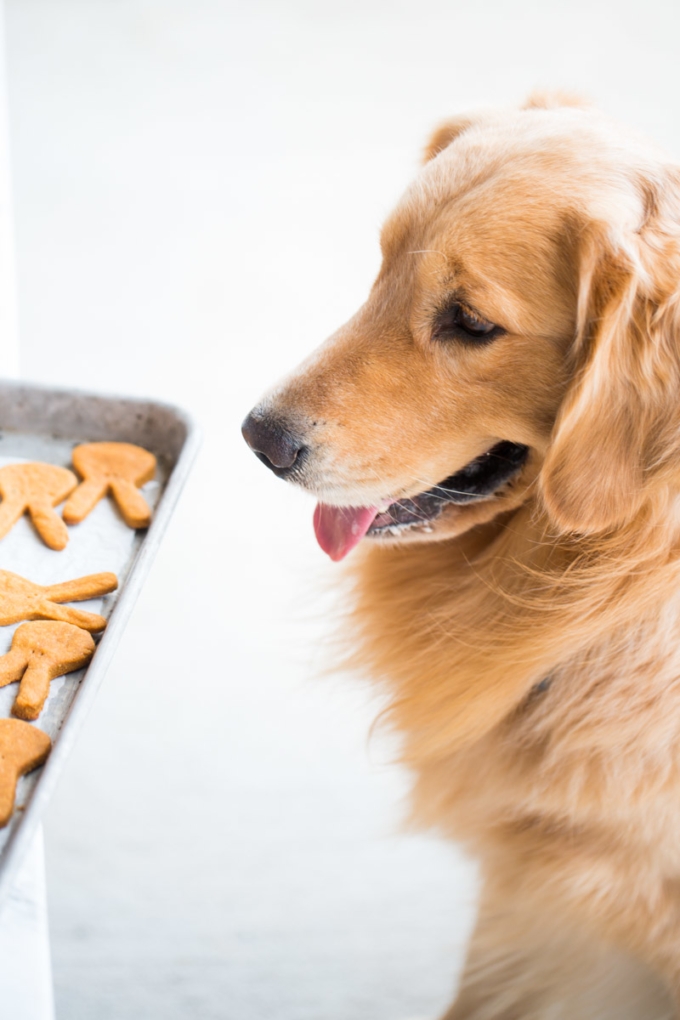 Additional recipe tips
You can boil or roast the sweet potatoes for this recipe. When I roast some for my family's dinner, I usually roast extra so I can make these treats.
You'll want to make sure the cooked sweet potatoes you use in this recipe are plain and unseasoned.
Use any cookie cutter that you have at home. I used a cute bunny cookie cutter, but if you have one that's shaped like a dog paw or dog bone, that would be super fun too.
To keep it simple, you can also just cut the rolled dough into squares. They don't need to be cut into shapes.
If you have any doubts about your dog eating the ingredients in these treats, you should consult your vet before making them.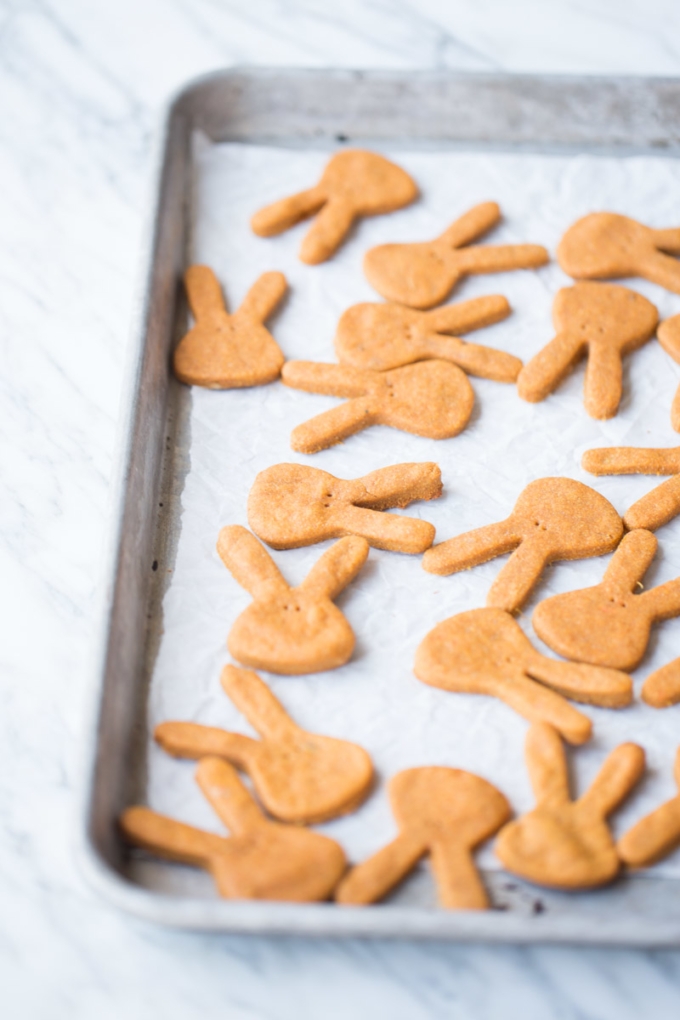 And pets really do become like our children and fill us with happiness just like the real ones (well … you know what I mean … there are times that maybe even a little more because they don't talk back and they obey you the first time 😳)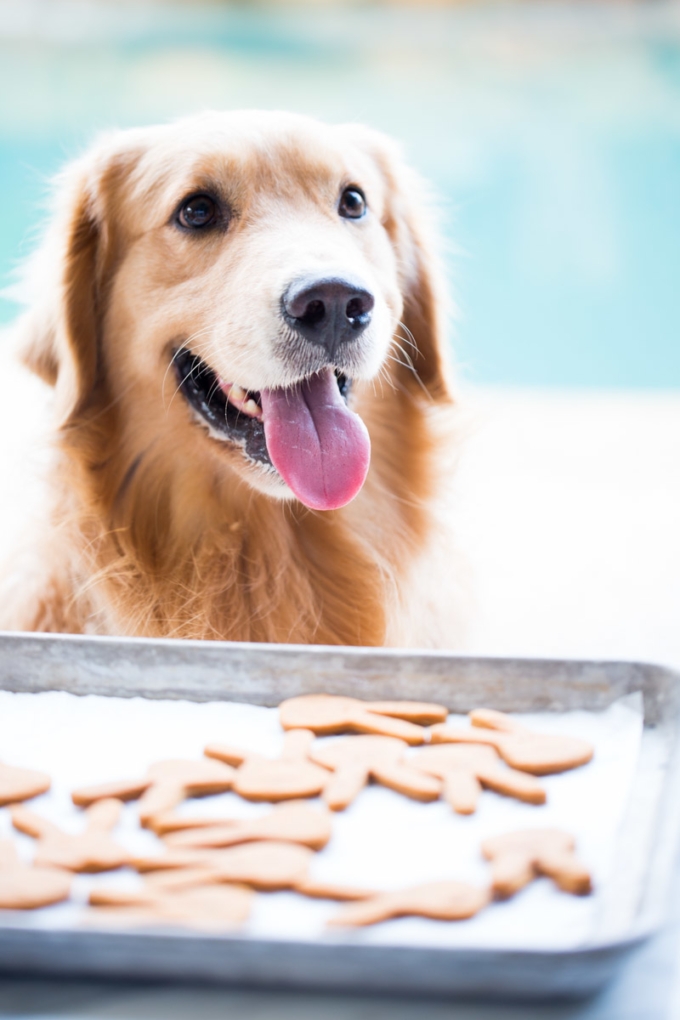 Miko is allergic to some foods. It took us a while to find a dry dog food that gave him no reaction. That is also why we give him apples, bananas, cucumbers; we want him to eat as real as possible. And well, now he has these homemade dog biscuits that he loves. Here are some tips and tricks so you can make the best homemade dog treats ever.
tips, tricks and other recipes
The day that I roast sweet potatoes for my family's dinner is the day that I roast sweet potatoes for Miko's dog biscuits.
Use any cookie cutter that you have at home, but if you have a dog paw cookie cutter or a dog bone shaped one, it would be extra cool.
These are my favorite sweet potato recipes: Sweet potato chips, sweet potato, and lentil enchiladas.
Store these vegan dog treats in the cool, dark place in a closed container.
You could also freeze half of the dough and bake the dog cookies later.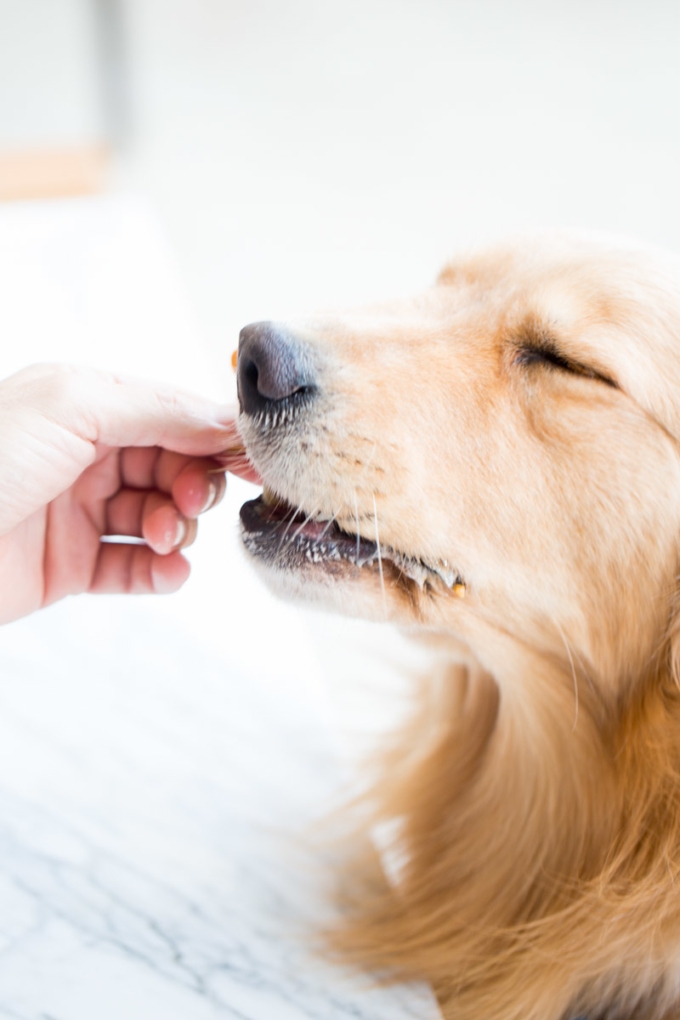 So here is the recipe for these 3-ingredient dog treats and as always, please SHARE the blog. It would be great if you post it on FB, Instagram with the @piloncilloyvainilla, I love to see your creation. If you want to make it later, save it on Pinterest.
It would also be fantastic and super helpful if you leave a comment and/or rating of this recipe in the comment section. Please feel free to write suggestions, ideas, or how it went when you made the recipe.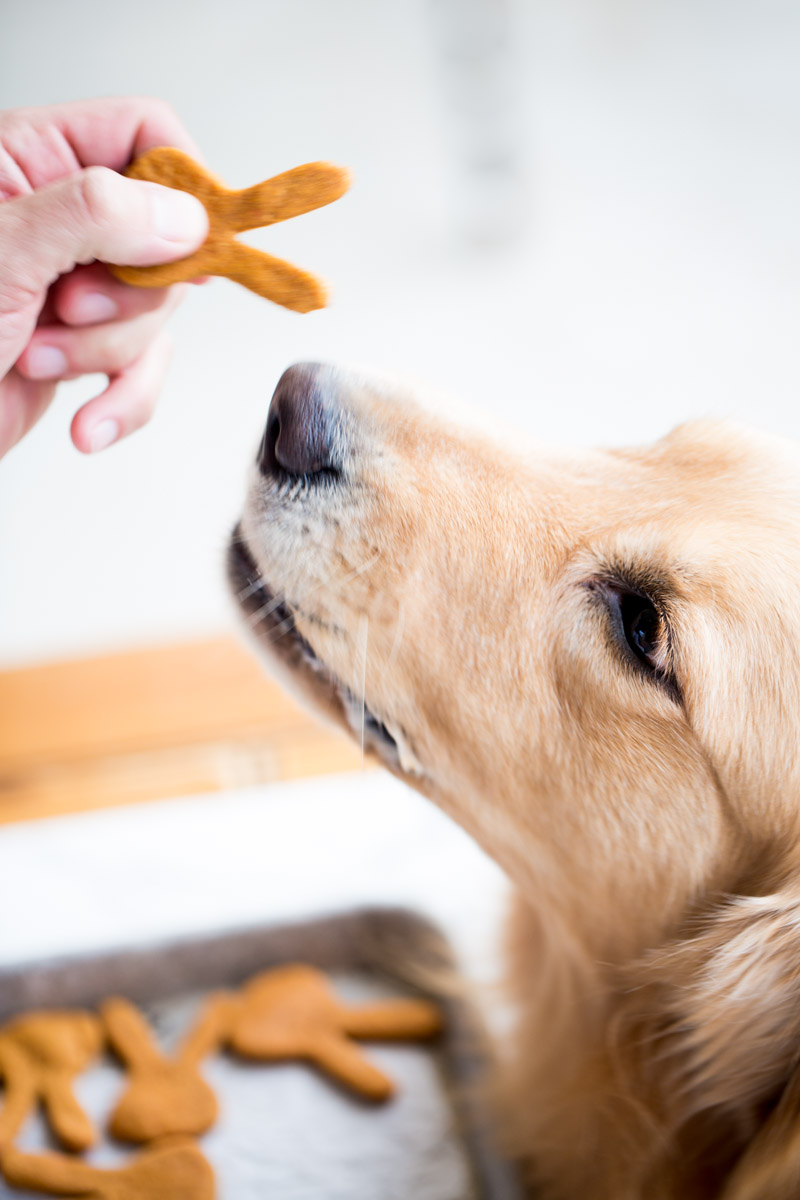 Dog treats
These dog treats only have three ingredients, are very easy to prepare, and best of all, your four-legged kid would love them.
Ingredients
1 1/2

cup

cooked and peeled sweet potato

1 1/2

cup

whole wheat flour

¼

cup

unsweetened peanut butter
Instructions
Preheat oven to 350ºF.

In a large bowl put the sweet potato and mash with a fork. Add the peanut butter and flour. Mix with the fork so that everything is well integrated.

Use your hands and mix to form a super soft dough.

Roll the dough on top of parchment or a silicone mat and cut into squares or with a cookie cutter.

Put the cookies on a baking sheet and bake for 35-40 min.

Remove from oven and let cool.
Notes
Store in a tightly closed jar in the pantry, they last about a week.
If you have any doubt about your dog eating these ingredients, consult your vet before making them.
Nutrition
Calories:
57
kcal
Carbohydrates:
10
g
Protein:
2
g
Fat:
2
g
Saturated Fat:
1
g
Sodium:
19
mg
Potassium:
128
mg
Fiber:
2
g
Sugar:
1
g
Vitamin A:
3363
IU
Vitamin C:
3
mg
Calcium:
10
mg
Iron:
1
mg
information
Nutritional information of this recipe is only an estimate, the accuracy for any recipe on this site is not guaranteed.