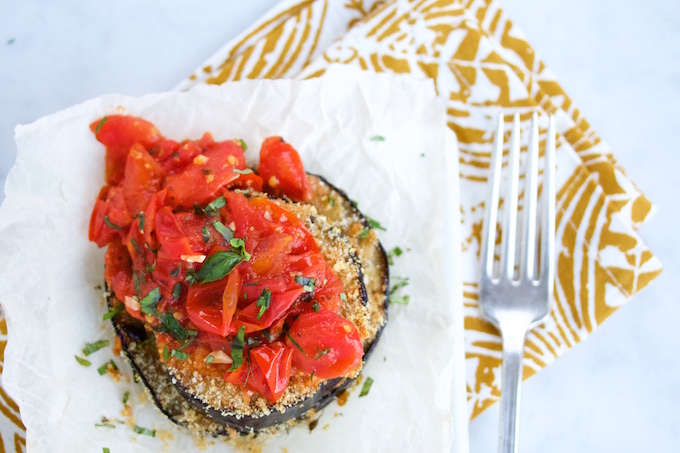 Eggplant and cherry tomatoes, just perfect together. Both are summer produce bounty and both taste great together or separately. I am super fan of the two, eggplants are one of the vegetables that have fewer pesticides. It is okay to eat everything, even the peel if they're not organic. If you think about it, in any type of cuisine you find them.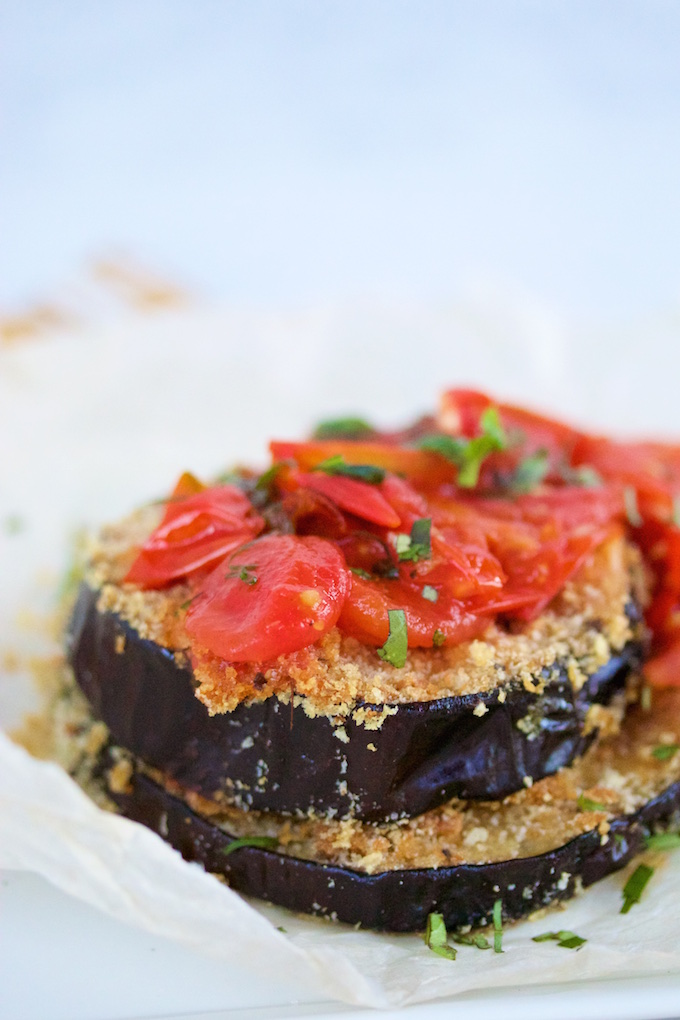 In the Mediterranean, in Japanese, in Italian, well … not sure if in the Mexican one. If you remember something that has eggplant in the Mexican cuisine please tell me. I do not remember, but either way I'm its number one fan.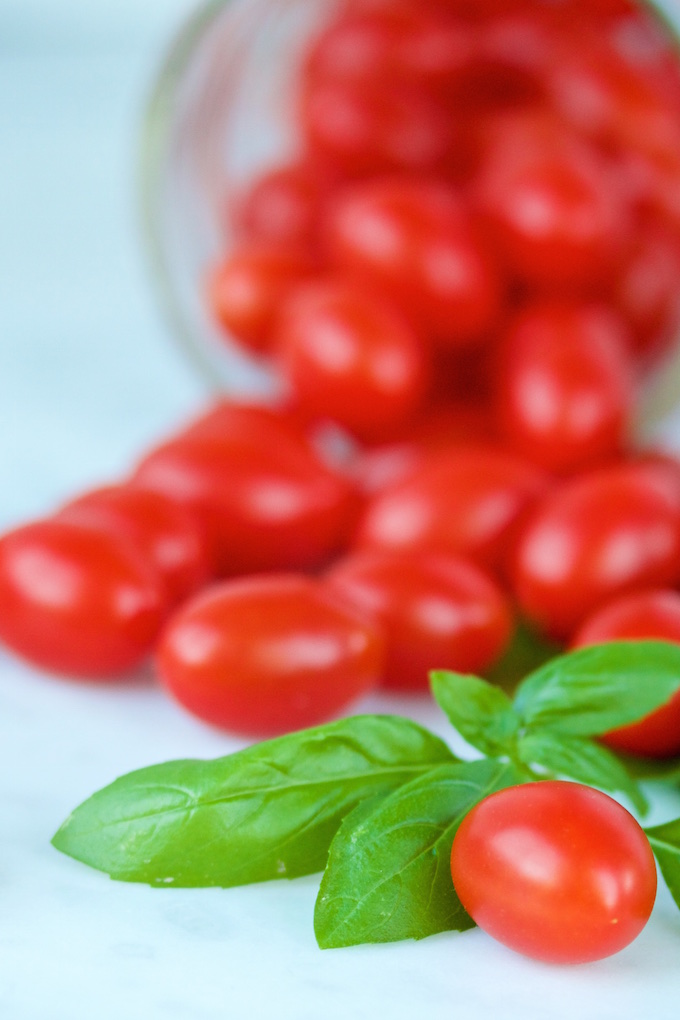 And tomatoes, no need to say I love any kind. I've tried to plant some types of tomatoes in our box of vegetables but have been unsuccessful attempts, they always end up with a plague, :(. But next summer I want to plant cherry tomatoes, a friend told me that they are much more noble than normal tomatoes. I have to try, besides these are better if they are organic.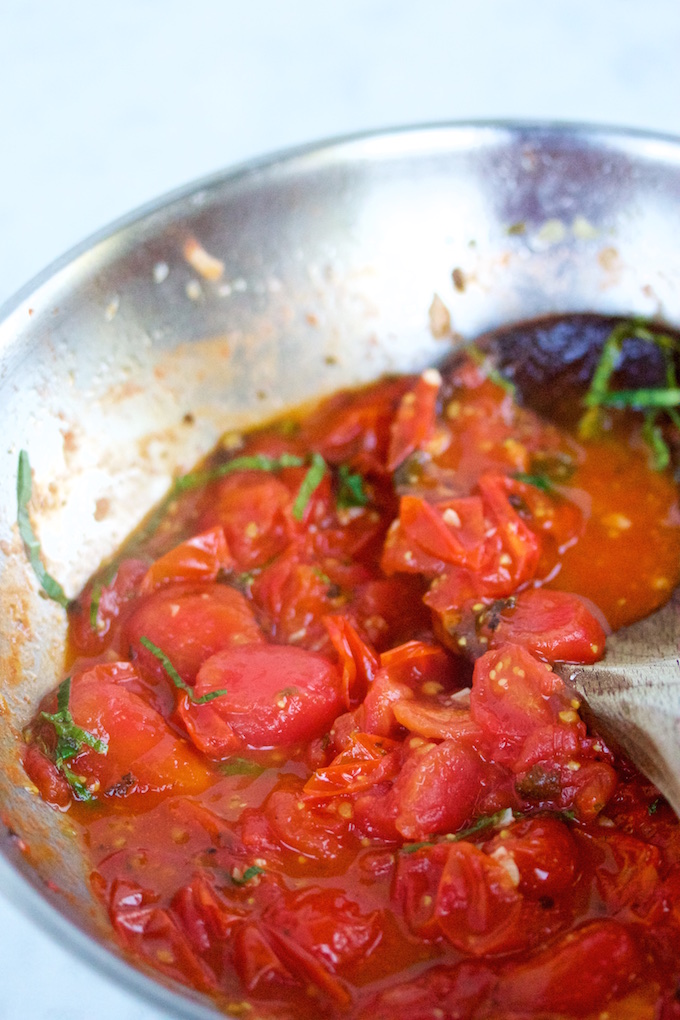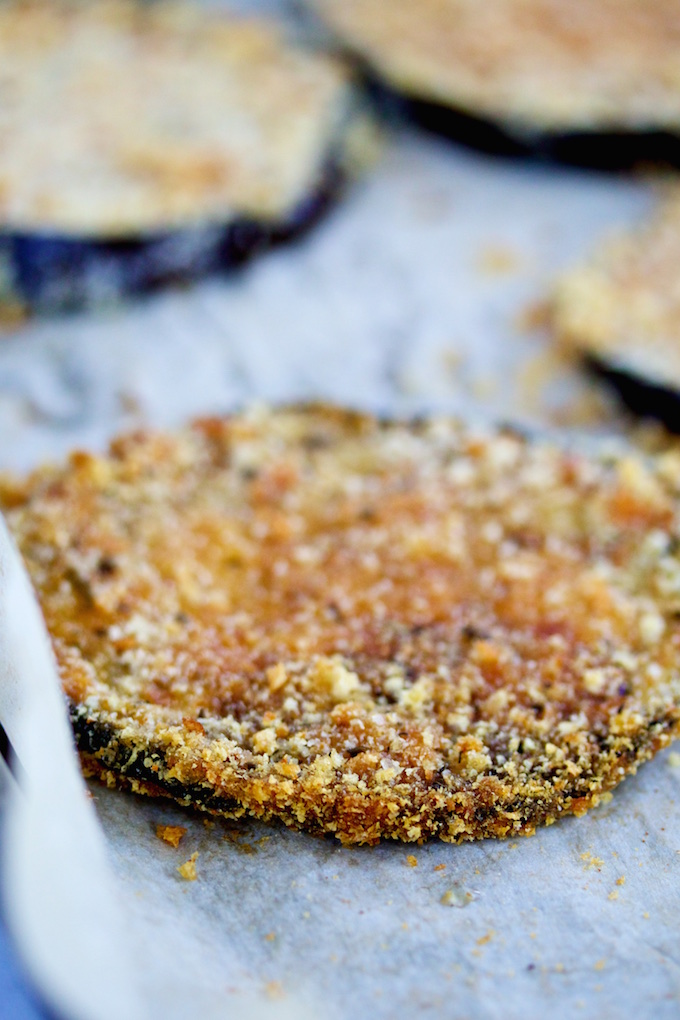 What it is great in the box of vegetables is basil, it is growing very well. But it has not yet reached the point in summer that I have not much that I don't know what to do with it. It happened to me with the mint, do you remember? I did mint pesto, mint dressing, etc. Since this summer I was very lazy planting new stuff in our bed, next year I want to plant more veggies and involve more the kids in this. If they have nothing to do they not spend hours in electronic devices and I hate it!!! I think it's something that we all parents struggle with this generation right?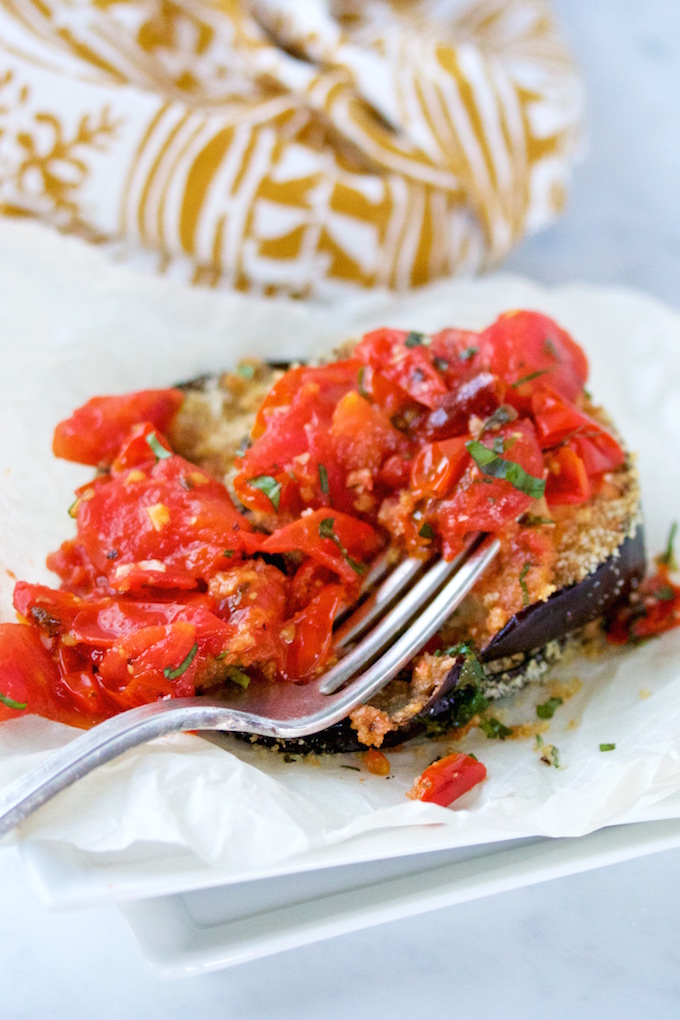 But hey, here is this recipe. I do not fry things, I don like this method and do not know how. So everything breaded or supposed to be fried, I just do in the oven. This recipe is perfect for summer when you have time. It takes almost an hour in the oven, but it is totally worth it. These cherry tomatoes sauce you can use it for whatever you want, pasta, sandwiches etc. If you like it please share, the recipe and the recipe blog.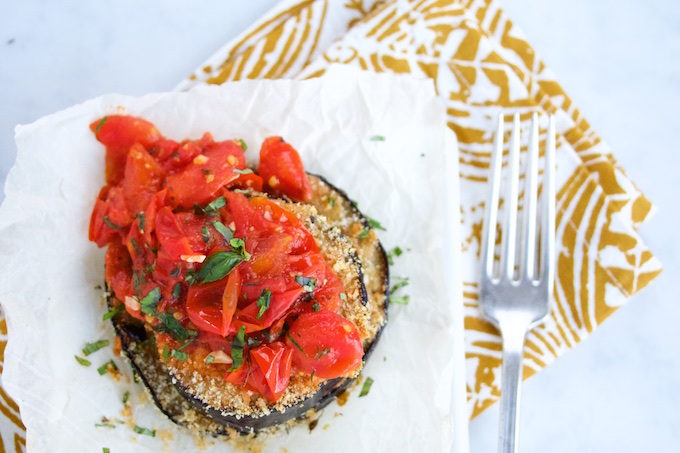 Baked breaded eggplants with cherry tomato sauce
Baked breaded eggplants with chunky cherry tomato sauce.
Ingredients
1

large eggplant

1

cup

bread crumbs or panko

1/2

teaspoon

dried oregano

1/2

teaspoon

salt

1/4

teaspoon

dried chili

1

teaspoon

garlic powder

4

tablespoons

Veganaise

300

g

. cherry tomatoes

2

cloves

garlic

minced

2

tablespoons

olive oil

1

teaspoon

oregano

10

basil leaves cut into strips
Instructions
Pre heat the oven to 350ºF .

Slice the eggplant into slices of equal width.

In a bowl mix the bread, oregano, salt, garlic powder and pepper. In a separate bowl put the Veganaise.

To each slice of eggplant add a little bit of Veganaise in a thin layer and then pass it through the breadcrumb mixture.

Put the slices in a baking dish prepared with a silicone mat or parchment paper.

Put them in the oven until firm to the touch and golden brown, about 45-50 min. Keep on eye on them, remember that every oven is different and time may vary.

To make the sauce, add in a pan the olive oil and cherry tomatoes. When they start to brown and crack open, put the garlic and salt. Take care of the garlic so it will not burn, stirring constant.

When garlic is beginning to brown, crush the tomatoes to make them release their juices. Add the dried oregano. Test for seasoning and when ready add the chopped basil.

Serve sauce over the eggplant.
information
Nutritional information of this recipe is only an estimate, the accuracy for any recipe on this site is not guaranteed.
Please share:

Latest posts by Alejandra Graf
(see all)