In this post, you'll find my method for cooking brown rice and a simple tip that makes everybody love it.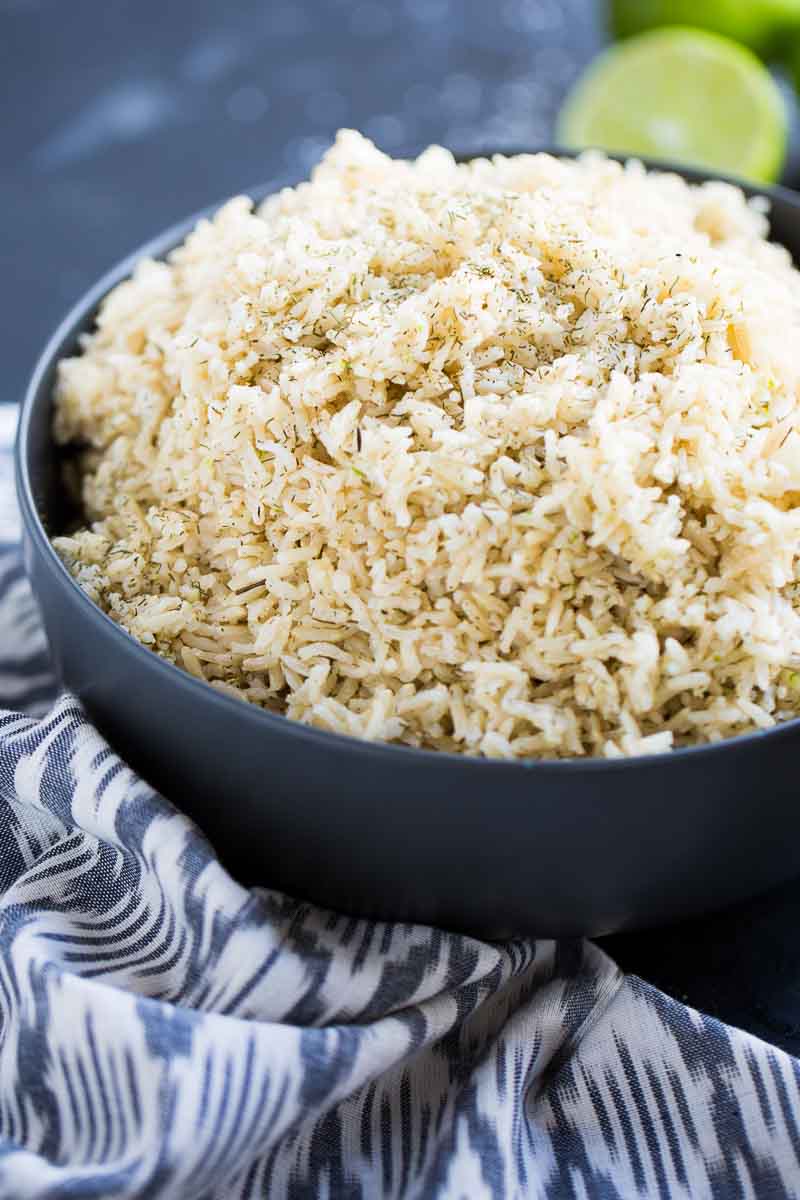 This is the most delicious way I've found to make brown rice, so everyone at home likes it. You can use this way of preparing it not only with brown rice but also with whole-grain Basmati and brown Jasmine rice, or other types of grains. Both Basmati and Jasmin rice are a little bit more aromatic and flavorful than the regular long-grain brown rice.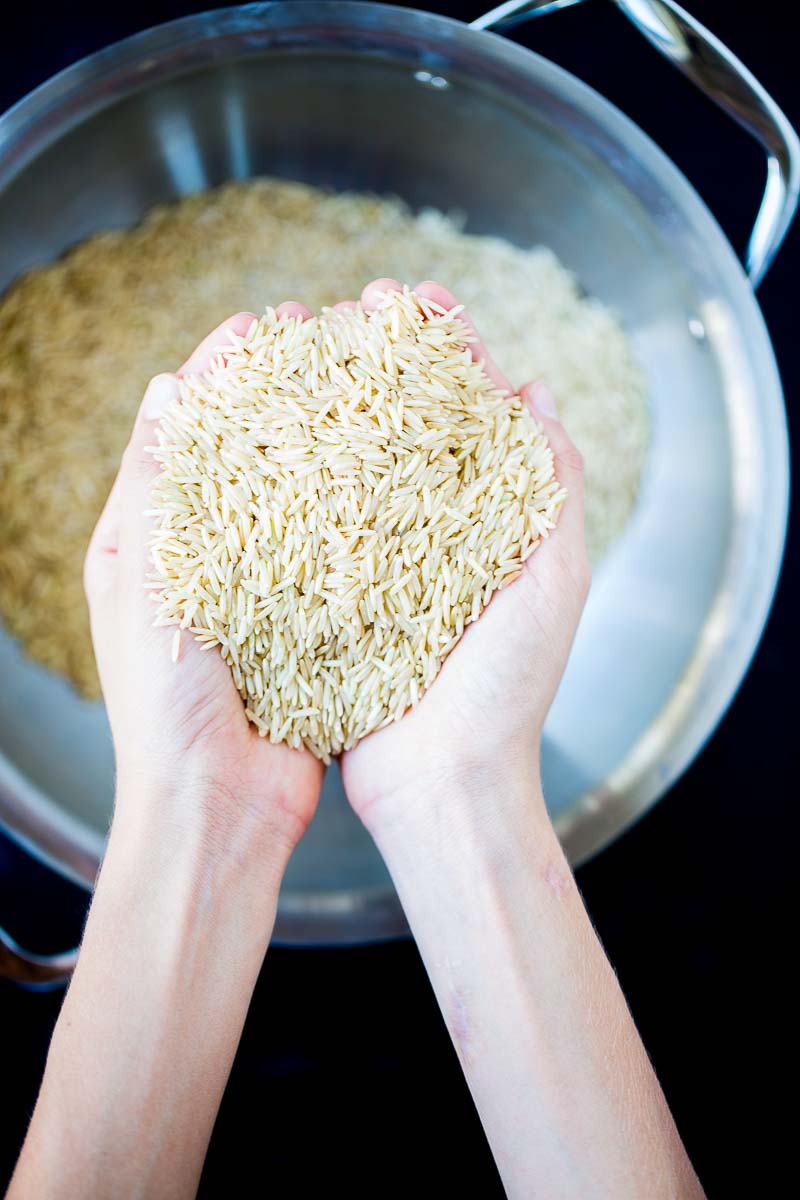 I love to use brown rice because it has a lot of benefits. Some of the brown rice's benefits are: more fiber, more minerals, and our body take longer to digest it, so it promotes a sense of fullness.
It has so many more benefits that it is worth giving it a try. Don't you think?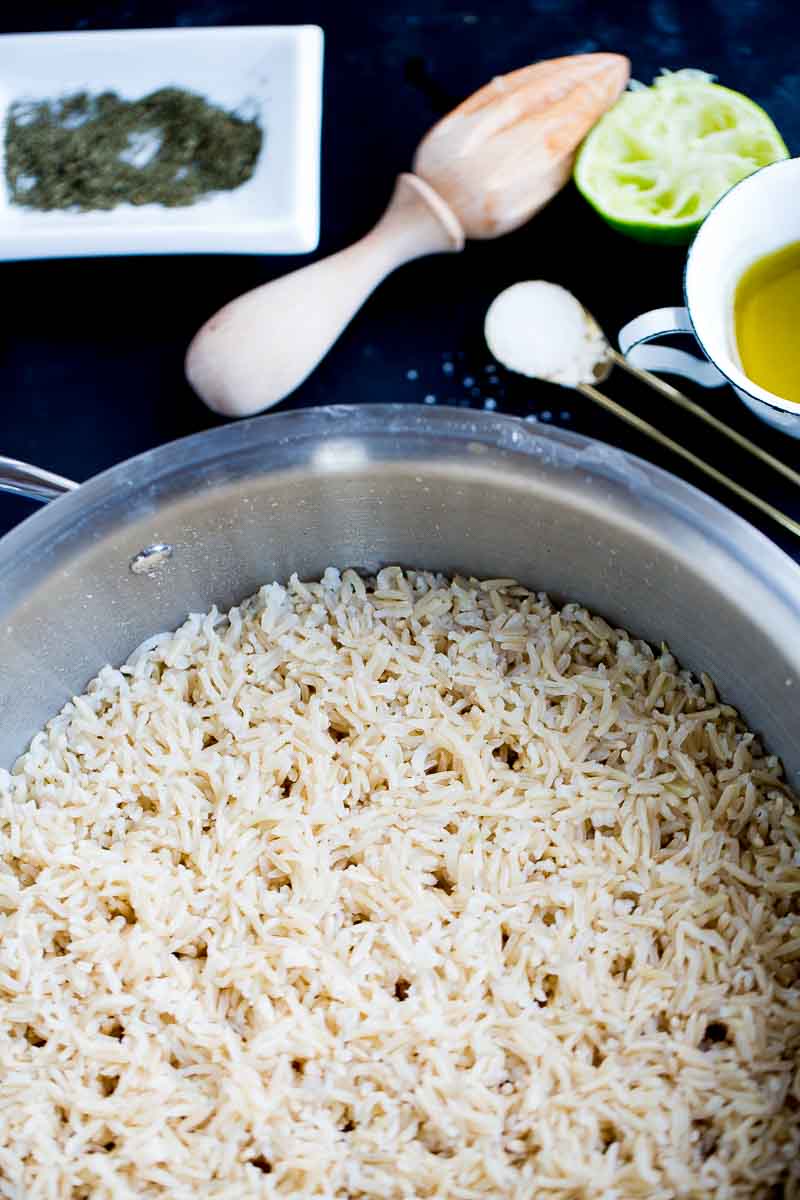 But I don't know if you have heard that brown rice has been given a bad reputation. Some people say it is too harsh to eat and that it comes out sticky. In my experience, it turns out really good.
When I started serving it at home I always prepared it in a different way than I did with the regular white rice. I did not hide it from my kids or tried to replace it from the typical white rice. In all of these years, I 've got the experience that it is better to offer a new dish instead of trying to substitute one thing for another.
For example, when I introduced brown rice to my kids I used this recipe. I told my kids that it was a new rice recipe cooked with lemon and herbs. They all loved it!
This rice with lemon or lime zest fresh and dried herbs can be served with a Mediterranean salad, chickpeas or falafel, and a tahini sauce. Yummmmm!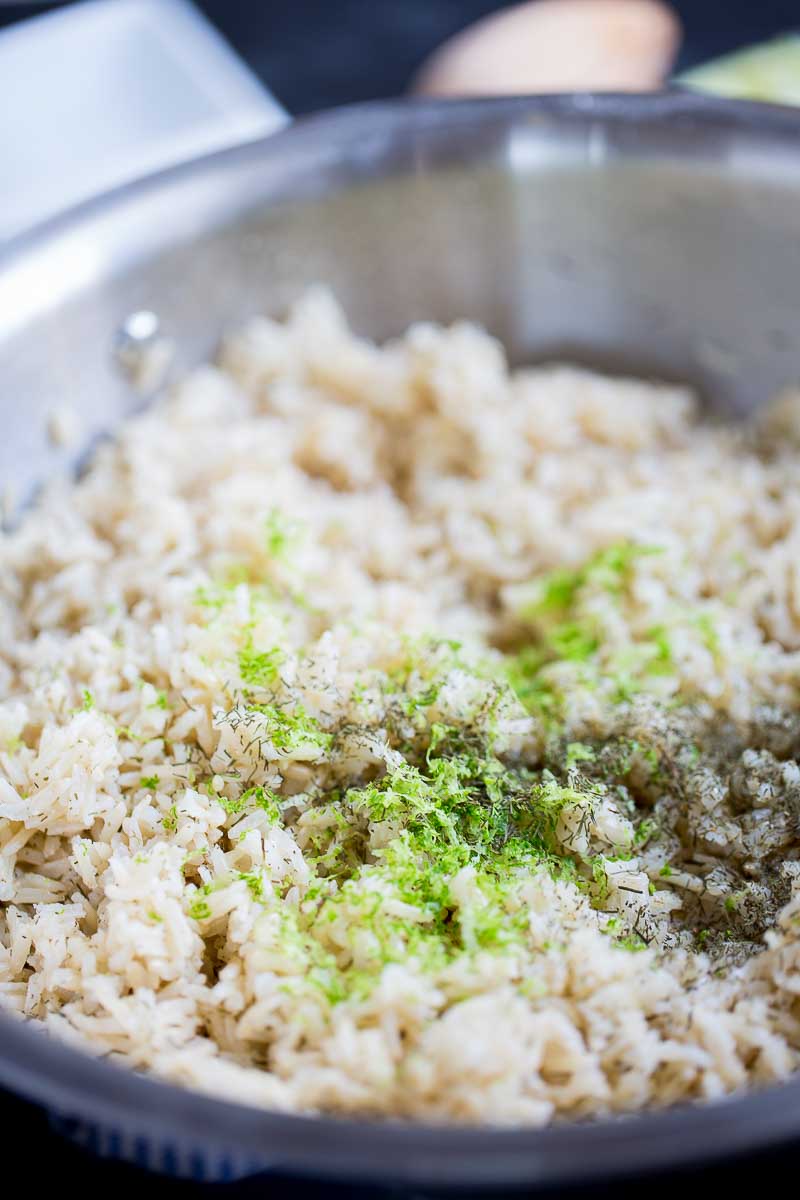 How to cook brown rice
Brown rice is straightforward to make, but it requires a bit of training to know exactly when the rice is perfect.
I like to rinse the rice for 30 seconds under cold water before adding it to the pot, but it is not necessary.
And I use 1:2 ration for cooking it—one cup of rice per two cups of water.
I cook it over low heat, and I do not sautée or fry it before. You can tell that the way I cook my rice is kind of bland. But preparing it this way will give you a white canvas to flavor it as you like further on.
This way of cooking rice will help you to batch cook. I make two or three cups of rice so I can have leftovers. This way I can freeze some and save some more in the fridge for future use.
I have tried making this recipe with other herbs, and I can tell you it turns out delicious. Fresh and dried herbs are lovely to use. They are super flavorful and have amazing benefits. I love using all kinds of herbs!
Here are other recipes and ideas on how you can prepare your brown rice: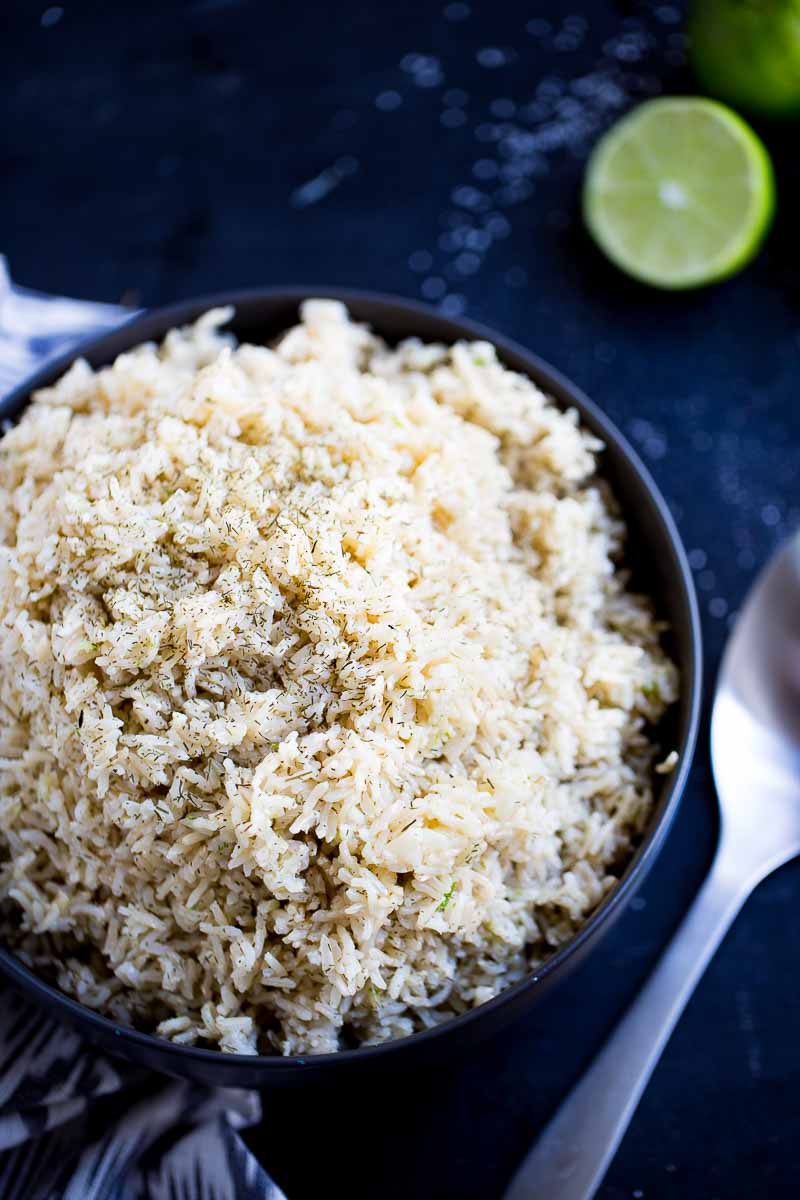 Here is the recipe for
Brown RICE
How to cook it and how to dress it with dill and lemon. I hope you like it as much as we do, and if you do, please share the recipe and my blog! I love seeing your creations on Instagram and Facebook. You can save it for later on Pinterest. Would love it if you leave a comment and/or rate the recipe.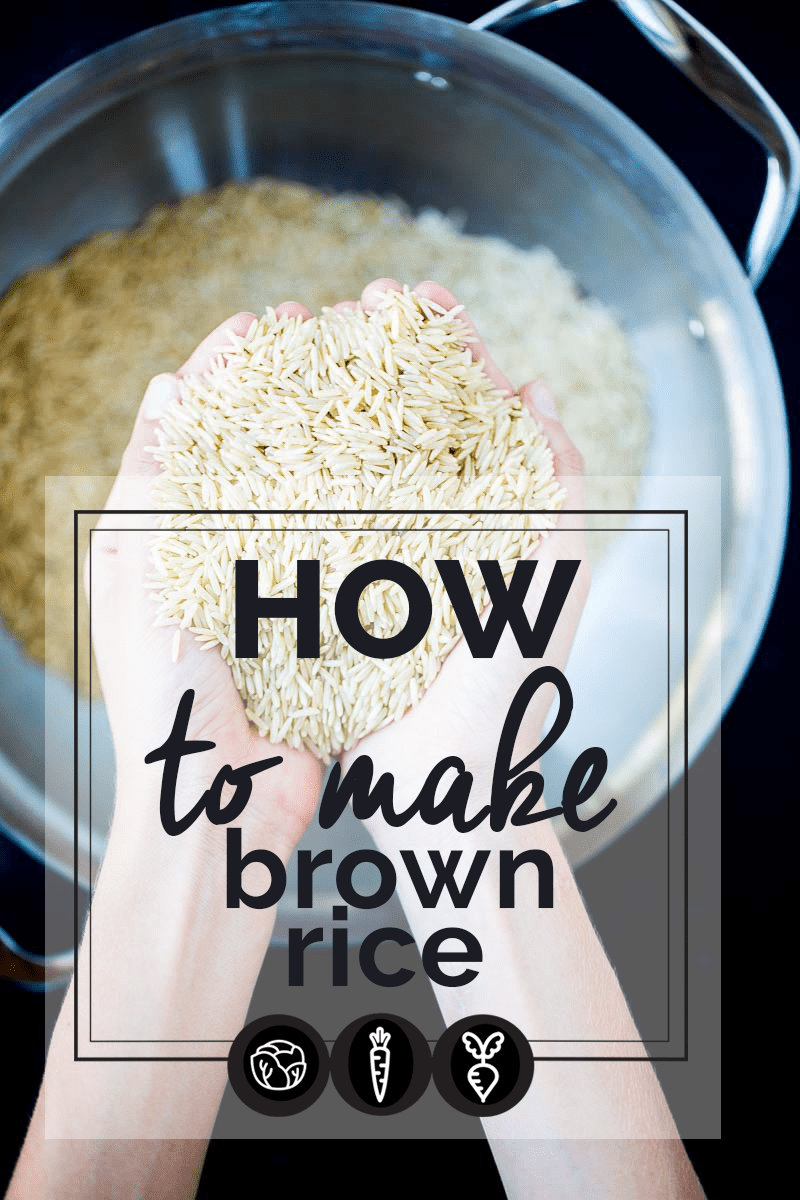 How to make brown rice so that everyone likes it
This method for cooking and preparing brown rice is the best way I've found to make the whole family like it. It is fresh, full of flavor and texture.
Ingredients
2

cups

of brown rice

4

cups

of water
To serve.
2-3

tablespoons

of olive oil

1 / 2

lemon

the juice

1

lemon zest

1

teaspoon

of dill dried or 1 tablespoon if using fresh

1

teaspoon

of sea salt
Instructions
Add the rice and water to a pot and cover. Bring to a boil over low heat for about 15-20 minutes.

Turn the heat off when very few liquid is left, let it sit covered for about 5 minutes.
To garnish
Add olive oil, lemon juice, dill, zest, and salt.

Fluff with a fork with care not to beat it, the idea is to separate it and fluff it. Try and adjust the flavor if necessary. You can leave the rice as it is without dressing. You can put only the lemon and salt, only the oil, etc.
Notes
Prepare it as you like it. When I make the rice, I always

 

use a silicone

lid to protect the stove from spills.
Nutrition
Calories:
202
kcal
Carbohydrates:
35
g
Protein:
3
g
Fat:
4
g
Sodium:
300
mg
Potassium:
103
mg
Fiber:
1
g
Vitamin C:
1
mg
Calcium:
14
mg
Iron:
0.7
mg
information
Nutritional information of this recipe is only an estimate, the accuracy for any recipe on this site is not guaranteed.
Nutritional information of this recipe is only an estimate, the accuracy for any recipe on this site is not guaranteed.