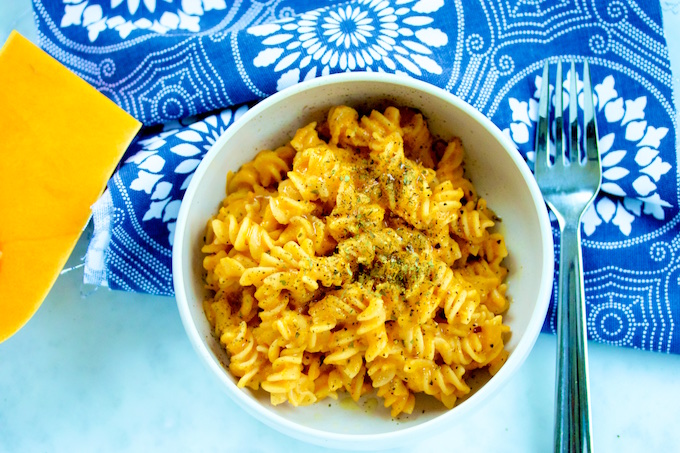 I really hope I'm not the only crazy one that goes overboard buying seasonal produce ??! I know somewhere around the world there is someone as crazy as I am, please if you are reading…. let me know who you are!!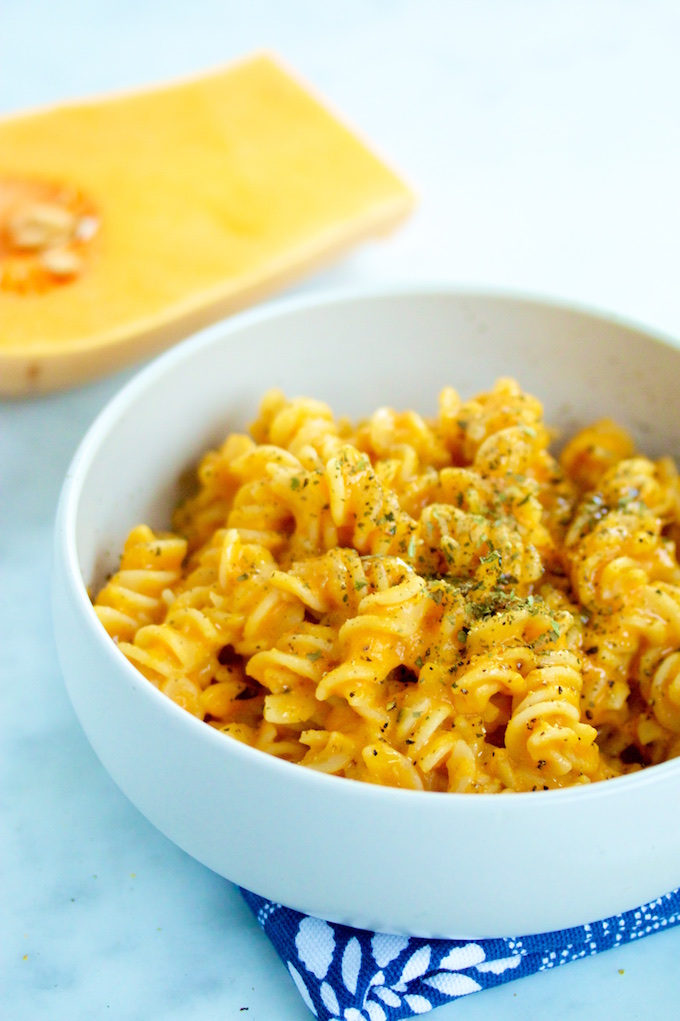 But every time there is a change in season and all the new beauties start to show up in the farmers markets I just can't resist myself the urge to buy and cook all the produce I see around. And every time I arrive home with tons of bags of different types of apples, pumpkins, different types of squash, I promise myself, next time, I will contain myself. AND GUESS WHAT, I JUST CAN'T. ha.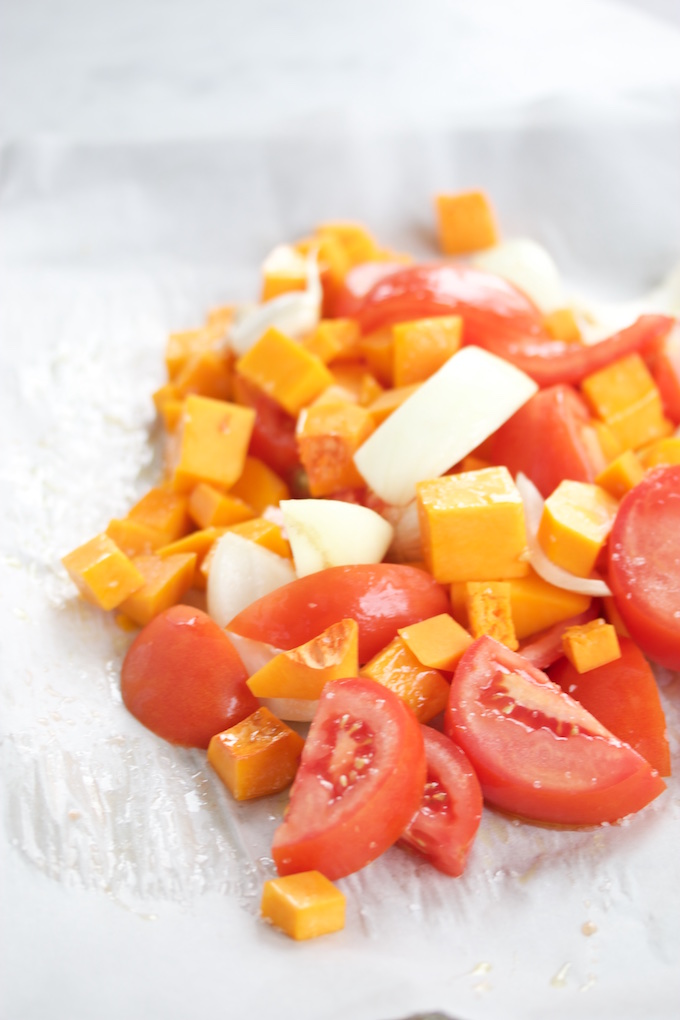 This sauce is the easiest thing you'll ever find, and it is super delish as well. Just pop all the veggies in the oven and let them roast, blend, heat and serve, tarrrraaaa ??. Yes, it is that simple.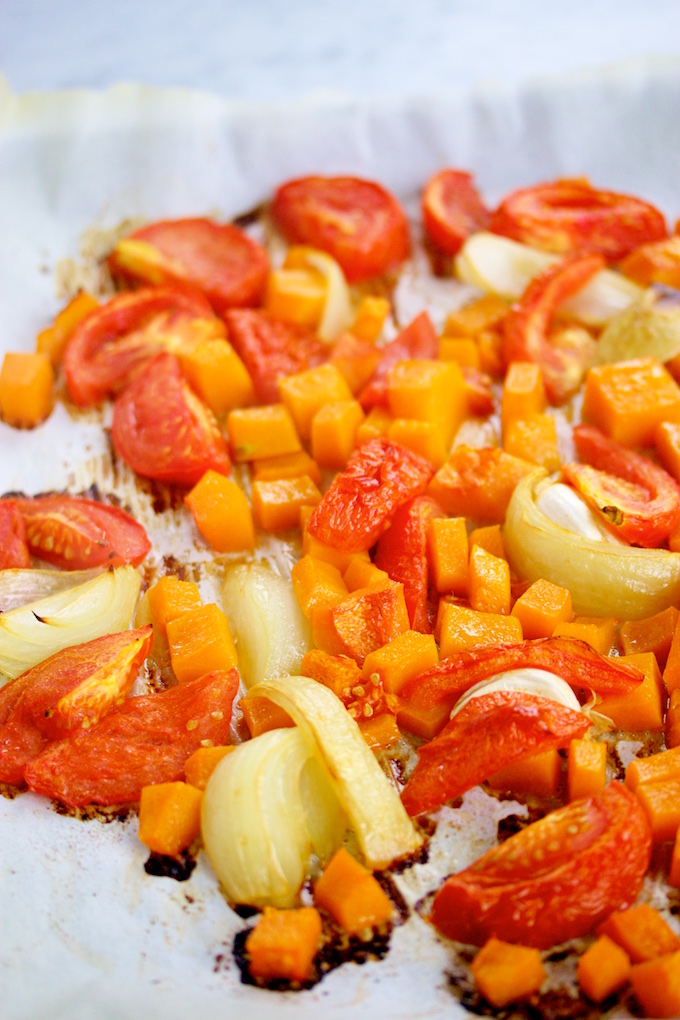 I love the combination of tomato and butternut squash because the acidity of the tomato cuts the sweetness of the squash. They balance very well together. And, just between us, Romina, does not like orange veggies. She does not like sweet potato or any kind of pumpkin or squash, just carrots. But she loves this recipe. I'm pretty sure she hasn't figured out all the list of ingredients.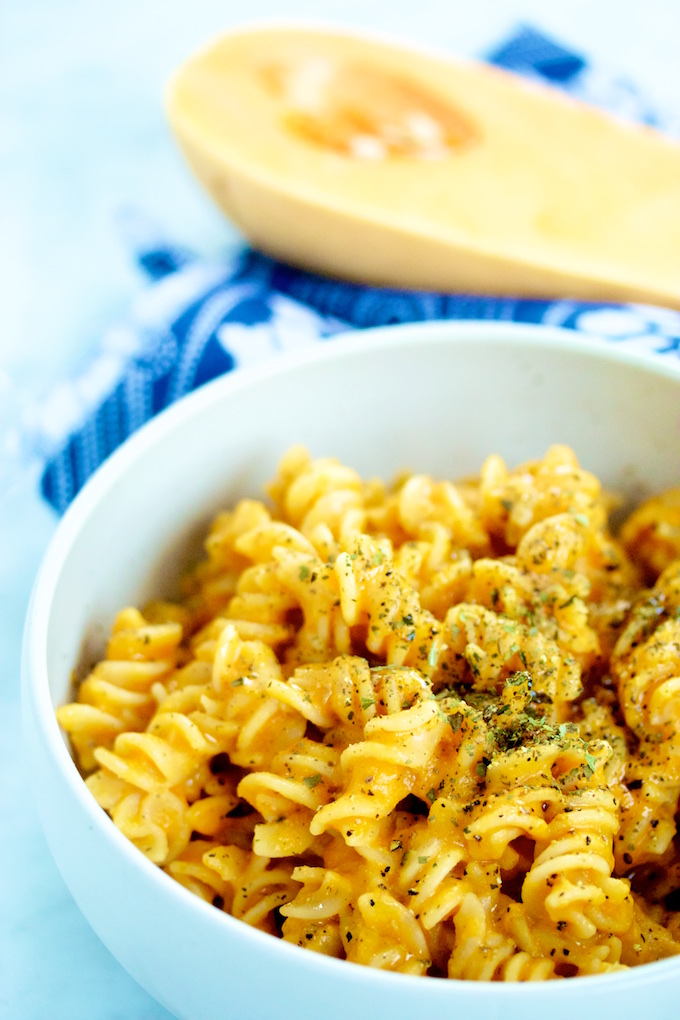 Soooo, this recipe is completely kids approved. Here is the recipe, hope you like it and enjoy it.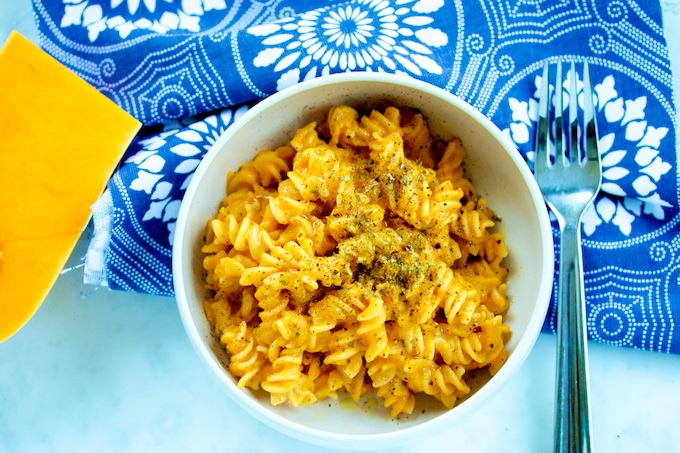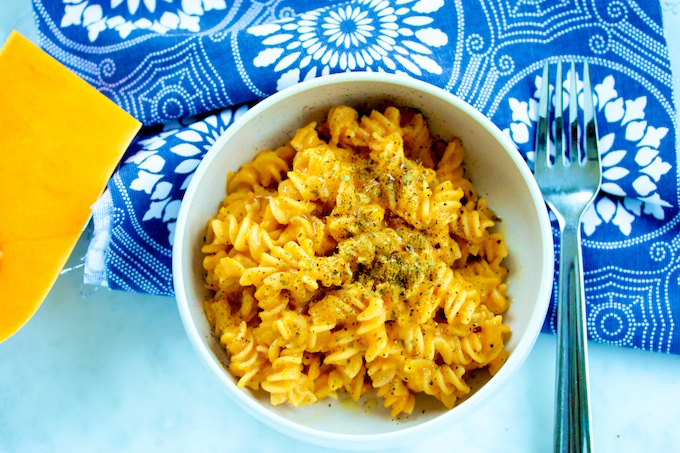 Tomato and butternut squash
Tomato, onion and roasted butternut squash in the oven to make a delicious creamy sauce pasta.
Ingredients
1

tablespoon

olive oil

2 1/2

cups

cubed butternut squash

3-4

tomatoes into large chunks

1/2

large onion

sliced

2

cloves

garlic with skin

1/2

teaspoon

salt

1

package of pasta

1 lb or 454grs

1

tablespoon

oil

1

pinch dried chili pepper flakes

1

teaspoon

dried oregano

freshly ground black pepper
Instructions
Turn on the oven to 350ºF and prepare a tray with <g class="gr_ gr_1505 gr-alert gr_gramm Grammar only-ins doubleReplace replaceWithoutSep" id="1505" data-gr-id="1505">silicone</g> mat or a piece of baking paper.

Prepare the pumpkin and other vegetables by cutting them in big chunks. Put them on top the tray and add a tablespoon of olive oil and half a teaspoon of salt. Mix so all the vegetables are well coated with the oil. Arrange them on the tray in a single layer. Hide the garlic under the tomatoes so it doesn't burn.

Put in the oven for about 20-25 minutes or until you see the vegetables start to brown.

Meanwhile, cook the pasta as the package indicates. When ready, save a cup of water in which the pasta cooked.

When the vegetables are ready, peel the garlic and blend together with water where the pasta cooked.

In the same pot where you cooked the pasta, add a tablespoon of olive oil, oregano and chile pepper flakes. Leave them for a minute or until they release their aroma. Add the sauce, mix well, check salt and pepper. Add the cooked pasta and mix well very carefully.

Serve immediately.
Notes
-Que sea mas o menos la misma cantidad de calabaza que de tomate.