I don't know if with this that with this carrot cake flavored orange smoothie I'm going to leave you with a super craving for carrot cake or thinking that I just lost it.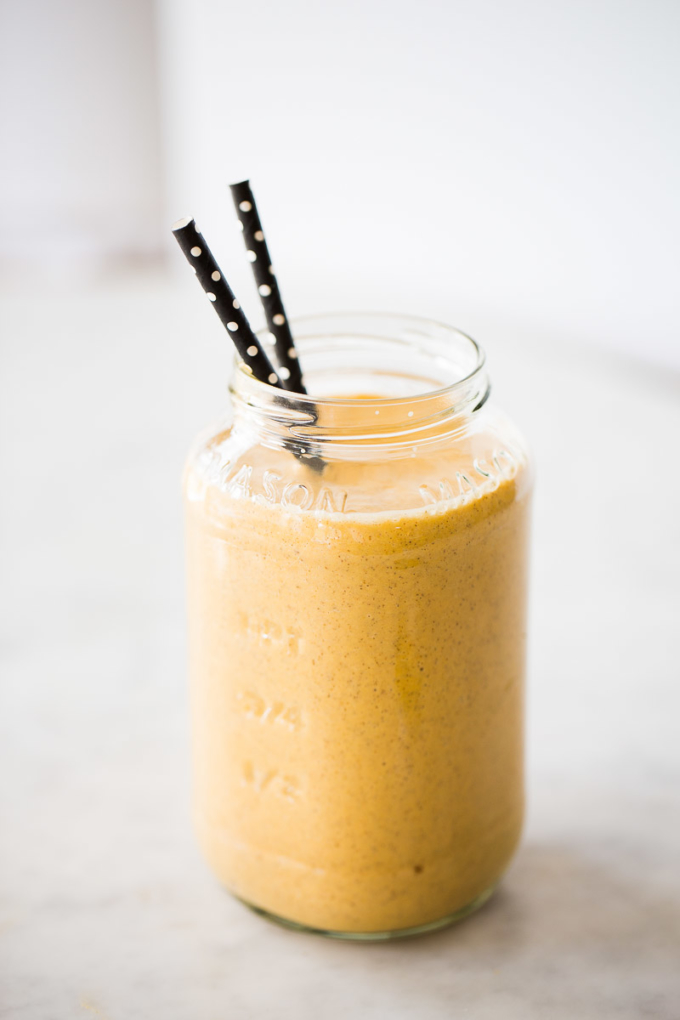 But you have to believe me when I say that this carrot flavored orange smoothie it is simply the best to start the day. Not all smoothies have to be green. Have you tried an orange smoothie before? This one is creamy, full of flavor and amazing nutrients. This smoothie is also the best because:
Preparation. You can prepare it on the spot or the night before in jars, and you can prepare one or many. You close the jar, and the next morning you just blend it with the liquid you prefer.
A flavor bomb. It really is a flavor and nutrition bomb. It is a complete and on-the-go breakfast. So you have one delicious and most nutritious breakfast in the world in a jar.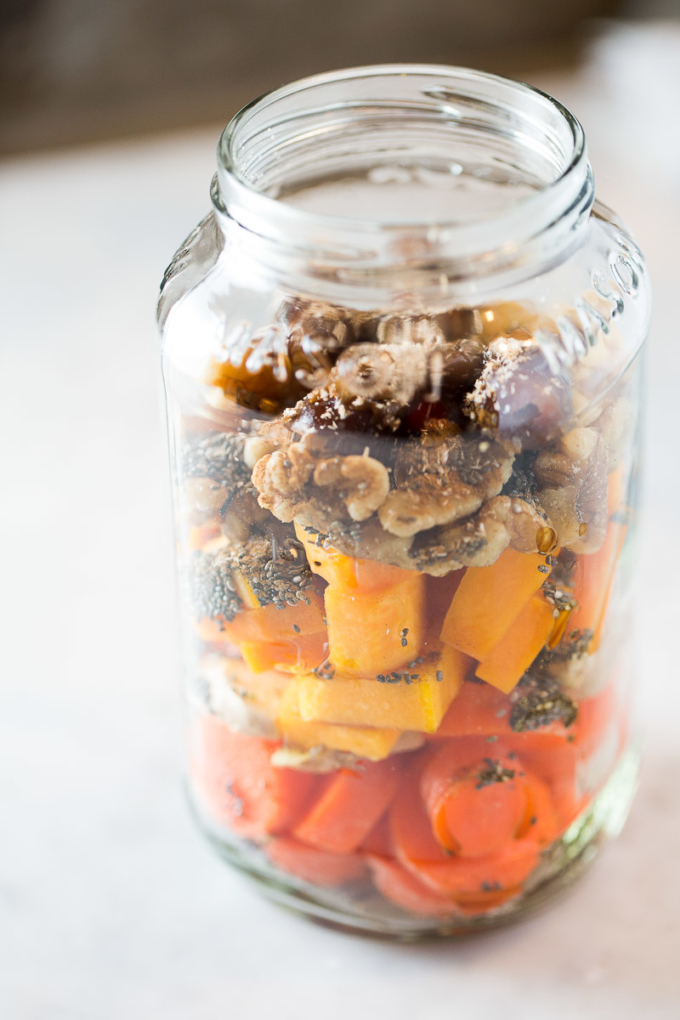 Ingredients for this orange smoothie
Carrots. Look for fresh carrots that are crisp and brightly colored. Carrots just have to be washed, peeled, and chopped.
Sweet potato or pumpkin or butternut. We almost never eat these vegetables raw, usually cooked. When we eat vegetables in different states, we take advantage of their nutrients in different ways. Like the carrots, these vegetables must be peeled and cut.
Walnuts Put the nuts that you want, I like it with walnuts, but pecan or cashew work perfectly.
Ginger
Chia, dates, vanilla, and spices. Chia gives an incredible boost of nutrition with all its minerals and fiber. Dates are a superstar natural sweetener and they have many minerals. Spices turn dishes from normal tasty to super special tasty.
I know you can't even imagine how this weird mixture of vegetables and nuts might taste, but you really have to believe what I'm telling you: it tastes like CARROT CAKE. Yes, that not so vegan or healthy carrot cake with cream cheese frosting. 😉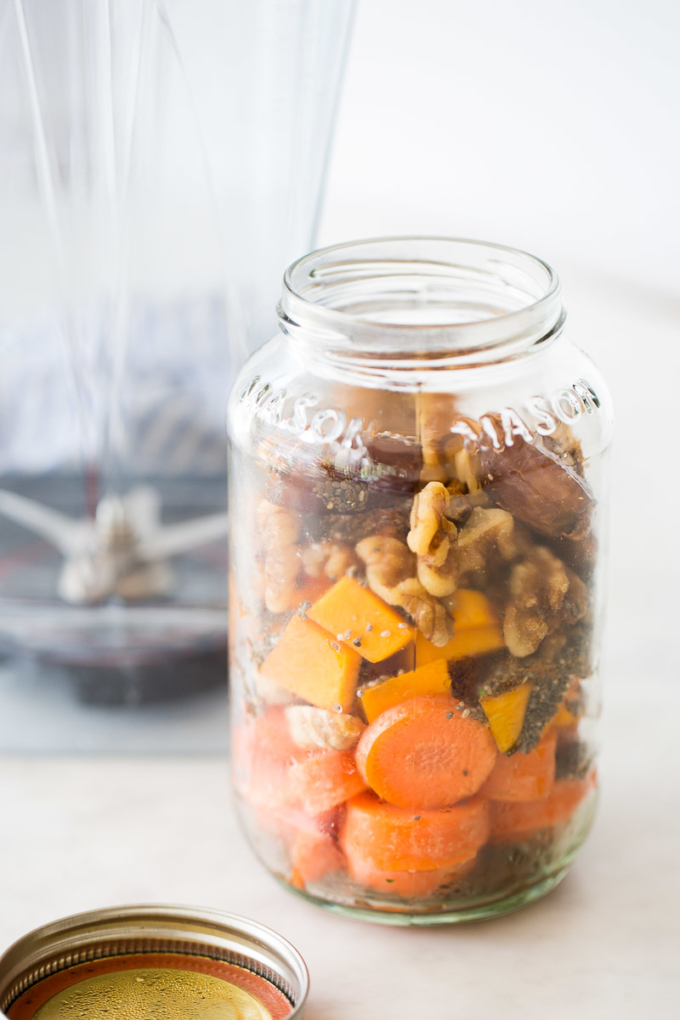 ✎TIP

This orange smoothie recipe works perfectly with the MEAL PLANNING trend.

While you are chopping carrots for a soup or salad, chop some for your smoothie too. 

Or the other way around, if you're chopping carrots, sweet potatoes, or butternut squash for your smoothie, chop a bit more to cook with them.

The day I made my orange smoothie I made my detox carrot soup.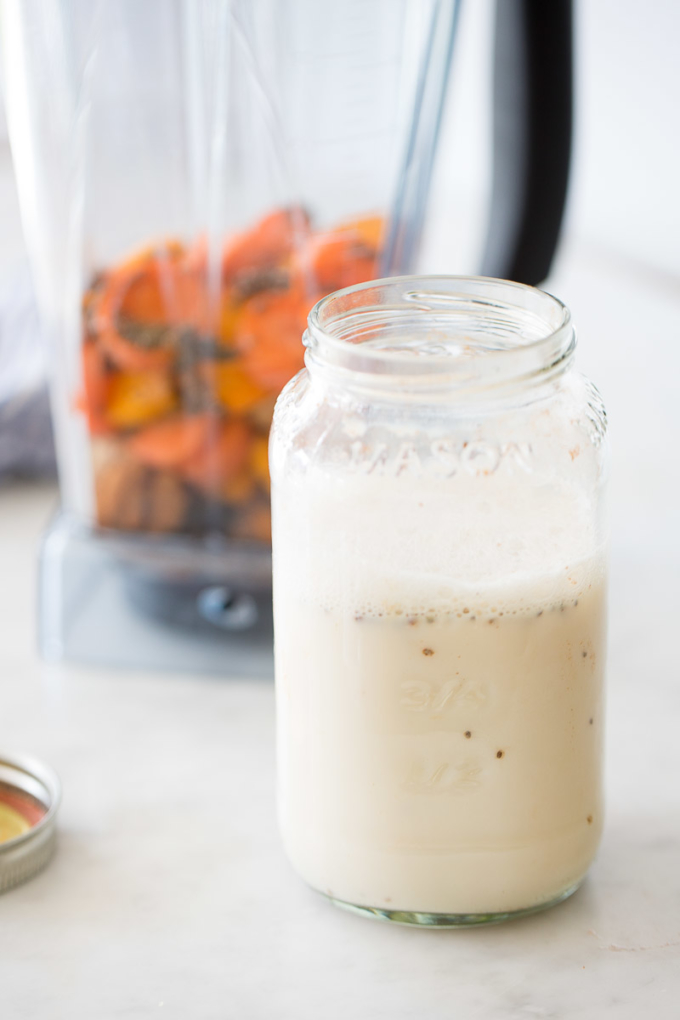 💥IDEA

Here is an idea so that you don't get tons of dirty dishes to wash:

•Measure the ingredients in the glass or jar that you are going to drink the orange smoothie afterwards.

•I use the same jar where I keep the pre-prepared smoothie to measure the milk and then drink it.
BENEFITS OF TAKING SMOOTHIES AND this ORANGE SMOOTHIE
Taking smoothies is the easiest way to eat/take the vegetables we need in a day. In a smoothie, you can have two cups of spinach or kale without a problem. You can have celery, sweet potato, ginger, beets, and other ingredients that we don't normally eat in the morning
This orange smoothie is full of vitamin A that, among other things, makes us have incredible skin. Sweet potatoes or orange squash are full of carotenes that give us anti-aging superpowers. This smoothie also has ginger, chia, cinnamon, nutmeg, dates, and vanilla; each has special nutritional powers.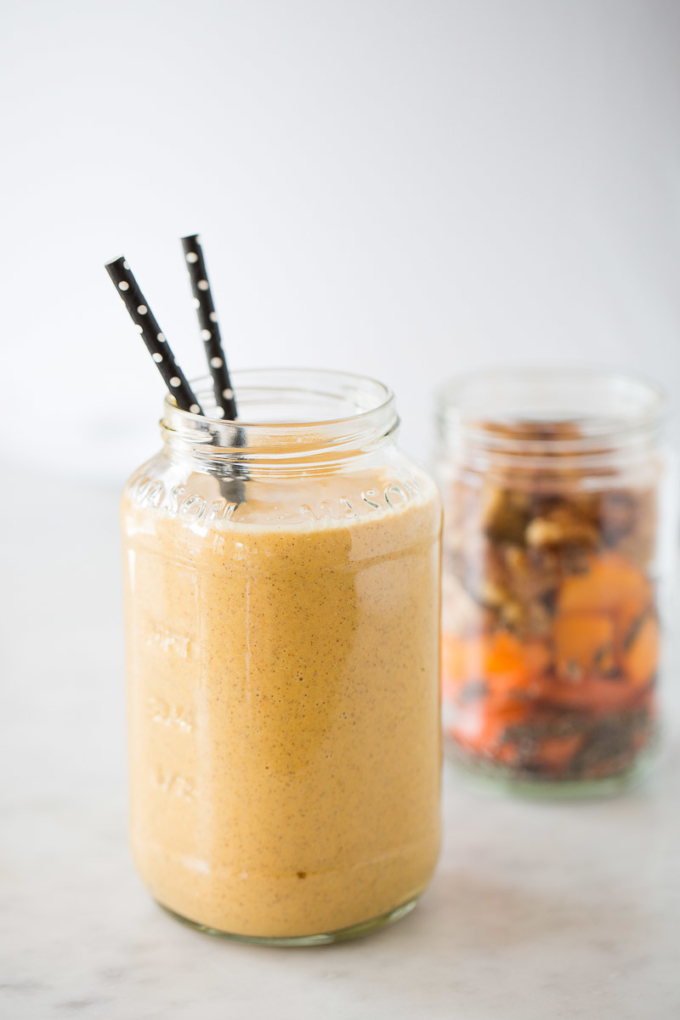 So here is the recipe for this orange carrot cake flavored smoothie that is full of flavor and mega nutrients for incredible skin and overall health. This smoothie is a bomb of vitamin A, C, omega 3 antioxidants, fiber, and much more. I'll give you the recipe and if you like it when you do it, take a picture of it and share it on Instagram or FB. I love to see what you do.
You can also save it on Pinterest and give it 5 stars so that more people will find it. Here is the recipe for this carrot cake flavored orange smoothie and I hope you like it. If you do please share, the recipe and the blog.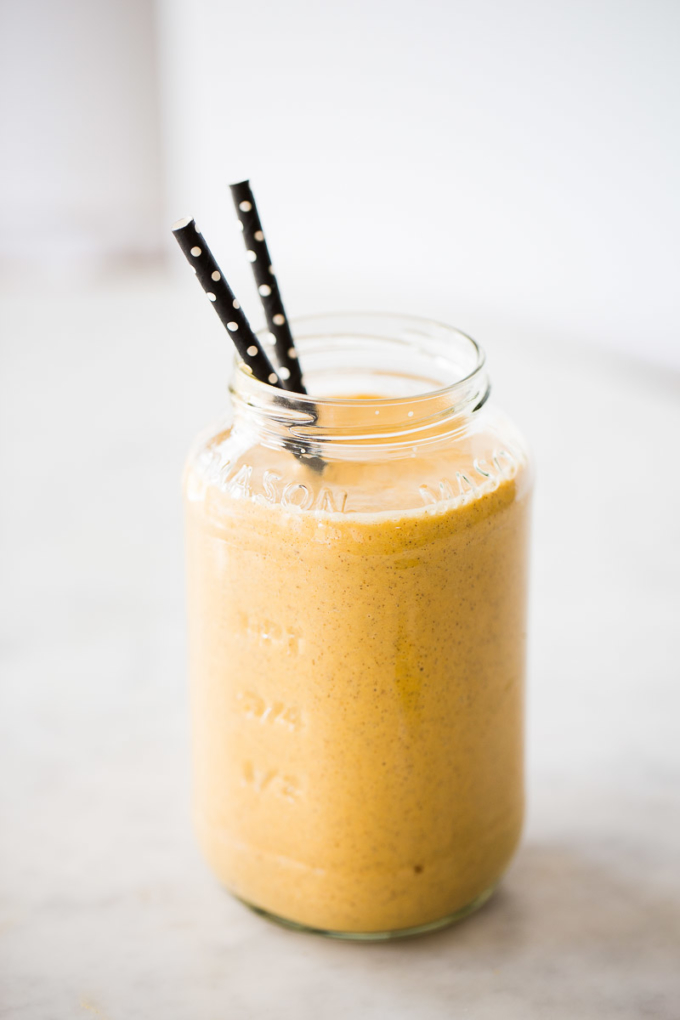 Carrot cake flavored orange smoothie
This recipe for this orange smoothie is the best. Full of nutrients and flavor. It is just like a carrot cake flavored smoothie.
Ingredients
1

sliced carrot

1/2

cup

sliced sweet potatoes or sliced butternut squash

4

dates

pitted

1/4

cup

walnuts

A half-inch piece of ginger

2- 3

tablespoons

chia seeds

1/2

teaspoon

ground cinnamon

1/8

teaspoon

freshly ground nutmeg

1 1/2

cup

milk

water, or combination of the two

1

teaspoon

vanilla
Instructions
Put all the dry ingredients in a mason jar and store overnight in the fridge.

The next morning, add them to a blender container with liquid of choice and vanilla. Test and adjust if necessary.
Nutrition
Calories:
441
kcal
Carbohydrates:
44
g
Protein:
14
g
Fat:
25
g
Saturated Fat:
5
g
Cholesterol:
18
mg
Sodium:
124
mg
Potassium:
730
mg
Fiber:
15
g
Sugar:
22
g
Vitamin A:
10109
IU
Vitamin C:
3
mg
Calcium:
436
mg
Iron:
3
mg
information
Nutritional information of this recipe is only an estimate, the accuracy for any recipe on this site is not guaranteed.