Carrot juice on its own is amazing, but this one with apple, cucumber, and ginger, well, it fascinates me. In this post, I'll tell you how to prepare this carrot juice, which is a fresh, healthy juice full of flavor and vitamins, among other nutrients for our body. So this carrot, cucumber, and apple juice has to be on repeat in your morning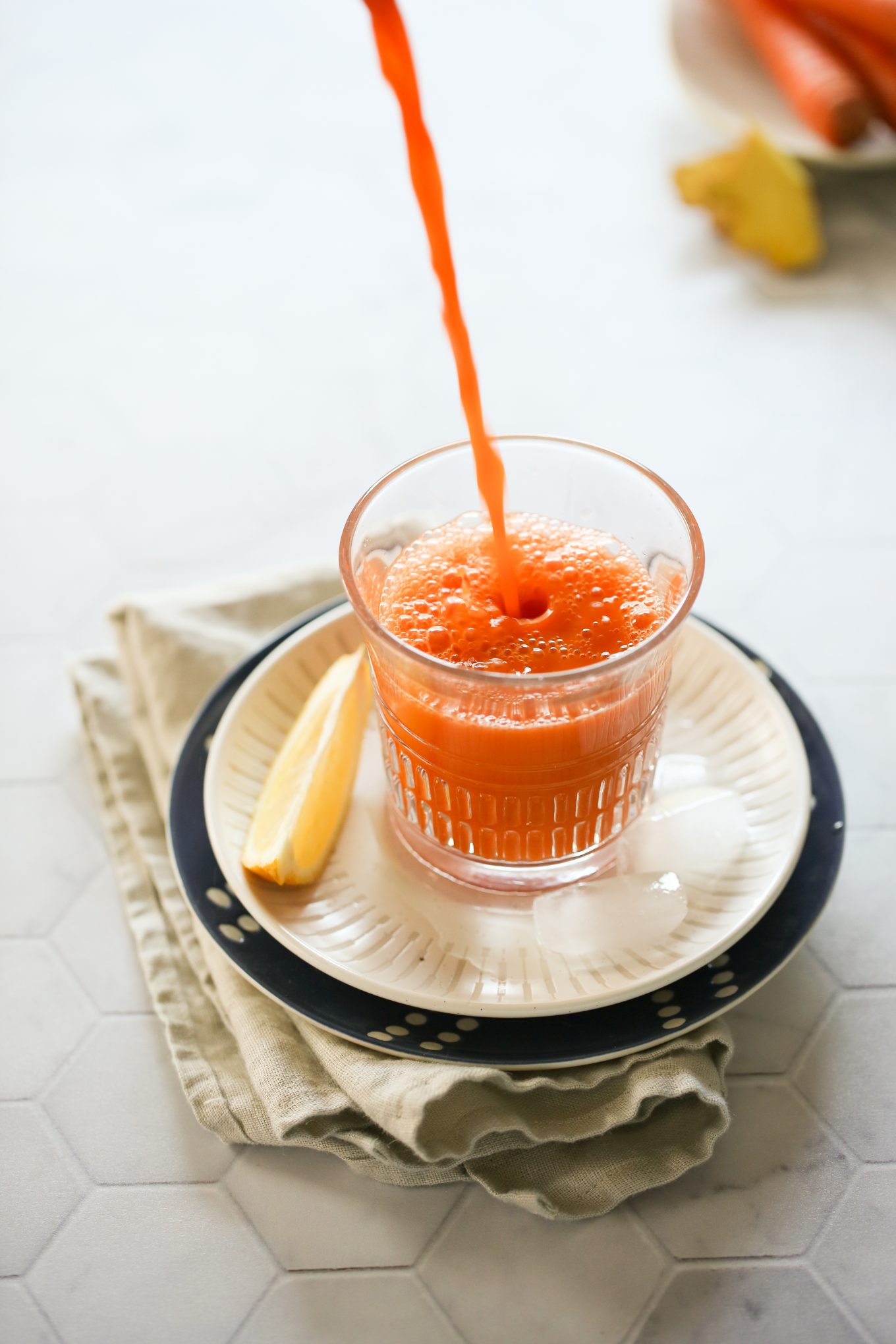 Why you will love this carrot juice with apples
This carrot juice recipe is super easy to make, and you can make it in a blender or in a juicer (affiliate link). The amazing thing about this recipe is that all the ingredients are nutritious amazingness and full of good stuff for us.
Apart from being wonderful, this juice is fresh, delicious, and super easy to make, with millions of healthy properties. Starting with the properties of carrots, which not only promote eye health but are linked to lower cholesterol levels and increased gut health.
Carrot juice ingredients
Carrots, look for carrots that are fresh and bright in color.
Cucumber, Any type of cucumber works well, seedless or with seeds, for juicing. If you buy organic, it is not necessary to peel them.
Ginger, add as much as you like, remember though that it is very strong and contains multitudes of nutrients and superpowers. They do not require peeling if you wash them well enough.
Apples, use red, green, yellow, or whatever you have at home. When using apples to make juice, you can always use apples that are a little old and have bruises.
Lemons, if you use organic lemons, you can throw them in whole, including the peel.
What is this carrot and cucumber juice good for?
With such a stacked ingredient list, you can be sure you will be getting the best for your health.
Carrots are a great source of vitamin a, which is great for maintaining good vision, helps with immune system health, and can promote cell growth.
Ginger is loaded with health benefits, and has been used as medicine for almost 5000 years!
Both apples and cucumbers promote hydration and are packed with antioxidants, cucumbers also have especially low calories and contain a bunch of healthy vitamins and minerals.
]
HOW TO MAKE THE CARROT, CUCUMBER, GINGER, AND APPLE JUICE?
It is important to wash everything before juicing. Personally, I don't peel organic fruits and vegetables, only conventional ones.
After washing, I cut the fruits and vegetables into big pieces.
Juicer (affiliate link). The next step is to pass everything through the juicer (affiliate link). If you want to separate the carrot pulp, pass the carrots through the juicer (affiliate link) first, and then the rest of the ingredients.
Blender. If you make the juice in the blender, put all the ingredients in the blender glass with a little water, just enough to run the motor well. When everything is perfectly blended, pass the juice through a fine strainer, or a bag used to make almond milk.
Substituting Ingredients
Use this recipe as a guide, use what you have at home, and if you don't have cucumbers or apples, don't fret. Instead, you can use:
Oranges, are proven to boost your immune system and help your body produce collagen
Celery: which is packed with fiber and vitamin c
You can also use lime juice if you don't have any lemons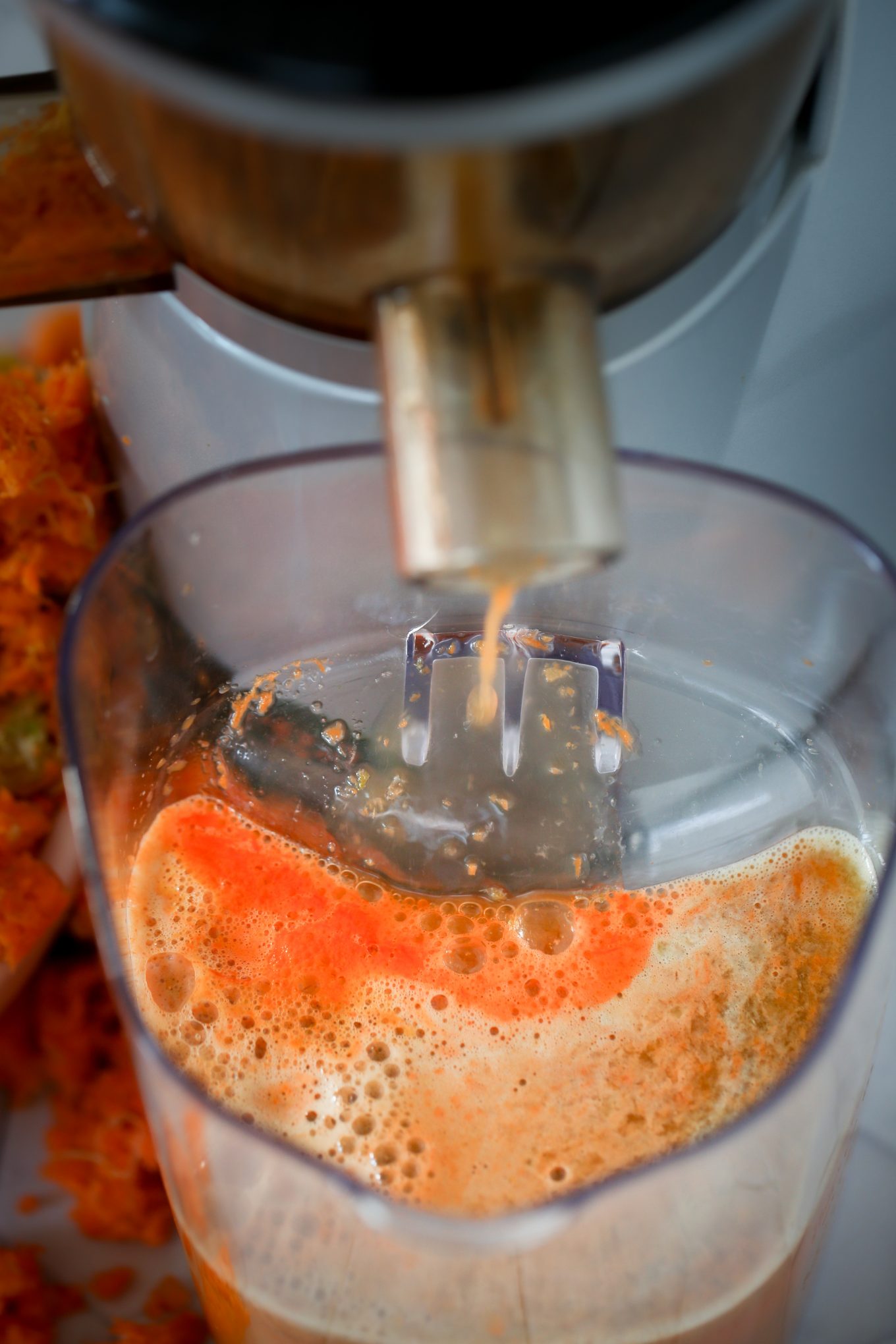 HOW TO drink CARROT JUICE?
Upon waking up. It is incredible to fill your body up with vitamins and minerals just after rising from bed.
Midmorning. I like to drink it in the middle of the morning, super cold as if it were a cocktail or a non-alcoholic drink. I prepare it in a glass, with lots of ice, and lemon. Of course, apart from it being delicious, it is incredible to have something that you know is great for your body.
Can leftover carrot juice be saved?
Any juice will always be better freshly made, but if you need to store it, put it in the refrigerator in a tightly covered jar. It normally lasts three to four days.
IDEAS for using the juice pulp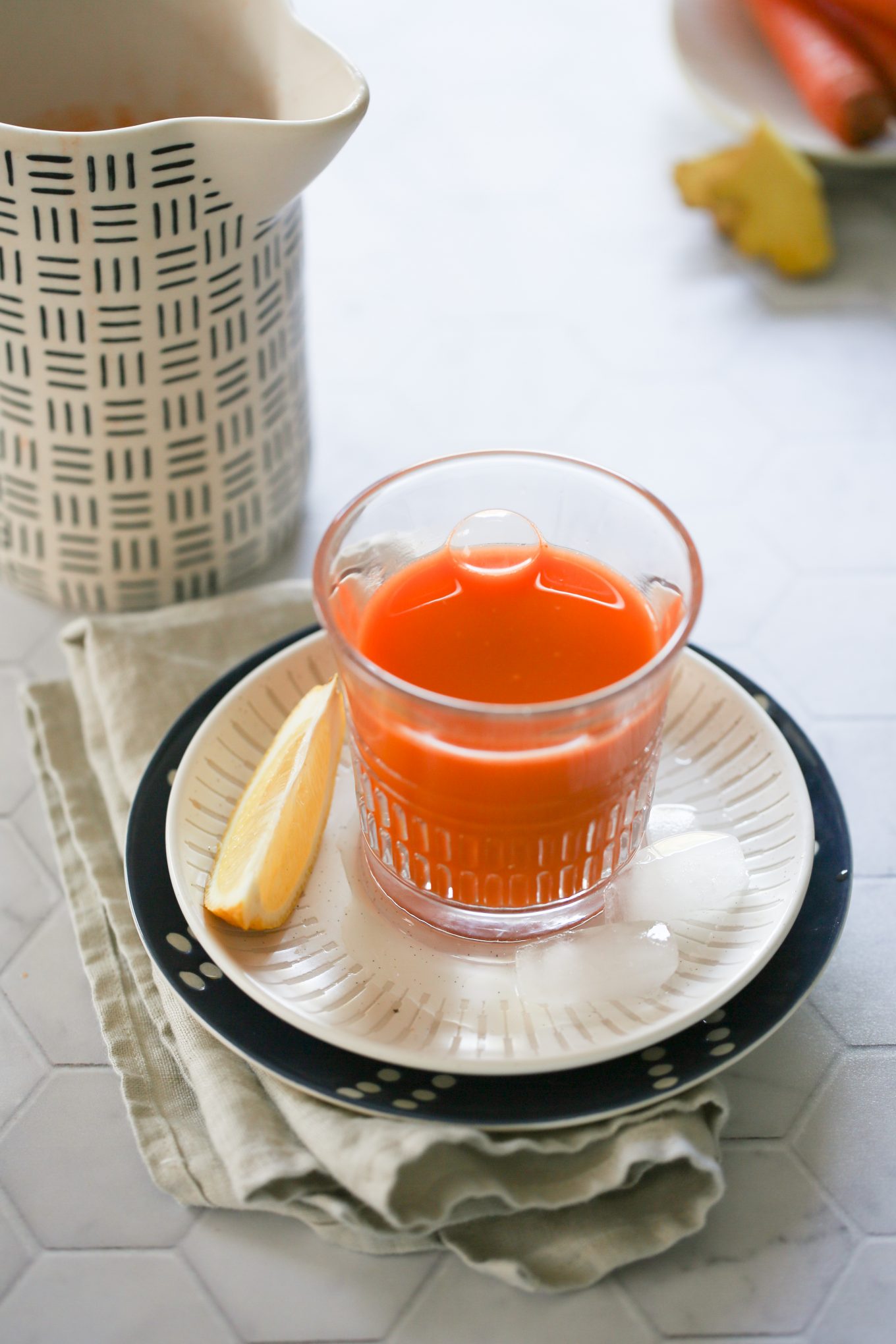 I'll leave you with other recipes using carrots that I love:
With juices, you have something delicious, fancy, super refreshing, and great for your body, AMAZING right? Really, this carrot juice is super good and we all love it here at home. I pass you the recipe and I hope you like it. If you do, please share the recipe and the blog on Instagram, Facebook or save it to make it later on Pinterest.
And, other recipes that you may like: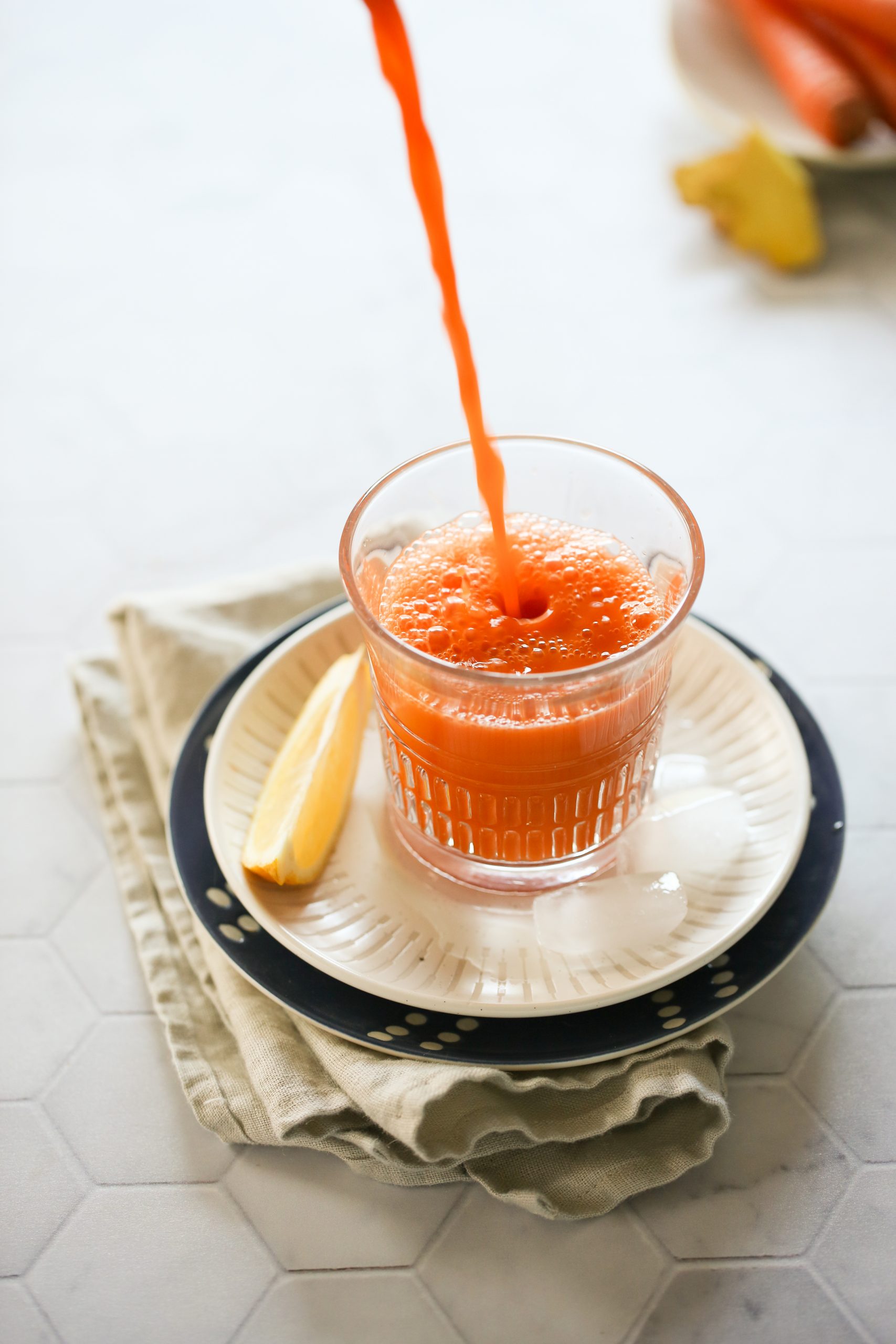 CARROT, CUCUMBER AND APPLE JUICE
This recipe for carrot, cucumber and apple juice is so good and refreshing you could drink iit in the morning or in the afternoon as a pick me up.
Ingredients
4

carrots

1

green apple

1

cucumber

lime

a piece of ginger
Instructions
Wash everything well.

Peel the cucumber, lemon and apple if they are not organic. If they are organic, there is no problem.

Everything goes through the juicer

Serve with ice and lemon slices as a mocktail or pick me up.
Notes
You can do it in the blender and finally strain it to remove the fiber.
Nutrition
Serving:
1
cup
Calories:
58
kcal
Carbohydrates:
14
g
Protein:
1
g
Fat:
1
g
Saturated Fat:
1
g
Polyunsaturated Fat:
1
g
Monounsaturated Fat:
1
g
Sodium:
44
mg
Potassium:
346
mg
Fiber:
3
g
Sugar:
9
g
Vitamin A:
10269
IU
Vitamin C:
8
mg
Calcium:
33
mg
Iron:
1
mg
information
Nutritional information of this recipe is only an estimate, the accuracy for any recipe on this site is not guaranteed.
Equipment:
Buy now→ Omega Vert Juicer (affiliate link) Buy now→ Vitamix (affiliate link)