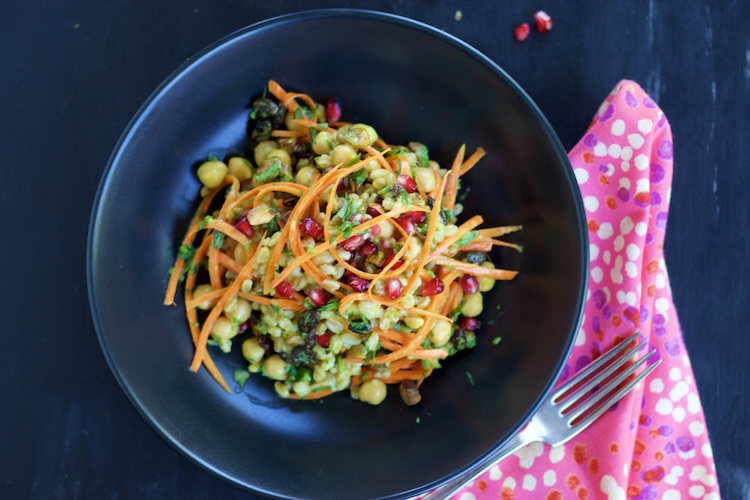 This salad I do it by heart, I add ingredients as I go and always love it. With many of the recipes that I want to share, I prepare them like this. I am changing and inventing every time, then I do not remember how I did it or exactly how much I added of each ingredient.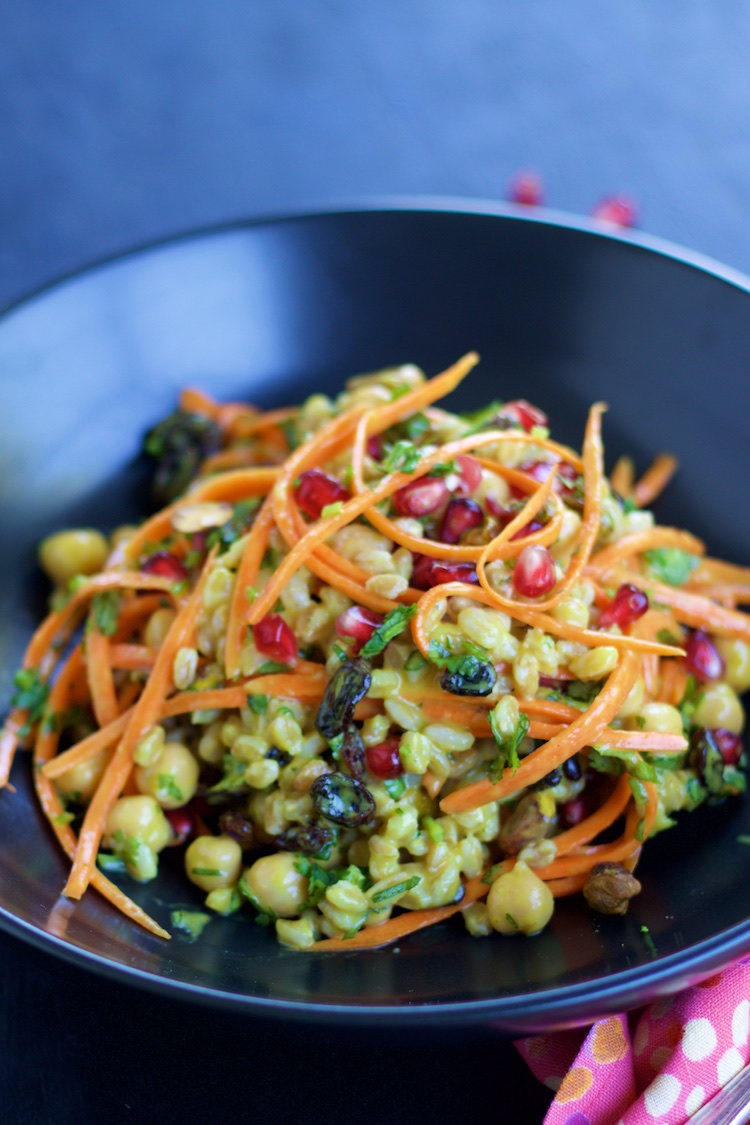 This is another reason I started the blog, to have everything in one place, to share our dairy free, plant based recipes. There was a day I answered so many calls regarding food, recipes or a friend dealing with a kids allergy, like Santiago, my son. That Sergio told me…."this has to stop, you need to put everything in one place!!!"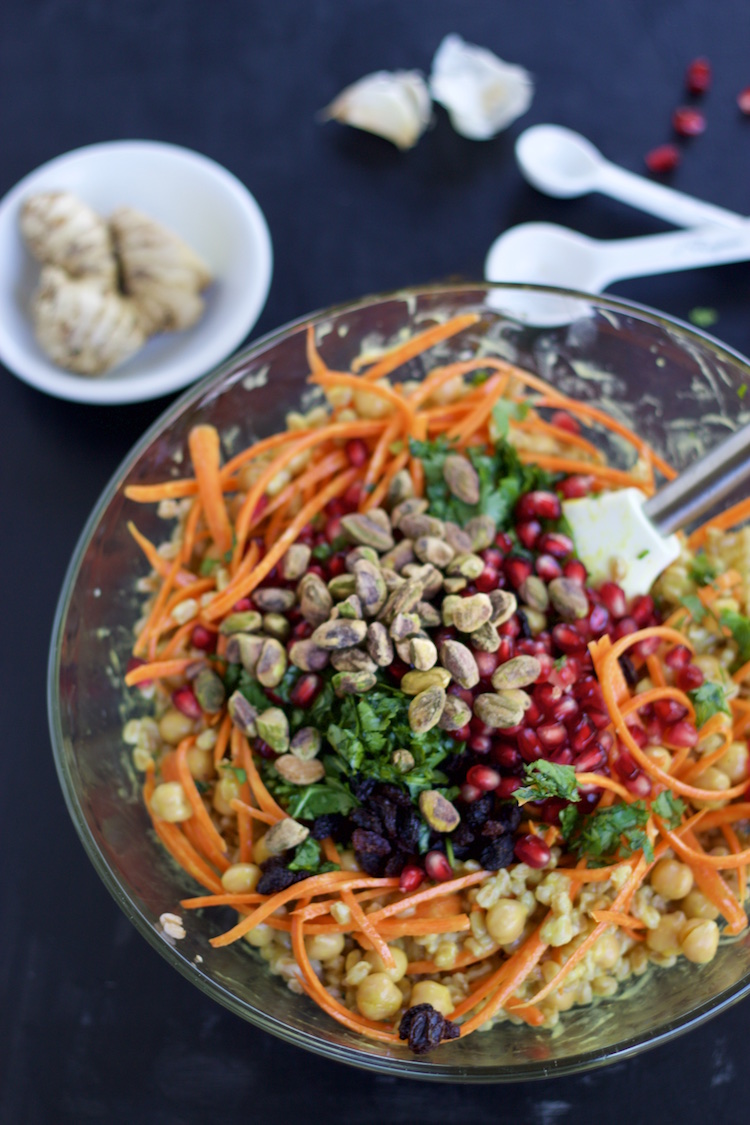 He also made me think that having everything in one place more people will benefit from knowing there are other families out there with the same issues or lifestyle.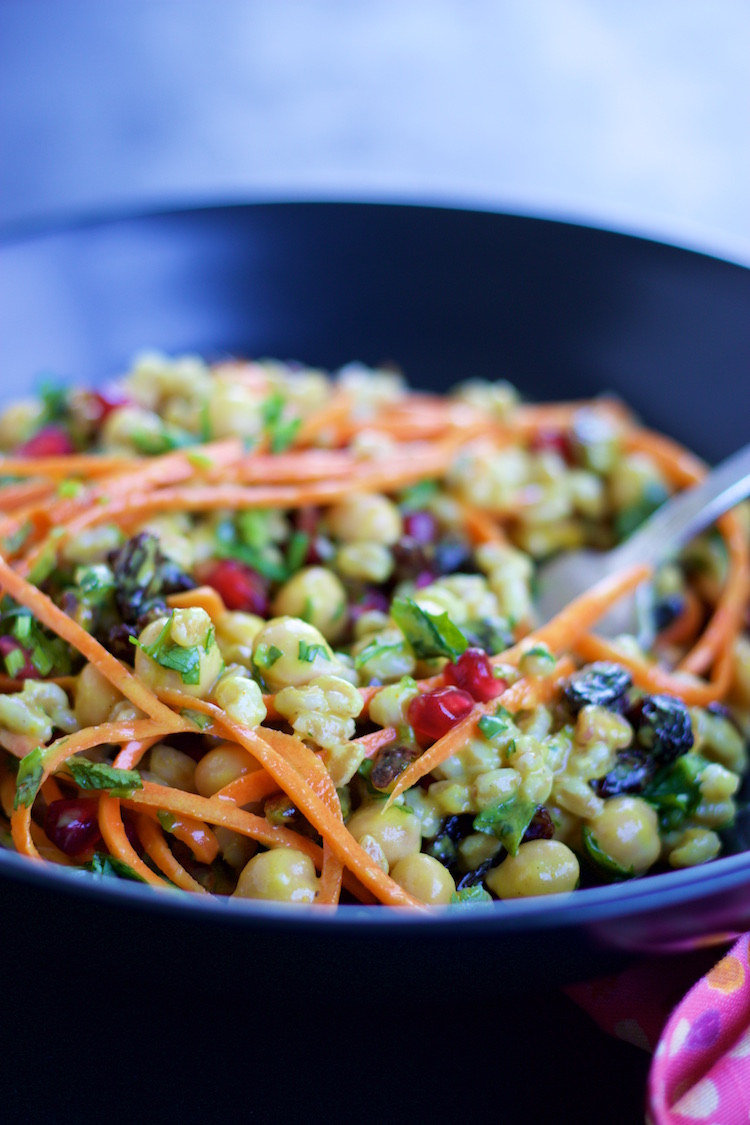 So I decided to start my blog, Piloncillo&Vanilla, the Spanish version, and then BrownSugar&Vanilla, the English version.?? The idea still scares me! Sharing my life and my recipes every week with you, but I also love it. I still forget to measure when I start cooking, but I remember more often than before. But for now, this recipe has everything as it should. You can do with farro, barley or rice. Here is the recipe, hope you like it and if you do please share.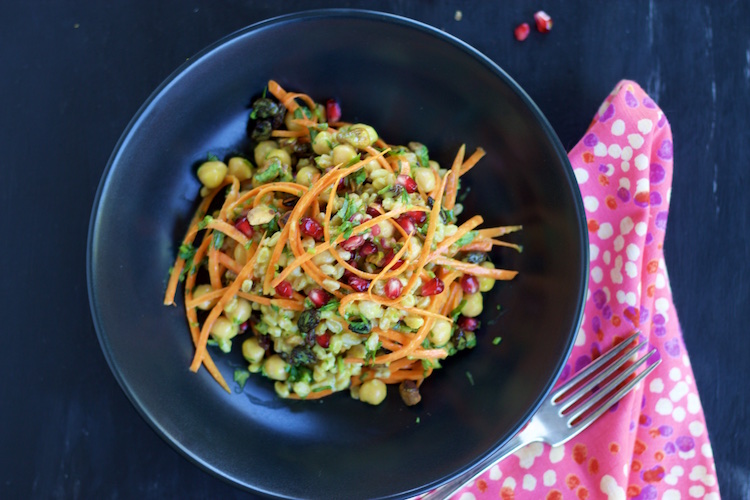 Chickpea and farro salad with curry dressing
Chickpea salad with rice (or other grain) with curry dressing and raisins, pistachios and pomegranate.
Ingredients
dressing:

1

tablespoon

maple syrup or 3 dates

1/2

teaspoon

chopped fresh ginger

1

clove

garlic

2

tablespoons

lemon juice

1

tablespoon

rice vinegar

1/2

teaspoon

salt

1

teaspoon

curry powder

1/4

cup

water

1/2

cup

oil

I use avocado oil

salad:

2

cups

cooked farro

barley or brown rice

2

or 3 grated carrots

1 1/2

cups

cooked garbanzo

Tas raisins 1/2

1/2

cup

Granada

1/2

cup

peeled and chopped pistachios

1/2

cup

chopped cilantro
Instructions
Put maple syrup, ginger, garlic clove, lemon juice, rice vinegar, salt, curry powder and water in a blender. Turn on the blender and let it run until everything is well incorporated.

Add oil while blender is turned on and let it run for a minute or two. Set aside.

In a bowl add the farro and barley, chickpeas and mix. Add dressing and mix gently. It may seem that the dressing is too much liquid or nothing happens, then it is absorbed.

Put the carrot and the remaining ingredients. Let the salad stand for about five or ten minutes before serving.
information
Nutritional information of this recipe is only an estimate, the accuracy for any recipe on this site is not guaranteed.
Please share: