These chipotle bbq mushroom sliders will soon become one of your favorite meals. The chipotle bbq sauce is homemade and perfect for this or any other dish.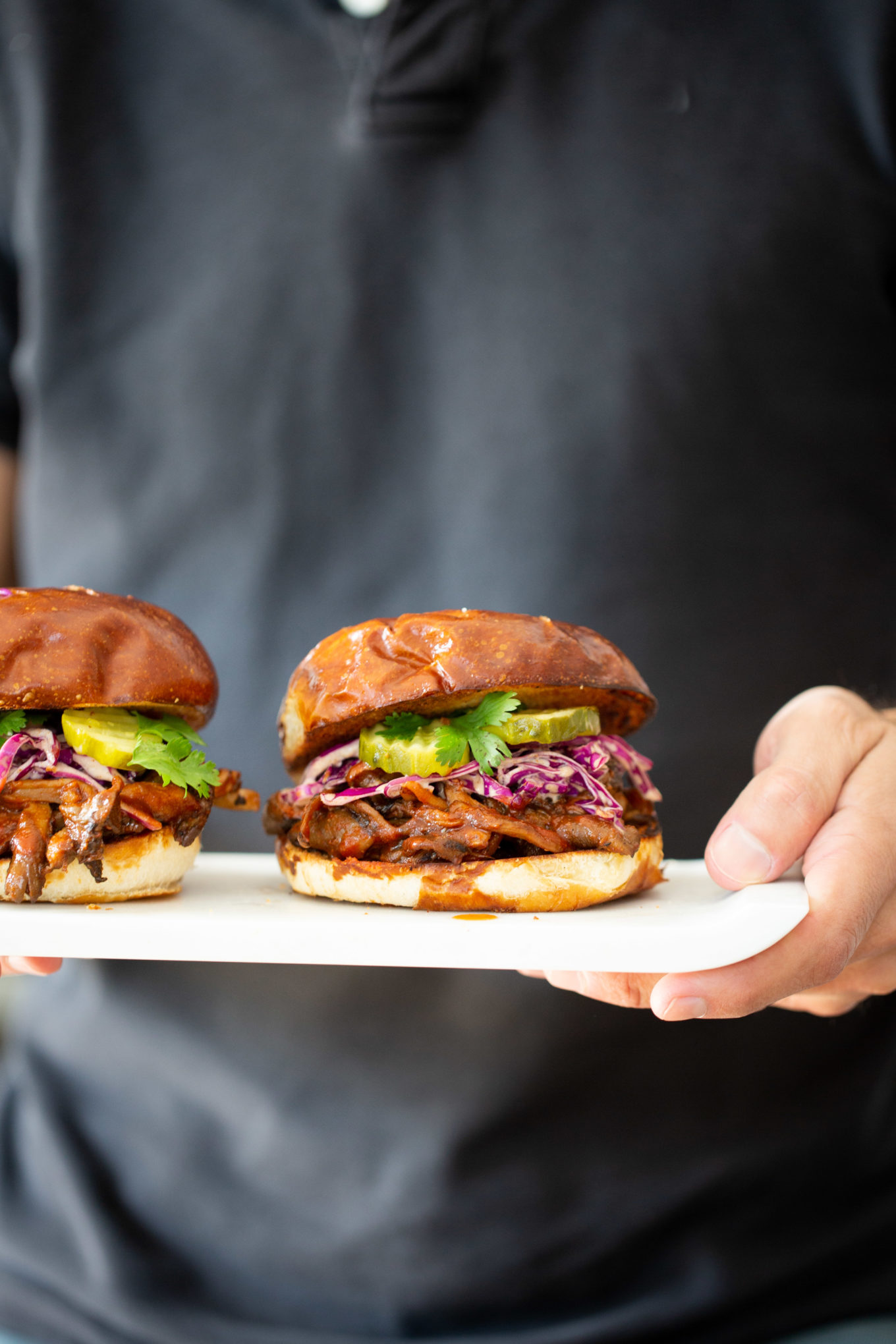 And if you start with the best ingredients, you will end with the best vegan bbq slider ever. I made the chipotle bbq sauce from scratch using spices from MOUNTAIN ROSE HERBS.
Mountain Rose Herbs offers a great variety of high-quality organically grown herbs, spices, teas, essential oils, DIY ingredients, and botanical goods. I am really obsessed with their herbs and spices, every time I open a bag of them… boom.. the aroma fills all of my space.
So you can imagine that the bbq sauce was perfect in every way to flavor the oyster mushrooms. To make the bbq sauce, I used tomato paste, brown sugar, and apple cider vinegar (affiliate link) as a base. From there, I started adding the fun part, the spices, and aromatics. I added ground mustard seed, chipotle powder, paprika, onion powder, and garlic powder. 
So easy, you just mix the ingredients and put them in a saucer over medium heat until you have the perfect, spicy, tangy and delicious homemade bbq sauce for the best bbq mushroom sliders.
Probably you are thinking about how to cook oyster mushrooms? Believe me, is so easy, you will be hooked with them. I use oyster mushrooms for a lot of dishes. One of my favorite ones is the posole ( an authentic Mexican soup).
How to cook oyster mushrooms?
You start by shredding them, then you add them to a very hot pan with a little bit of vegetable oil.
When most of the oyster mushrooms have at least one of its sides browned I add sliced garlic and a big pinch of salt. From there you just let them brown completely. So easy right.
The beauty of this recipe is that it all comes together fast and at the same time. So when the chipotle bbq sauce has reduced and the mushrooms are cooked you just pour part of the sauce over the mushrooms and voilá…. a delicious vegan pulled mushroom bbq situation for the sliders.
Then you just have to prepare the red cabbage slaw with chipotle mayo and put together the sandwiches. So easy right?
TIPS TRICKS & OTHER RECIPES
In this list, you will find the best tips and tricks to prepare the best bbq mushroom sliders ever.
As I said before, it makes a huge difference if you start with fresh and good spices like the ones from Mountain Rose Herbs.
This recipe for homemade bbq sauce makes more than you need, which is perfect because now you have a good and spicy bbq sauce for future use.
It is important that you really use a hot pan to cook the mushrooms. You want to seal the moisture out. Mushrooms have a lot of liquid, so it is better to salt them halfway than at the beginning.
Sauce the mushrooms until the pan is completely dry and add the chipotle bbq sauce little by little.
Do not prepare these chipotle bbq mushroom sliders until the very moment you will eat them. As any slider, they can turn a bit soggy.
If you can't find oyster mushrooms, substitute them with jackfruit or cooked green lentils.
Here are other recipes that I've made with Mountain Rose Herbes Wich are extremely delicious as well: Chai-chia pudding and Crispy chili oil with roasted cauliflower.
So here is the recipe for these
CHIPOTLE BBQ MUSHROOM SLIDERS
and please share the recipe and the blog with your friends on Instagram, FB or save this recipe for later on Pinterest. Also, do not forget to check out Mountian Rose Herbs, you will be surprised at all the goodies they sell on their website.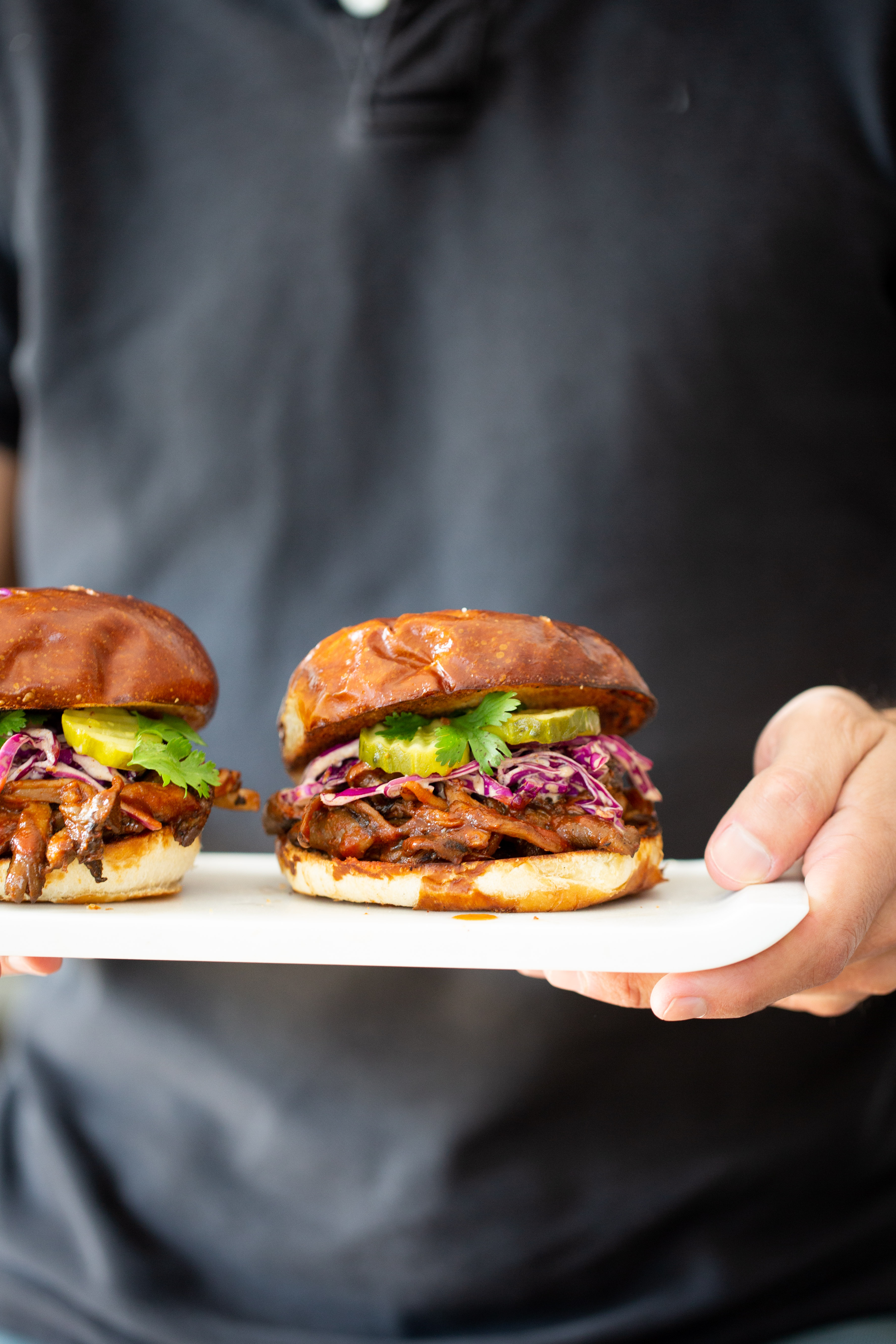 CHIPOTLE BBQ MUSHROOM SLIDERS
These chipotle bbq mushroom sliders are perfect for lunch or dinner. The sauce goes well with anything, keep it in the fridge for future uses.
Ingredients
Red cabbage slaw with chipotle dressing
For the sliders
4

pretzel buns

Pickles

Cilantro
Instructions
Mix all the ingredients for the chipotle bbq sauce in a saucer and put over medium heat until reduced. About 20-25 minutes.

On a hot non-stick or cast iron skillet add the 3 tablespoons, make sure it covers the whole surface of the pan. Add the mushrooms and let them brown.

When the mushrooms have at least one browned side, add the sliced garlic and a pinch of salt. Let the mushrooms brown all around.

Slowly add the chipotle bbq sauce to the pan with the browned mushrooms. Let the mushrooms absorb the sauce a bit, the sauce will continue to thicken.

Prepare the slaw by mixing the mayo, the chipotle powder, salt, and vinegar first. Add the sliced red cabbage and mix. Test for seasoning and adjust if necessary.

Cut the pretzel sliders by half and toast them for a bit.

Divide the oyster mushroom mix between the four pretzel sliders, add more chipotle bbq sauce on top. Top the mushroom mix with the red cabbage slaw, some pickles and cilantro leaves. Place the top part of the pretzel slider ontop.
Notes
If you have leftover sauce, keep it in the fridge in a tightly closed jar for future uses.
Nutrition
Calories:
322
kcal
Carbohydrates:
35
g
Protein:
7
g
Fat:
19
g
Saturated Fat:
9
g
Sodium:
1280
mg
Potassium:
1132
mg
Fiber:
6
g
Sugar:
20
g
Vitamin A:
1726
IU
Vitamin C:
46
mg
Calcium:
69
mg
Iron:
4
mg
information
Nutritional information of this recipe is only an estimate, the accuracy for any recipe on this site is not guaranteed.