Chocolate granola with cinnamon and cayenne …. and buckwheat. Do not panic, it sounds weird, but if you like Mexican hot chocolate, you'll love this one. You can start with or without cayenne, anyway, it tastes delicious. The base is made of granola with oats, coconut, and buckwheat.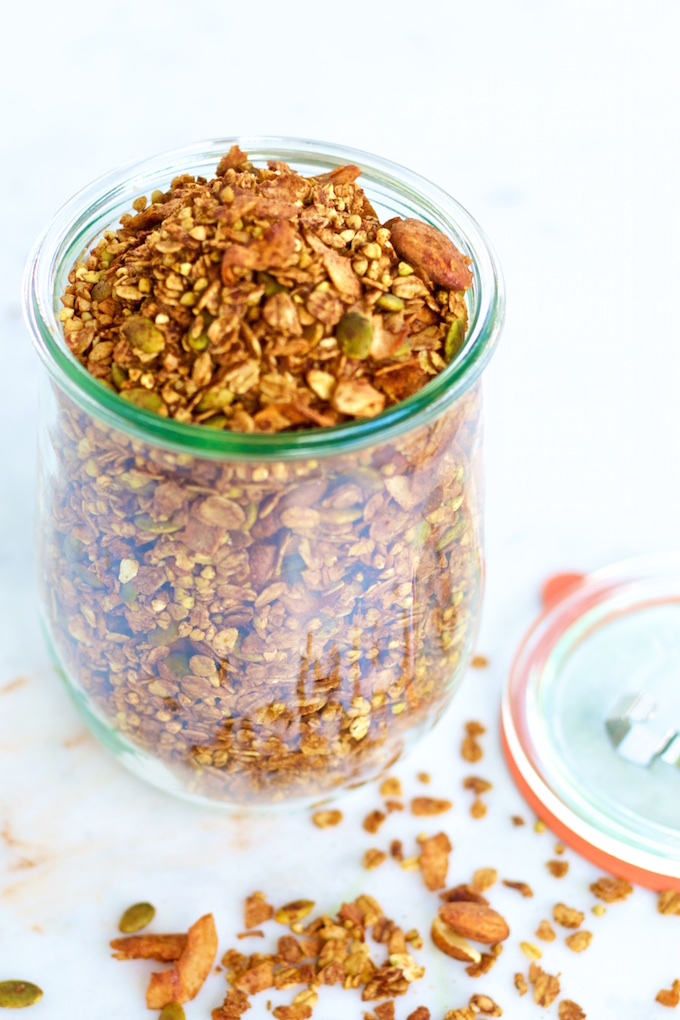 The Buckwheat is a pseudo-grain, is taken or considered as a grain but actually, it is not. And the poor thing is almost forgotten, it is a shame cause it is wonderful. If you do not find or do not like buckwheat, only replaced it with oats.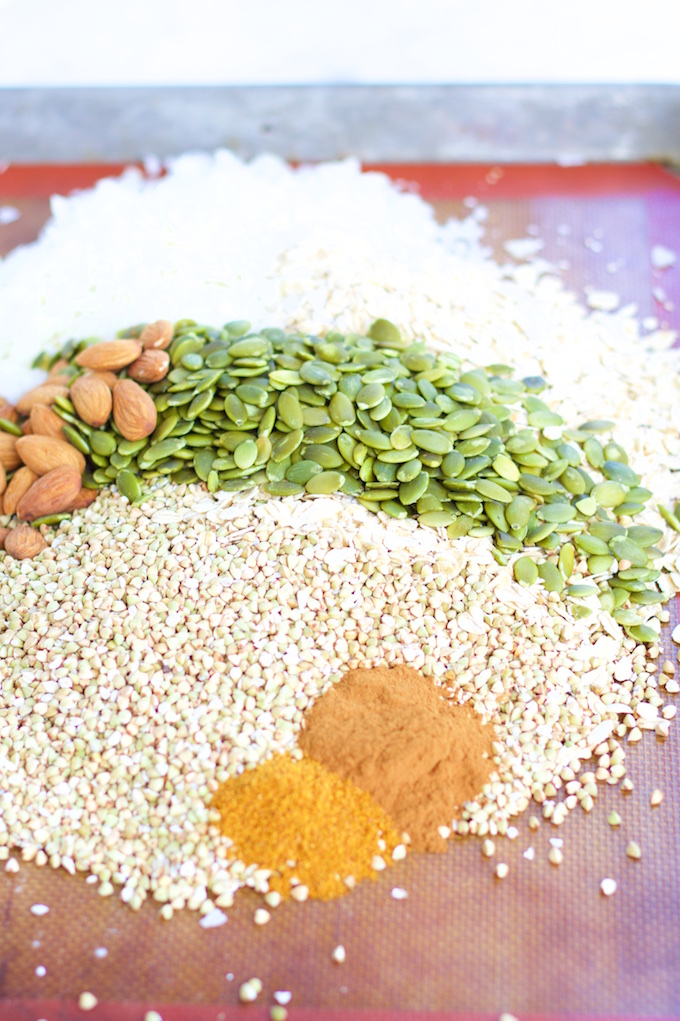 These seeds are filled with thousand of benefits, vitamin B, and proteins. When toasted they become super crispy and give a delicious texture to the granola. My children, call this granola their healthy Choco-Krispies.
Other recipes that you may like: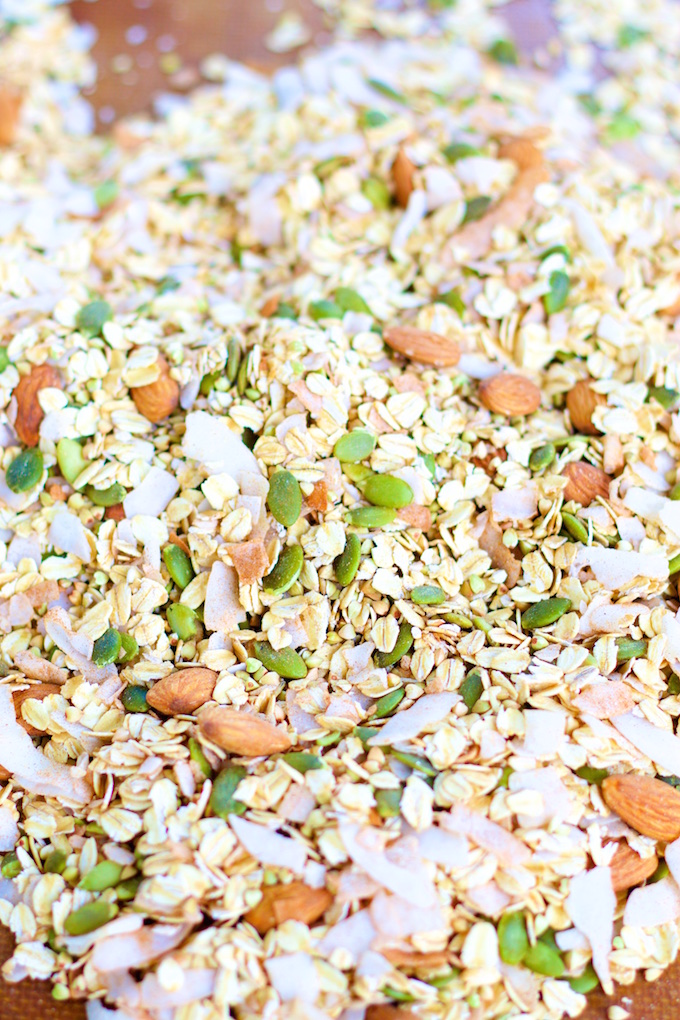 Cinnamon and cayenne make it super special. It really is as if you were eating a piece of chocolate to make hot Mexican chocolate. And it is also full of superpowers and health benefits.
Cinnamon, for example, is antibacterial has magnesium, calcium, and is a super good helper for digestion. Cayenne, within many good things it does for our body it also helps burn the extra fat we have (terrific right?).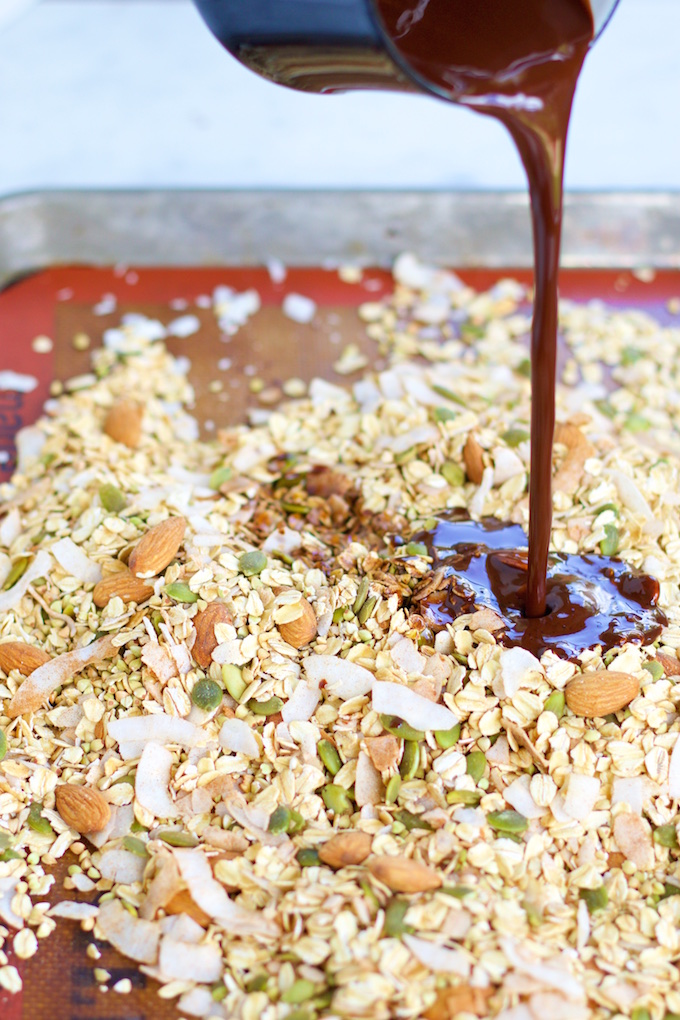 Sírvela con fruta y leche de almendra (affiliate link) o coco o con algún yogurt que te guste.I make it and store it in jars in the pantry, if it is well covered, it would last up to two weeks.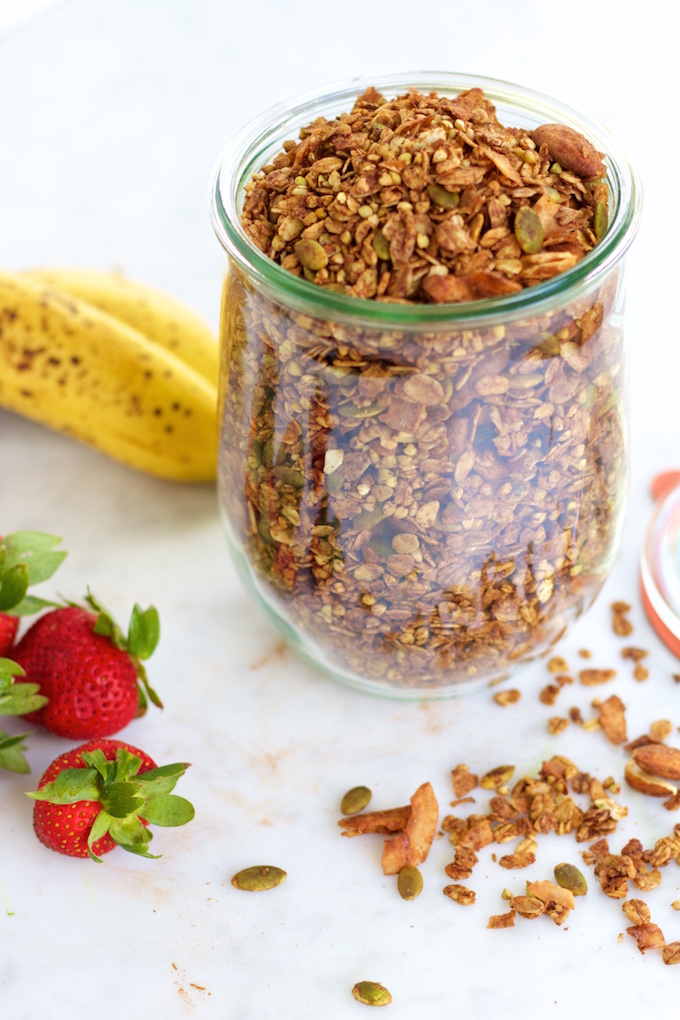 Serve with fruit and almond or coconut milk or some type of yogurt that you like.  Here is the recipe and hope you like it. If you like it please share it or  Instagram it with the hashtag I love to see how your recipes turn out.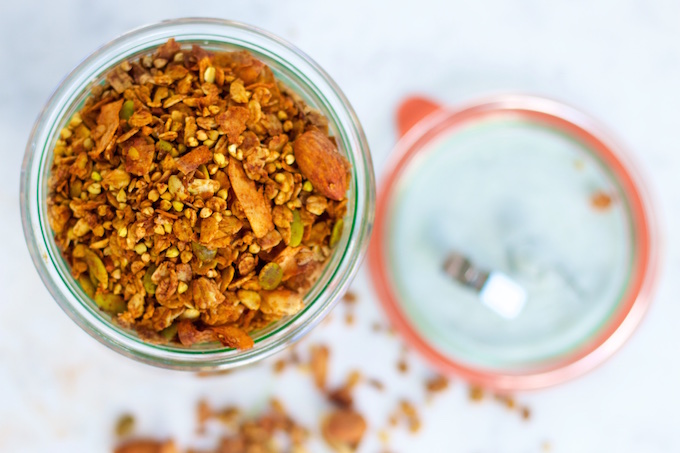 Chocolate, cinnamon and cayenne
A delicious healthy and easy chocolatey granola with the power of cinnamon and cayenne pepper.
Ingredients
3

cups

oatmeal

1

cup

buckwheat

1/2

cup

almonds

1/2

cup

pumpkin seeds

1 1/2

cups

coconut flakes

1/2

cup

maple syrup

2

tablespoons

cocoa

1/4

cup

coconut oil

1

tablespoon

cinnamon

1/2

teaspoon

cayenne
Instructions
Pre heat the oven to 350 ° F

In a baking dish, prepared with a silicone mat or parchment paper, mix oats, buckwheat, almonds, seeds, coconut, cinnamon and cayenne.

In a saucepan on the stove melt coconut oil and mix with cocoa and maple syrup.

Empty it over the mixture and mix well.

Extend the granola in a single layer on cookie sheet and put in the oven. Leave for 10 minutes, take it out and move, then left to a single layer and again put in the oven for another 10 minutes.

Repeat once more. When you've spent half an hour, it should already be golden brown and drop.
information
Nutritional information of this recipe is only an estimate, the accuracy for any recipe on this site is not guaranteed.