This creamy vegan pot pie soup is the easiest and the most uncomplicated version that you'll find.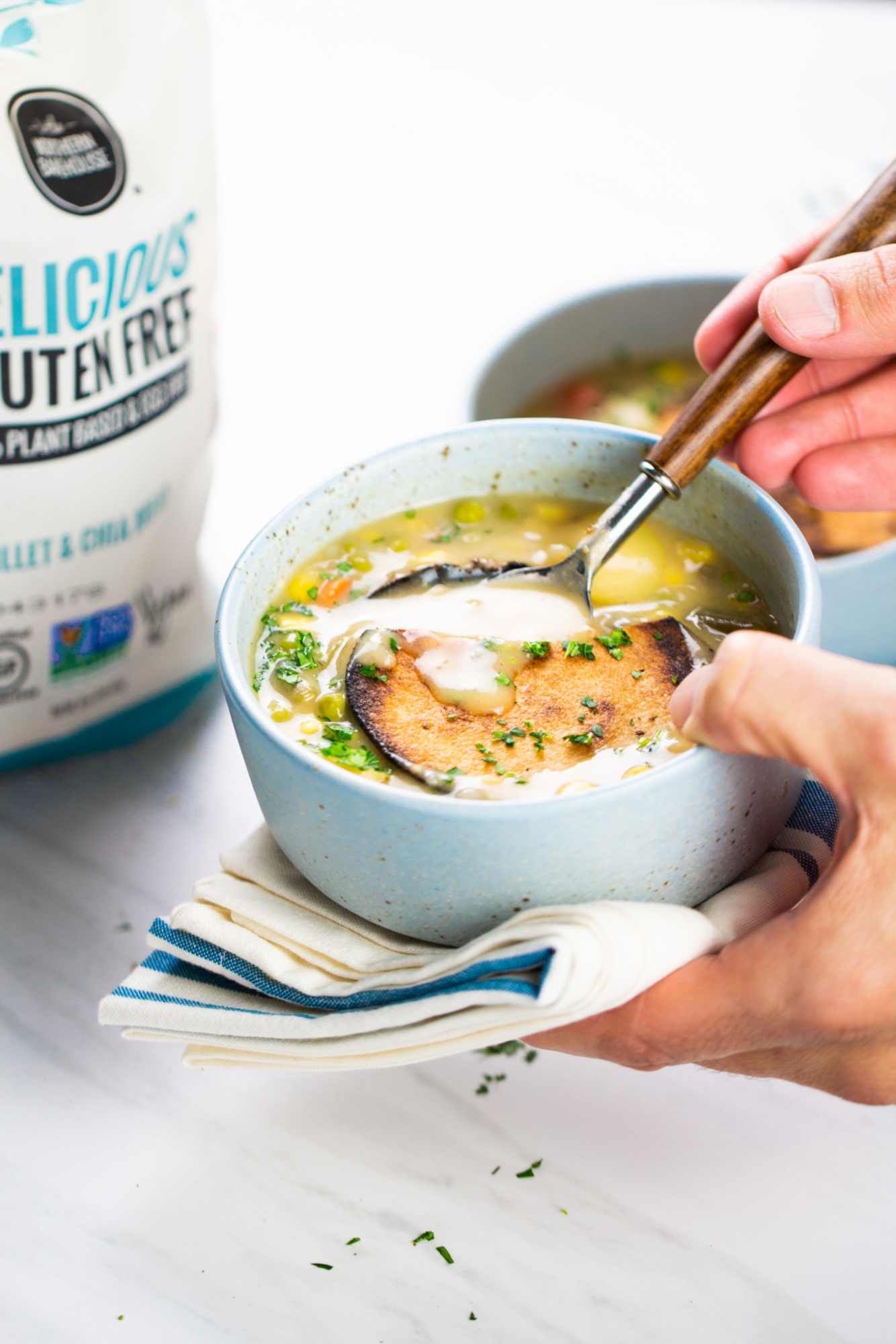 Can you believe that when I was young, I just couldn't eat soup? Don't get me wrong; I feel that I've always been a professional eater. I looooove to eat, to savor every bite and identify every single flavor in my food.
I love the flavors, the texture, the temperatures, ohhh my god… yes. I love food and everything around it. But when I was young soup just wasn't my thing.
I can't remember when I started liking it, but I do remember when I started liking pot pie soup.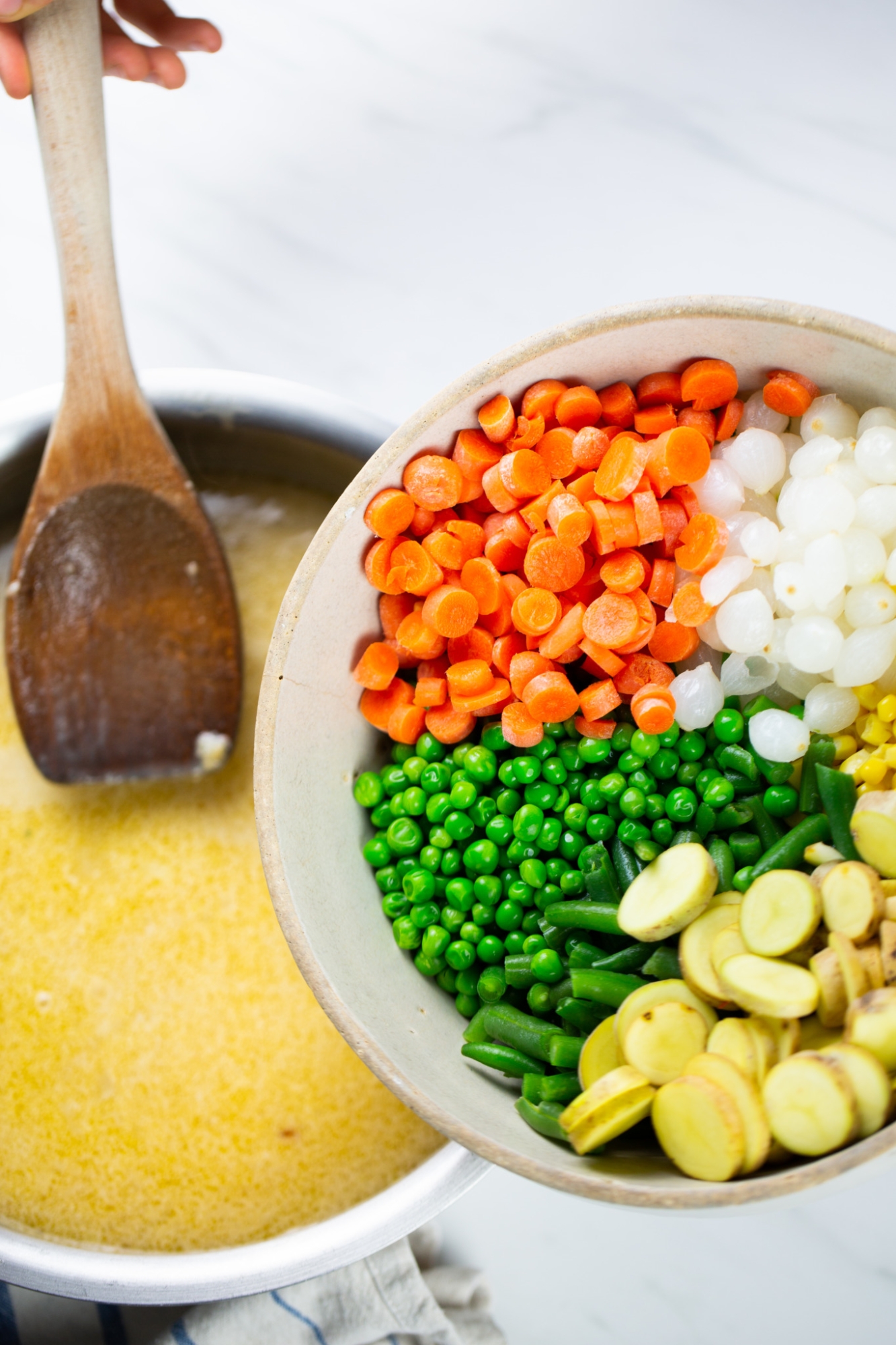 I was recently married, and we were visiting my husband's grandmother. She always had the most traditional American food at her house. Apple pie. Meatloaf. Grilled Cheese. Pot pies. Pot pie soup.
These dishes were all new for me. Well, not entirely new, I just hadn't eaten them before. But the experience of eating them made traditionally, and in a true American family-house, was also all new to me.
She also had the perfect Grandmother look. Grey hair in a high bun, a very warm personality and she was very huggable. So, anything coming from her or her kitchen was a true expression of love.
I've always tried to recreate those flavors but in a healthier, vegan and gluten-free way when possible. This creamy vegan pot pie soup with millet-chia crust is my version of her chicken pot pie soup.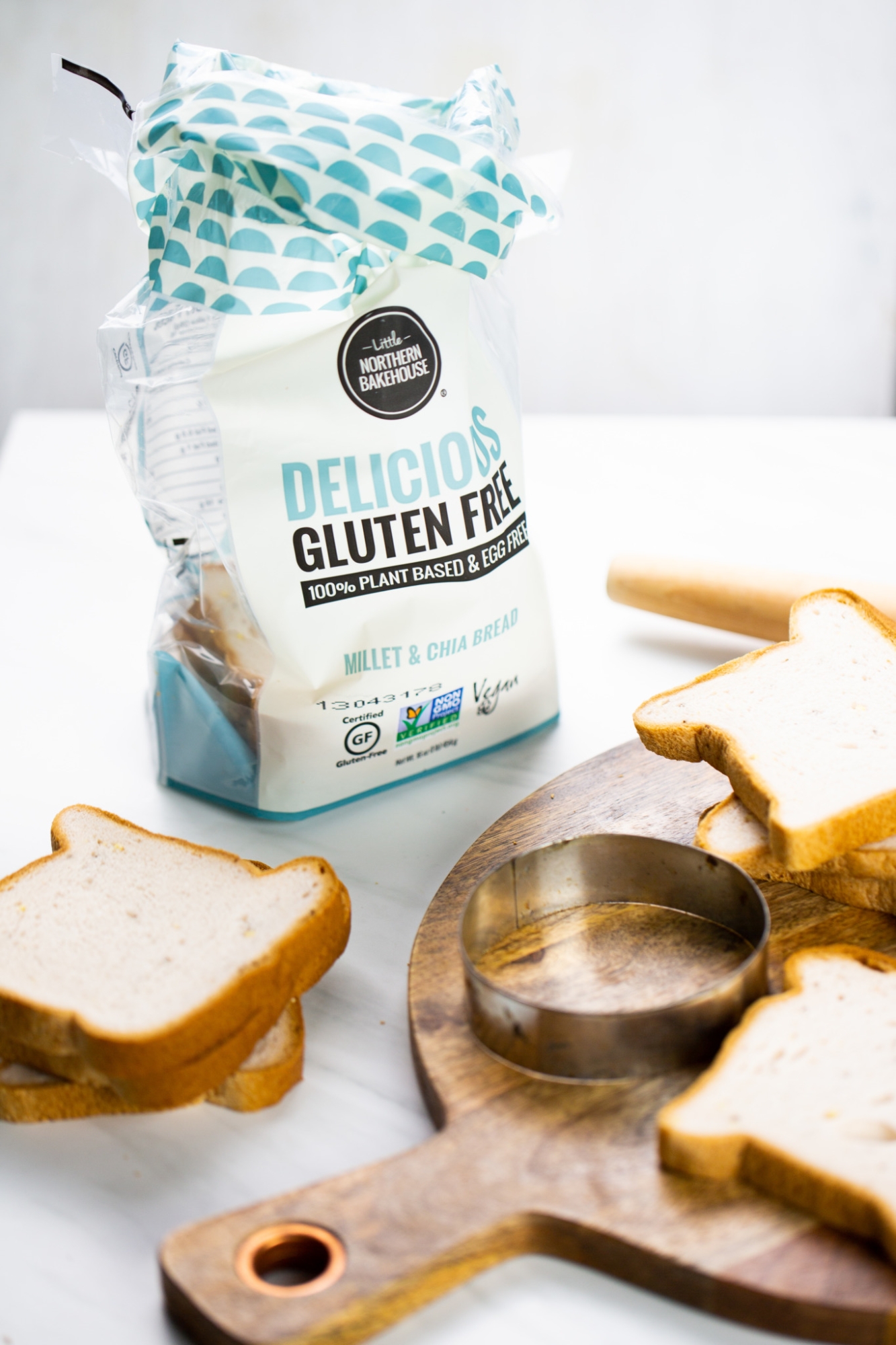 I made this soup in the traditional way but with a very healthy twist. It all starts by sautéing the garlic and onion in olive oil. Then I add gluten-free flour to form a roux (a flour-fat mixture that is best for thickening anything… soups, sauces, gravies, …). Then I add the vegetable broth, some rice milk and…. pureed navy beans. Yep! That is the secret; it gives flavor, body and a kick of healthy protein boost to the soup. But wait… it gets better. The vegan Millet and Chia crust is also GLUTEN FREE, and HEALTHY, and NUTRITIOUS and DELICIOUS…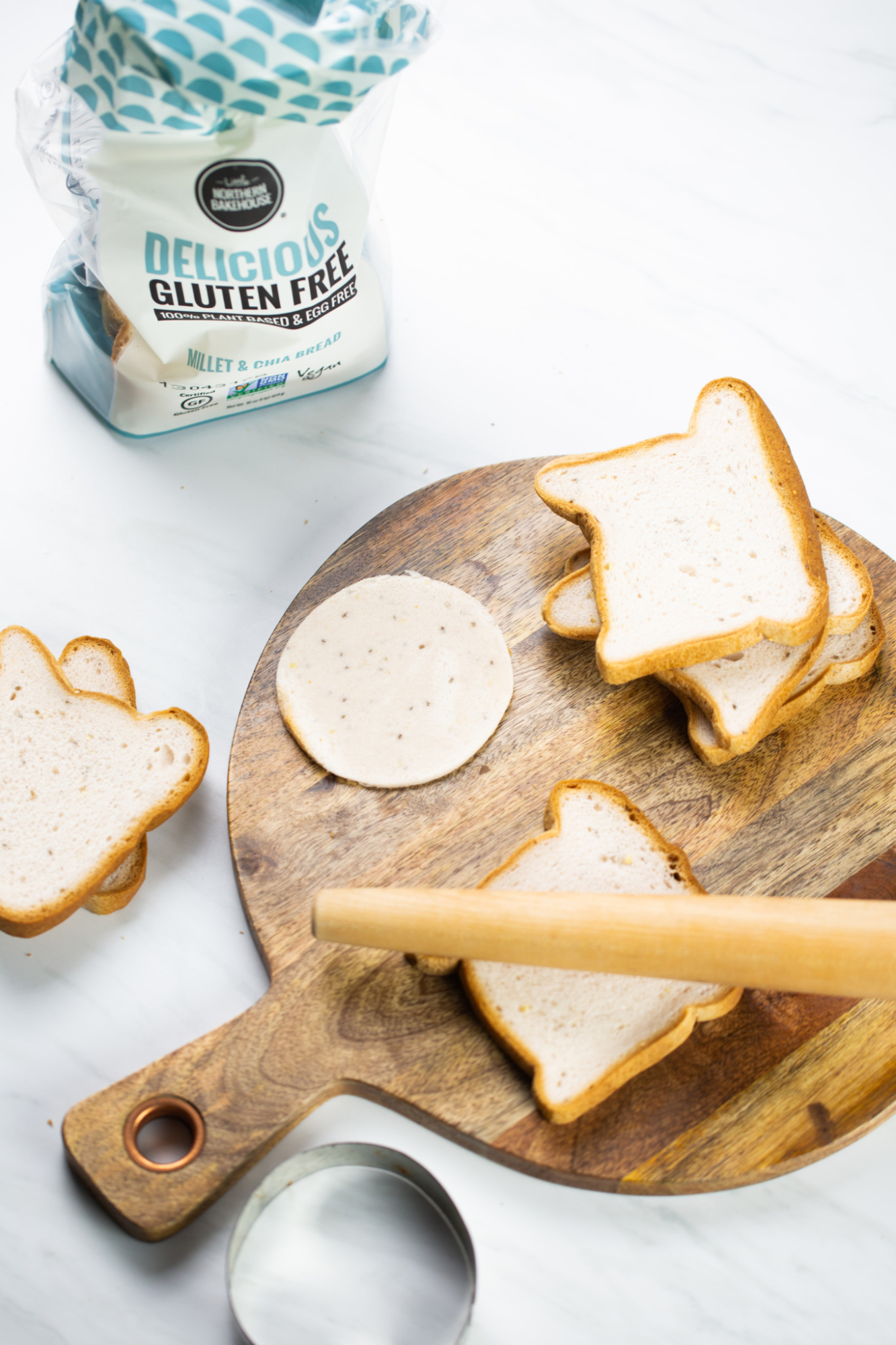 The crust is made by rolling out a slice of Little Northern Bakehouse Millet and Chia Loaf, cutting it into a circle with a cookie cutter, and then toasting it.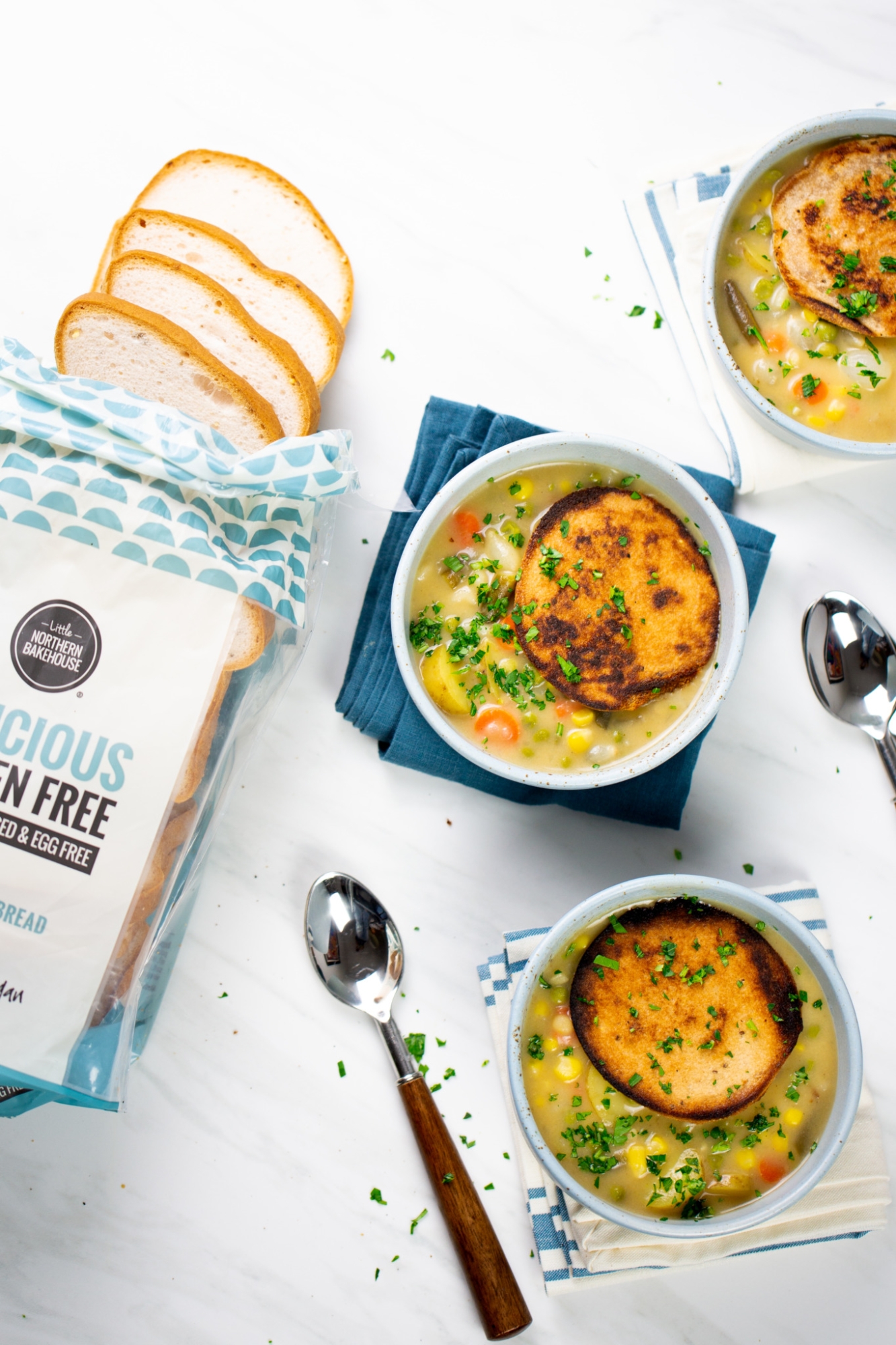 It comes out light and delicious, plus the added millet and chia add a nice crunch, giving it the perfect crusty feeling to every bite of a classic pot pie soup.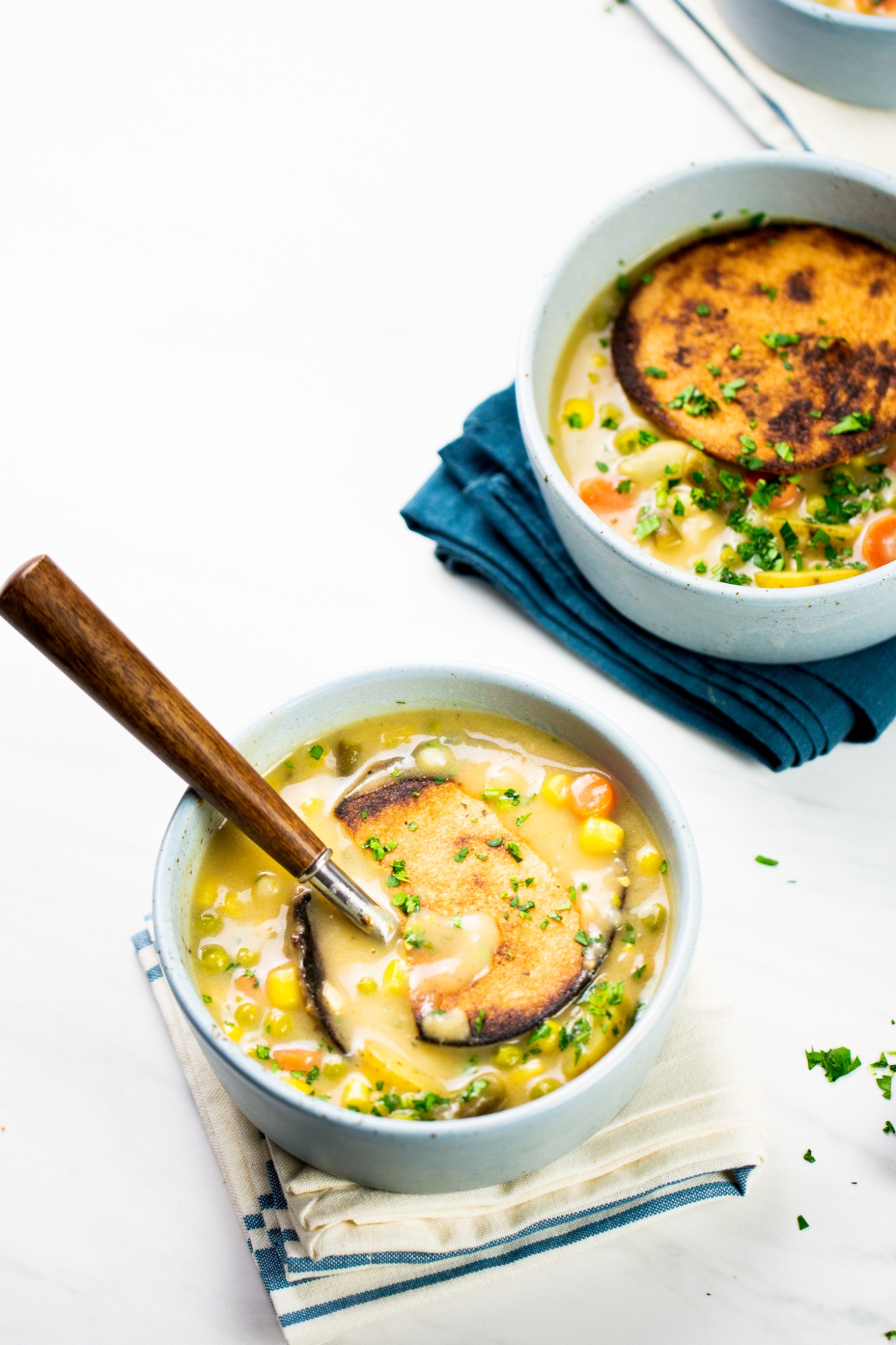 So here is the recipe for this
CREAMY VEGAN POT PIE SOUP WITH MILLET CHIA CRUST
I hope you like it as much as we do. Hopefully, every spoonful will transport you to your happy place, such as your home, or your grandmas. Don't forget to share this recipe with your vegan and gluten-free friends; I'm sure they'll love it. And if you make it, post a picture of it on Instagram with the #brownsugarandvanilla. I want to see everything you make!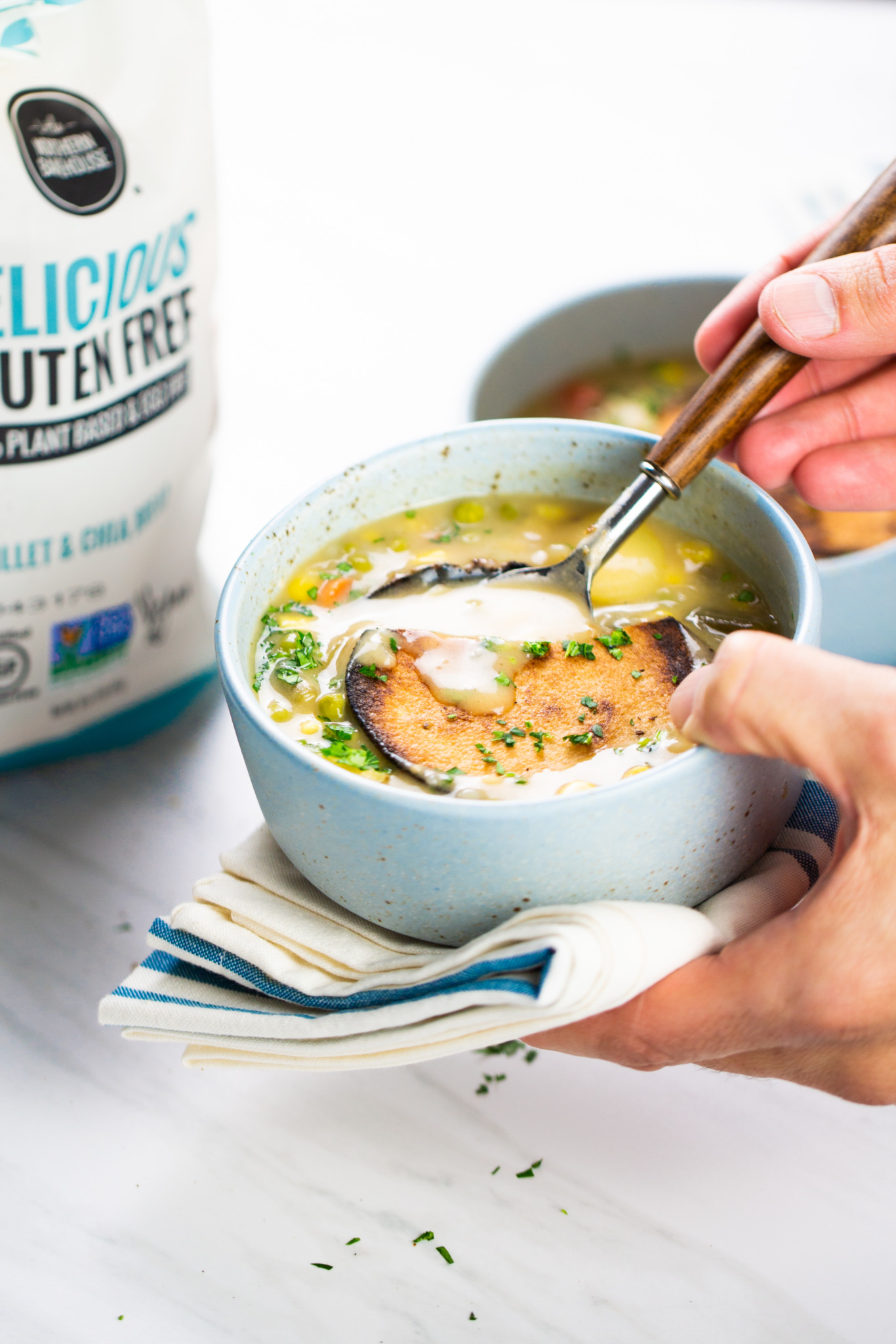 Creamy Vegan Pot pie soup with Millet and Chia crust
This creamy vegan pot pie soup with millet and chia crust is perfect for lunch or dinner. It is the ultimate comfort food made vegan and gluten-free. It is easy to prepare, full of veggies and loved by everyone.
Ingredients
For the soup
¼

cup

extra virgin olive oil

4-5

garlic cloves

½

cup

minced onion

4

tablespoons

gluten-free flour

4

cups

vegetable broth

2

cups

rice milk

or another dairy free

1

can navy beans pureed

liquid and beans

1

cup

frozen peas

1

cup

sliced fingerling potatoes

or another type cut into ½ -inch cubes

1

cup

diced carrots

1

cup

frozen green beans

1

cup

frozen corn kernels

1

cup

frozen pearl onions

Salt and pepper

Minced parsley to finish.
Crust
1

tablespoon

vegan butter or extra virgin olive oil
Instructions
In a large soup pot, heat the extra virgin olive oil over medium heat. Add the onion and minced garlic. When it starts to brown, sprinkle with flour and leave for three minutes moving constantly.

Add the vegetable broth, and milk and mix until the flour dissolves completely. Add the navy bean puree.

Add the vegetables, salt, and pepper and let it simmer for 20 minutes or until the vegetables are thoroughly cooked.

To make the crust, roll out a slice of Millet & Chia bread until 1/8-inch or less thick. Cut it with a cookie cutter and toast on a skillet with butter or olive oil.

Finish with minced parsley.
Nutrition
Serving:
250
grs
Calories:
279
kcal
Carbohydrates:
39
g
Protein:
4
g
Fat:
11
g
Saturated Fat:
1
g
Cholesterol:
6
mg
Sodium:
661
mg
Potassium:
257
mg
Fiber:
3
g
Sugar:
9
g
Vitamin A:
3240
IU
Vitamin C:
15.3
mg
Calcium:
68
mg
Iron:
1
mg
information
Nutritional information of this recipe is only an estimate, the accuracy for any recipe on this site is not guaranteed.
Thanks, Little Northern Bakehouse for sponsoring this post.