I love chia seeds and use them every time I can. I use them in smoothies, granola, as a topping for salads or homemade crackers. But this easy vegan chocolate chia pudding is definitely my favorite.
My kids gave me the title of best mom ever the day I gave them for breakfast this chia pudding. I can tell why just imagine waking up to a creamy chocolate breakfast. All topped with freshly cut strawberries and cherries and juicy and sweet blueberries. It sounds like a perfect breakfast, right? And best of all, full of the healthy benefits of chia.
The easiest way to make vegan chia pudding.
Make the cashew chocolate milk. That is to say, it is so easy to make cashew milk at home and it is so delicious that I hope you make this cashew milk not only for this recipe of chocolate chia pudding. I hope you find more uses for it. If you want creamier cashew milk, soak the cashews for three hours to overnight. Strain and blend with 3 1/2 cups of water, cocoa (affiliate link) powder, vanilla extract, and maple syrup.
Soak the chia seeds. The second step to make the vegan chia pudding is to soak the seeds in the chocolate cashew milk for 3 hours to overnight.
The waiting. The third and hardest step of all. Waiting for this delicious pudding to be ready. Because the longer you wait the yummier it will be, that it's why there are so many overnight chia pudding recipes out there.
What is the secret to the best chia pudding?
One secret is to let it soak for longer hours, and the other one is to use the best ingredients you can find. Buy ingredients that are fresh and as close to nature as you can find.
What are the benefits of chia pudding? Chia seeds have a lot of healthy benefits. They help us stay hydrated and have tons of fiber and are a good source of omega 3. Therefore, chia seeds can also help you to poop better 🙊🙈.
some ideas to serve this pudding
Here are some ideas if your family is new to chia pudding.

The first time I gave my kids this chia pudding, I told them I had a surprise for breakfast. They tried it without knowing what it was. Halfway their pudding, I told them they were eating chia seeds, and together, we learned a bit about them.
But if your kids are not as adventurous with food as my kids are, you could blend the chia seeds when making the cashew milk. Adjust the liquid if needed.

Different topping ideas

Serve this with any vegan yogurt.
It is also very good with sliced bananas, almond butter, peanut butter, or sprinkle cacao nibs over.
With coconut flakes, granola, and diced apples.

Here are other recipes were I use chia seeds. Mocha chia pudding, chia seed crackers, Berry chia seed jam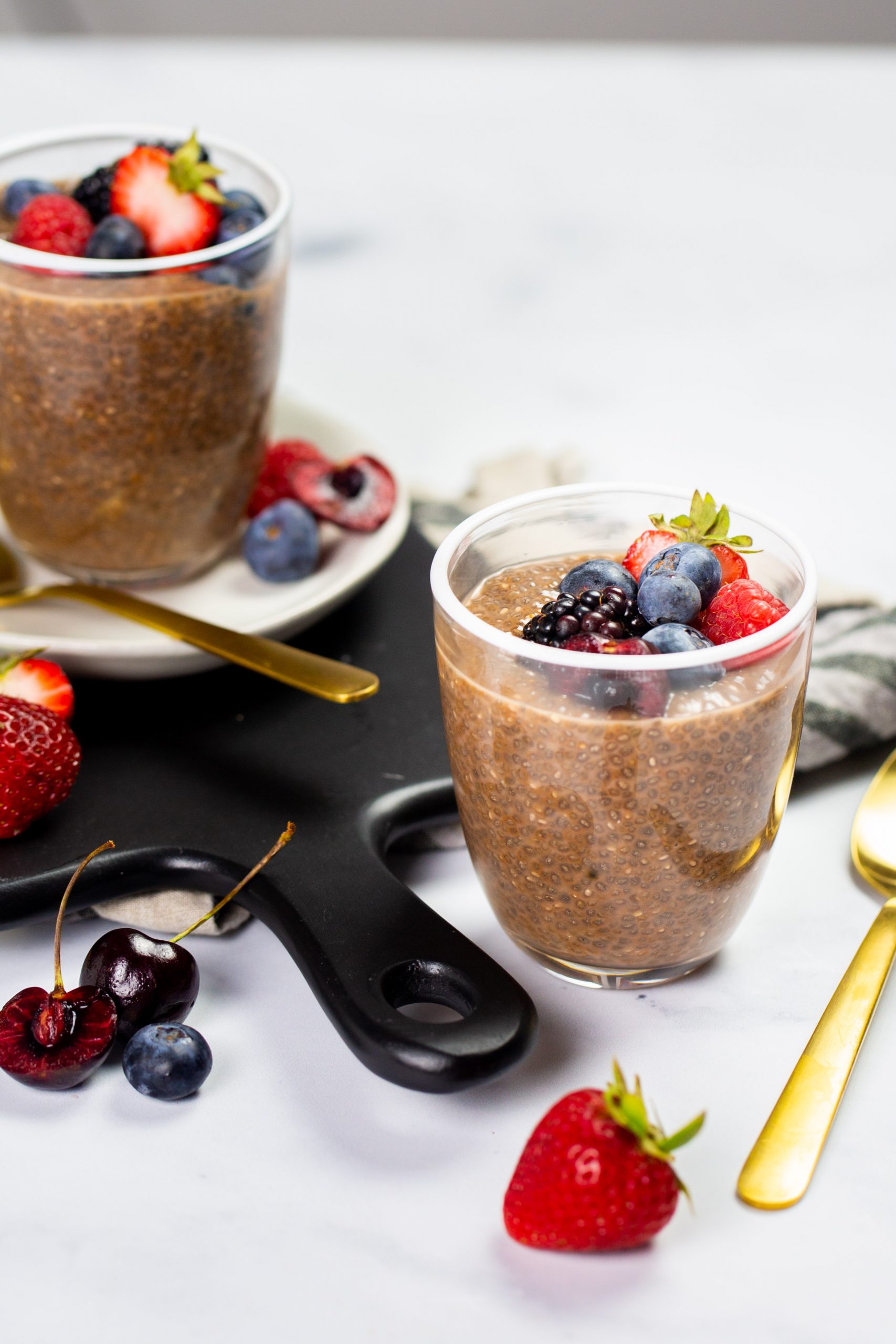 So here is the recipe for this easy vegan chocolate and chia pudding made with homemade cashews milk. If you like it, please share it with your friends and family on FB or Instagram. Don't forget to tell me your thoughts in the comments section if your children liked it or if you want to see more chia recipes, etc. It would also be fantastic if you gave this vegan recipe 5 stars.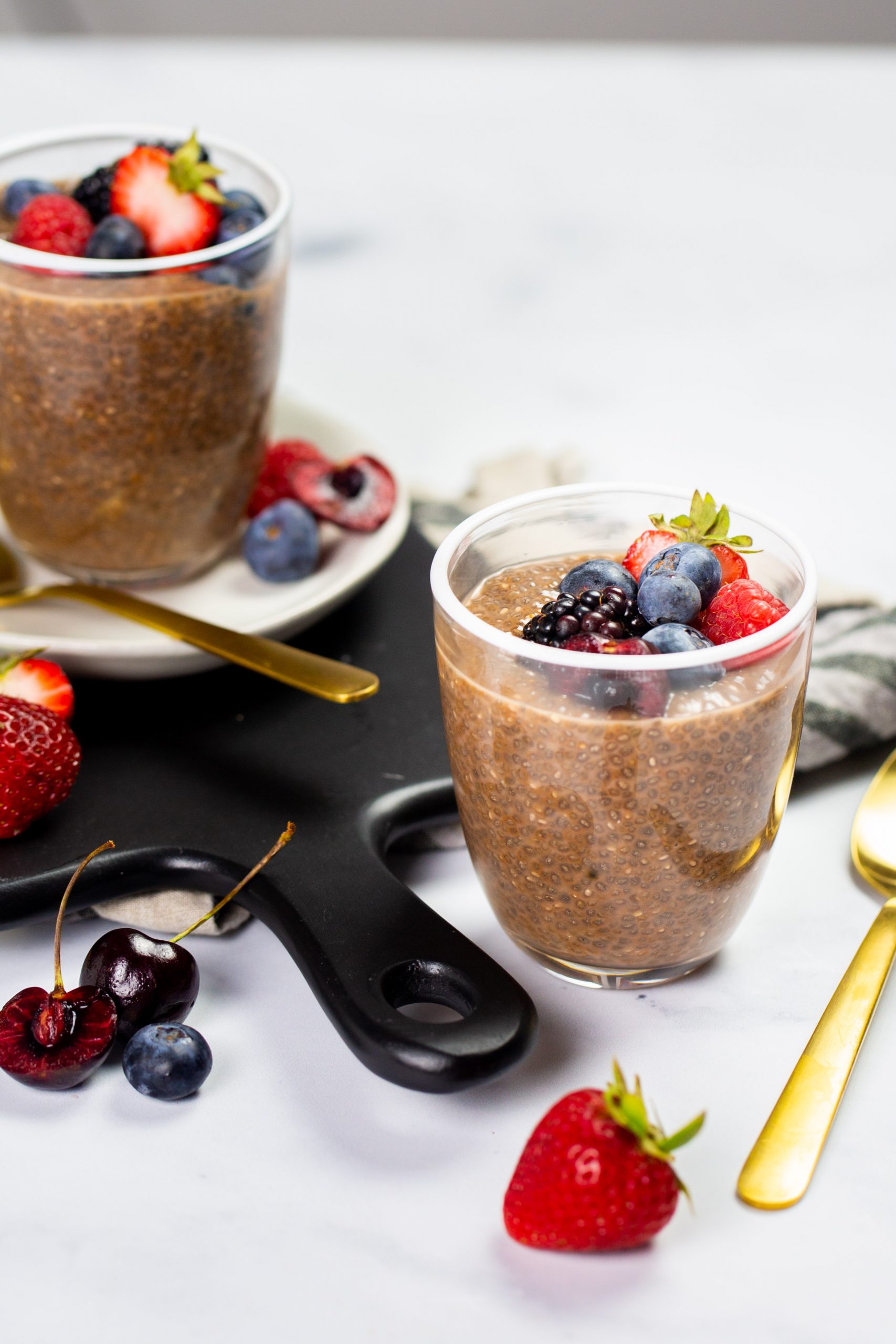 Chocolate and chia pudding
Chocolate chia pudding, chocolate milk made from cashews, Indian walnuts and maple syrup.
Ingredients
1/2

cup

of chia

1

cup

cashews, unroasted

4

tablespoons

cocoa powder

1/2

cup

of maple syrup

2

teaspoons

of vanilla

3 ½

cups

of water
Instructions
Soak the cashews in clean water for at least 2 hours.

When they are ready, drain them very well and blend them with the cocoa, honey, vanilla and 3 1/2 cups of water.

Chocolate and chia pudding

In a large bowl put the chia and pour the chocolate on top. Stir occasionally, as chia seeds can weigh down.

Put in the fridge for at least 3 hours or overnight. The idea is to leave it with the thick consistency of a pudding.
Notes
If you feel that the cashews milk is very thick, put 1/4 more water. I used strawberries to serve it but you can use raspberries, bananas, any other fruit. It also tastes delicious if you sprinkle it with cinnamon and if you use it for dessert put it little grated dark chocolate.
Nutrition
Calories:
407
kcal
Carbohydrates:
49
g
Protein:
10
g
Fat:
21
g
Saturated Fat:
4
g
Trans Fat:
1
g
Sodium:
22
mg
Potassium:
469
mg
Fiber:
10
g
Sugar:
26
g
Vitamin A:
11
IU
Vitamin C:
1
mg
Calcium:
203
mg
Iron:
5
mg
information
Nutritional information of this recipe is only an estimate, the accuracy for any recipe on this site is not guaranteed.
Nutritional information of this recipe is only an estimate, the accuracy for any recipe on this site is not guaranteed.