Craving an authentic Mexican meal? Try these Easy Vegan Green Enchiladas with tomatillo sauce that will blow you away with their magnificent taste and how easy they are to make.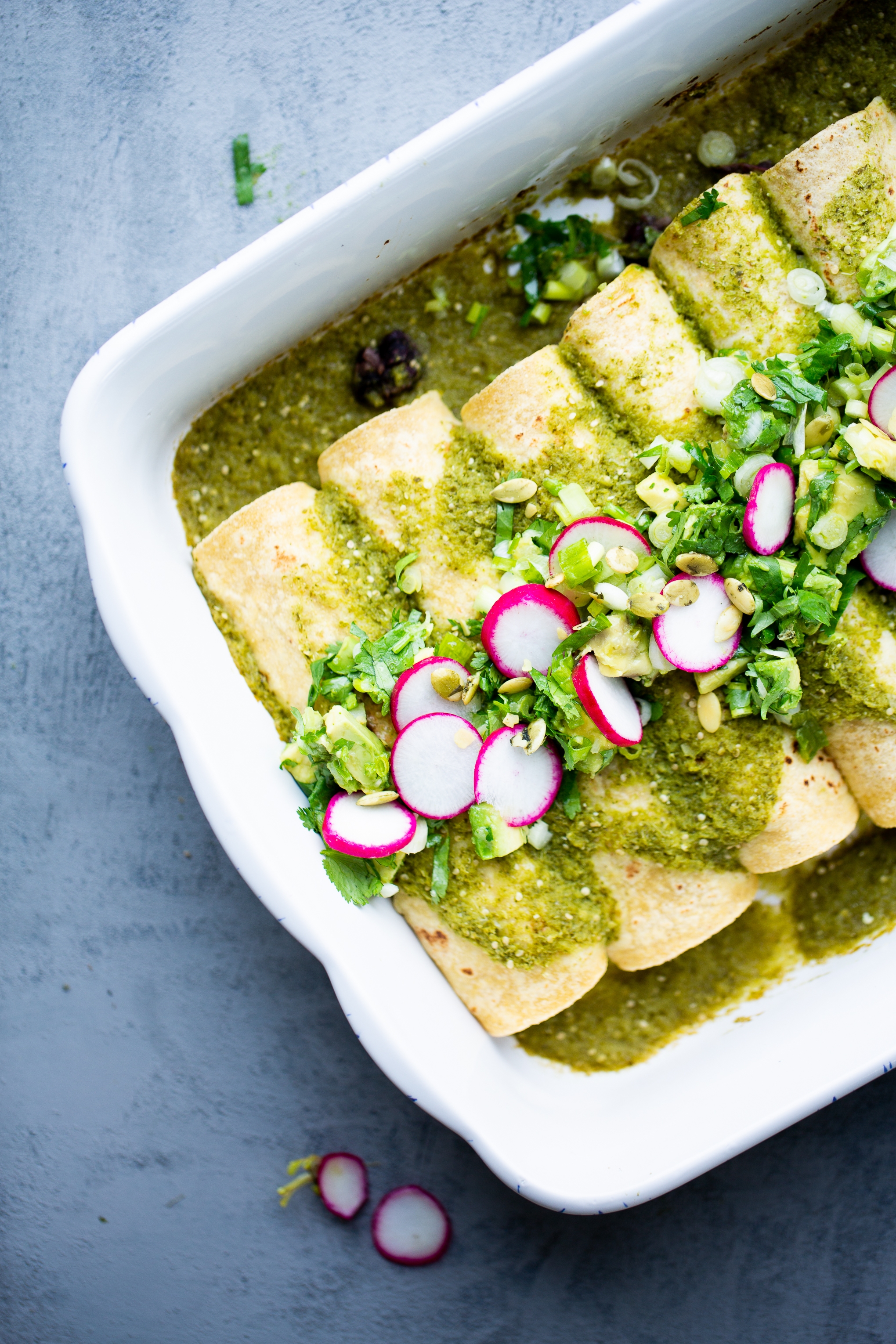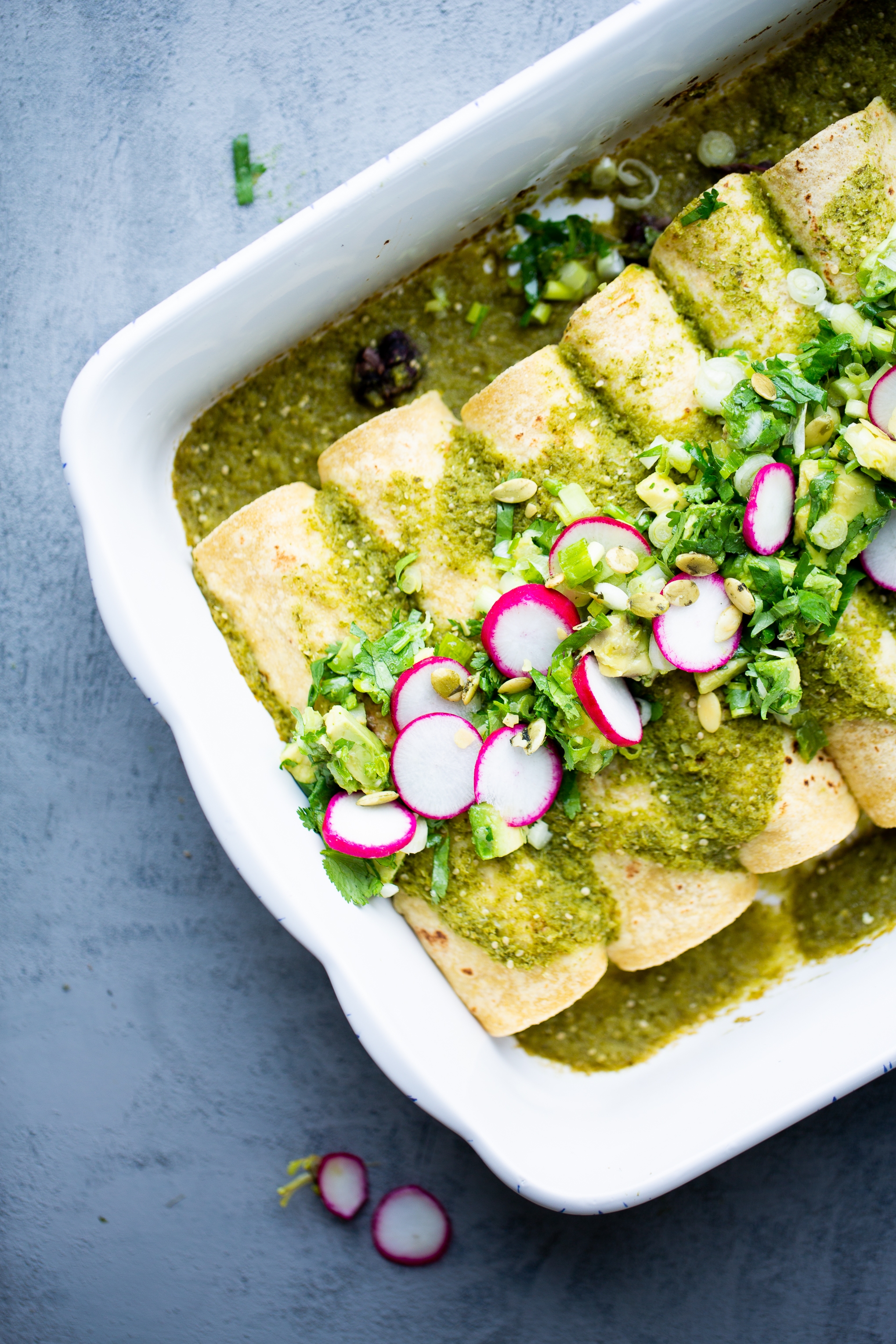 About this recipe
You'll only need a few ingredients to make flavorful enchiladas to enjoy for lunch or dinner. The enchilada salsa can be made at home with tomatillos, onion, serrano peppers, and cilantro o you could use store-bought. Use corn tortillas, which are naturally gluten-free, and for the filling: rice, beans, and greens.
What You'll Need to Make Enchiladas verdes
Brown Rice. Be sure to cook your brown rice beforehand. You can sub with quinoa or other grain.
Salsa Verde. Use your favorite tomatillo vegan-friendly brand of salsa verde or make it at home.
Black Beans. Use home-cooked black beans or canned. If you have other beans that you prefer, you can use them instead of the black beans.
Spinach. Add spinach to your dish for flavor and added health benefits, you could easily switch it up with kale or any other green.
Corn Tortillas. You will need a minimum of eight tortillas to prepare these enchiladas. Look for corn tortillas that only have corn and lime juice in their ingredient list. the fewer ingredients they have, the better.
For serving: You will also need pumpkin seeds, radishes, avocado (you could use guacamole), chopped cilantro, and scallions or Mexican pickled red onions.
🔥Not all Mexican food needs cumin. In fact, very few recipes call for cumin. 

     I don't recommend using flour tortillas for enchiladas, it is not the authentic way of making enchiladas.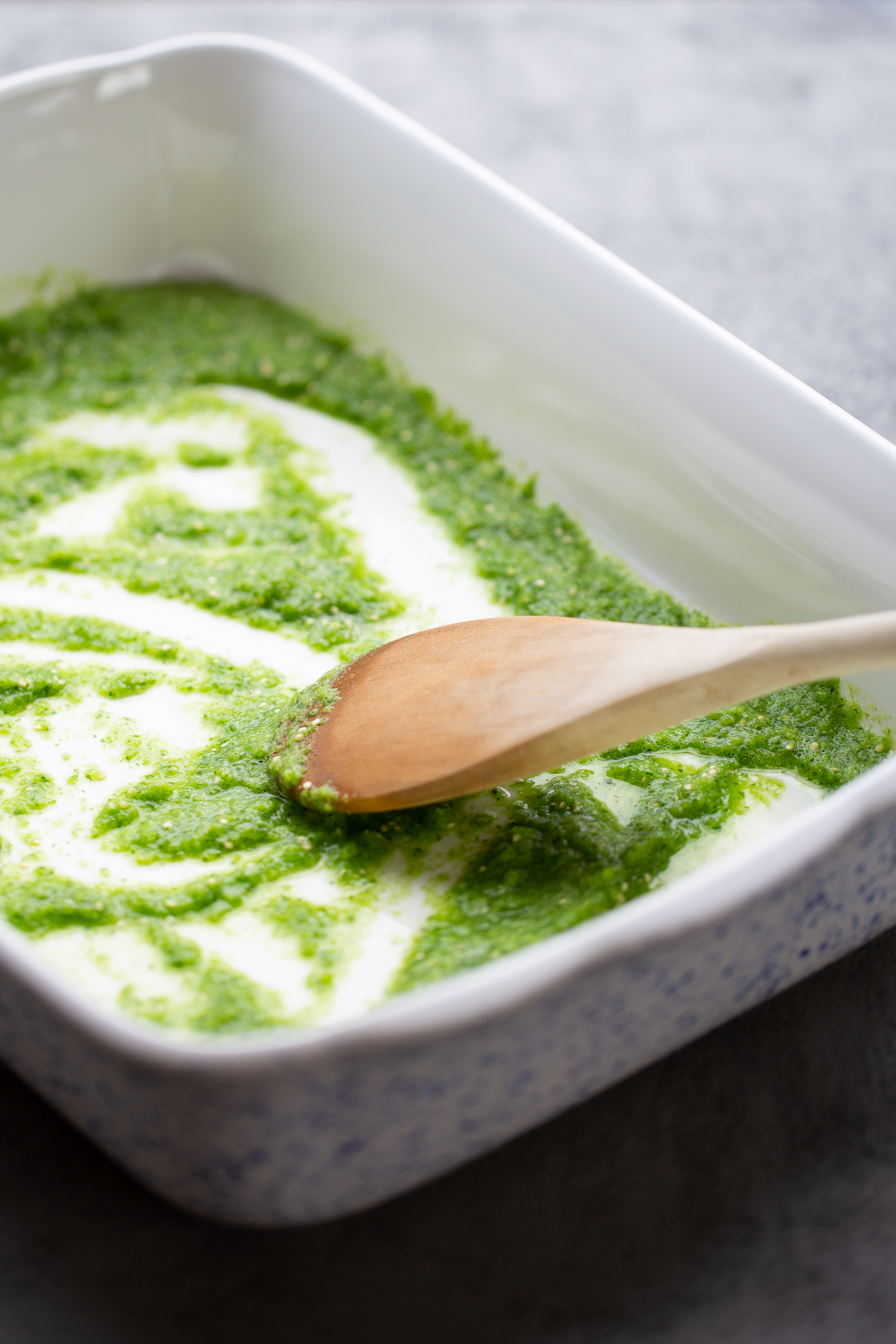 How Long Does It Take to Prepare?
It will take you about 15 minutes to prepare your ingredients and 20 minutes for everything to cook. You can have this wholesome, homemade meal ready to eat in under 40 minutes. Because you can have it done so quickly, it's the perfect vegan-friendly meal to make on a busy night.
Do I Have to Use Spinach?
It's good to use some green, leafy vegetables in this recipe. If you don't want to use spinach, you can always use kale as a substitute. Both ingredients work well with these enchiladas.
How Many Servings Will It Make?
If you follow this recipe for Easy Vegan Green Enchiladas, you will have enough for up to six people to enjoy. If you're making these enchiladas for yourself, you can always store and save any leftovers, reheating them daily until you have none left and need to make more of them!
Serve them for:
BREAKFAST: If you serve them for breakfast, serve them with refried beans on the side and a green juice or beet juice. You can serve sweet bread with conchas or some garibaldis.
DINNER: If you eat them at dinnertime you can serve a Mexican lentil soup as a starter, and as a second course you serve these enchiladas accompanied by brown rice or quinoa and maybe some sautéed mushrooms.
LUNCH: If you're going to serve these vegan enchiladas for lunch, serve them as is or with a simple salad.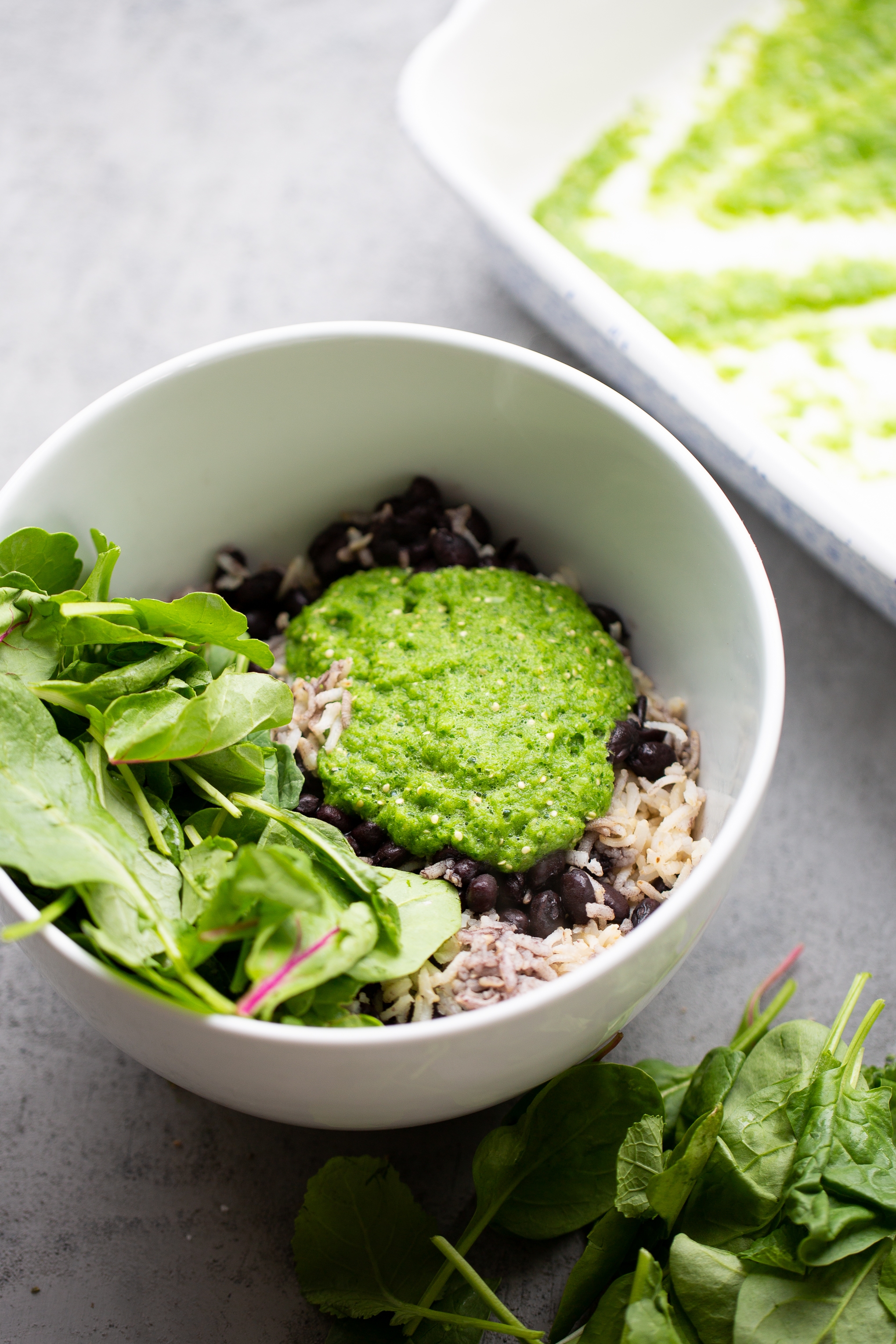 Can I Make Vegan Salsa Verde?
Because this recipe calls for salsa verde, you can buy it at the store or prepare it at home with fresh or roasted tomatillos. If you're going to make homemade vegan salsa verde, you'll need tomatillos, cilantro, garlic, jalapeno or serrano peppers, and onion.
It's not hard to make this flavorful salsa that will taste amazing when added to your enchiladas. Here are three salsa verde recipes that you may like: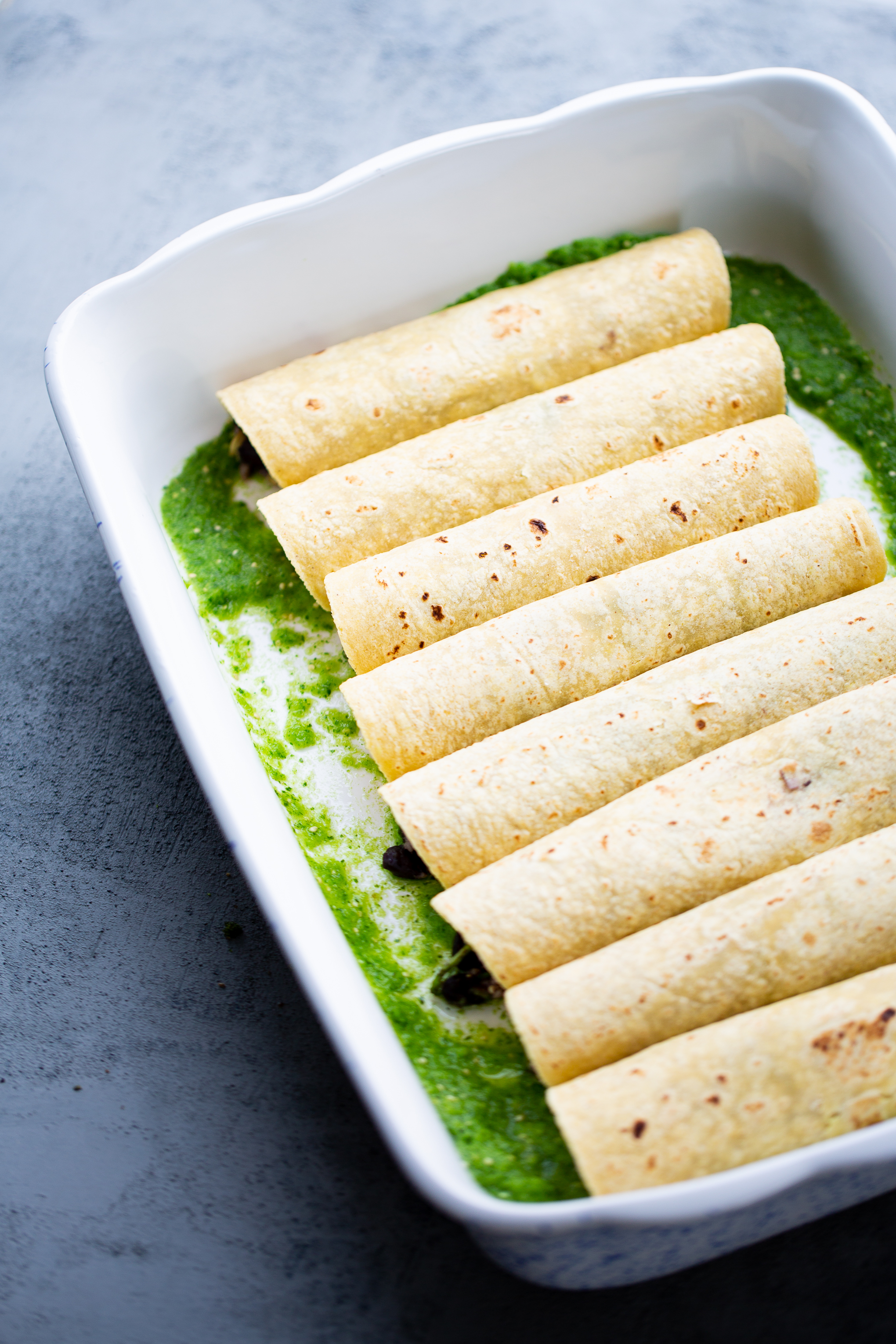 How to Store the Easy Vegan Green Enchiladas
Allow your leftovers to sit out until they cool before you store them. Once they're cool enough, place the enchiladas in a container and cover. Put your enchiladas in the fridge for up to two days before reheating them and enjoying them again. They are best when freshly made.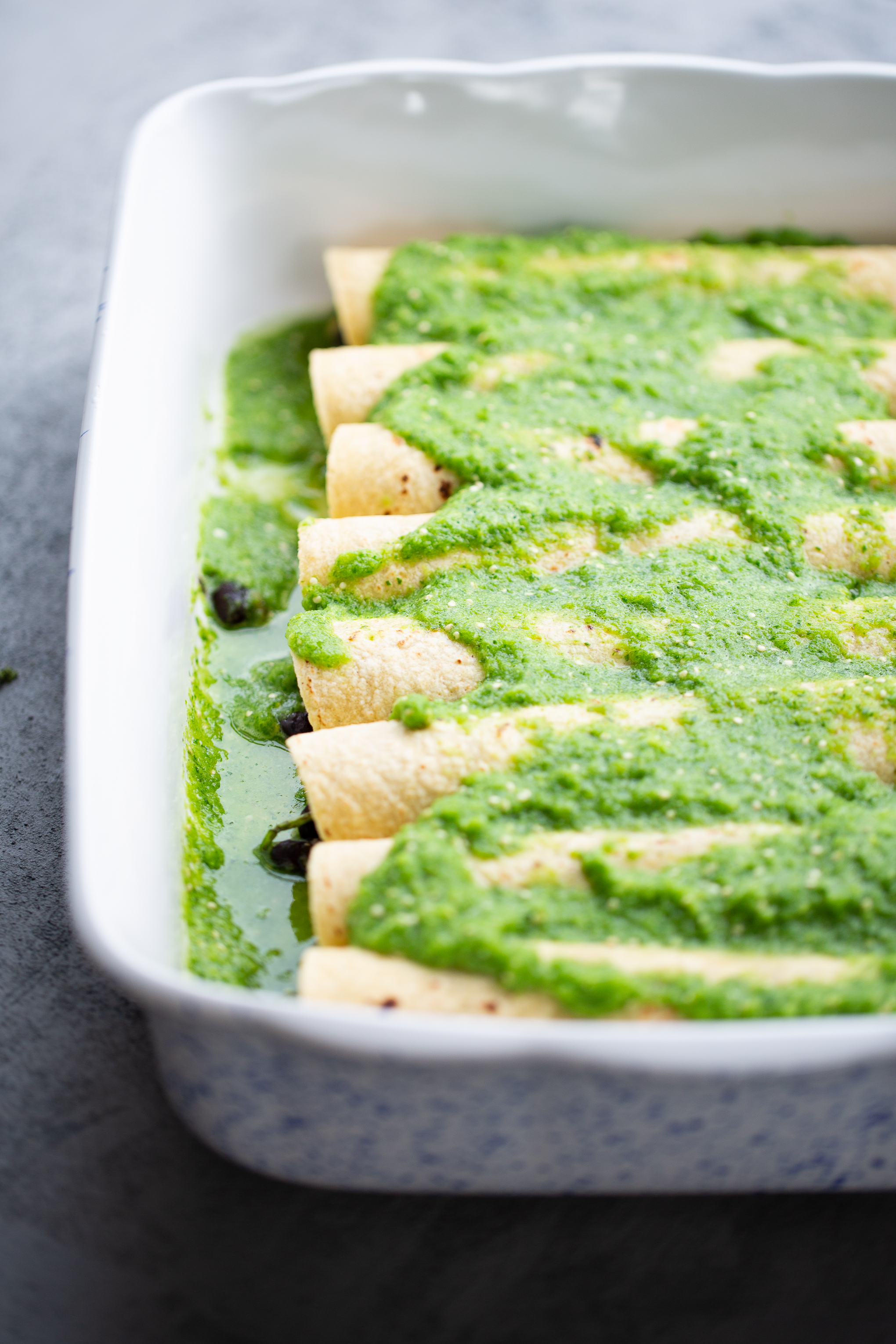 🔥Quick tips

• I try to have a grain and legume always cooked and ready to go in the fridge. This makes my life easier and keeps me organized in the kitchen. 

• Always place seam side down the rolled and filled tortilla.

• Add a tablespoon or two of salsa verde to the bottom of the backing pan to prevent the enchiladas from scortching. You could use a little bit of oilve oil or any other vegetable oil too.

• Warm the corn tortillas in the microwave for 20 to 30 seconds to make them pliable.

Give this recipe a twist
Swap the black beans for tofu, or jackfruit, or add all
Top with melty vegan cheese before baking
Serve with a good dollop of Mexican crema or cashew sour cream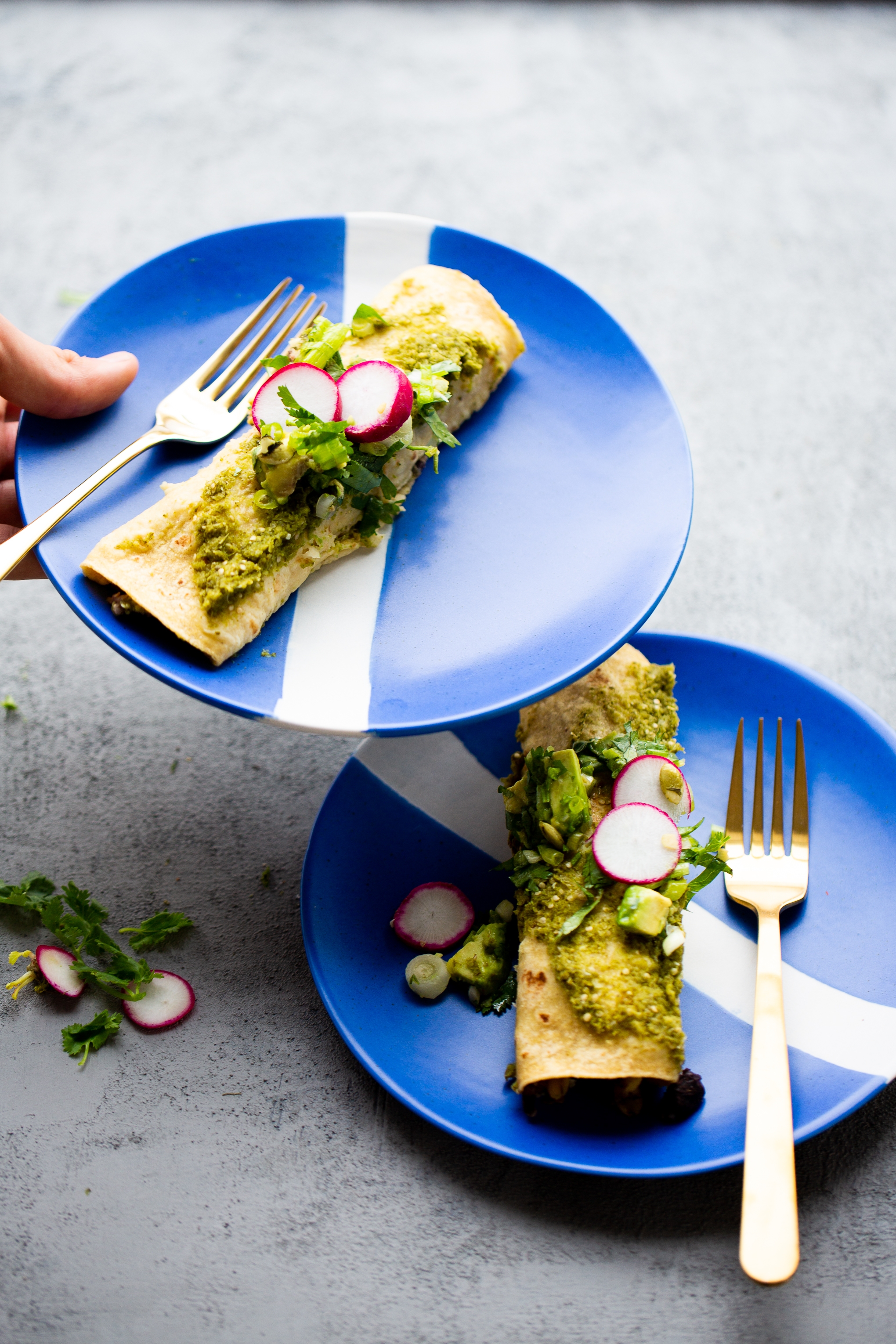 Here is the recipe and I hope you like it as much as we do. When you make it don't forget to take a picture of it and post it on Instagram or FB, I love to see all your creations.
It would also be amazing if you give it 5 stars and/or if you tell me how it went in the comments section; if you have questions or ideas, put them there as well.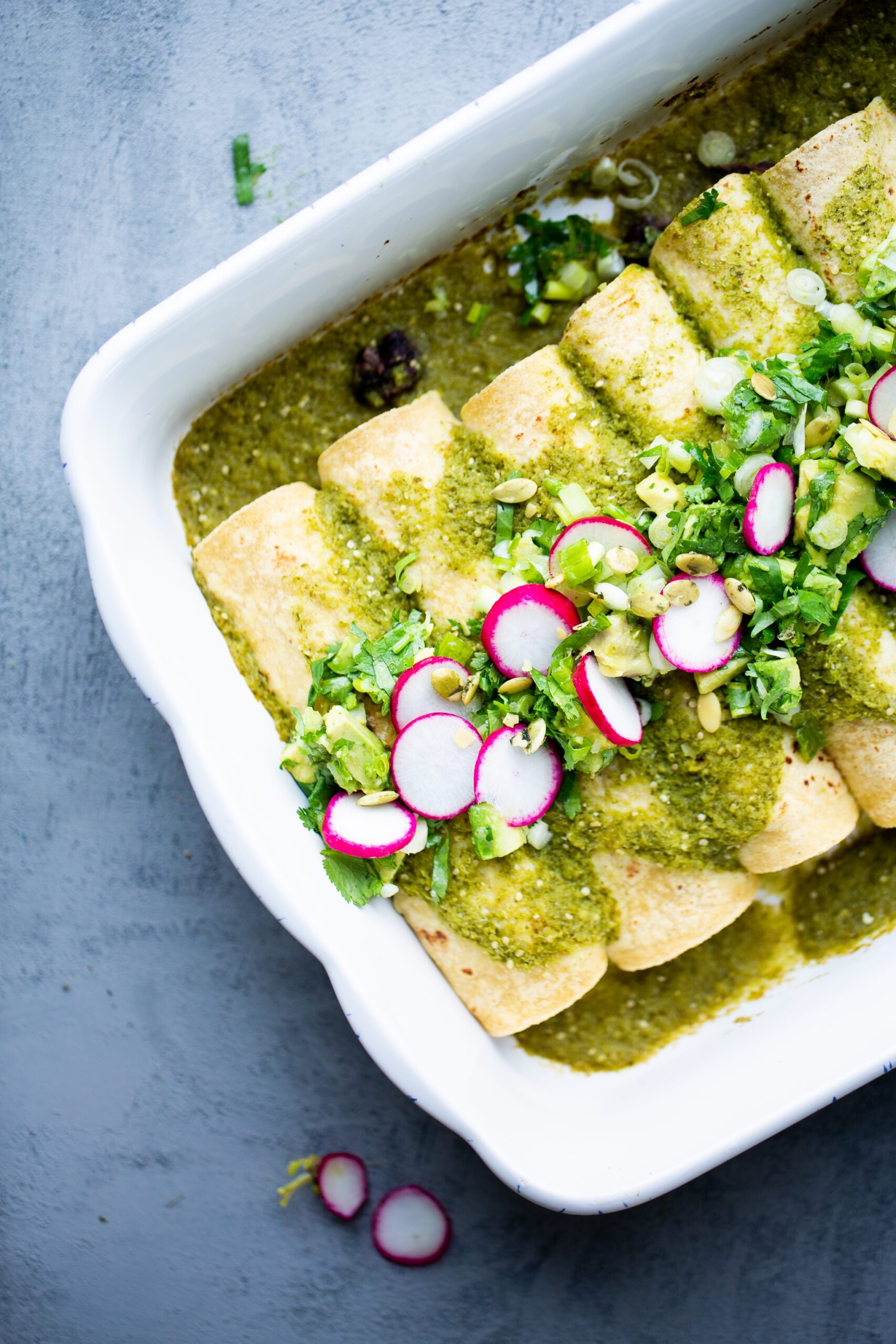 Easy vegan green enchiladas
This recipe for green enchiladas is so straightforward to make. These enchiladas can be made with whatever you want or whatever you have in the fridge as leftovers. You could use quinoa, farro, lentils, navy beans, etc. These enchiladas are delicious and moist and amazing.
Ingredients
1 ½

cup

of salsa verde

1 ½

cup

cooked brown rice

1 ½

cup

cooked black beans

or any other that you prefer

1

large handful of green leaves

spinach, kale or mixture of the two

½

cup

of pumpkin seeds

8-12

corn tortillas
To serve
5

thinly sliced ​​radishes

1

medium avocado in squares

½

cup

chopped cilantro

3

scallions, white and green parts
Instructions
Pre-heat the oven to 350ºF.

Prepare the green sauce as you like or follow this recipe.

Put two or three tablespoons of sauce in the bottom of a baking dish.

In a large bowl put the rice, beans, green leaves, pumpkin seeds and about half a cup of sauce. Mix well.

Heat the corn tortillas until pliable.

Fill each tortilla with two or three tablespoons of this mixture, roll it up and put it in the oven dish with sauce, with the fold of the tortilla facing down.

When finished, put the rest of the sauce in the center of the enchiladas, cover and put in the oven for 20 minutes or until the enchiladas are hot and the sauce has changed color.

Remove from the oven and finish with slices of radish, cilantro, scallion, and avocado.

Serve immediately.
Notes
Salsa verde recipe:
5-7 tomatillos depending on the size without peel and rinsed

1 cup cilantro, leaves, and stems

1-2 serrano chili peppers

1 / 4-1 / 2 cup of roughly chopped white onion

1/2 teaspoon of salt
Put the blender the tomatillos, the cilantro, the chile serrano, the salt and a quarter cup of chopped onion. Blend until everything is well integrated, taste and adjust. 
information
Nutritional information of this recipe is only an estimate, the accuracy for any recipe on this site is not guaranteed.