This is the easiest mashed potato you can get. It is an Instant Pot recipe. It is totally vegan and full of flavor. After trying this recipe for easy vegan instant pot mashed potato, you will not want to prepare any other; you will see.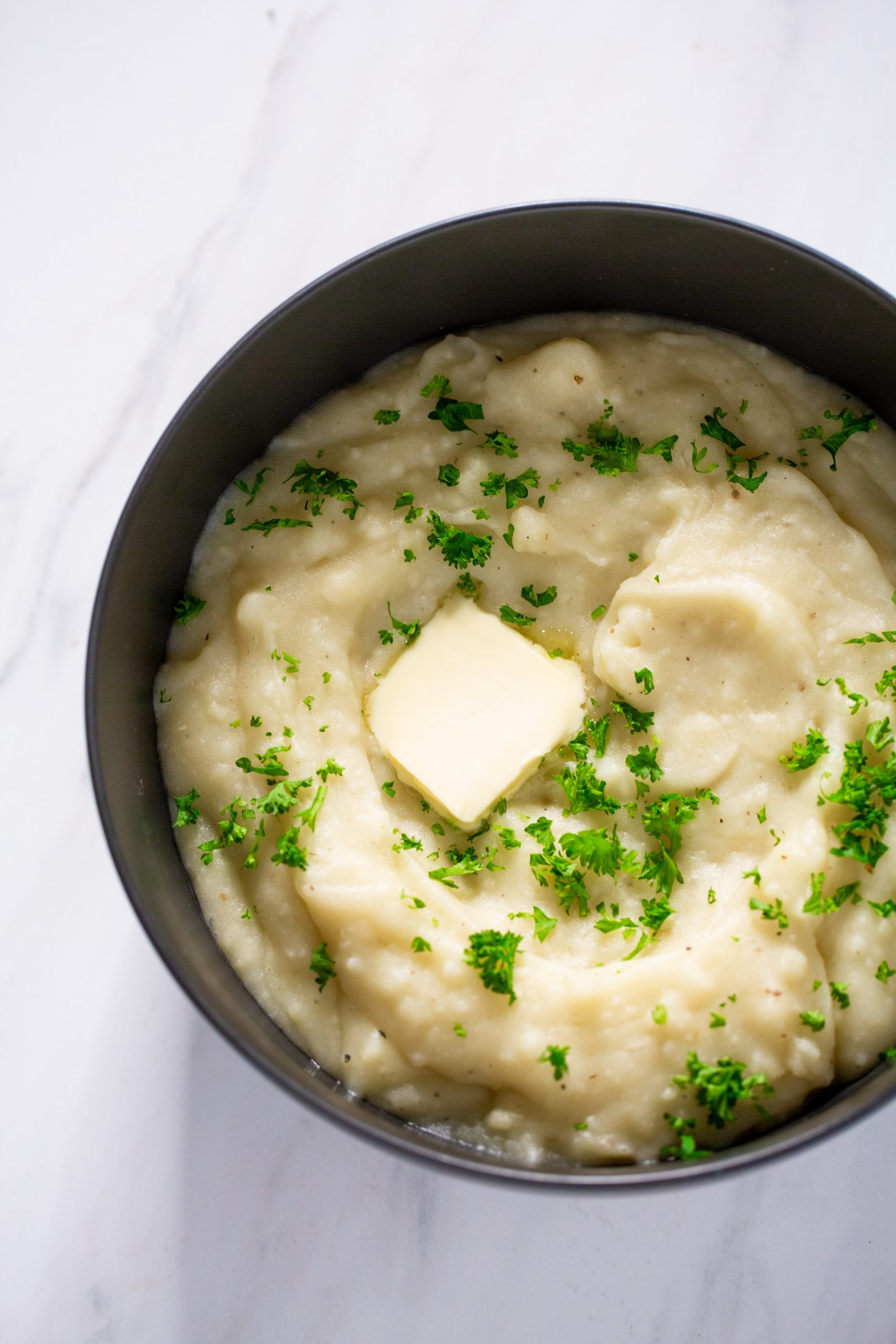 Ingredients to make tasty and creamy vegan mashed potatoes
Potatoes. The best potatoes out there for a great mash are Russet or Yukon. My number one choice is by far the Russet type.
Garlic, you can use as many cloves of garlic as you want 4-6 cloves for me is perfect because the garlic flavor doesn't take over the mash. It just adds tons of flavor to the potatoes. And something important to notice is that we also benefit from their super powers.
Olive oil, use the one you like the most. Remember that it is best if it comes in a dark glass bottle.
Salt & pepper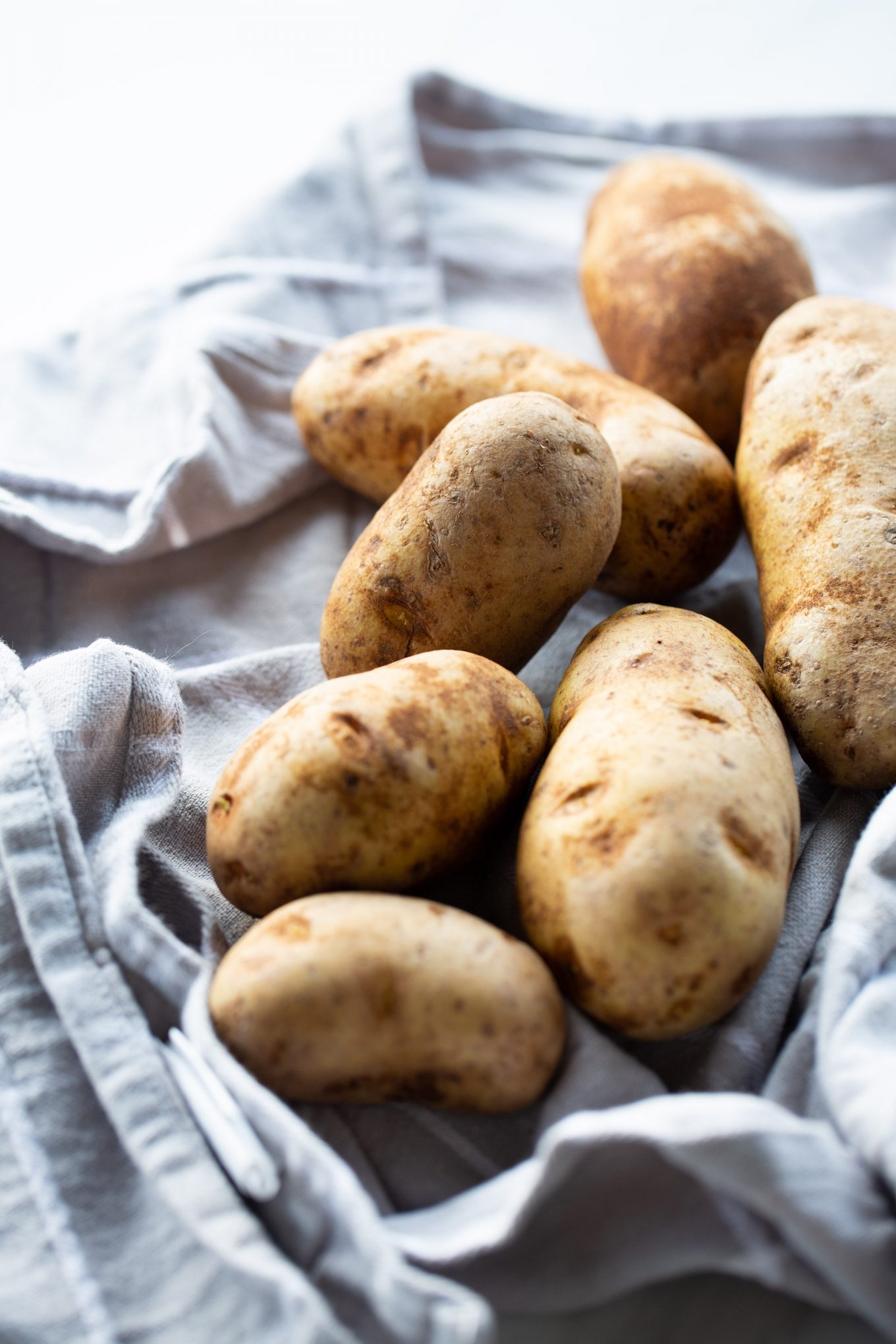 How to make Instant pot mashed potatoes?
The first thing is to wash the potatoes with a vegetable brush and then peel them.
Cut the potatoes into large pieces and put them in the pot. Cover with water, add the garlic cloves, salt, pepper, and olive oil.
Set the pot on steam for 8 minutes. When the bell rings and the screen indicate that it is ready, remove the steam manually.
Take out the potatoes and garlic cloves, put them in a bowl, and mash them until they have the texture you like.
✎NOTE

Do not throw away the water in which the potatoes cooked. 

🔥Add this water little by little to the potatoes to make the puree creamier. In the non-vegan version, milk or cream is usually added, but this potato water has all the flavor and seasoning to make a great vegan dish.

🔥Also, by using this water, our puree will have less fat and less empty calories.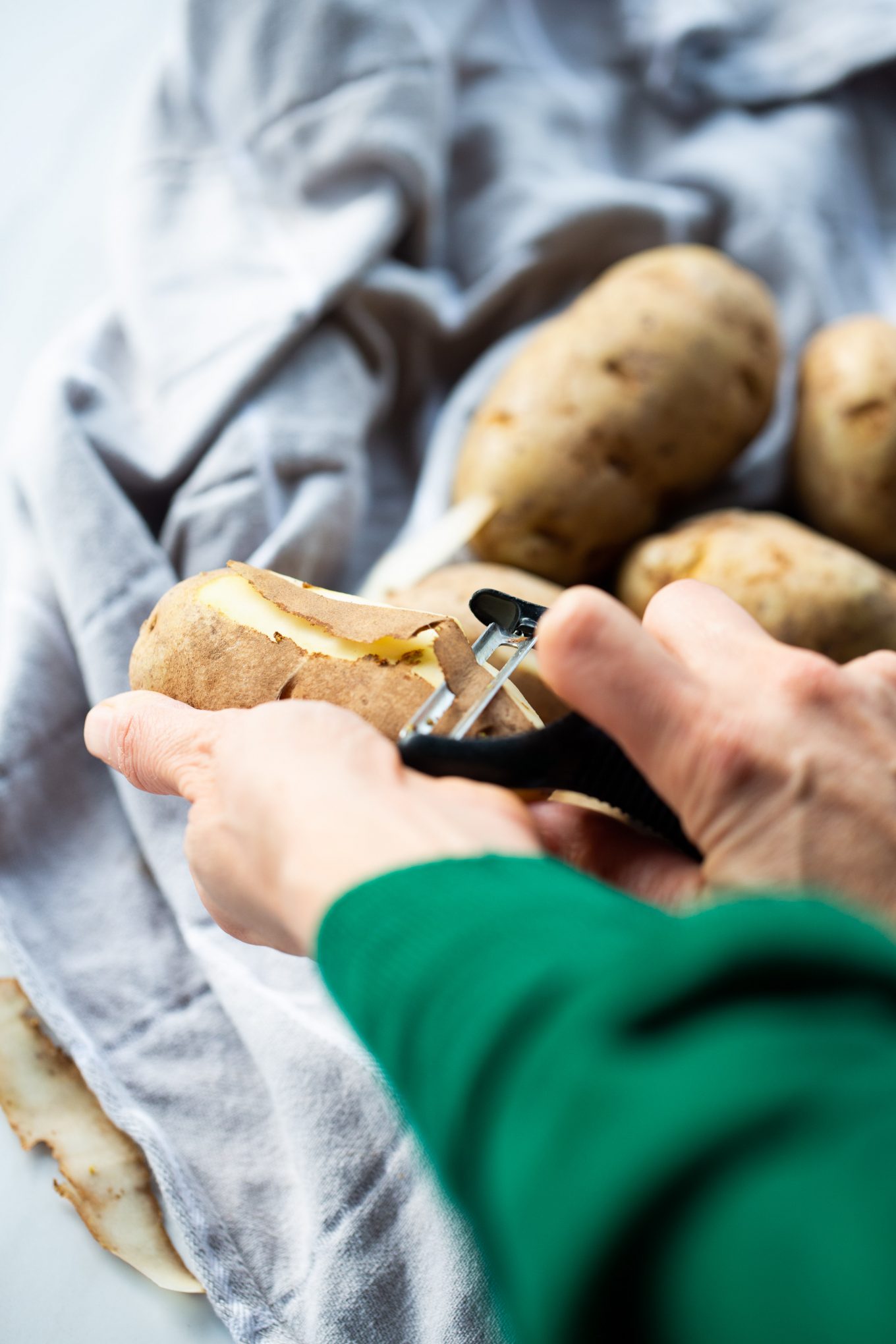 If you don't have an instant-pot, no worries, here is the over the stove method:
Put the washed and peeled potatoes in the pot with the rest of the ingredients. Cover with water.
Cover the pot and leave the potatoes over medium heat until soft, about 30-45 minutes.
When they are soft, turn off the heat, remove the potatoes and garlic from the liquid and place them in a bowl. Mash them.
Adjust salt and pepper. If you need more liquid, add the water in which they were cooked.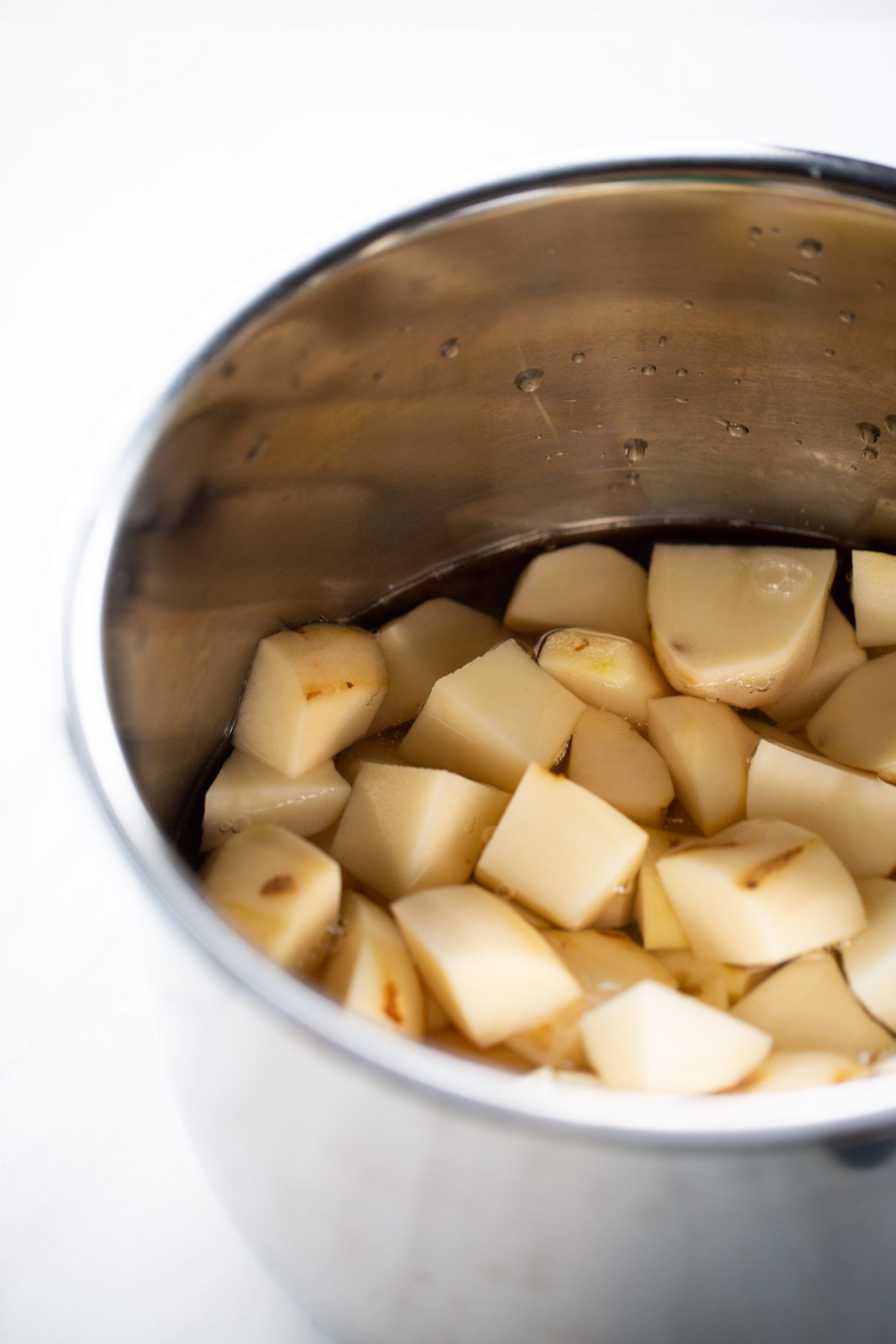 💡Important notes
If you want to have a super, super creamy puree, you can pass the cooked potatoes through a strainer or use a ricer.
You can save the peels and brown them in oil. You can use them to finish a soup instead of croutons or as a snack.
Another to make this recipe is to cook the potatoes unpeeled and whole, in the pot. When they are cooked you peel them. Either way they will be soft and perfect.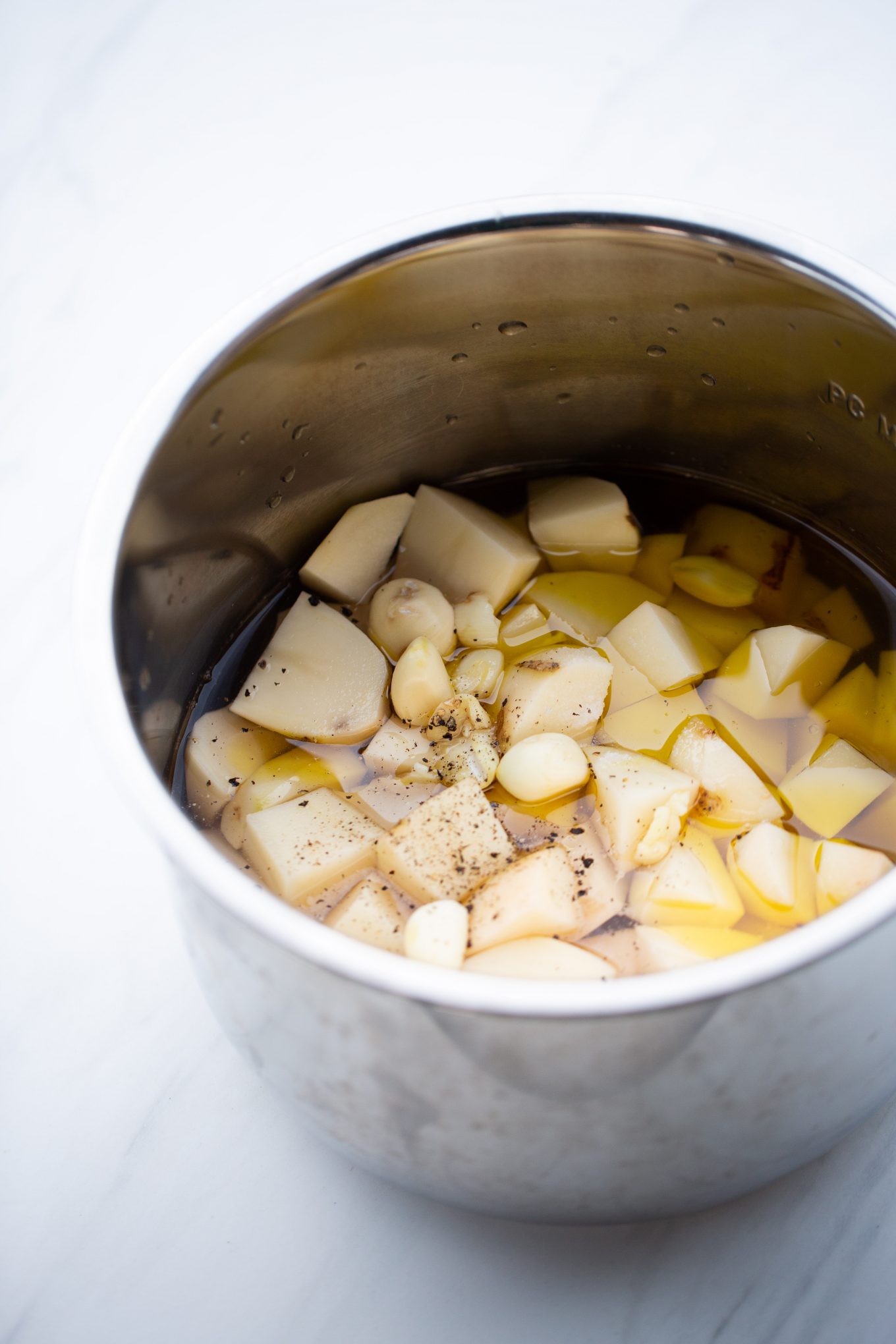 What to do with the fleftovers:
Crispy potato tacos, as easy as filling a corn tortilla with it, roll it up, fry it and eat it with salsa verde or salsa molcajeteada and good guacamole.
Potato and cilantro soup, you just add vegetable broth to the puree and season them again, and voila, your soup will be ready in a pinch.
Lentil ramekins and mashed potatoes and cauliflower
Other recipes that you may like: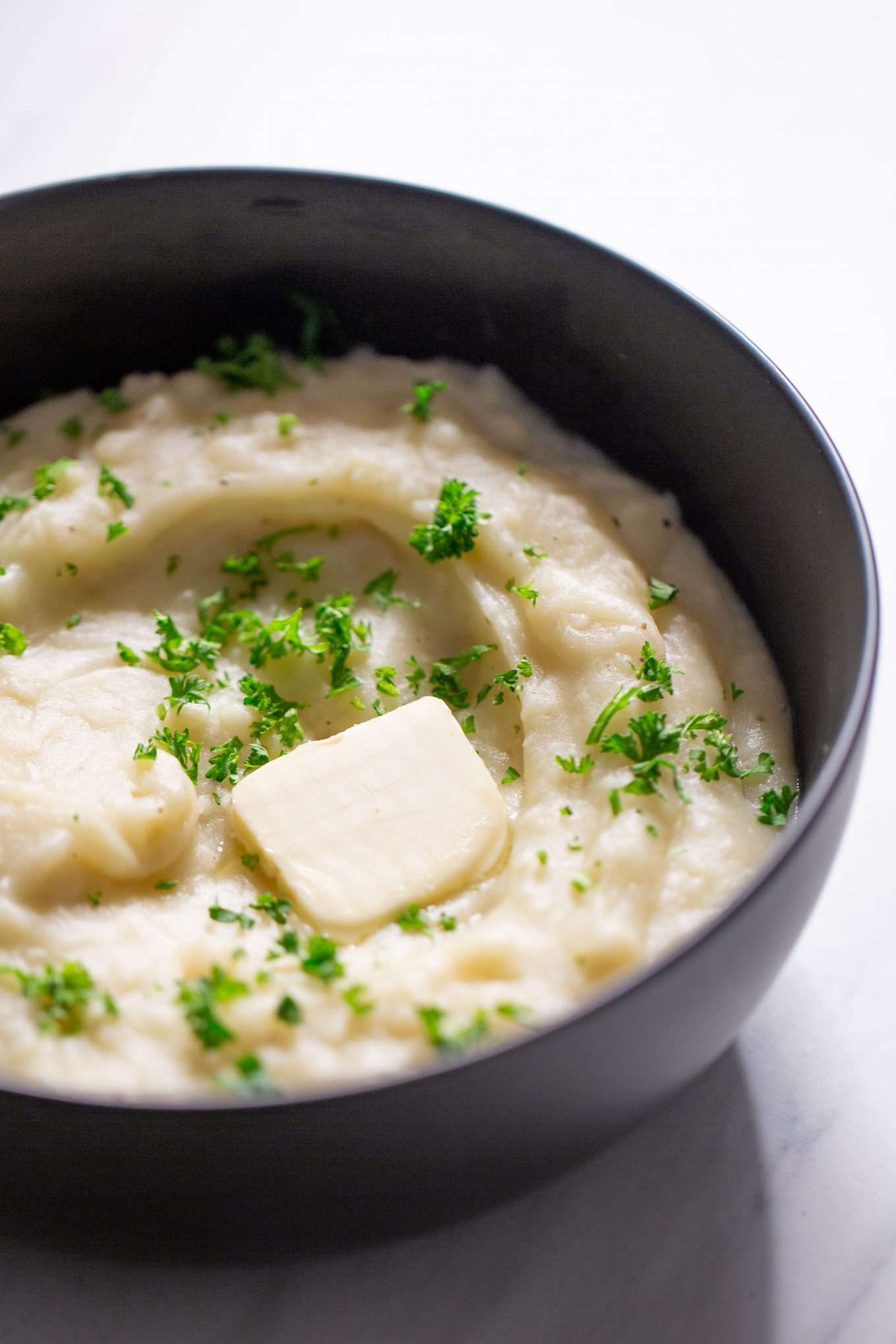 So here is the recipe for this vegan easy instant pot mashed potato which is one of my favorite recipes because it is easy, because it is delicious and because it takes 15 minutes to make.
If you like it, please share the blog with your friends and family. Please take a photo of your puree and share it on Instagram or FB. If you are going to do it later, you can save it on Pinterest.
It would also be amazing if you give it 5 stars and/or if you tell me how it went in the comments section. If you have questions or ideas, put them there as well.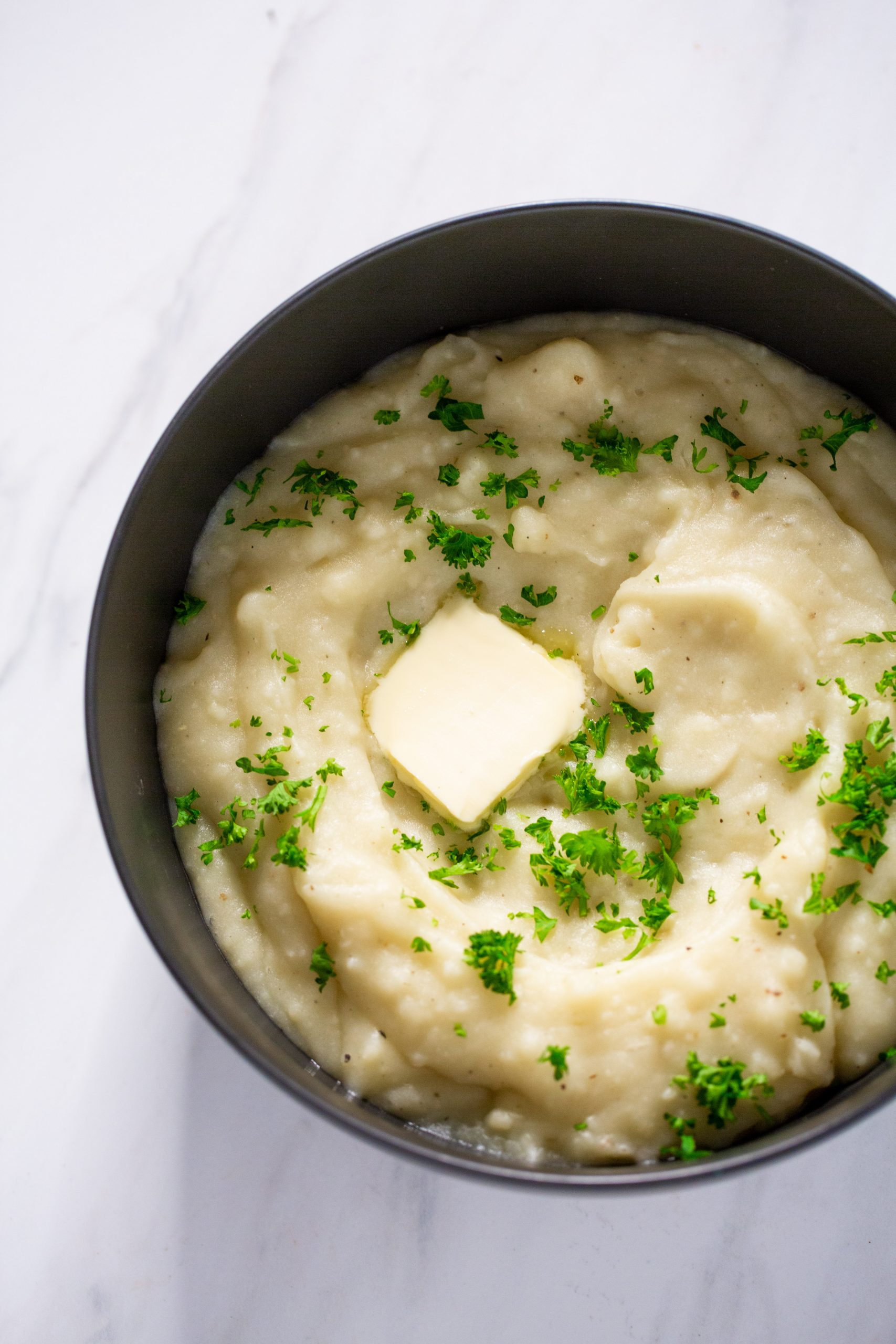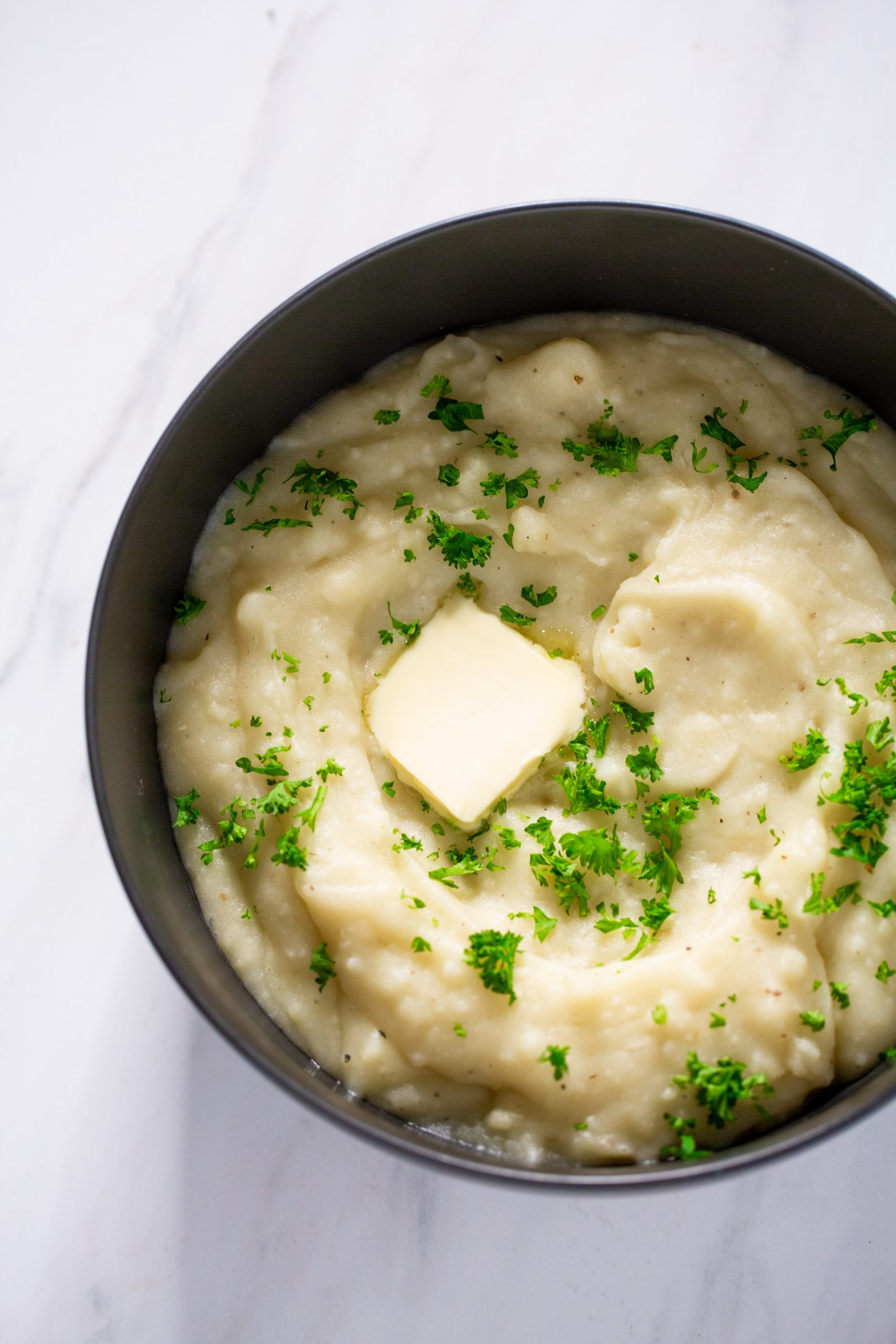 Easy Vegan Mashed Potatoes
This instant pot mashed potato is super easy and always looks good. This mashed potato has no milk or butter and is creamy and perfect.
Ingredients
6

large potatoes

Russet or yukon

6

garlic cloves

1/3

cup

olive oil

1

teaspoon

salt

ground black pepper to taste
Instructions
Peel the potatoes and put them in the pot of the Instant-Pot. Add the olive oil, garlic cloves, salt, and pepper. Cover with water.

Turn on the pot on the steam function for 8 minutes.

When the cycle ends, remove the steam manually. Take the potatoes and garlic out of the pot and mash with a potato masher until it has the consistency you want.

Check for salt and pepper. Serve with chopped parsley and a drizzle of olive oil.
Notes
Do not throw into the water where the potatoes were cooked, use it to add to the potatoes if the puree is very hard.
Use this recipe as a base and add whatever you like best, fine herbs, or vegan cream.
Instructions for an over the stove mashed potatoes in the post.
Nutrition
Serving:
125
grs
Calories:
111
kcal
Carbohydrates:
1
g
Protein:
1
g
Fat:
12
g
Saturated Fat:
2
g
Sodium:
388
mg
Potassium:
12
mg
Fiber:
1
g
Sugar:
1
g
Vitamin C:
1
mg
Calcium:
5
mg
Iron:
1
mg
information
Nutritional information of this recipe is only an estimate, the accuracy for any recipe on this site is not guaranteed.