There is nothing easier and more fun than making your pizza at home. This homemade sheet pan pizza recipe is straightforward to make, and kind of fast, the dough only takes two hours to be ready.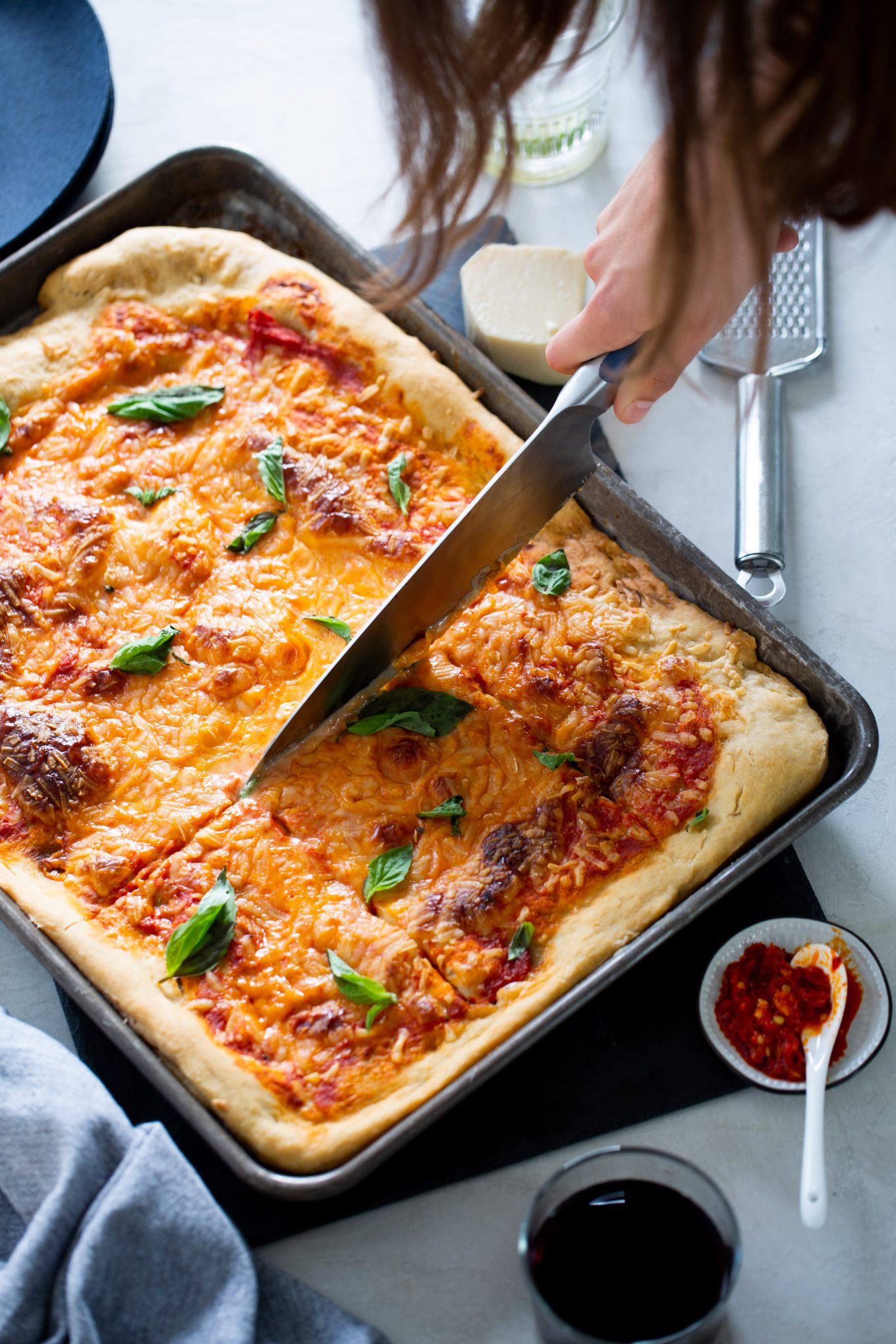 how to make vegan sheet pan pizza?
Making pizza at home is very, very easy, No expertise needed, just patience. Patience because the dough has yeast and you need to wait for it to rise. But it really is the only difficult thing.
First step is to mix flour with water, yeast, and salt.
Second step, knead the dough very well.
Third step, let the dough rest for it to rise.
Fourth step. Roll out the dough, put it on the tray, put the toppings
Step five, bake.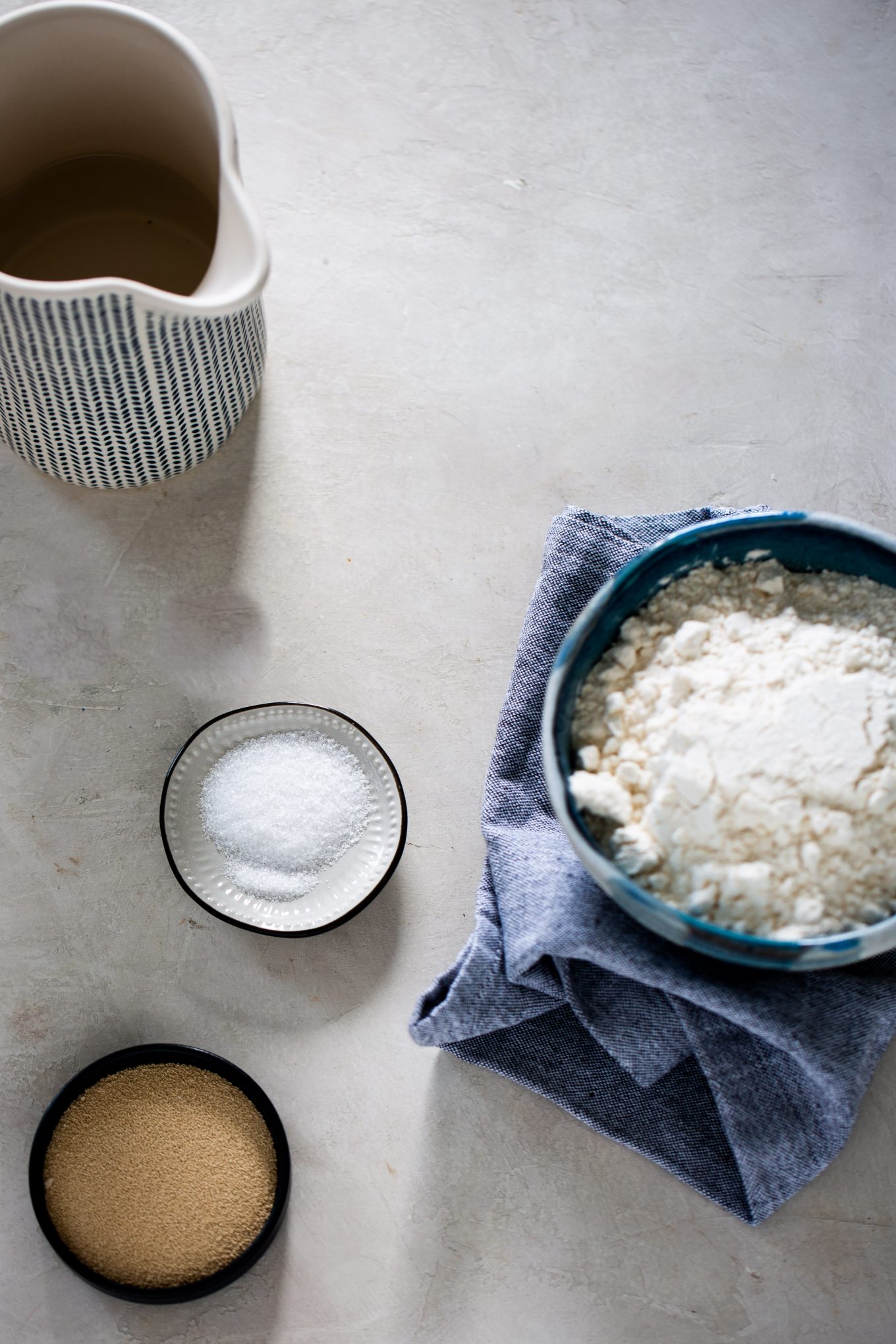 Homemade pizza ingredients
Flour. Use all-purpose. I like the King Arthur brand. I like to use flours that are unbleached and unenriched.
Yeast. This is the yeast that is used to bake bread. It is dry yeast, the one they sell in sachets in any supermarket. It is the same yeast that is used to make cinnamon rolls, Vegan Day of the Dead, and no-knead homemade bread.
Salt. I use either fine-grained sea salt or Kosher salt.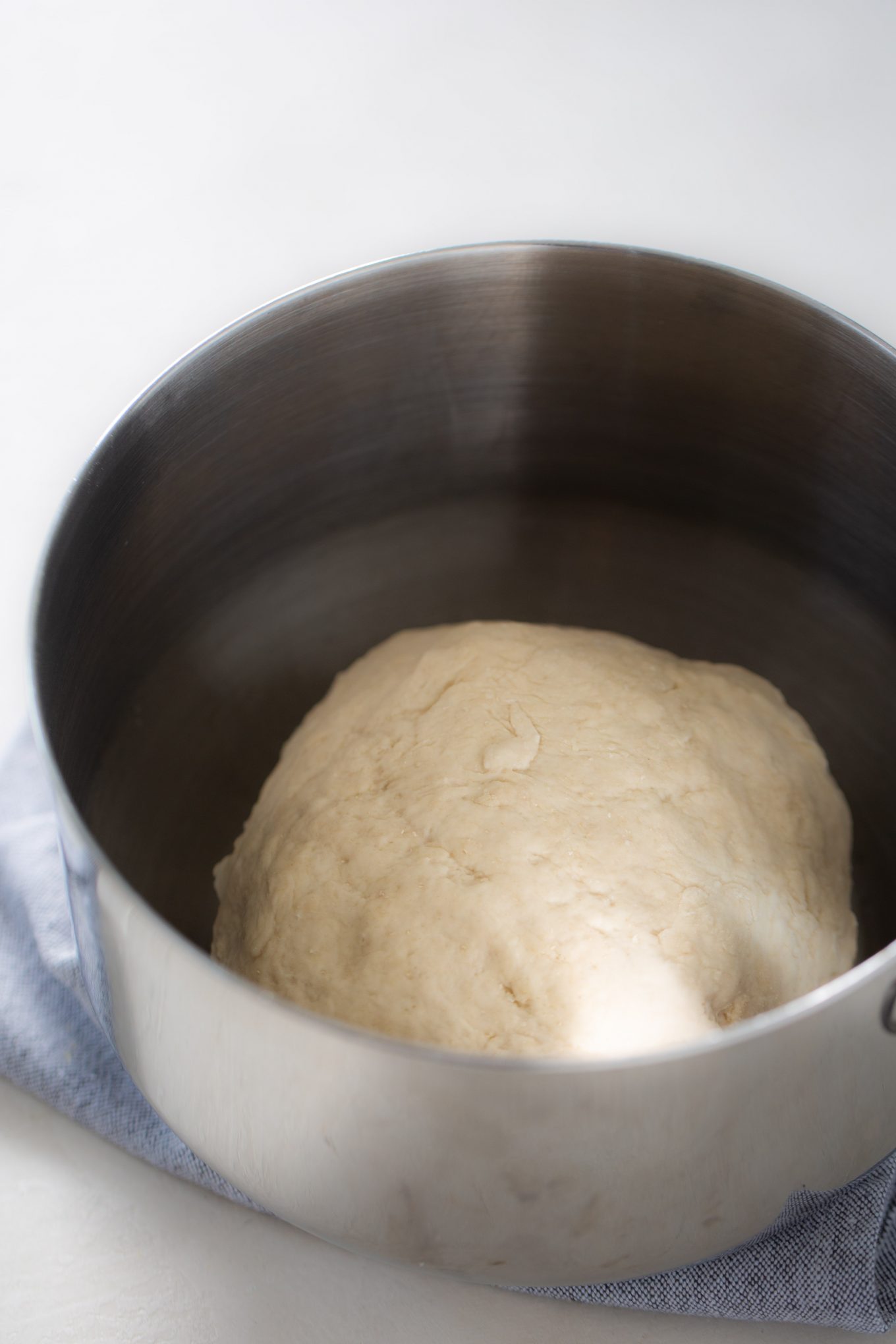 How to make dough for homemade pizza
Knead with your hands. Add the flour in a large bowl (the largest you have), add the salt and yeast. Mix with a wooden spoon and add the water. Mix until there is no water left. It's going to make a sticky dough. Place it on a floured surface and start kneading until a smooth dough is formed. This will take about 10 minutes.
Use the stand mixer. If you have a stand mixer, put the dough hook on it, put all the ingredients in, and mix on low speed until everything is integrated. Stop the mixer and scrape the sides down using a spatula. Turn on the mixer a little faster and knead for 5-7 minutes, or until a soft dough forms.
Put it in a clean bowl and cover with a kitchen wrap or kitchen towel. Leave at room temperature for two hours or until the dough doubles in size.
✎TIP

The easiest way to tell if the dough is ready is when you poke it with one finger and it "bounces" back with no problem.

It feels smooth and forms a perfect ball of dough.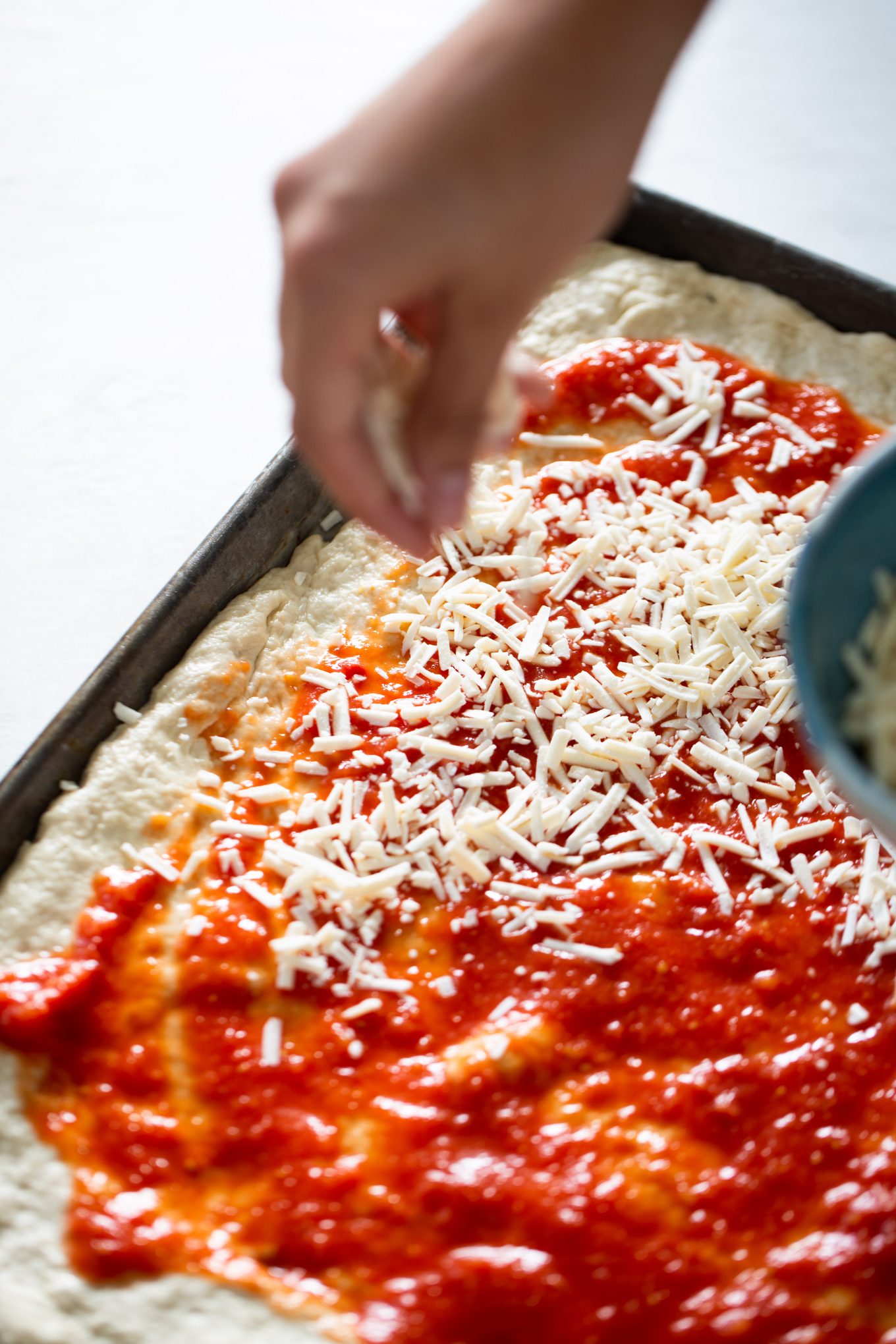 After two hours, and the dough doubled in size, you are ready to put the pizza on the baking sheet and add the sauce and toppings you want.
Sauce. Here you can use the tomato sauce that you like the most. It can be homemade tomato sauce, store-bought sauce, or made from canned tomatoes. I like my sheet pan pizza it the most when I make the sauce from canned San Marzano tomatoes.
Cheese. We use Violife brand cheese, it is vegan mozzarella cheese. It still tastes good if you don't put cheese on top of your pizza, it will taste amazing if you top it with tons of vegetables.
Other toppings. You can put whatever vegetables and extra toppings you want. The combinations for this homemade pizza are endless.
My favorite pizza flavor combinations are:
tomato sauce + sliced garlic + olive oil + vegan cheese
tomato sauce + red pepper + mushrooms + black olives
tomato sauce + sliced ​​purple onion + jalapeño slices and cheese
pesto + broccoli + vegan parmesan cheese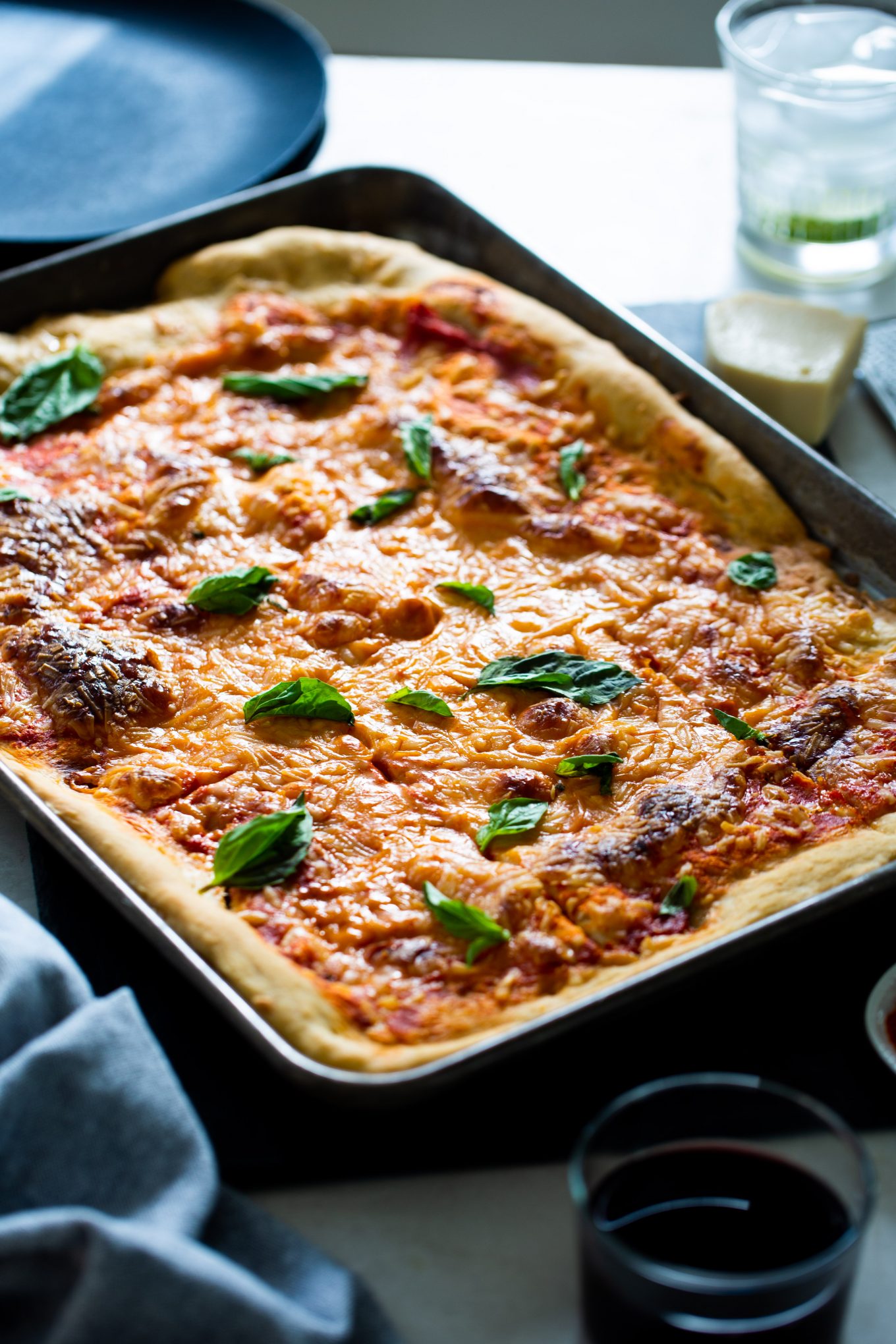 Tell me in the comments section what combination of ingredients you like. Also share a photo of your homemade pizza on Instagram or Fb. If you like the recipe and want to do it then save it on Pinterest.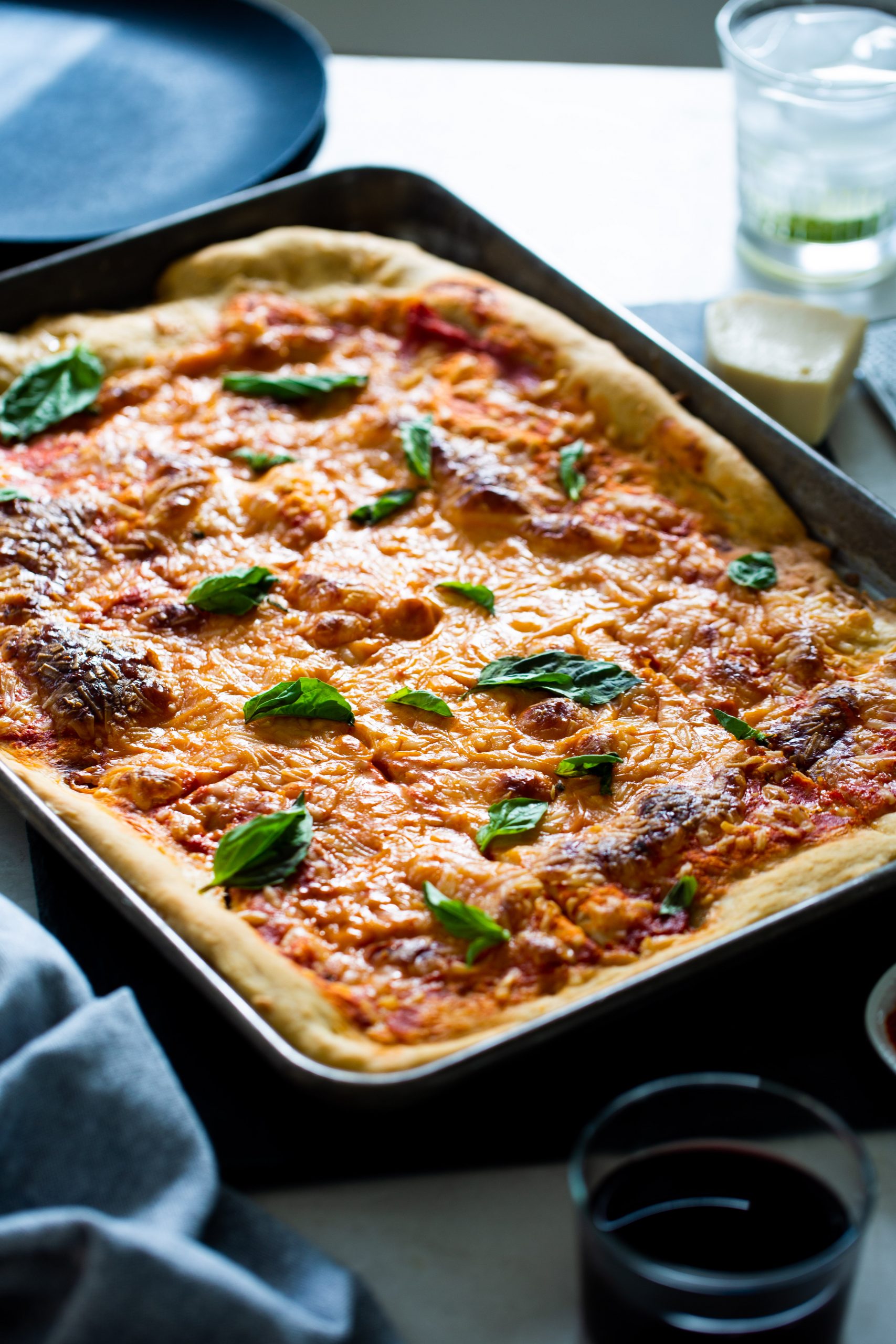 Pan Sheet Pizza
This homemade pizza recipe is very easy to make. The crust is crispy, delicious. It is a perfect pizza to serve for dinner for the family or guests. It is one of the recipes that everyone has a great time preparing and evry one likes.
Ingredients
The crust
3½

cups

flour

1

tablespoon

yeast

1

teaspoon

salt

325

ml

water

extra flour to knead
Tomato sauce
1 28-

oz

can whole San Marzano tomato

1

tablespoon

olive oil

1

teaspoon

salt
Topping
1

cup

grated vegan cheese

fresh basil leaves
Instructions
Mix the ingredients of the dough and knead on a floured surface for 10 minutes.

Put the dough in a bowl with a little oil and cover with a kitchen cloth or plastic.

Leave in one place at room temperature for two hours or until double in volume.

Preheat oven to 525ºF

Take out the tomatoes from the can and put them in a bowl. Squash them with your hands or a food processor until it has the consistency you like. Add the oil and salt. Mix.

To prepare the pizza add olive oil to the baking sheet, one or two tablespoons depending on the type of tray you have.

On a floured surface, stretch the dough until it has the size of the sheet.

Put it on the baking sheet and stretch it to cover it all.

Put the sauce on the cheese and put in the oven for 35 minutes or until the edges are golden.

Remove from the oven, add fresh basil leaves, and serve.
Nutrition
Calories:
186
kcal
Carbohydrates:
33
g
Protein:
5
g
Fat:
4
g
Saturated Fat:
1
g
Sodium:
580
mg
Potassium:
171
mg
Fiber:
2
g
Sugar:
2
g
Vitamin A:
80
IU
Vitamin C:
6
mg
Calcium:
33
mg
Iron:
2
mg
information
Nutritional information of this recipe is only an estimate, the accuracy for any recipe on this site is not guaranteed.
Nutritional information of this recipe is only an estimate, the accuracy for any recipe on this site is not guaranteed.

Latest posts by Alejandra Graf
(see all)