I can't be more excited to talk about this gluten-free campfire mousse recipe. This vegan recipe is perfect for the summer or any time of the year when you crave campfire food.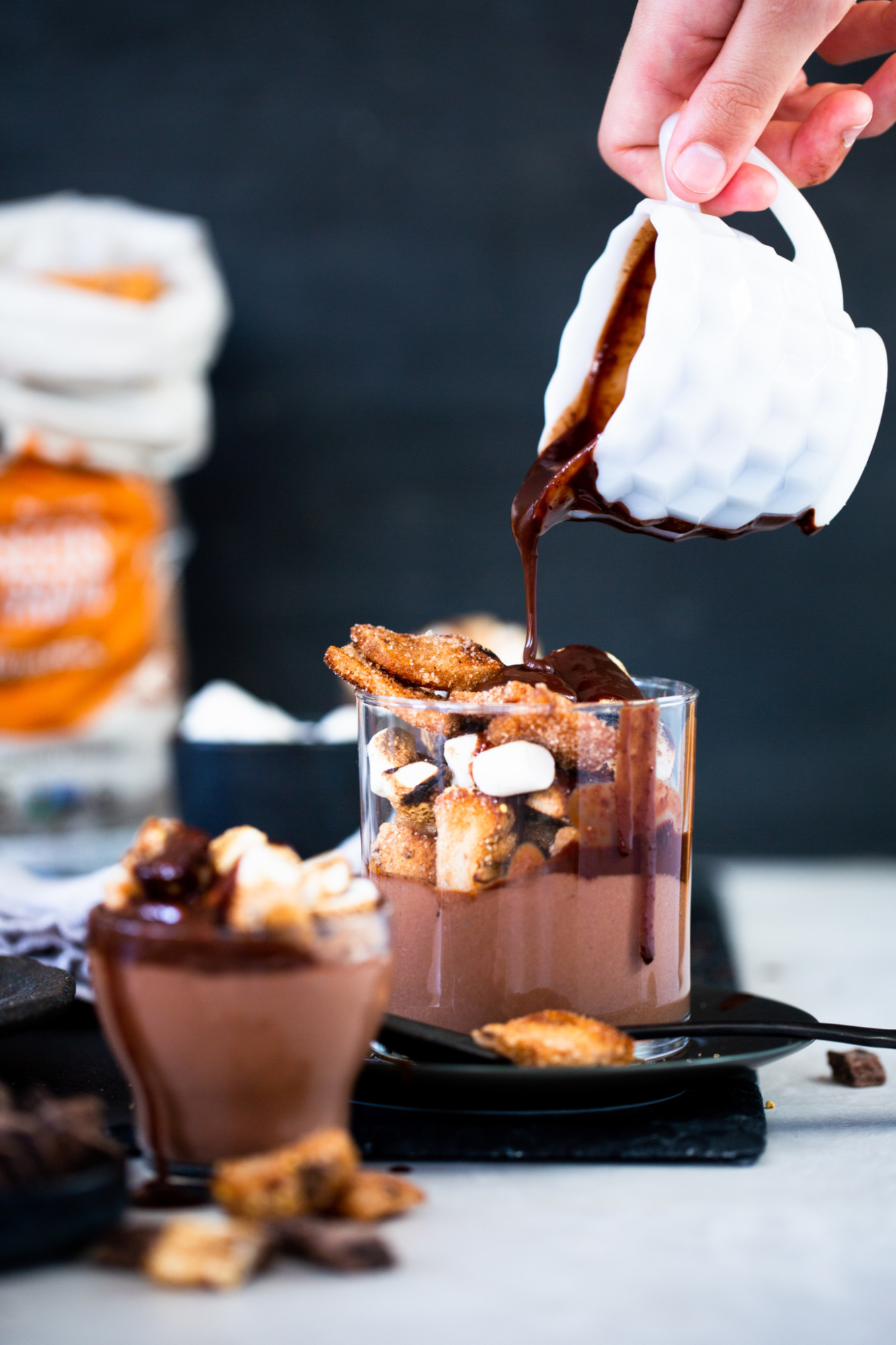 It works perfectly for those rainy summer days or a formal dinner. This recipe has become one of my favorite recipes ever! It has all the elements that I love in a good recipe.
For starters, this recipe is a complete confirmation that healthy ingredients DO make delicious foods.
I prepared this gluten-free campfire mousse with gluten-free Seeds & Grains bread from Little Northern Bakehouse, that as I've told you before, is one of my favorite gluten-free bread brands.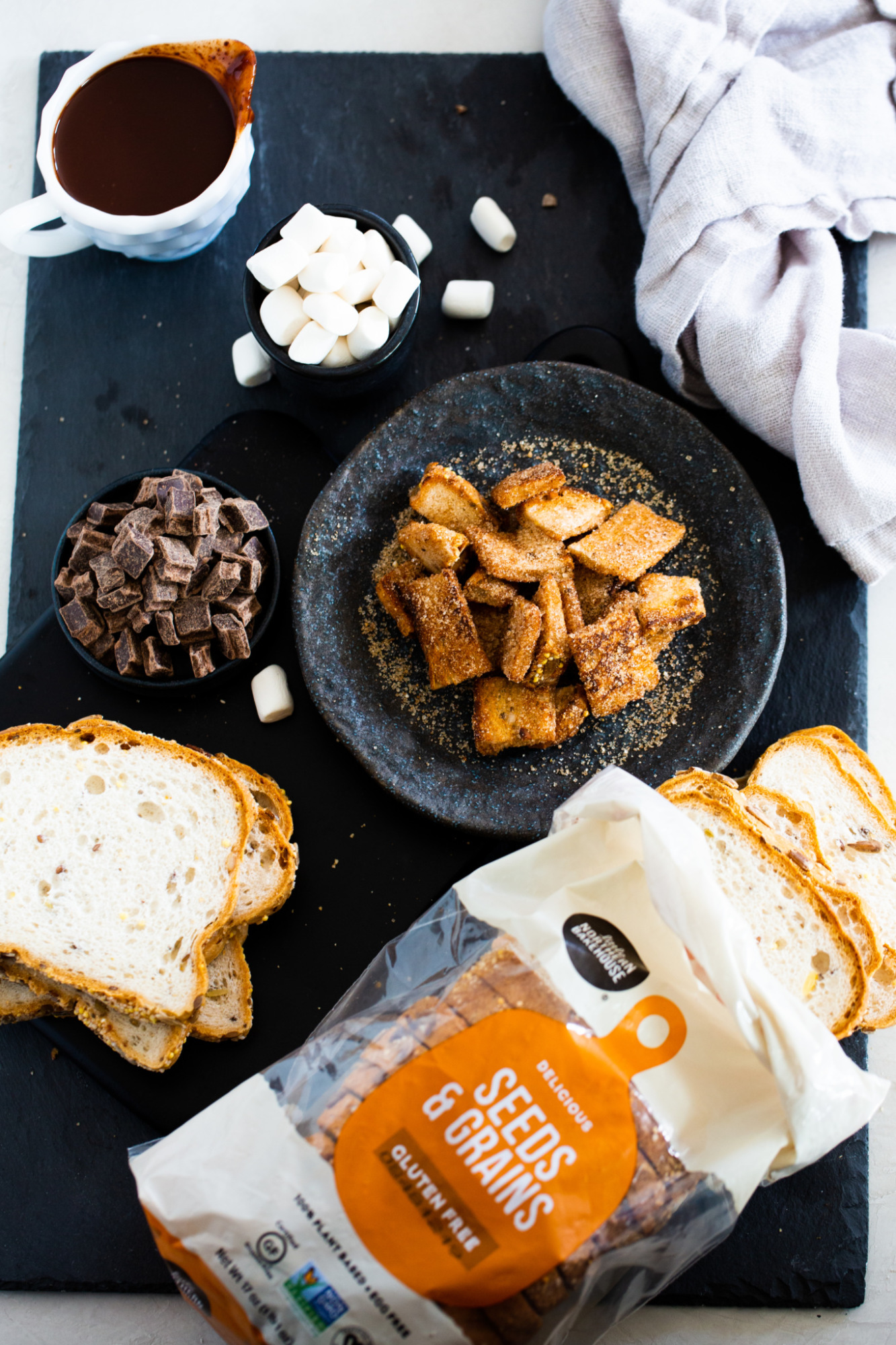 This loaf with seeds and grains is so flavorful, crunchy and perfect for this recipe because it holds its form and tastes delicious. Not every gluten-free bread can be moist, delicious, nutritious, and as versatile as the ones from Little Northern Bakehouse. You can't go wrong with Little Norther Bakehouse! All of their products are non-GMO, celiac, and vegan-friendly. So, anyone with wheat sensitivities or allergies can eat them. Isn't it amazing! They are allergy-friendly. WOW, right?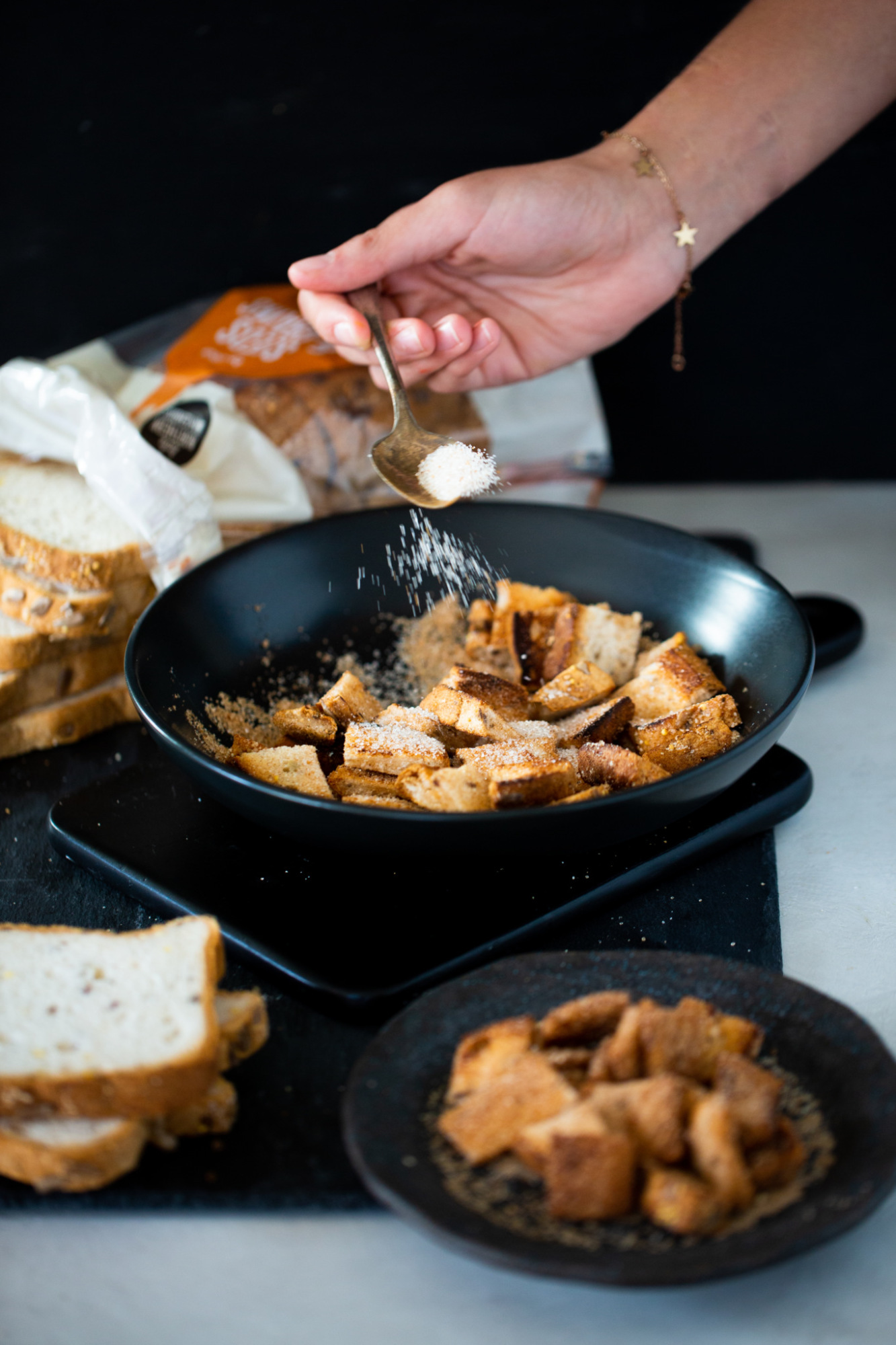 In this recipe, I lightly toasted each slice, cut them into small pieces, and dredged them in brown sugar and cinnamon. Then, I used these small, flavorful, and delicious pieces of gluten-free bread to top the most delicious dark chocolate vegan mousse EVER.

I finished each serving by drizzling everything with a rich and decadent chocolate sauce and adding vegan marshmallows.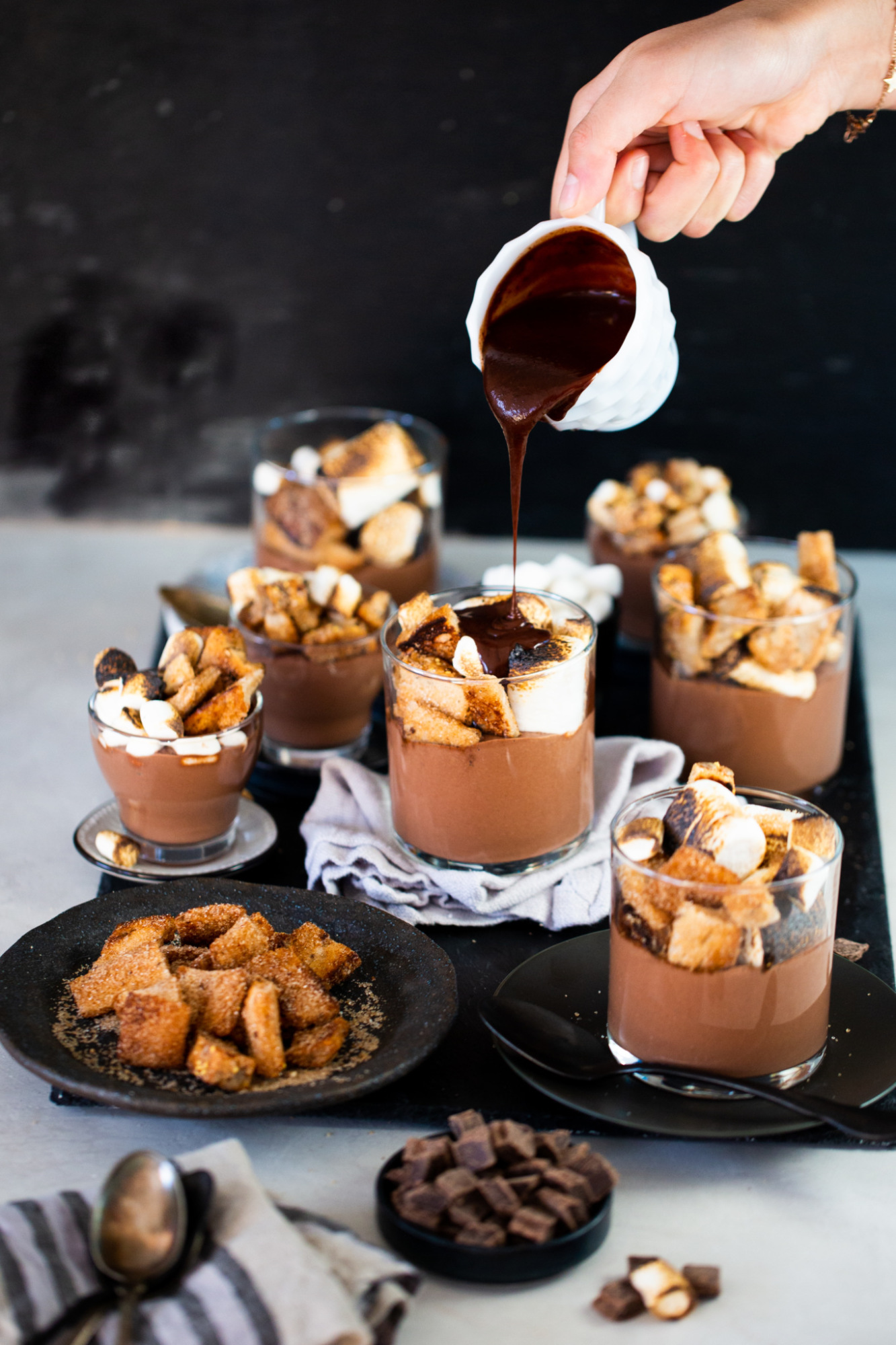 Here are some tips, tricks & other recipes:
You can use any loaf of Little Northern Bakehouse; it will taste good with any type.  I love the Grains & Seeds one because of the extra layer of crunchiness it gives.
It is better to coat the small pieces of bread while they are still warm. This way, the brown sugar, and cinnamon will stick.
Here are other recipes I've made with Little Northern Bakehouse, which I'm sure you are going to love: gluten free cauliflower banh-mi, poblano mushroom protein packed sandwich and creamy vegan pot-pie soup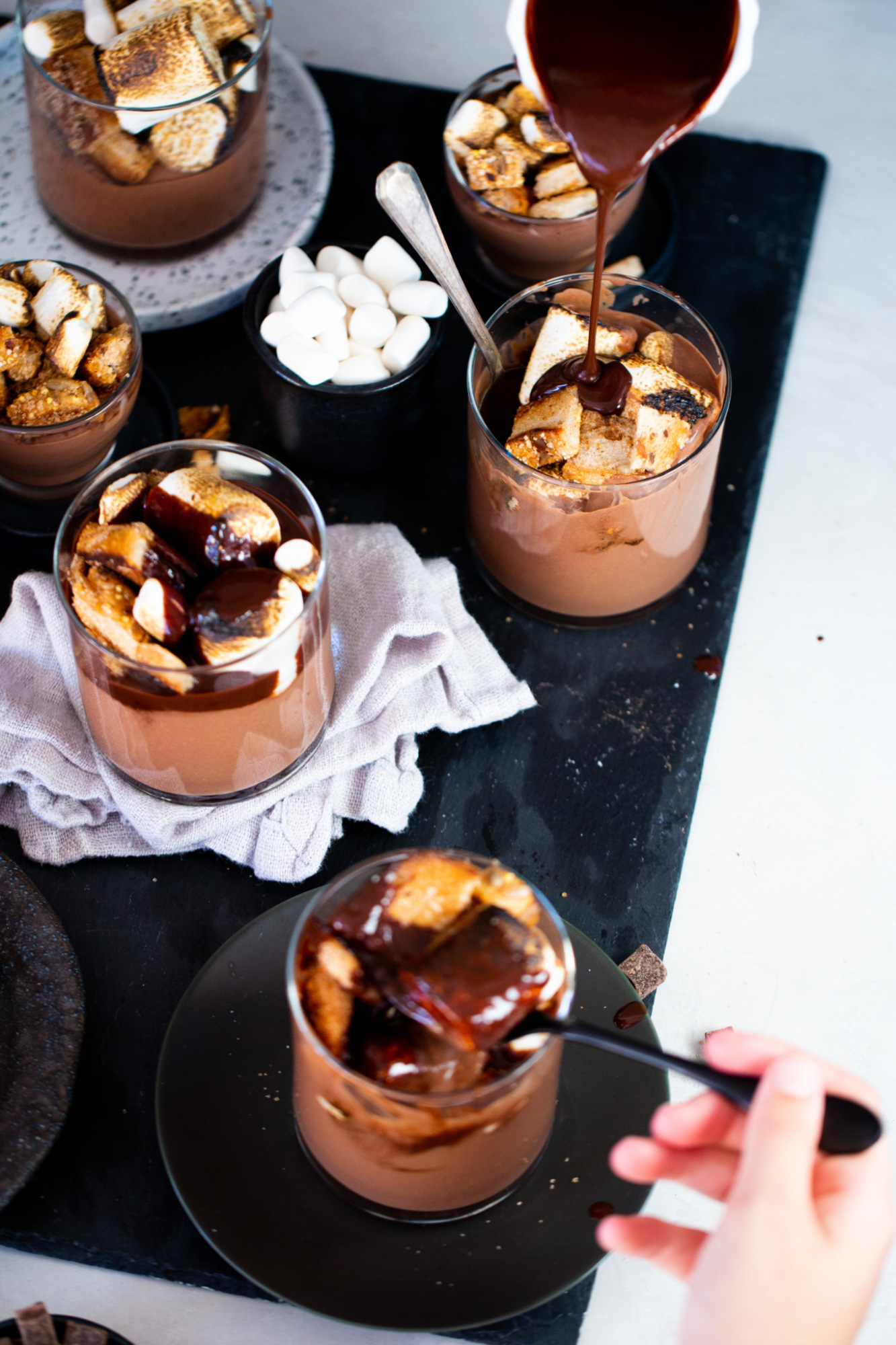 One of the best things about this recipe is that you can prepare everything in advance and put it together just minutes before serving. I also find this dessert to have the best flavors of a campfire; you know that great feeling of peace and vacations that camping and outdoors give. This recipe is for everybody, including gluten-free diets. Everybody will find this dessert delicious, addictive, and perfect for summer.
So please go ahead and prepare this.
Gluten-free campfire mousse
And let me know what you think, which part of it is your favorite. Which part do you like best? Please share the recipe and the blog. If you make it take a picture of it and post it on Instagram, FB or save it for later on Pinterest.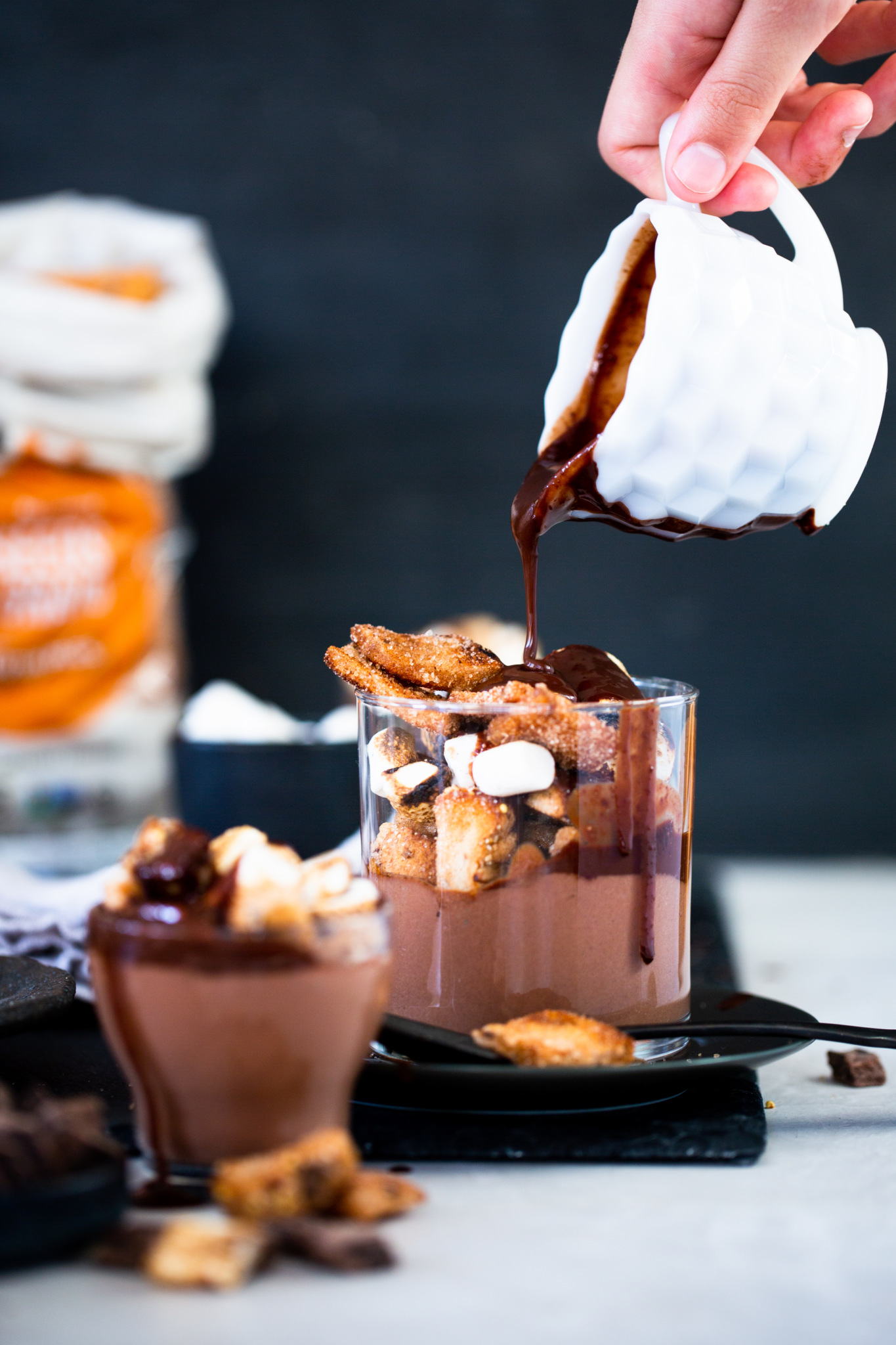 Gluten Free Campfire Mousse
This gluten free campfire mousse brings back the memories and all the perfect flavors of a great night camping next to the fire.
Ingredients
Mousse
¾

cup

almond milk

1 1/2

cup

dark chocolate roughly chopped

¼

sugar

1

block (about 14 osilken tofu

2

tablespoons

good quality cocoa powder

1

teaspoon

vanilla extract

Pinch

of salt
Vegan chocolate sauce
1

cup

full fat coconut milk

¼

sugar

1

cup

dark chocolate roughly chopped

½

teaspoon

vanilla extract

Pinch

of salt
Gluten free sweet croutons
1

tablespoon

vegan butter or oil

divided

6

tablespoons

of brown sugar

1

tablespoon

ground cinnamon
5

oz

vegan and gluten-free marshmallows
Instructions
Mousse
For the mousse, blend all the ingredients until well combined. Taste and adjust flavor if needed. Divide the mix into 8 medium glasses or ramekins.

Put in the fridge for 1 hour or until ready to eat.
Gluten-free sweet croutons
Mix in a bowl the brown sugar and cinnamon. Toast the bread slices on a skillet with some oil or vegan butter.

When toasted cut in small pieces and dredge in the brown sugar and cinnamon. Do the same with all the slices and set aside until needed.
Chocolate sauce
Add the ingredients in a saucepan and put over low heat until the chocolate is melted and all the ingredients are well integrated. Set aside until it is room temperature.
Marshmallows
Roast marshmallows over the stove or with a culinary torch.
Gluten Free Campfire Mousse
When the mousse is set topp with the sweet croutons, roasted marshmallows and finish by drizzling some vegan chocolate sauce.
Nutrition
Calories:
873
kcal
Carbohydrates:
95
g
Protein:
16
g
Fat:
48
g
Saturated Fat:
26
g
Cholesterol:
12
mg
Sodium:
294
mg
Potassium:
646
mg
Fiber:
11
g
Sugar:
47
g
Vitamin A:
154
IU
Vitamin C:
1
mg
Calcium:
269
mg
Iron:
11
mg
information
Nutritional information of this recipe is only an estimate, the accuracy for any recipe on this site is not guaranteed.

Latest posts by Alejandra Graf
(see all)