This grilled pineapple (in the oven) with chile and sugar is super yummy, and I'm sure that it is going to be in your favorite's list of desserts for the summer.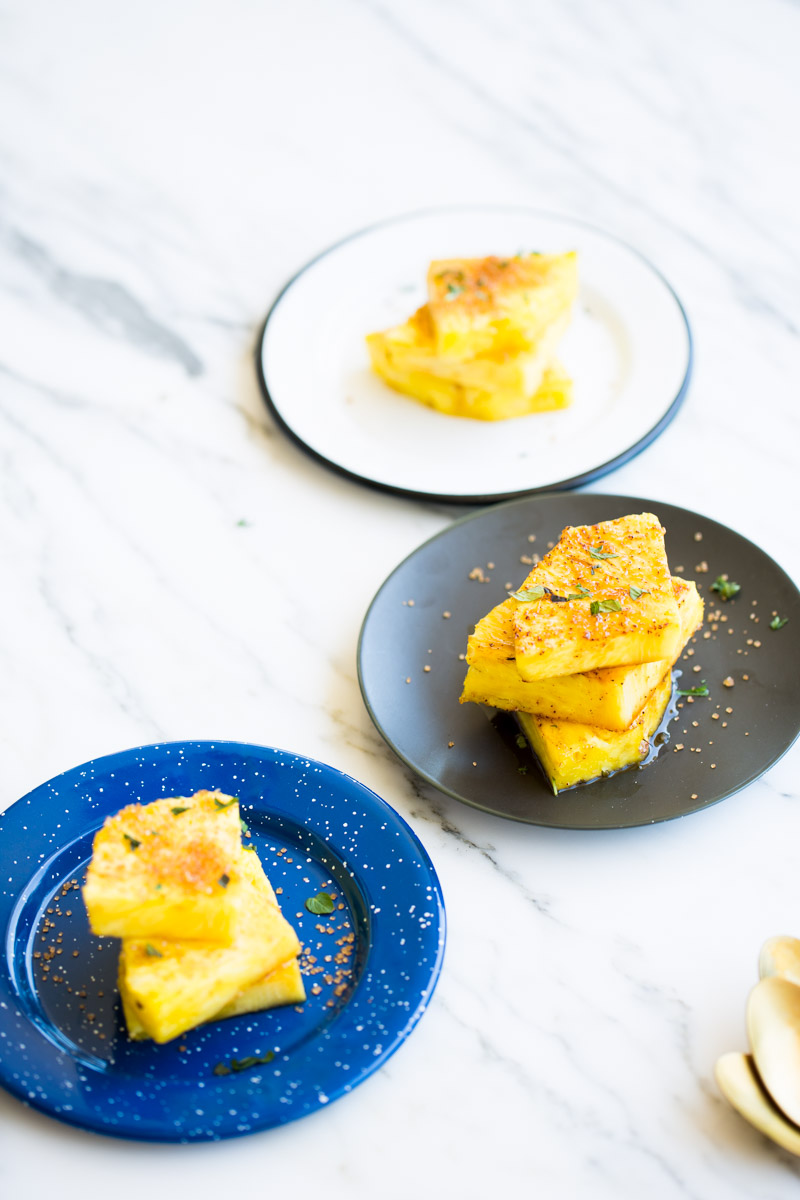 If you have been following me for a while now, then you know that I prefer nutrition over any other thing. But the flavor is also essential, and when those two things combine… BAM! I feel like I have accomplished my mission in life and with this blog.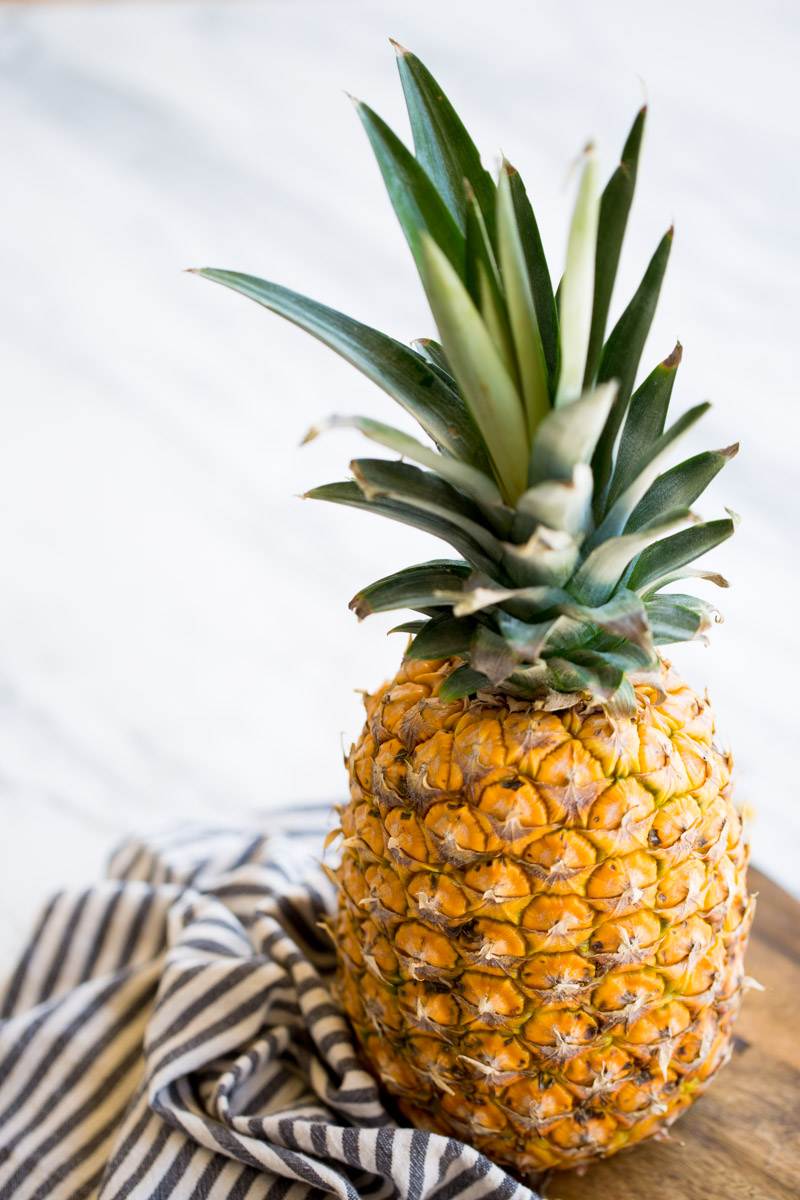 When I tried this grilled pineapple, it made me so happy, and even more when the kids devoured it. They loved it.
But the best thing is that this isn't just any regular recipe, you can change it and do whatever you want with it. For example, I prepared it with a little bit of chipotle pepper powder because I LOVE the smoky flavor that the chipotle pepper has. But if you prefer to use cayenne pepper, or chile ancho, or even cinnamon that's good too.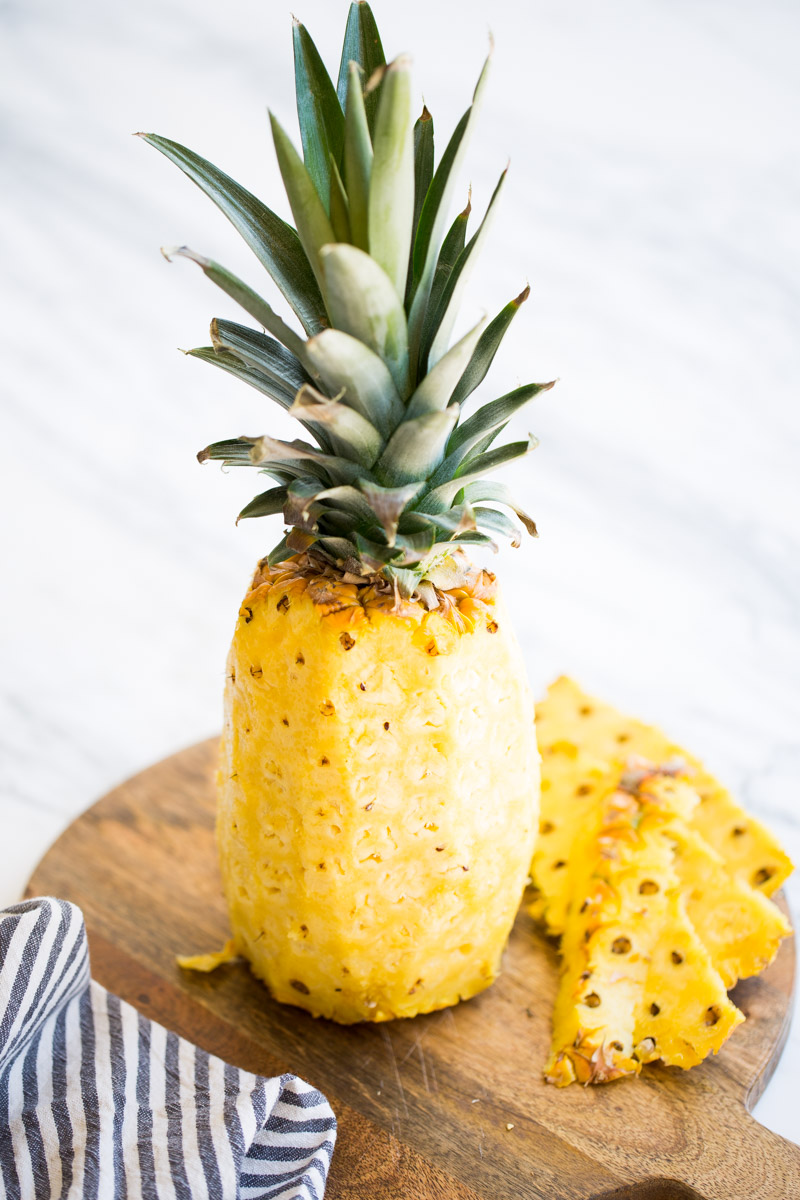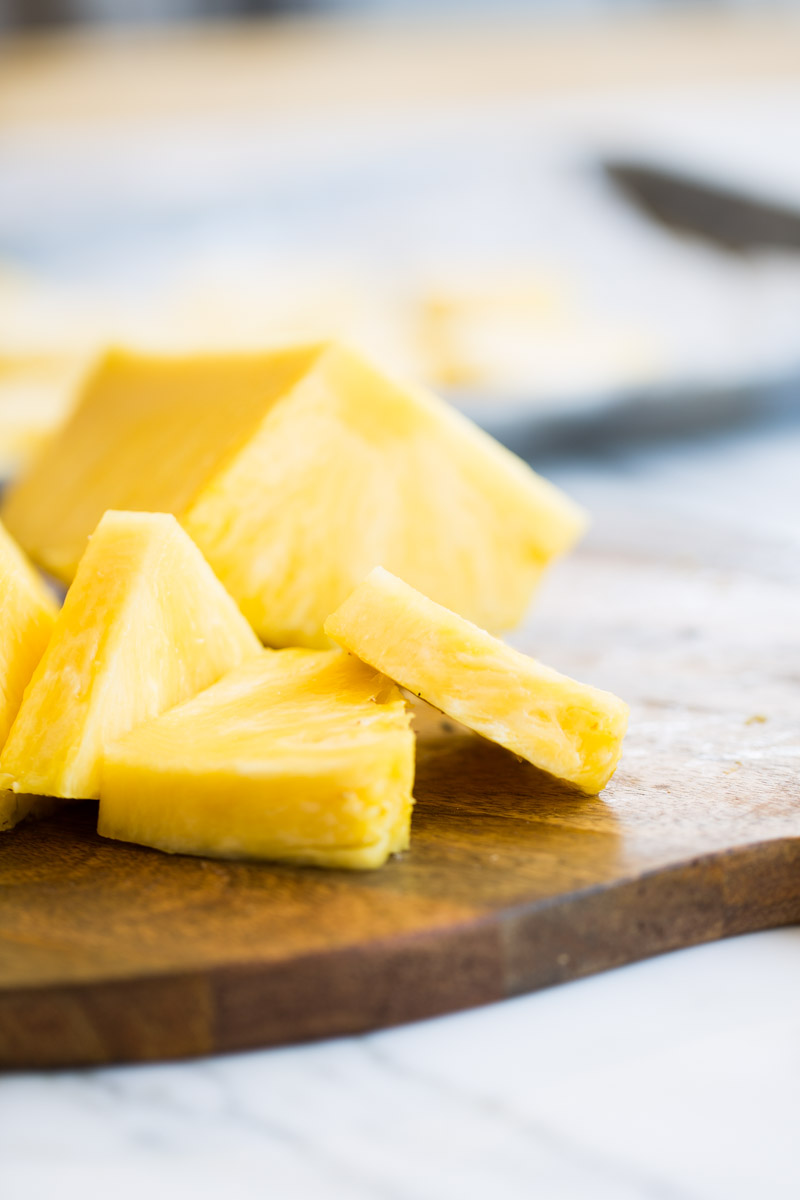 Is this not amazing??? Honestly, the most wonderful thing is that the pineapple has millions of benefits. Here are some of them.
Full of vitamin C
It is an INCREDIBLE anti-inflammatory
It helps prevent cancer and to fight allergies
It's delicious
It helps prevent asthma
It is an incredible fertility booster (in case you are trying to get pregnant)
It is excellent for the digestive system and your heart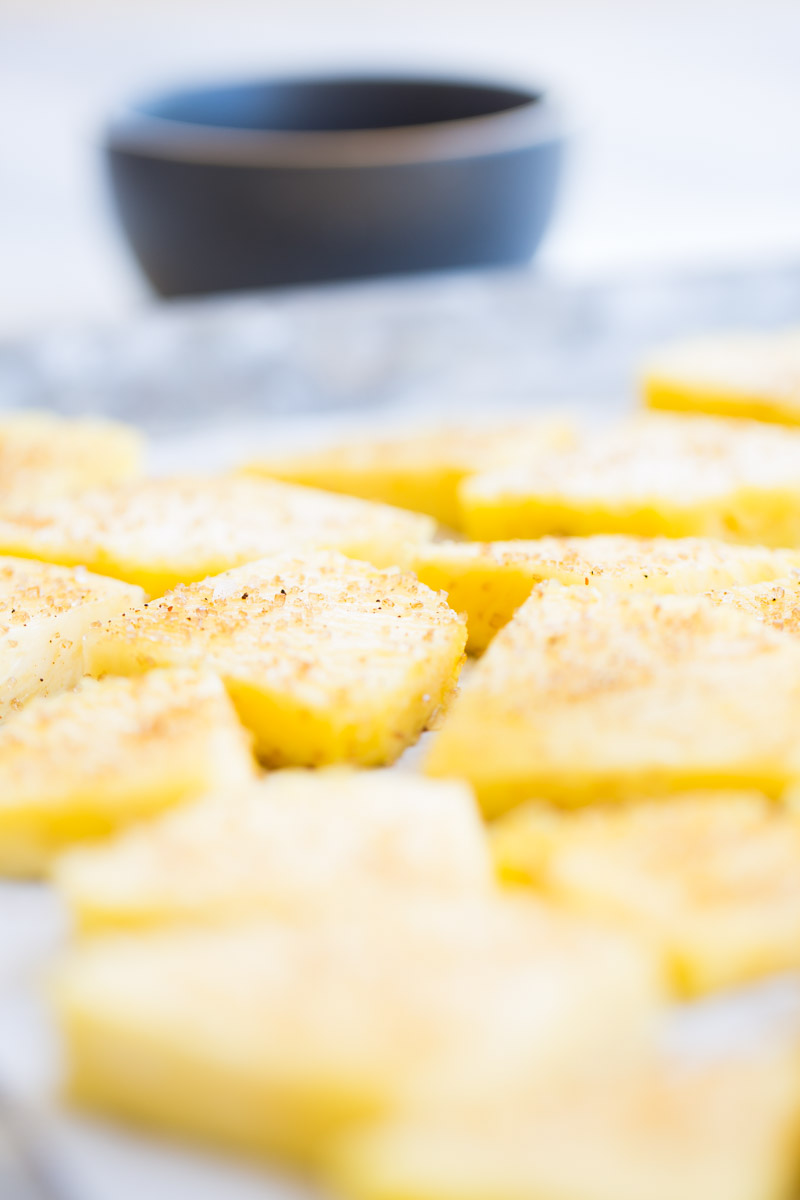 Have I convinced you yet? Well if you still need a reason to eat it, then eat it because it's delicious. Not only is it a super yummy dessert, but it is also super easy to make. You can eat it by itself, or you can or eat it with some whipped coconut cream or even with some dairy-free vanilla ice cream.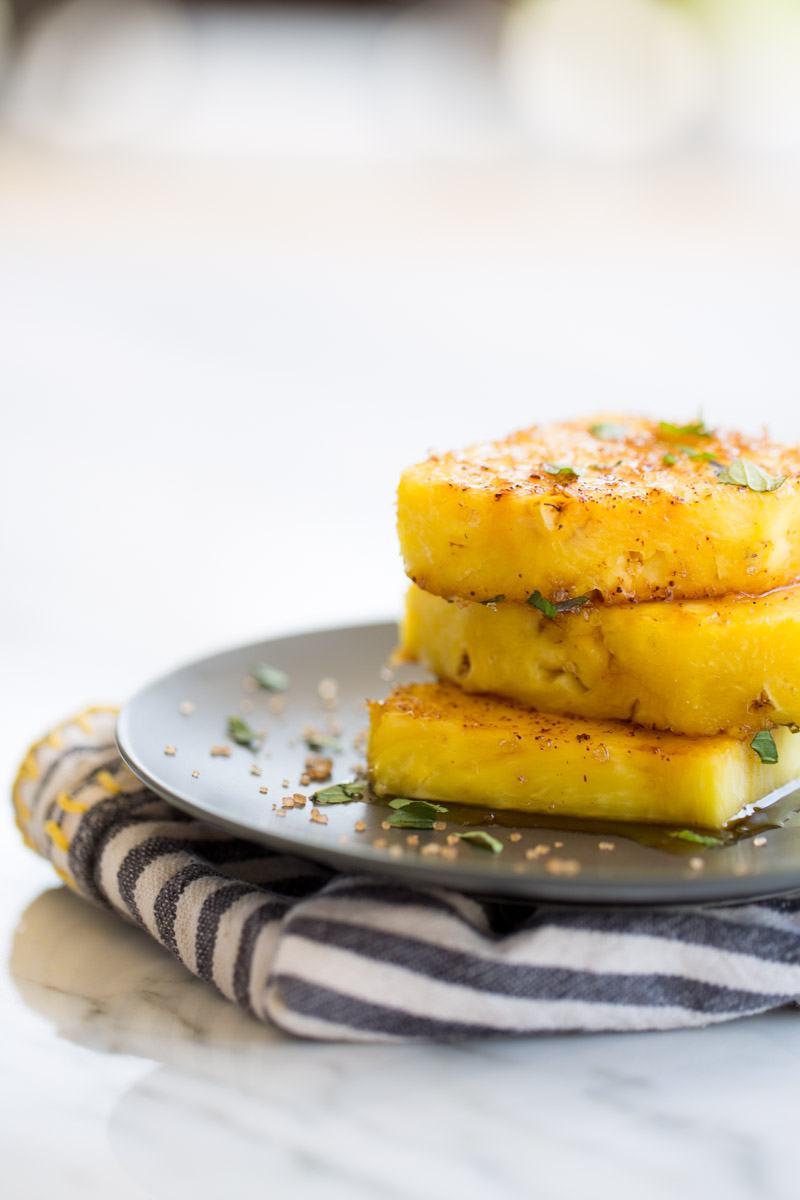 So here is the recipe for this
grilled pineapple
that has to be on your table this summer. I'm pretty sure everybody will like it and you'll be the most loved person at the table. If you prepare it and like it please share on Instagram , Pinterest o FB with @piloncilloyvainilla so I can check it out and share it on my amazing community.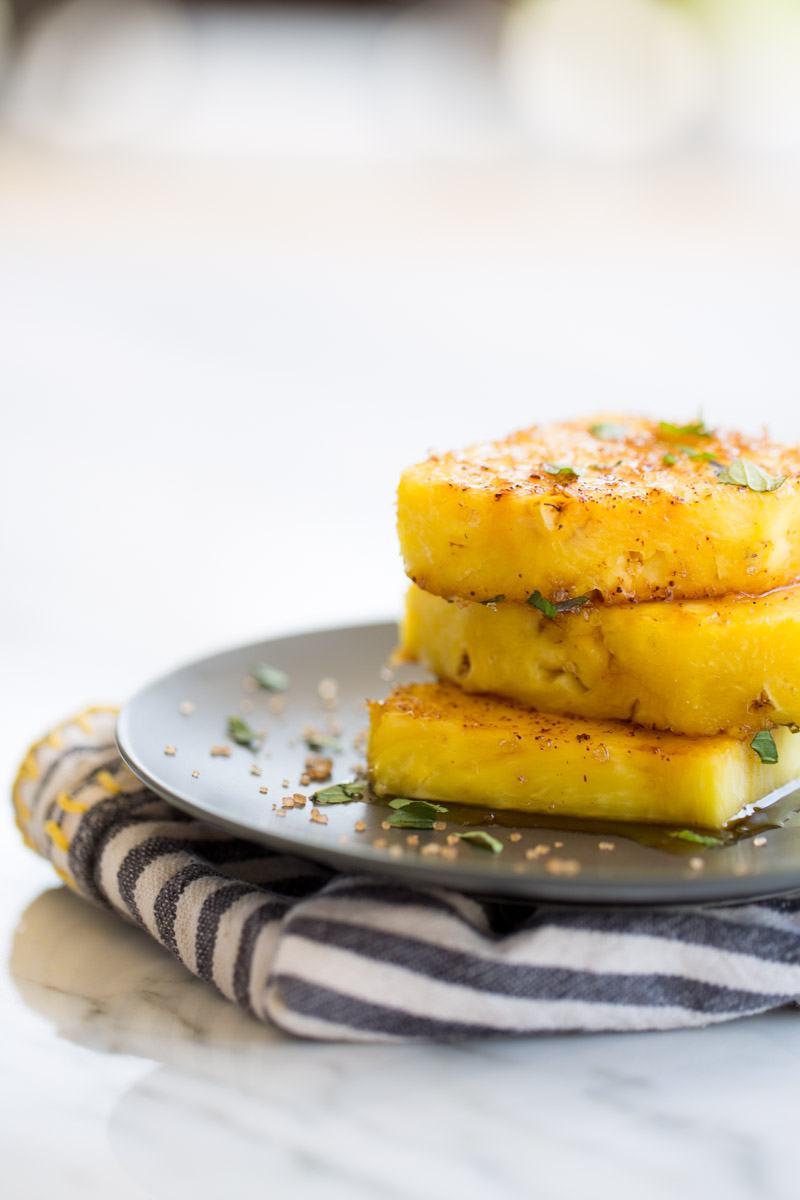 Grilled pineapple
This grilled pineapple (in the oven) recipe with chili and brown sugar is easy, quick and easy to adapt to your taste. You can put chipotle chile, chile ancho, cayenne pepper or cinnamon.
Ingredients
1

peeled and sliced ripe pineapple

2

tablespoons

brown sugar

muscovado or coconut sugar

1

teaspoon

chipotle chile powder

1/2

teaspoon

sea salt

fresh peppermint, roughly chopped

* optional
Instructions
Preheat the oven to 400ºF.

Peel and cut the pineapple and put the pieces in a baking tray.

In a dish mix the chipotle pepper powder, sugar, and salt.

Sprinkle the mixture on top of the pineapple.

Put in the oven for 15 minutes or until you see that the sugar begins to brown.

Remove from the oven and finish with roughly chopped peppermint.

Serve with coconut whipped cream or dairy-free vanilla ice-cream.
Notes
You can substitute the chipotle chili powder with cinnamon or chili ancho powder in equal quantity.
If you change it for cayenne pepper, add 1/4 teaspoon instead of 1 teaspoon chili powder.
information
Nutritional information of this recipe is only an estimate, the accuracy for any recipe on this site is not guaranteed.