Yes, I know you might think I'm a bit crazy, but give me a second here. Hibiscus flowers are edible, and they taste amazing! So, next time you make agua fresca de jamaica, save the blossoms to make hibiscus flower tacos. But first, let's start by talking about FLOR DE JAMAICA flowers?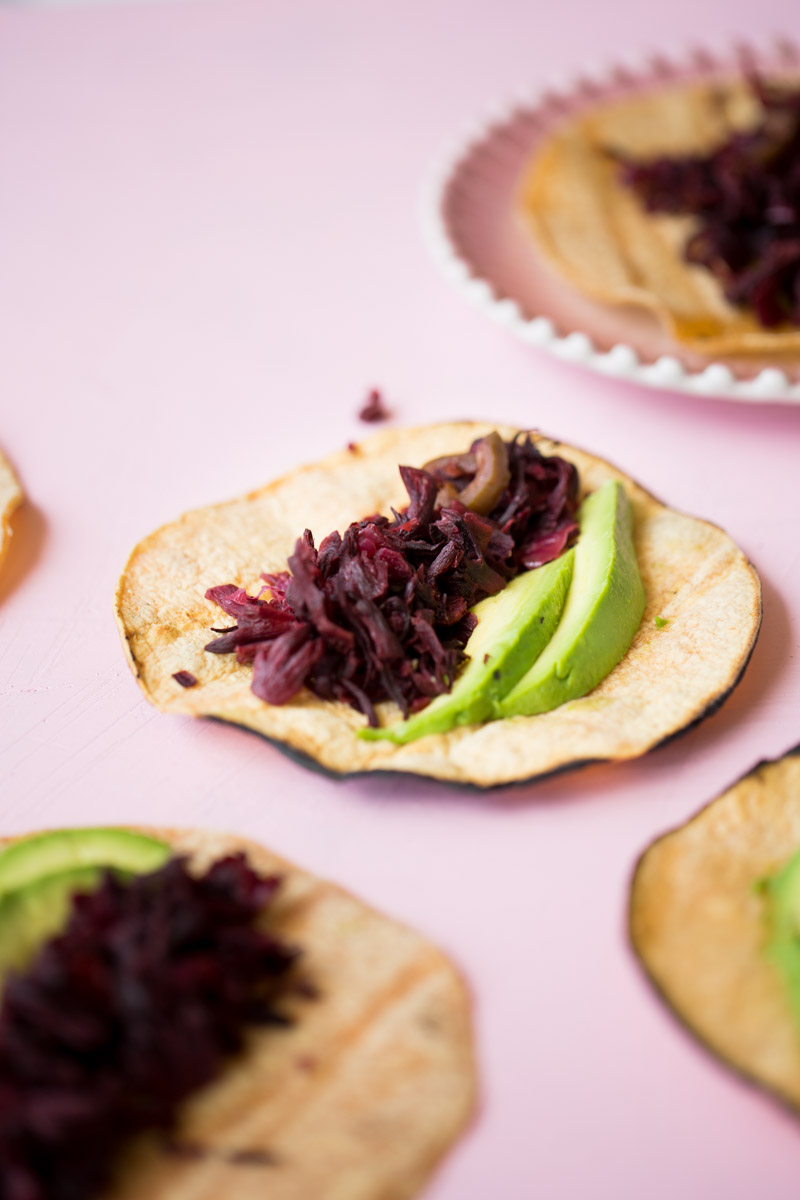 What are flor de jamaica flowers?
Hibiscus flowers and flor de jamaica flowers are the same things; in Spanish, Jamaica is pronounced ha-MY-kuh. Dried jamaica flowers or dried hibiscus flowers, infuse the liquid with vivid red color and tarty, cranberry-like, flowery flavor (like red zinger tea) when boiled or soaked for several hours.
Hibiscus is also known as Roselle, and it comes from the Hibiscus sabdariffa plant; it is origin linked to West Africa. Now it is trendy worldwide: Egypt, Latin America, the Caribbean, and Thailand, to mention some examples.
Agua de jamaica flower
We Mexicans are used to drinking hibiscus tea all day long. Agua de jamaica is one of the agua frescas that you will find almost everywhere in Mexico. You can make it by Some other popular aguas frescas are: horchata, agua de limón, naranjada and agua de fresa.
can you eat jamaica flower?
YES. The beauty of hibiscus is that in addition to making delicious agua fresca, you can also eat the hydrated flower to make tacos, salsas, and even salad dressings.
There are no exact amounts or orders of how to use the ingredients or anything in this recipe for tacos de flor de jamaica or hibiscus tacos. This is a method, and it will always taste good no matter how you make this recipe.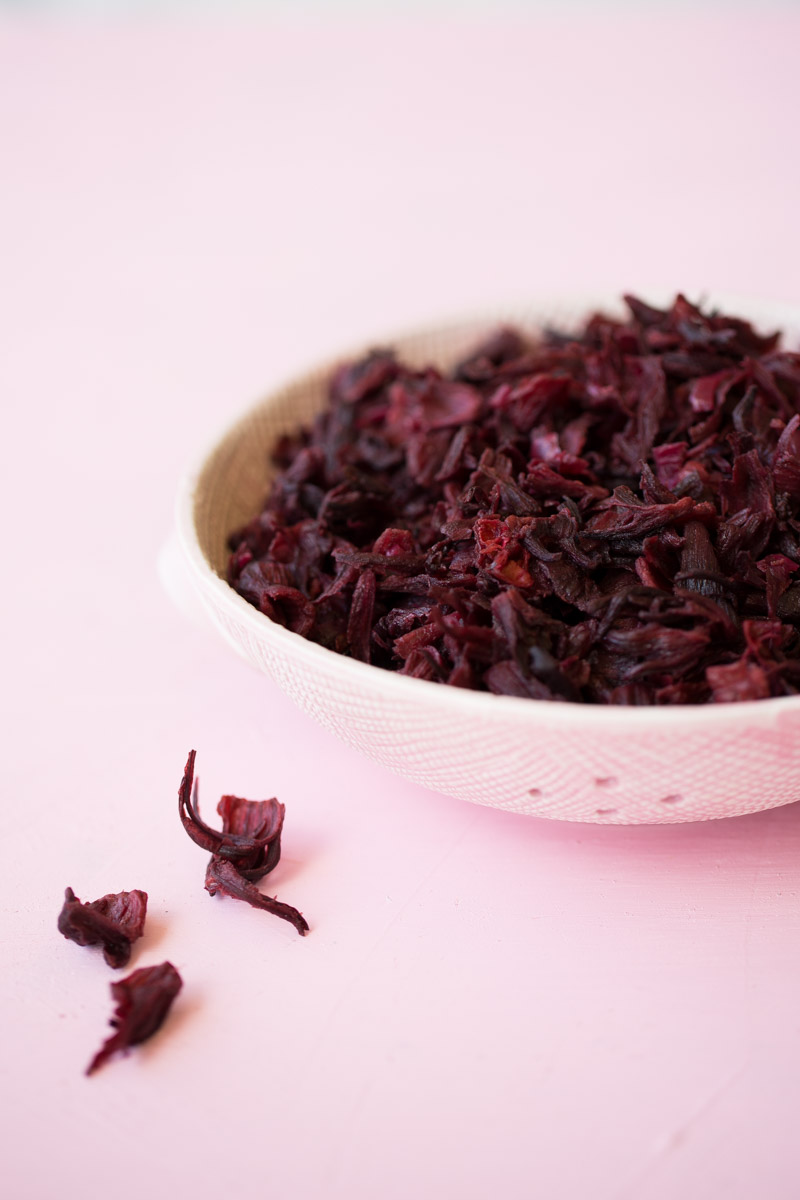 What are the benefits of hibiscus?
In Mexico, we drink a lot of hibiscus tea. It is a very common and well-known "agua fresca." It is delicious, fresh and tart… and I'm madly in love with it. I love it!
The best part is that it has tons of nutritional benefits for us. Even Dr. Greger talks about them in his book "How not to die."
Hibiscus has tons of antioxidants and C vitamins, and it tastes great. Isn't it like a dream come true?
It helps to protect us against cancer and lower blood pressure and cholesterol; it makes us look beautiful and young. It has so much vitamin C that it helps our body fight a cold and a sore throat. Likewise, it helps with menopause and acne; it is a diuretic and has many more benefits for heart diseases.
That is why we drink and eat it. You'll be surprised by how amazing it is.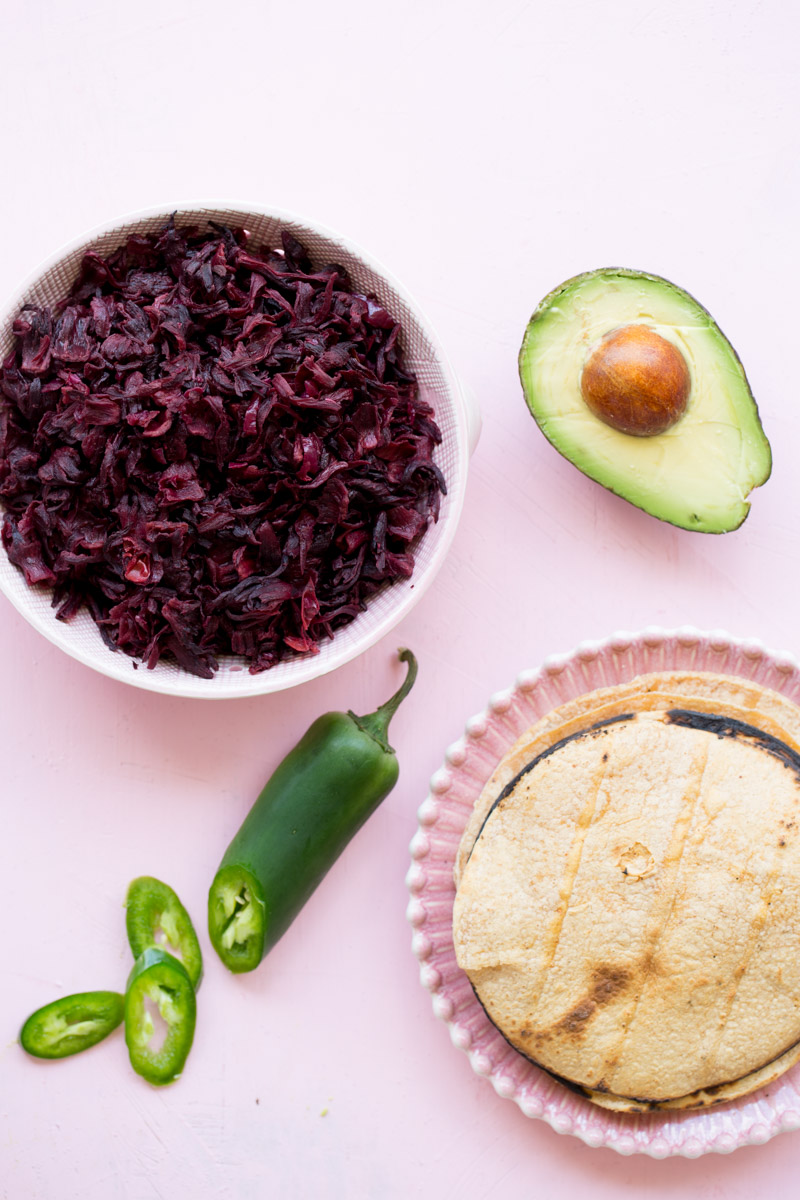 INGREDIENTS TO MAKE JAMAICA FLOWER TACOS
Oil. Use whatever oil you have at home with a neutral flavor. I like safflower oil or avocado oil.
Onion, you can use red onion, white or yellow onion. The "recipe" calls for finely chopped onion because we want only the flavor, and we do not want to feel the big pieces in each bite.
Jamaica- hibiscus flower, hydrated and chopped. When you make hibiscus flower water, you can store the flower in the refrigerator or freezer in containers or freezer bags.
Jalapeño or serrano chili. The jalapeño pepper is less spicy than the serrano pepper.
Salt to taste. I like to use kosher salt, but you can use sea salt or Himalayan salt.
To serve
HOW TO PREPARE JAMAICA flowers TO EAT it?
Prepare the hibiscus agua fresca as usual. Rinse the flower and drain; pat dry if necessary.
In a separate pan, add the oil and the chopped onion to brown.
While the onion is browning, chop the Jamaica or put it in the food processor (affiliate link) (affiliate link) to make it into smaller pieces. This step is important, especially if the flower is whole.
Add the Jamaica and a jalapeño or serrano pepper when the onion is golden brown. I put it in large pieces, so I can take it off later if someone doesn't want it.
When the flower feels dry, it means that it is done, put a little salt in it, and that's it.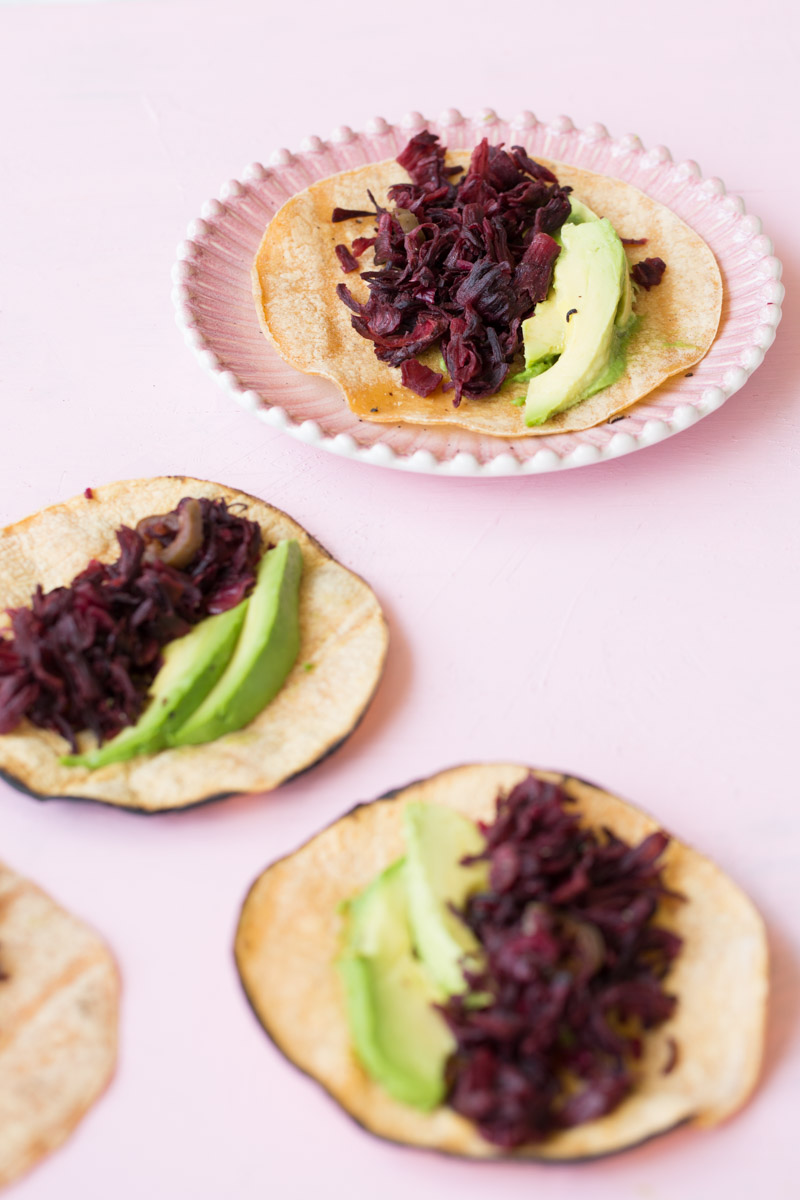 Other ways to eat hibiscus?
You can eat it in corn tortilla tacos with sliced avocado, guacamole, and chips.
You can eat it on top of brown rice, quesadillas, or even hummus
This is a type of salsa, so over the crispy potato tacos or sopes would be a dream.
✎TIP

 • When you put the hibiscus flower on the pan, be careful not to burn yourself. Normally, when you add something wet to a pan with oil, drops of hot oil can fly around. So BE CAREFUL.

 • To prevent this from happening, you can pat dry hibiscus  well with paper towels. You could also put the hibiscus together with the tablespoon of oil, so they heat up together, and you don't burn.

 
Other recipes that you may like:
So here is the recipe for hibiscus flower tacos that is extremely delicious. If you prepare them, please share a picture of your tacos on Instagram with @piloncilloyvainilla or FB. If you want to make this recipe later, save it on Pinterest. It would be fantastic if you could give it five stars.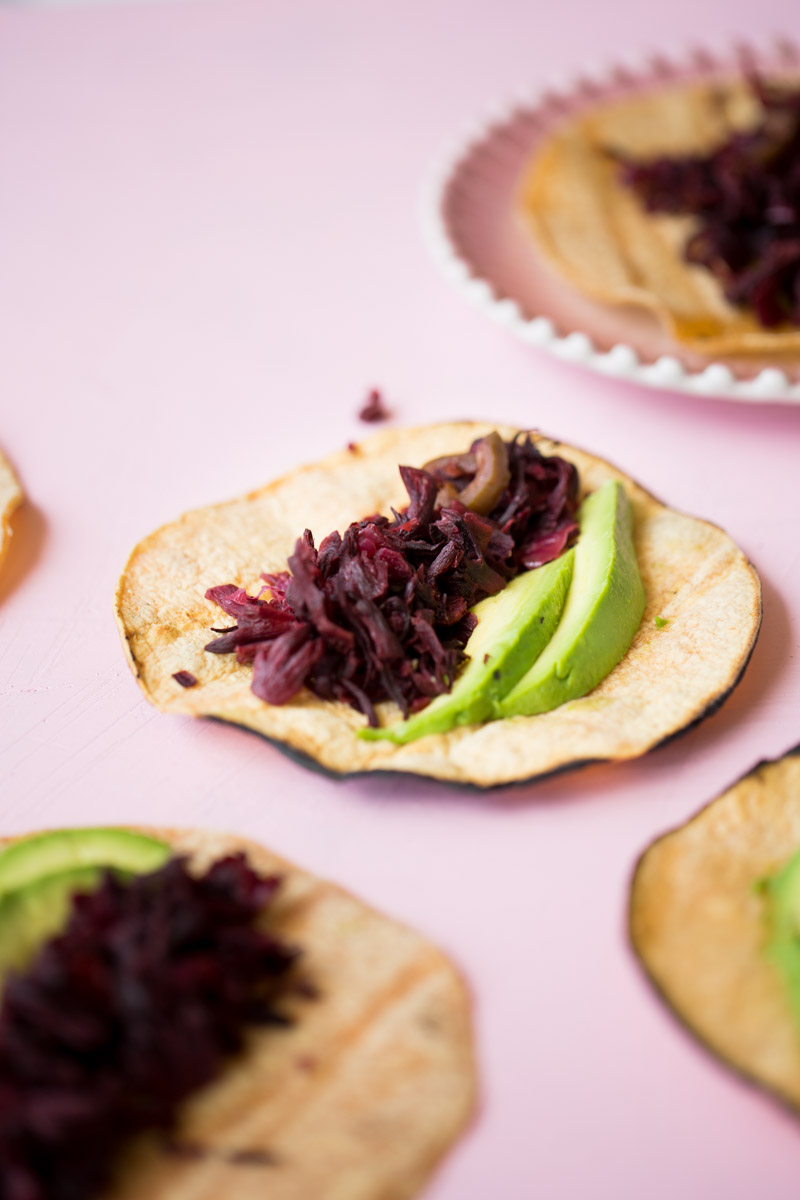 Hibiscus tacos
This recipe for hibiscus tacos is straightforward to prepare, delicious and full of health benefits for us. Try it; I'm pretty sure you'll love it.
Ingredients
1

tablespoon

neutral tasting oil

½

cup

chopped white onion

2

cups

hibiscus flowers

after tea or agua fresca has been made with them

1

jalapeño or serrano pepper whole or chopped

sal al gusto
For the tacos
12

corn tortillas

2

avocados or guacamole
Instructions
 Prepare the hibiscus agua fresca or hibiscus tea as you are used to. Rinse and pat dry the flowers a bit an chop them roughly. In a pan put a tablespoon of neutral tasting oil and the chopped onion to sauté.

When the onion is starting to brown add the chopped hibiscus flowers and the jalapeño or serrano pepper.

Leave on the pan until the hibiscus flowers are dry and crunchy on the edges.

To prepare the tacos add a slice of avocado or a tablespoon of guacamole to a corn tortilla and one or two tablespoons of hibiscus.
Nutrition
Serving:
2
tacos
Calories:
278
kcal
Carbohydrates:
37
g
Protein:
5
g
Fat:
14
g
Saturated Fat:
2
g
Sodium:
56
mg
Potassium:
448
mg
Fiber:
8
g
Sugar:
6
g
Vitamin A:
331
IU
Vitamin C:
23
mg
Calcium:
53
mg
Iron:
8
mg
information
Nutritional information of this recipe is only an estimate, the accuracy for any recipe on this site is not guaranteed.

Latest posts by Alejandra Graf
(see all)