Sopes are a classic Mexican dish made with masa. They are thick and smaller tortillas pressed around the edges to form a border. Making homemade sopes is really easy, and they can be served as an appetizer, breakfast, lunch, or dinner.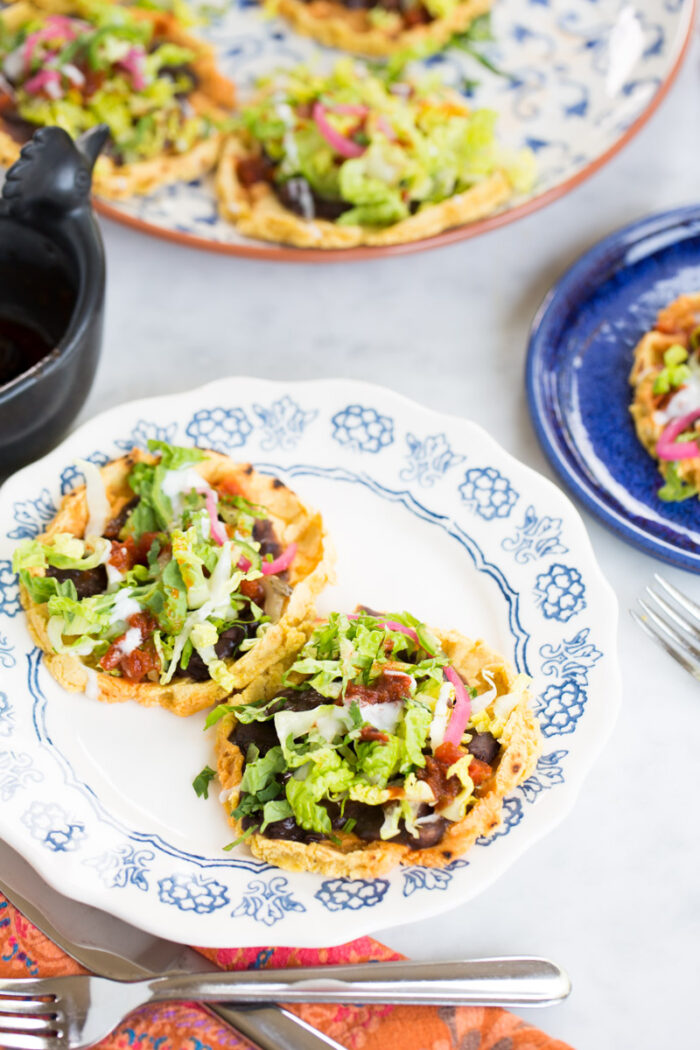 What are sopes?
A sope is a thick corn tortilla made with masa harina that has a border around the edges. This border helps to keep all the fillings inside. Sopes are deep-fried or cooked on a comal (Mexican stovetop griddle (affiliate link)). Sopes are typical in all of Mexico, but depending on the region you're in, the fillings will be different. My recipe is vegan and healthier than the traditional one.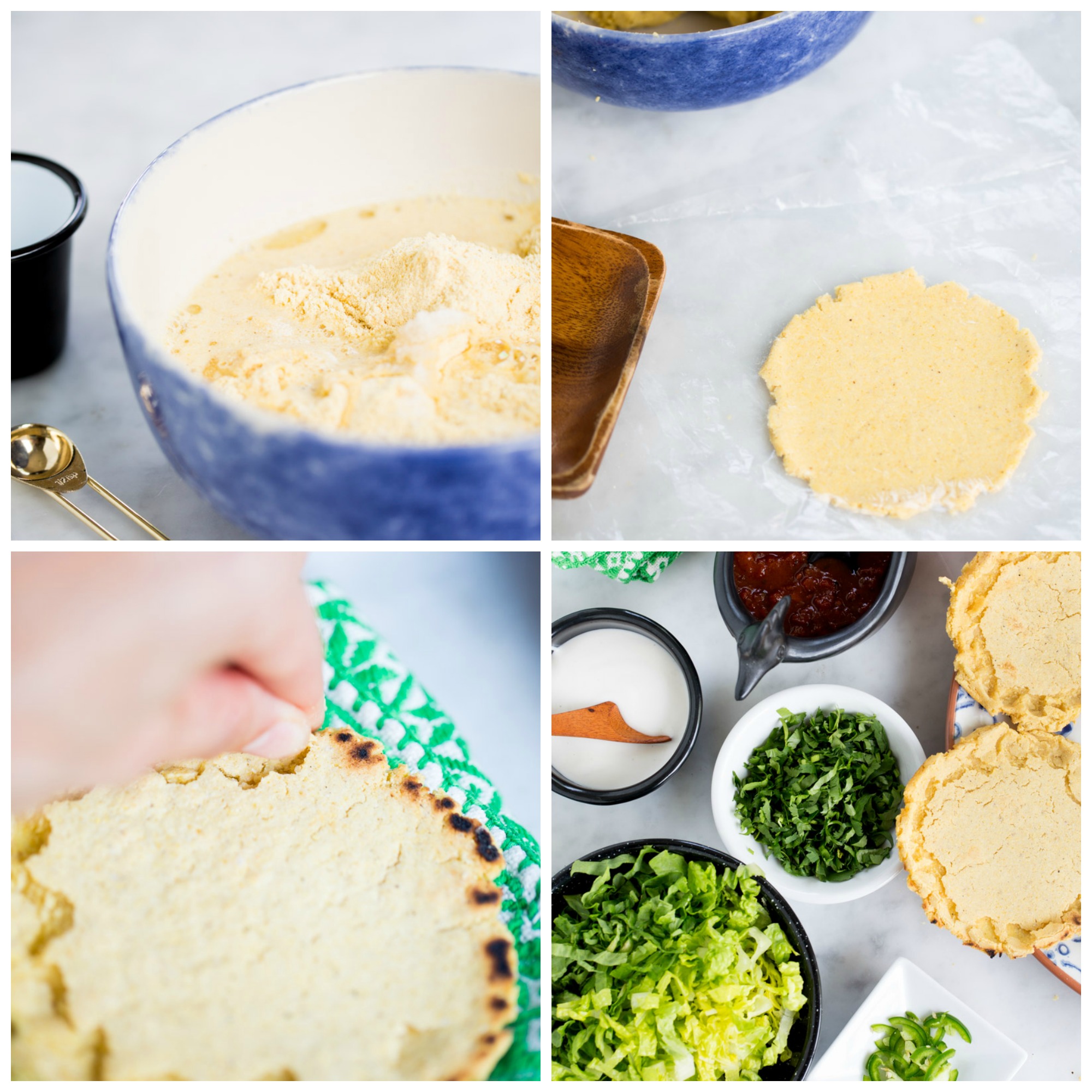 How to make Mexican homemade Sopes? The authentic way
Make the masa para sopes. It is really easy to make them. The first step is to mix masa harina (affiliate link) (corn flour) with warm water in a bowl to form a soft dough.
Make the tortillas. Roll the masa into small balls and press with a tortilla press to form a thick-small-tortilla.
Cook. You cook this thick tortilla on a griddle (affiliate link) over medium-high heat until it looks "dry" and the top cracks a bit. Then you flip and cook for 30 seconds more.
Pinch the edges. When you take it out of the heat, let it sit for 30 seconds and then start pinching the edges with your fingers. Be careful, they're really hot. You can use a kitchen towel so you don't burn your fingers.
If you want to fry them know is the time to do so. Heat a frying pan with vegetalbe oil, fry the sope until is crispy to perfection on both sides.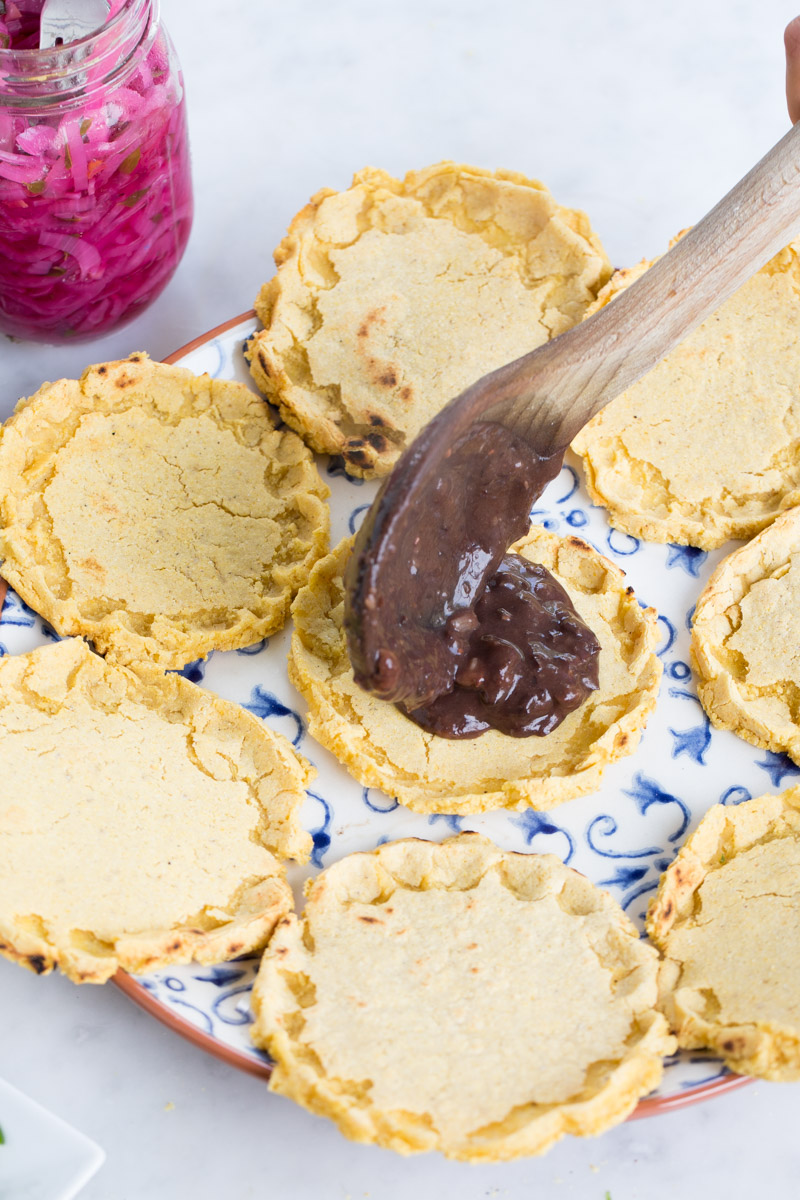 How to finish sopes?
After those four easy steps, you are ready to start preparing them the way you want. You can prepare them with anything you will prepare a taco. Think of homemade sopes as an open taco that will taste delicious with everything you put on top.
Prepare them with refried beans, chorizo, mushrooms, or just salsa. You can store them in the fridge or freezer and just reheat them before using them.
Frequently asked questions
Do I need a tortilla presser? No. You can press the dough balls with any dish that has a flat bottom or a small cutting board.
How to store them? Fridge. Let them cool and then wrap them in a clean kitchen towel and store in a tightly sealed container or plastic bag. ( I use recyclable ones). They will last up to a week.
Freezer. Let the sopes cool completely store in a tightly sealed container or plastic bag. They last up to a month in the freezer.
How to reheat the sopes? You can reheat them on the stove over a griddle (affiliate link) or in the oven at 350ºF for 15 minutes.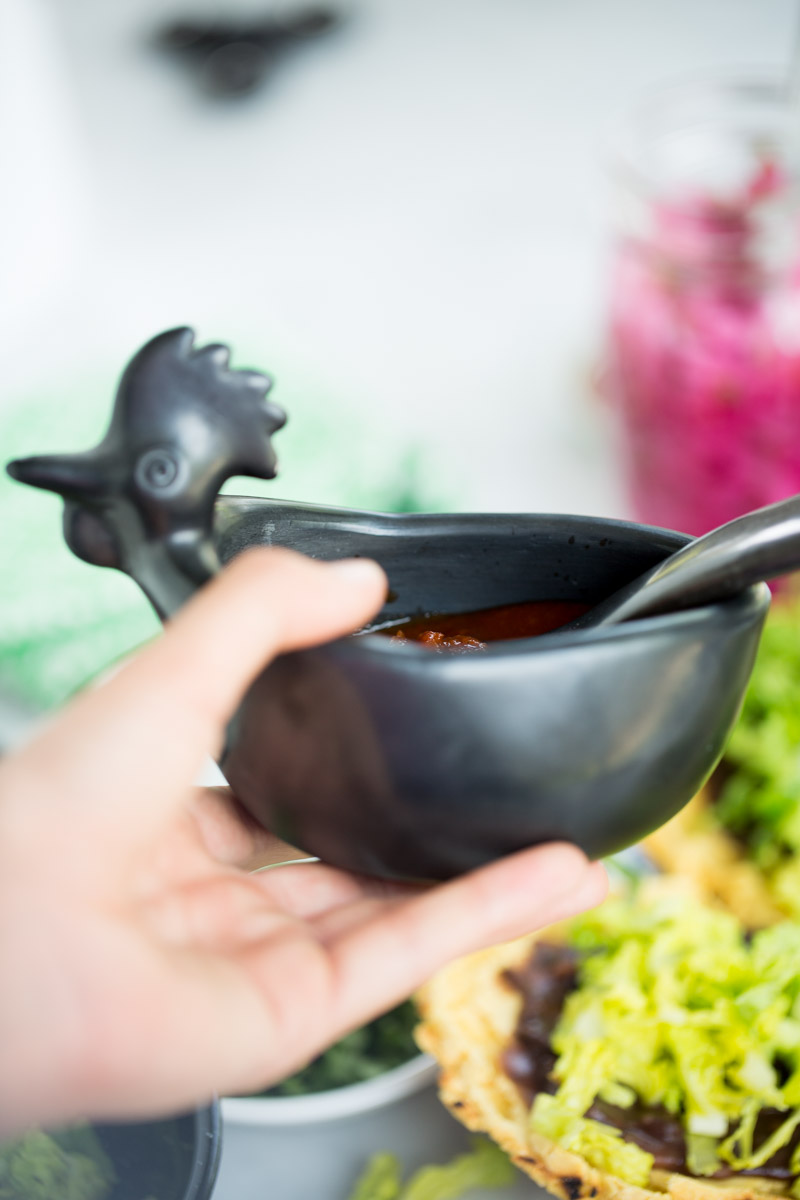 Tips, tricks & other recipes
You can serve this recipe for breakfast, lunch, or dinner. In Mexico, we eat them all the time.
I prepared these with refried beans, shredded romaine lettuce, and vegan Mexican cream and salsa.
I prepare my Vegan Mexican crema at home.
I love them with red salsa or salsa verde. Here are three recipes for salsa verde: Authentic Mexican salsa verde and Mexican salsa verde two ways.
Homemade sopes also taste delicious with the potato-chorizo filling I used for the vegan pambazos.
But any way you prepare them always finish them with Mexican pickled red onions for extra yumminess and crunch.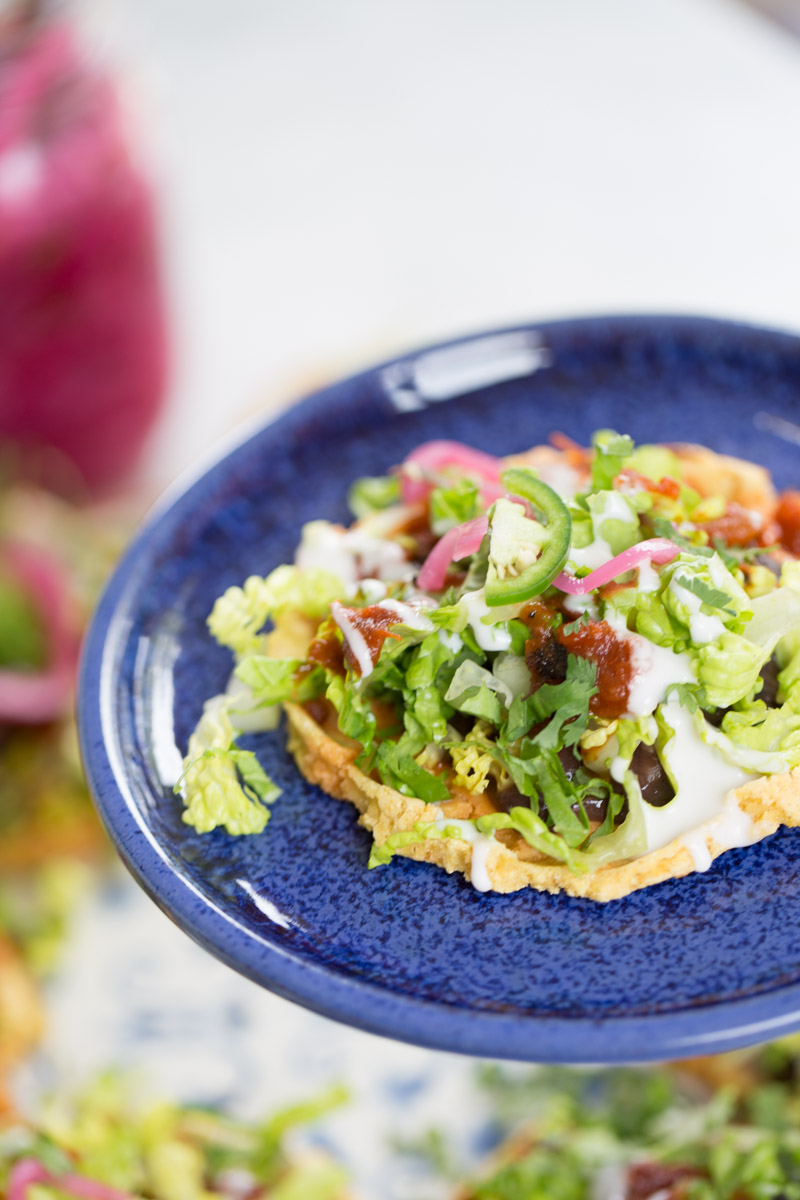 Other recipes that you may like:
For me, home has always been where my family lives. I am a Mexican living in the USA, and I love both countries equally. But I do have to confess that every time I prepare Mexican food, my heart lights up a bit.
So here is the recipe for the homemade sopes and I hope you like them. If you do, please share the recipe and the blog on Instagram, Facebook or save this recipe for later on Pinterest.
It would also be fantastic and super helpful if you leave a comment and/or a rating of this recipe in the comment section. Please feel free to write suggestions, ideas, or how it went when you made the recipe.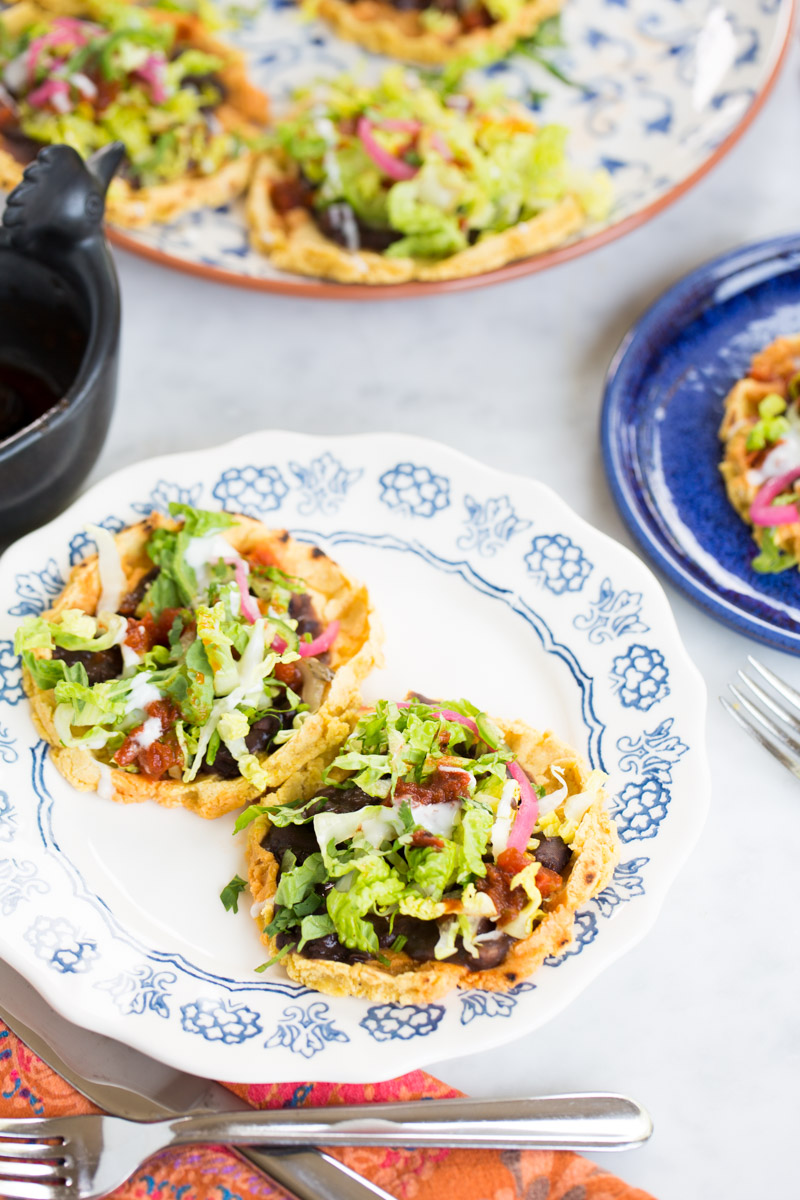 Homemade sopes
In this post, you will learn how to make homemade sopes, a traditional Mexican dish but made vegan in a much healthier way.
Ingredients
2

cups

masa harina

2

tablespoons

neutral tasting oil

1

teaspoon

salt

1

cup

water
To serve:
1½

cup

refried beans

2-3

cups

sliced romaine ​​lettuce

vegan sour cream

or Mexican crema
Instructions
Mix the masa harina with the salt and oil; little by little add the water. If you need more, just add it in subtle quantities. The idea is to achieve the consistency of a soft dough.

Heat a pan or skillet on high heat. To cook the sopes, the skillet or pan has to be on medium-high heat.

While heating the pan or skillet, form a ball with the masa harina dough and put it between two pieces of plastic. With a plate that has a flat bottom, apply pressure until you have a flat and even disk or a thick tortilla.

Put each masa disk on the pan until it looks dry on top. Turn it over and leave it until cooked. As soon as you pull it out of the griddle pinch the edges with your fingers. Be careful not to burn yourself, it will be very hot.

Repeat until done. When the sopes are ready, add a tablespoon or two of the refried beans, then some lettuce, Mexican salsa, and a dollop of cream.

You can also add red onion or pickled onion and some sliced chiles.
Nutrition
Serving:
1
g
Calories:
167
kcal
Carbohydrates:
27
g
Protein:
5
g
Fat:
5
g
Saturated Fat:
1
g
Sodium:
553
mg
Potassium:
104
mg
Fiber:
4
g
Sugar:
1
g
Vitamin A:
1122
IU
Vitamin C:
1
mg
Calcium:
57
mg
Iron:
3
mg
information
Nutritional information of this recipe is only an estimate, the accuracy for any recipe on this site is not guaranteed.
This post is inspired by A Couple Cooks' adoption story.

Latest posts by Alejandra Graf
(see all)