I am Mexican, and since I can remember, I have been eating fruit and vegetables with lime, salt, and chili powder. Our authentic Mexican candies are sweet and sour with acidity, spicy, and a bit of umami. It's perfect for me. Just like this chamoy sauce – it has all the ideal flavors of my childhood.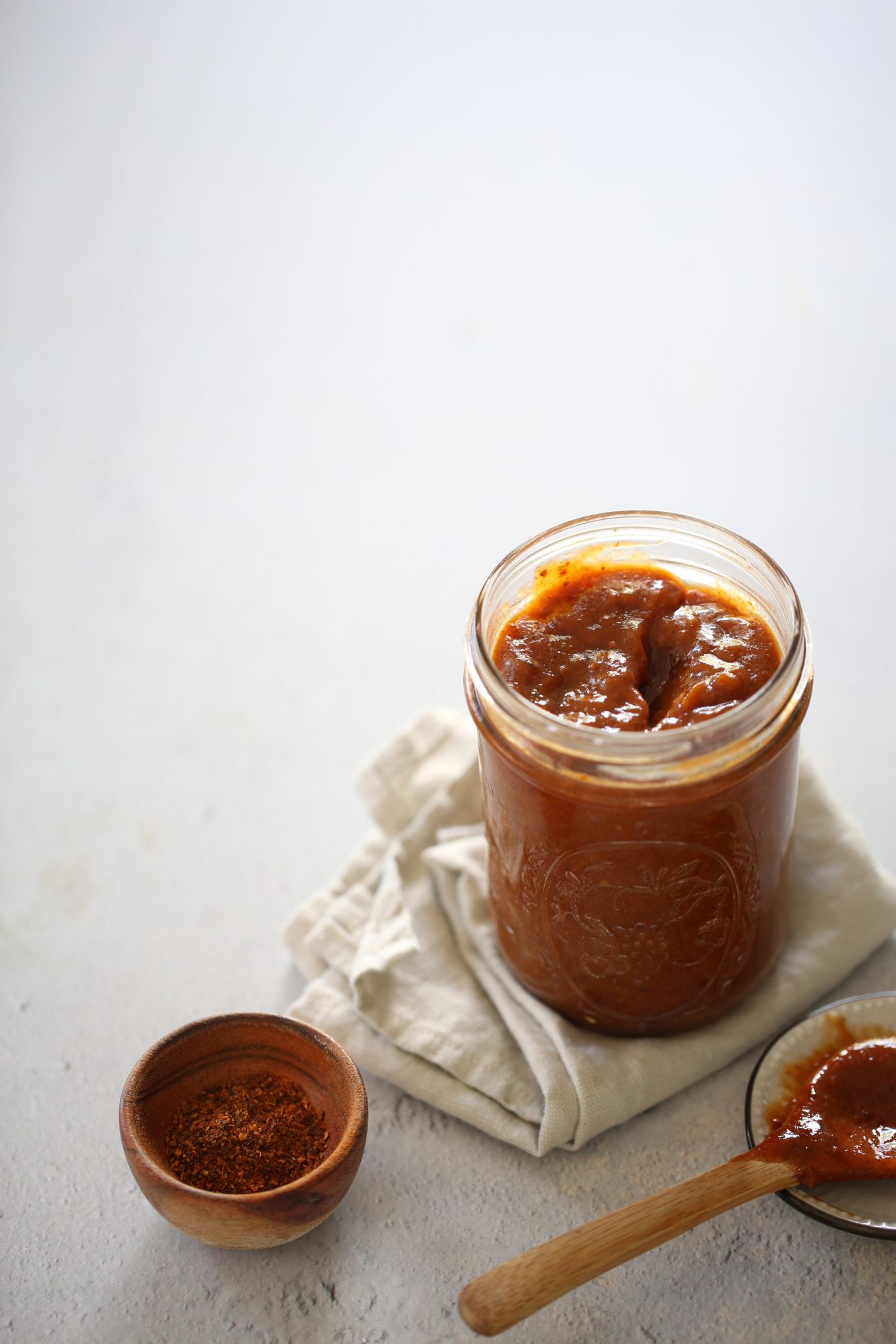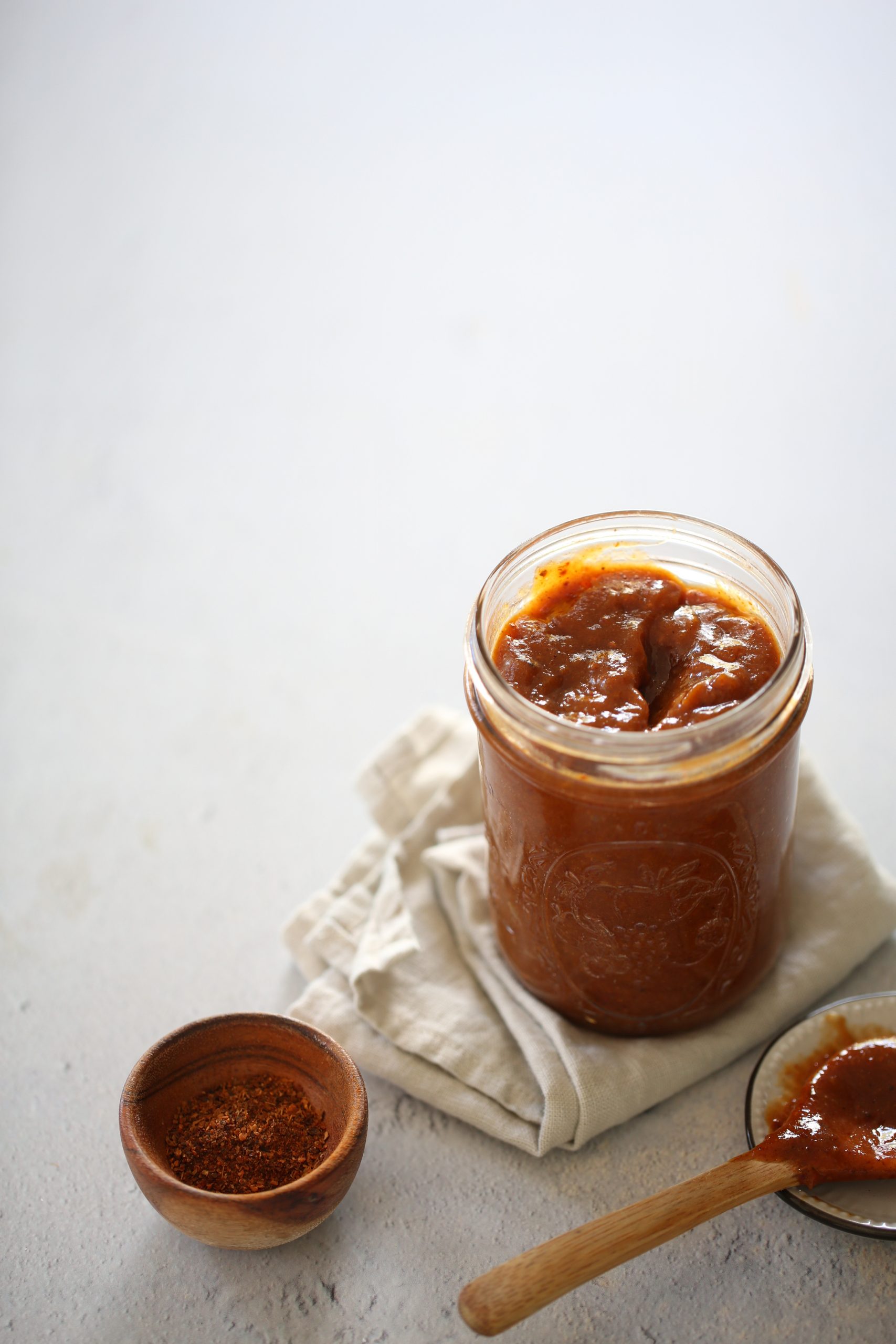 What is chamoy sauce?
Chamoy is a thick sauce ( condiment) made from dried fruit, chile, and some acid. I like to use vinegar and lime juice for it. The sauce is found everywhere in Mexico, from street snack carts to store shelves. There are a lot of variations for this recipe, but this homemade chamoy recipe hits the spot for me.
Why is it better to make chamoy at home?
Chamoy will always be best when made from scratch. I don't know if you've also seen it, but the Chamoy that they sell in the stores has nothing to do with the chamoy that I ate when I was a kid. The last ones I've seen have a lot of FD&C (food coloring), preservatives, and other ingredients like xanthan gum, high fructose corn syrup, sodium benzoate.
Ingredients for chamoy, what is the sauce made of?
At home, I've made two large jars of homemade chamoy, and everyone has loved them! Lime, ancho chili, apricots, apple cider vinegar (affiliate link), and sugar, and that's it! It is excellent!
Lime, it is better to use limes than lemons.
Ancho chili, use ground ancho chili powder. You can put in the blender ancho chiles without seeds and stemmed until they become powder if you do not have any.
Dried apricots. When you buy the apricots, buy them without sugar. The apricot is a bit acidic, and we don't want to lose that flavor in the sauce with sweetened fruit. You could substitute with sour appricots or ume plums or tamarind.
Apple cider vinager. I buy organic apple cider vinegar (affiliate link) because it has the most healthy values.
Sugar. Use cane sugar or coconut sugar whichever you like best. In the same way, if you want to put more or less, perfect. The most important thing is that you prepare this authentic Mexican sauce to your liking.
How to make chamoy
The instructions for making chamoy are straightforward. Boil some water in a saucepan, then soak the fruit until plump and blend with the rest of the ingredients: the couple tablespoons of chili pepper, acid, and sugar. Then taste, taste and taste until it is perfect and sour and sweet and spicy. Let it rest, chill and taste again before enjoying.
How to eat chamoy sauce?
Everything. The truth is that you can use this chamoy sauce in everything you can think of or on things that lack some flavor, like jícama. I love this vegetable but it is basically flavorless.
Apples and mangoes. I love chamoy sauce with a sliced ​​apple or with mangoes. Do you know how to peel and prepare mangoes as paletas? You have to stick a wood kebab stick into one end and then peel from the bottom up. You make some cuts around the mango, and finish it up with the chamoy sauce. Any fresh fruit tastes great with it.
Mangonadas. Chamoy is also the best in mangonadas (a type of mango slushie), or with lemon, ice pops, mango and strawberry paletas, or chips.
Crudites or fruit. With sliced ​​jicama or with fresh coconut, watermelon, pears, apples, papaya, etc.
Micheladas or margaritas. you can use this chamoy sauce to prepare the rim of a glass for a margarita or michelada. Just place an upside-down glass in a bowl with the sauce, carefully turn aroundnd, sprinklee with chili powder, and then serve your drink.
Raspados (shaved ice), chamoyada, paletas (perfect over hibiscus flower- jamaica ones), drizzled over a sorbet.
How do Mexicans eat chamoy?
In Mexico City, there is a very famous sushi place that adds Chamoy to their steamed rice and uses it to finish some of their most famous sushi rolls.
If you go through the streets of Mexico, you'll find snack carts or food trucks with "prepared" fruit. The "prepared" means fruit with chili, lemon, salt, and some type of spicy sauce.
A very Mexican snack is a mix of fruits and vegetables (think pineapple + cucumber + carrots + jicama) with lime juice, chili powder, and chopped peanuts. And of course, all finished up with this chamoy sauce and a dash of Tajin.
You can make this sauce as spicy or as acidic as you want.
Can kids eat chamoy sauce?
My kids are in love with it, especially Sofia; she loves chamoy on mango, on apple, on everything. So now in my fridge, I always have cucumber, carrot, jicama, mango, etc. I have everything ready, peeled and chopped in the fridge, and so when the kids arrive home, "starving," they don't hit my pantry. They run directly to the fridge for the "mugrerito" (healthy-ish Mexican junk food or snacks).
THE BASIC RULES FOR EATING "junk" FOOD at home
These are the "rules" that we follow at home when my kids want to junk food. I believe in balance and not forbidding my kids from things. It's better if we give our kids better options or tools to identify better food options.
They have to read the labels and only eat or buy items with five ingredients or less. Like corn chips, if they only have cornmeal, oil, and salt. Or kettle chips that only have potatoes, oil, and salt.
They cannot have chips with neon powders or dyes or flavors or anything that will stick to and stain their fingers.
Our junk food day is Friday (although the older they get, they do not follow this rule that much), and during the week, if they want something else, they eat this chamoy with carrots, cucumber, or fruit.
Before eating potato chips, they have to eat a banana, a handful of almonds, or something that fills them up and takes away their "hunger pains."
Also, they have to drink water, to be sure they are not mistaking hunger for thirst.
The last "rule" is that the corn chips or potato chips have to be accompanied by a sauce, salsa verde, guacamole, hummus, or anything else fresh.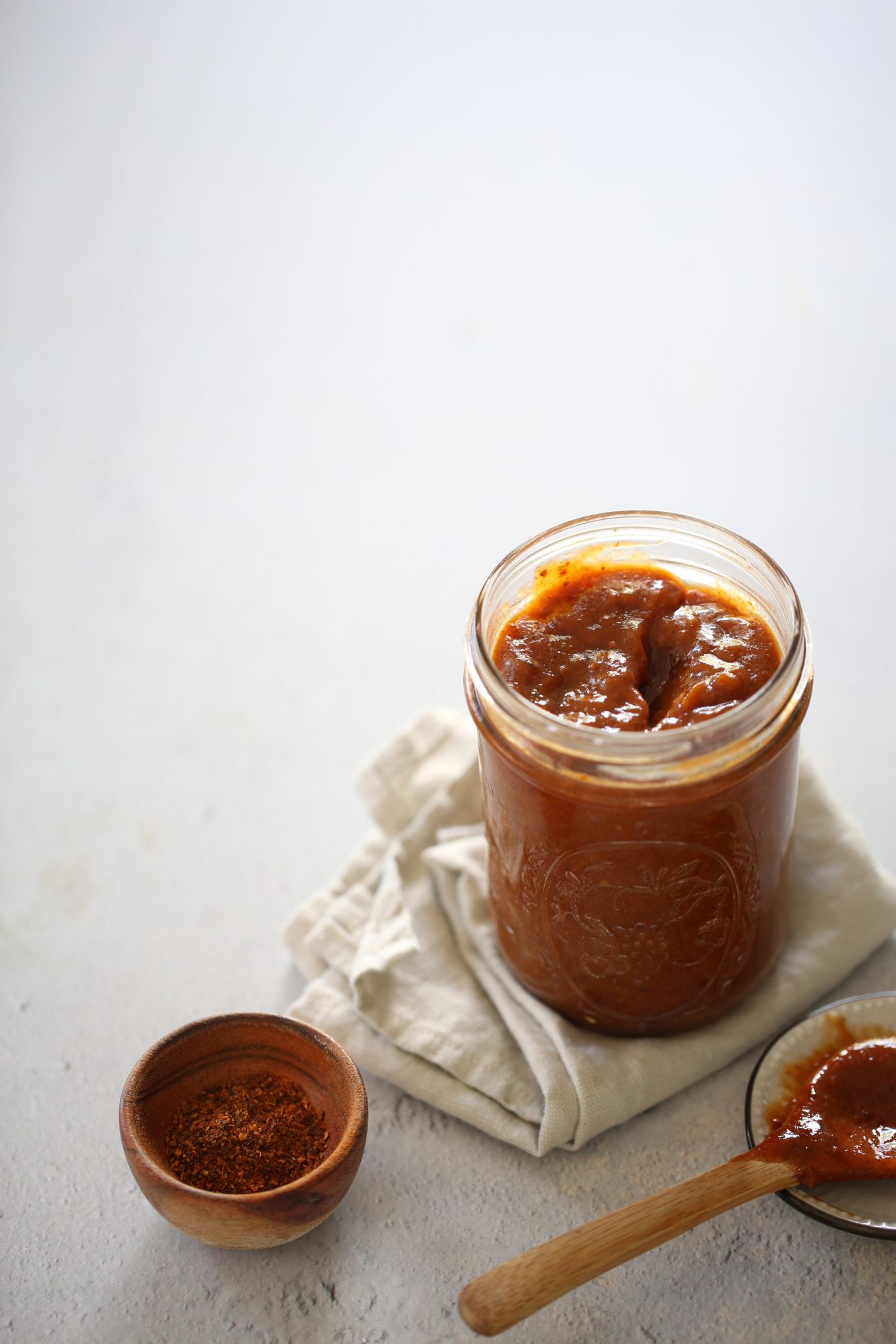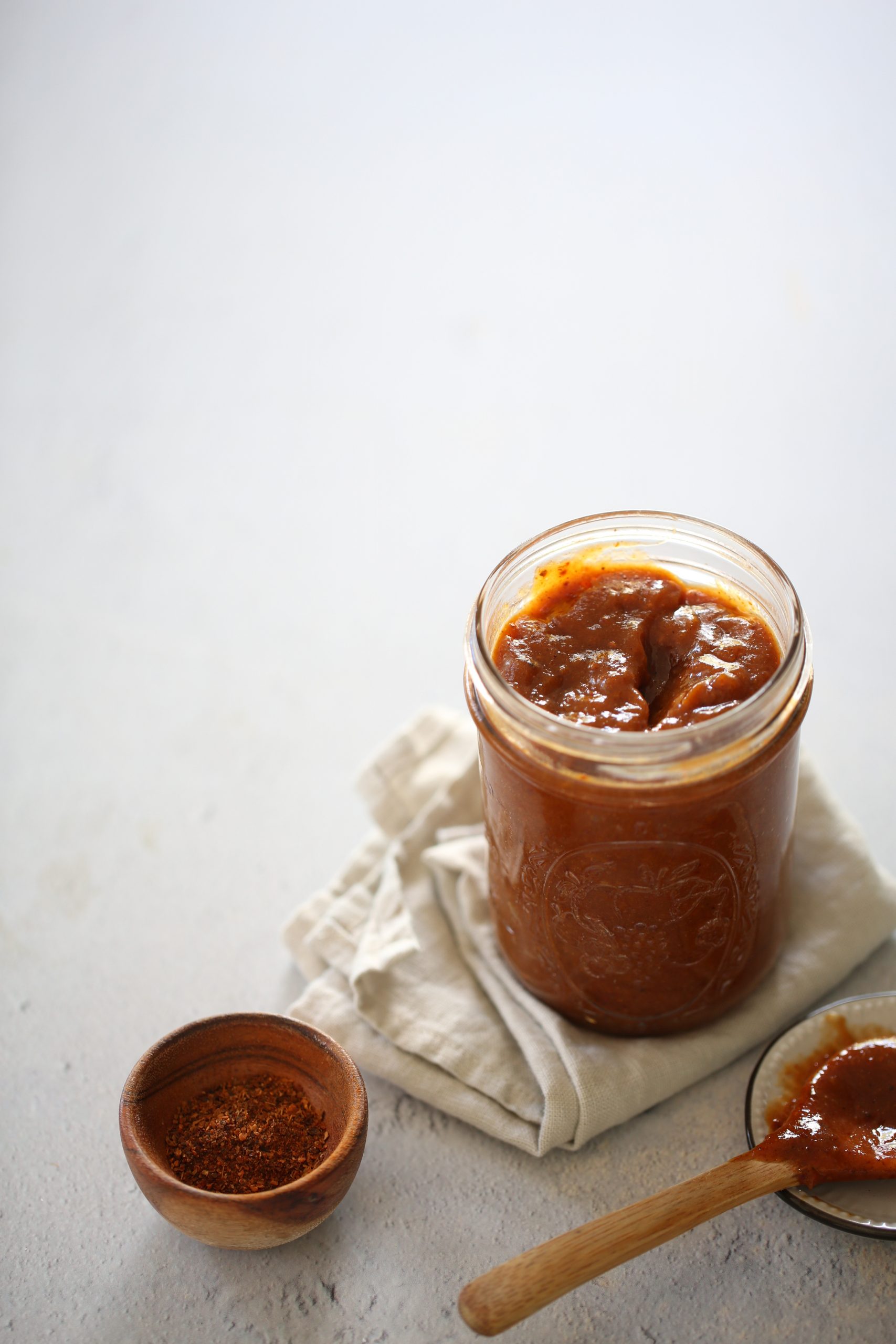 Other recipes that you may like:
So here is my recipe for homemade Chamoy, a Mexican favorite and super famous spicy sauce perfect for fruit and vegetables. This sauce makes the perfect spicy and flavorful healthy-ish snake. If you like the recipe, please share it on FB, Instagram or save it for later on Pinterest.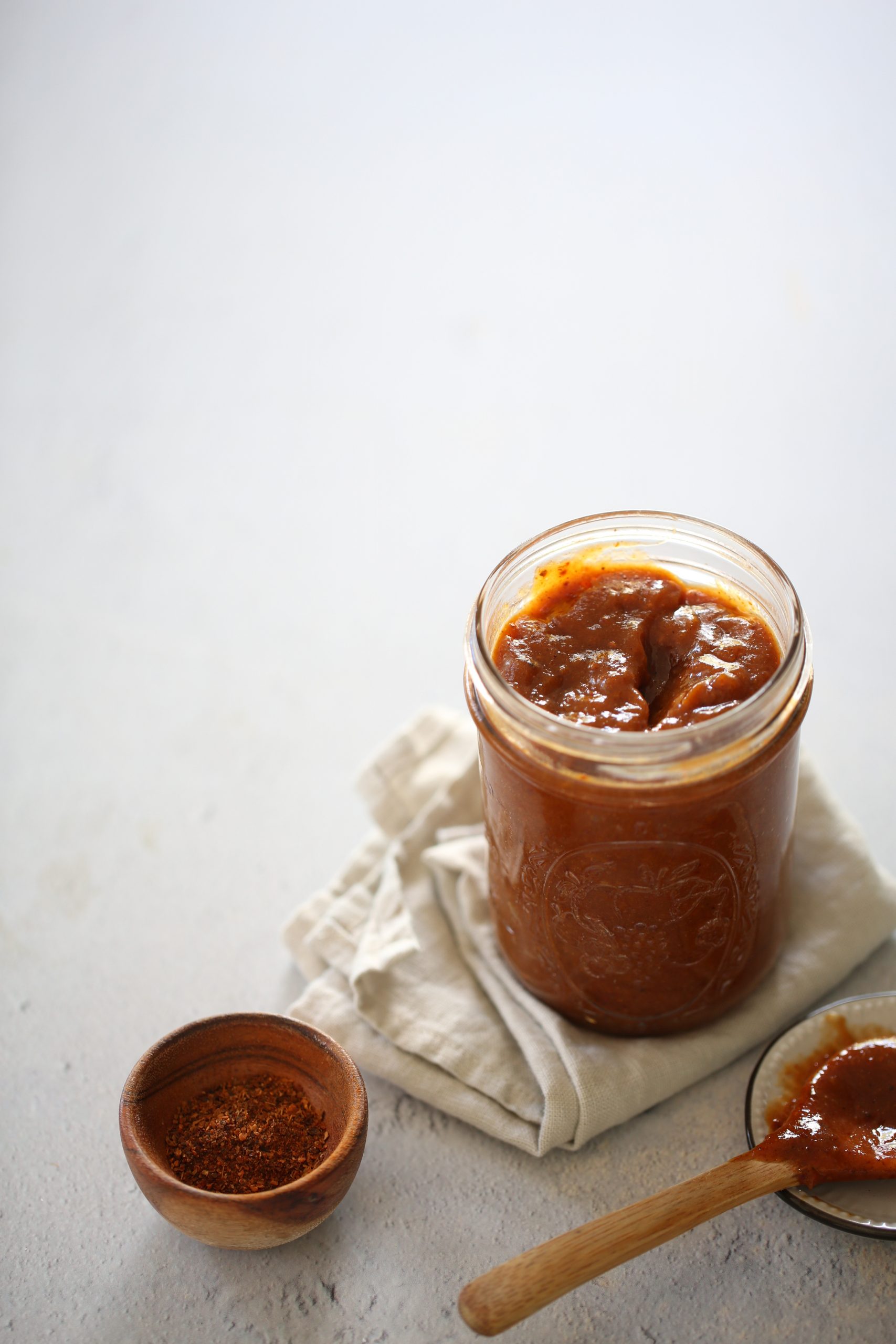 How to make chamoy at home?
This chamoy sauce is straightforward and very easy to make. You can eat it as a snack on fruits , vegetables and mangonadas.
Ingredients
¾

cup

dried apricots

1 ½

cup

boiling water

2

tablespoons

cane sugar

2

tablespoons

apple cider vinegar

4

tablespoons

lemon juice

1 ½

tablespoon

ancho chili powder or more if you like it very spicy

½

teaspoon

sea salt
Instructions
Soak the apricots in the boiling water until the water cools.

Add the dried apricots and soaking water to the blender with the rest of the ingredients.

Blend until everything is well integrated. If it is too thick, add a tablespoon of water at a time until you achieve the perfect texture.

Try and adjust the flavor.

Add more chili or more lemon depending on your taste.
Notes
It keeps up to two weeks in a closed jar in the fridge
Nutrition
Calories:
1066
kcal
Carbohydrates:
269
g
Protein:
4
g
Fat:
2
g
Saturated Fat:
1
g
Sodium:
712
mg
Potassium:
1361
mg
Fiber:
7
g
Sugar:
239
g
Vitamin A:
3565
IU
Vitamin C:
189
mg
Calcium:
98
mg
Iron:
3
mg
information
Nutritional information of this recipe is only an estimate, the accuracy for any recipe on this site is not guaranteed.
This recipe has affiliate links from Amazon.