Have you ever tried Mexican chiles toreados condiment? Blistered chiles serranos or chiles jalapeños with onions seasoned with lime juice and soy sauce. You have to try them, and have them in your fridge to use every single day, they are the best.
What are chiles toreados?
Chiles toreados are a type of Mexican salsa; well, it is not technically a salsa; it is a condiment. It is a unique mix of ingredients with magical powers to spice up any dish you add them to.
These toreado spicy chiles are super easy to make, and you'll find them on many menus in restaurants throughout Mexico. You'll find them in taquerías, sushi restaurants, or even fancier restaurants.
Ingredients for the chiles
CHILES. Use jalapeno peppers or serrano peppers. Serrano peppers are spicier than the jalapeños. You could use one type or a combination of both. Some people blister the chiles whole, I like to cut them in half or slice them into bite-size pieces.
ONION. Use red or white onions, either works. Cut in half and then thinly slice the onion in 1/4 inch slices, half-moons.
LIME JUICE. Please use fresh-squeezed juice, it is best.
SOY SAUCE. Season the blistered chiles (toreados) with your favorite soy sauce. If you are soy or gluten-free sensitive, a good substitution would be vegan Worcestershire sauce, Maggi Seasoning Sauce, liquid aminos, or coconut aminos.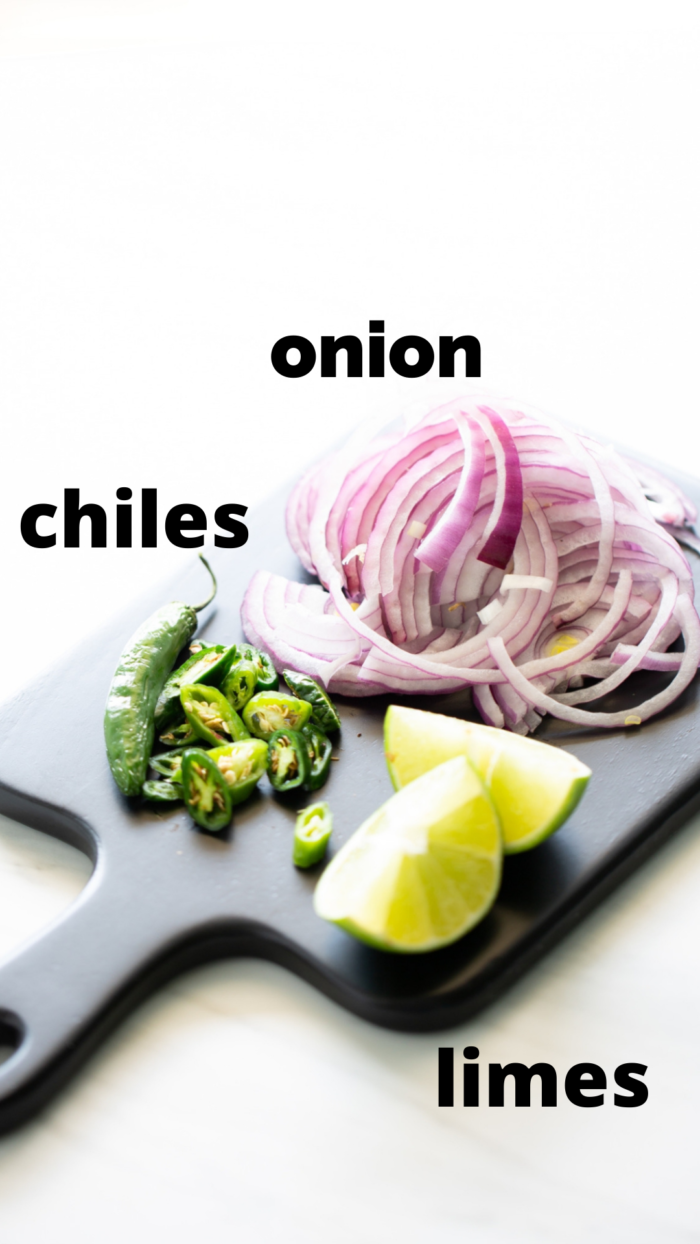 How to make chile toreado
To make them, you have to sautée over medium-high heat some thinly sliced onion in a little bit of oil; then you add the bite-sized chiles serranos or chiles jalapeños until blistered. Transfer the blistered onions and chiles to a heat-resistant container ( a glass jar) and season with lime juice, a pinch of salt, and soy sauce.
It doesn't really matter if you make jalapenos toreados or chile serrano toreado, you have to believe me this salsa is heavenly and delicious.
Tips & Tricks
I like to use a large cast-iron skillet to make my chiles toreados, love how it distributes the heat evenly and blisters the chile better
You can make them over the grill and will be delicious. Grill them whole and slice them after. You could leave the stem to handle them easily.
Make these ahead of time and store them in a tightly closed container in the fridge. They will last up to a week. There is no need to reheat but if you wish pop them in the microwave for 20-30 seconds.
Let me give you some ideas on how you can eat these chiles toreados magical condiments or salsa. Use them hot right out of the pan or at room temperature.
The best way to eat Them
I love this Mexican salsa on hummus, I know, it is a total mix of cuisines but it is delicious. I make my hummus at home, but you can use storebought hummus. You just serve the hummus in a bowl and finish it with this salsa and chips or pita chips on the side.
Hummus toast. Spread some hummus to a piece of toast and then add a spoonful of prepared chiles serranos.
Eat them over white or brown rice, or any other grain that needs a boost of flavor.
Obviously on tacos. This is a very common salsa for carne asada tacos (grilled meat tacos).
The vegan version of these tacos is the mushroom tacos, add the chiles toreados to them and they will be extra delicious.
Eat them with steamed or roasted veggies, or with grilled vegetables.
My favorite way to eat them. On top of brown rice, baked or grilled tofu, grilled vegetables, and all finished with a spoonful or two of this magical salsa.
They also taste amazing over fried rice, sushi, or noodles.
Spicy chiles toreados. If you feel this recipe is going to be too spicy for your taste, you could remove the veins and seeds from the chiles before sauteeing, you could use them whole or you could add only the juice of the salsa to your dish.
Other recipes that you may like:
So if you prepare these chiles toreados, do not forget to post them on Instagram or Facebook. Or, if you want to make them for later, don't forget to pin them and save them for later on Pinterest.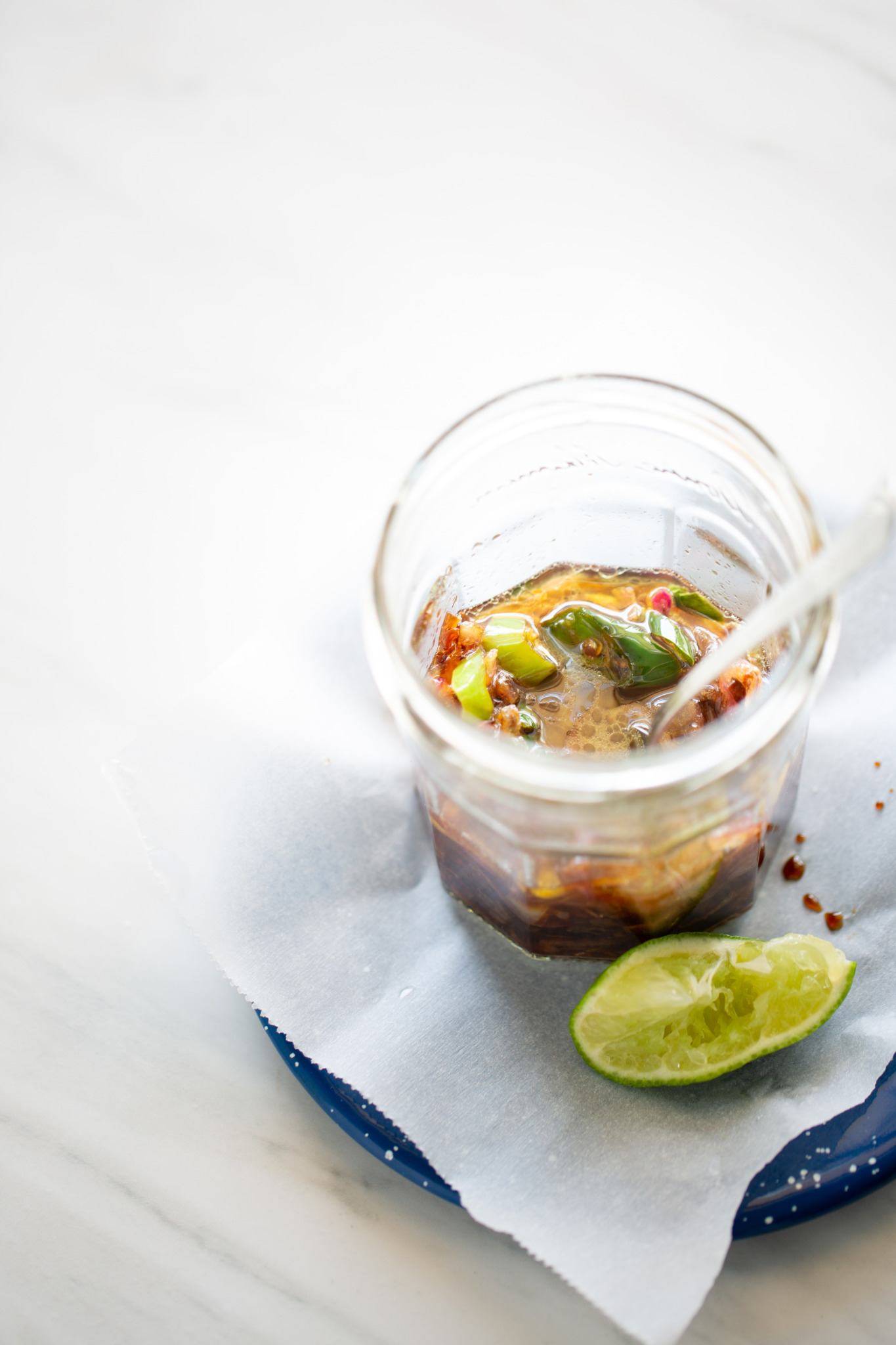 Chiles toreados
These chiles toreados are a magical mixture of onions, blistered chiles, lemon and soy sauce. It's magic because you'll see that everything they touch is transformed.
Ingredients
1

tablespoon

vegetable oil

I use avocado oil

½

about 1 cup red onion thinly sliced

1

jalapeno pepper or two serrano peppers sliced into large pieces

1

tablespoon

lime juice

1 ½

tablespoon

soy sauce

Pinch

of salt
Instructions
In a pan put the oil and onion, when the onion begins to brown, add the sliced peppers. Leave until golden, about 5 minutes.

When they are ready, put them in a jar, add the tablespoon of lime juice, a pinch of salt and the soy sauce.

Test for seasoning and adjust if necessary.
Notes
Store in a jar in the fridge. They last about two weeks.
When you heat the oil don't let the heat get super high.
Nutrition
Calories:
166
kcal
Carbohydrates:
8
g
Protein:
3
g
Fat:
14
g
Saturated Fat:
11
g
Sodium:
1511
mg
Potassium:
137
mg
Fiber:
1
g
Sugar:
3
g
Vitamin A:
150
IU
Vitamin C:
25.2
mg
Calcium:
13
mg
Iron:
0.6
mg
information
Nutritional information of this recipe is only an estimate, the accuracy for any recipe on this site is not guaranteed.