After years and years of juicing vegetables, I have learned two or three tricks to take advantage of the pulp. Yes, crackers with juice pulp, they are cookies that contain seeds and the pulp of vegetable juice. In this case, carrot juice pulp. These cookies are perfect for a snack, for breakfast, or for when you crave something delicious in the middle of the afternoon.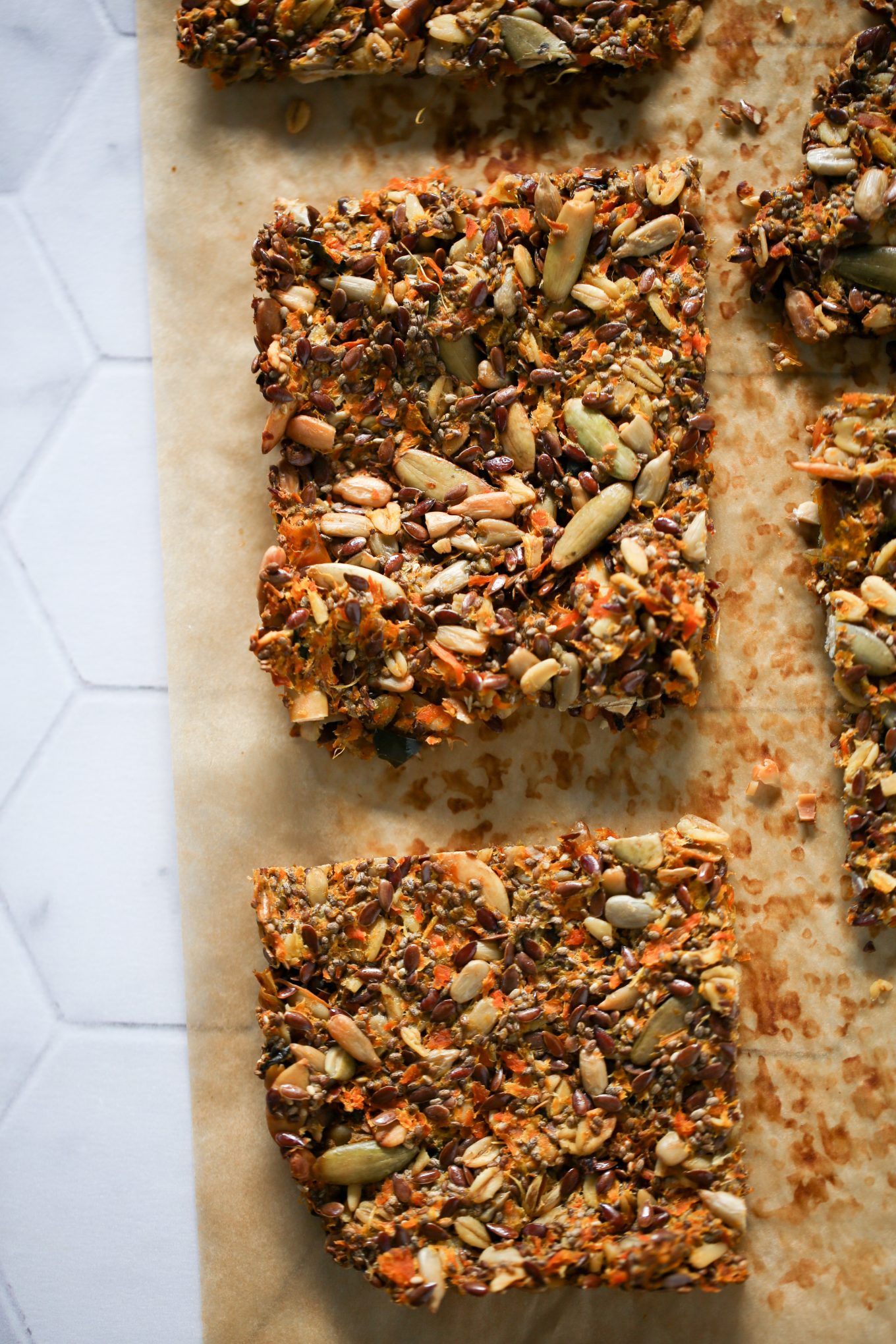 Ingredients to make juice pulp crackers
Pumpkin Seeds. Use pumpkin seeds without roasting or frying them, and if you get seeds that are sprouted, better. When the grains and seeds are germinated, their nutritional value increases greatly.
Sunflower Seeds. Like pumpkin seeds, look for the most natural seeds you can find.
Oat Flakes. It is better if you use whole oat flakes, as they contain more fiber and more flavor. However, oatmeal flakes CANNOT be substituted for instant oatmeal; it is not the same.
Flaxseeds. I like to use whole flax seeds, but you can substitute them for ground or powdered flaxseeds if you don't like them.
Chia Seeds. Chia is a superfood that provides us with omegas and other nutrients. The best part is that if you don't like the texture of chia pudding, you can enjoy its benefits with these crackers.
Olive oil and salt.
Juice Pulp. you can use green juice, beet juice, or carrot juice pulp.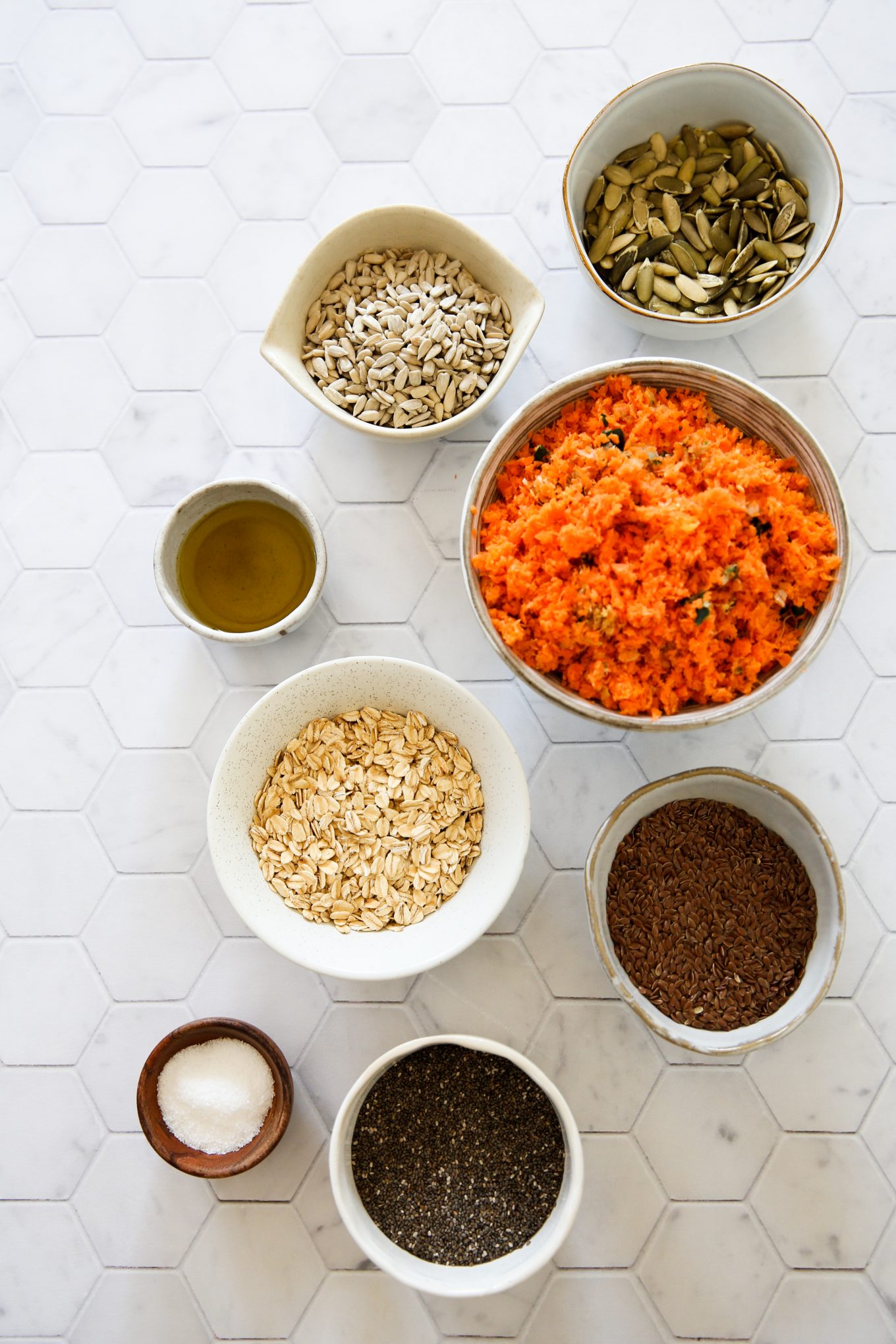 TIPS TO REMOVE THE PULP FROM THE JUICE
The first thing I recommend, before making the juice, is that you organize the ingredients of your juice from the ingredient with the least juice to the one with the most juice.
Then start adding the ingredients with the less liquid to the juicer (affiliate link). For example, add the carrots and save the pulp, then add the rest of the ingredients. I don't add the pulp of cucumbers, lemons or other ingredients with more juice to the crackers.
And finally, if you don't have enough pulp to make the cookies, you can prepare half a recipe or save the pulp until you have enough. To store it, just put it in a tightly covered container in the refrigerator.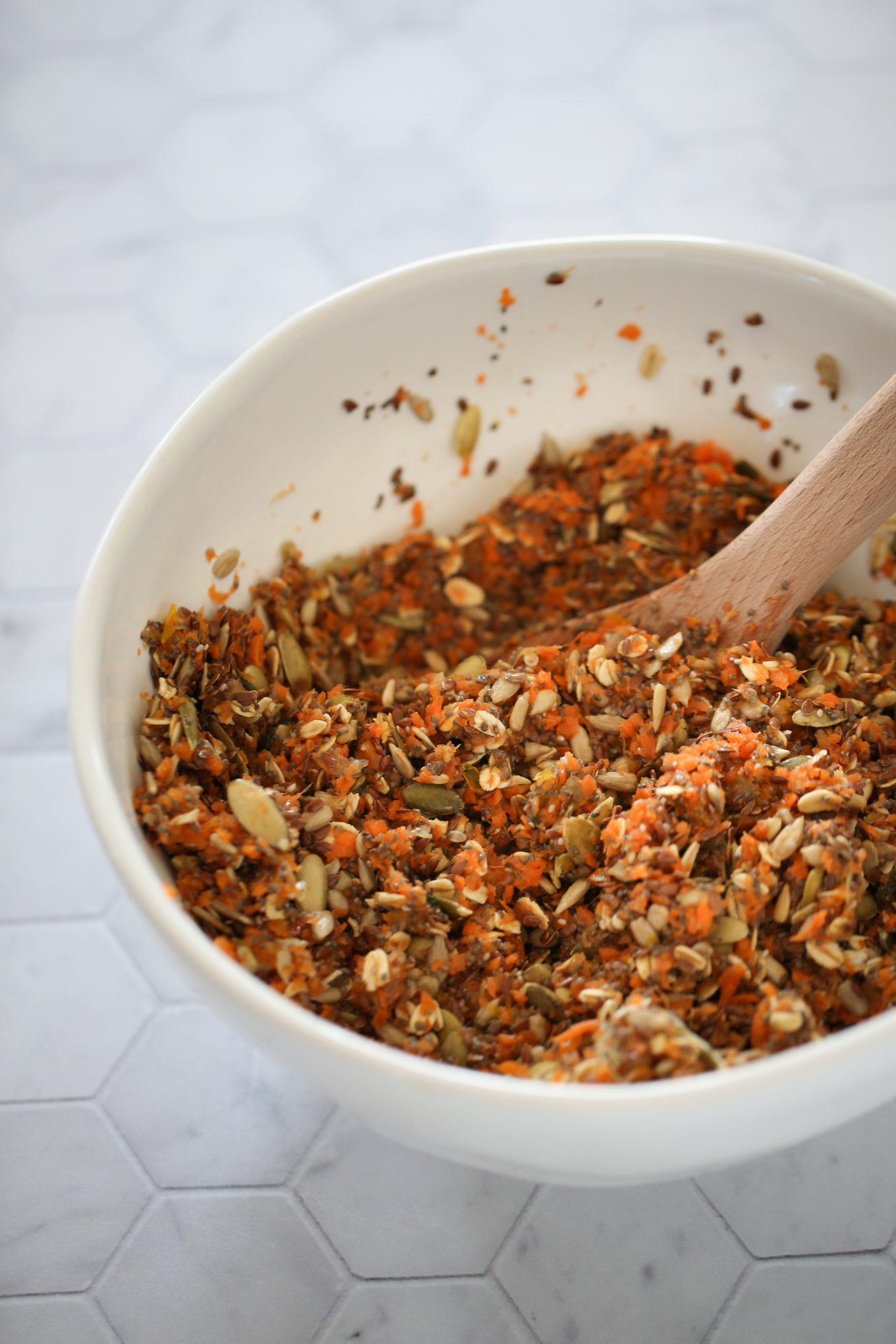 How to make the pulp crackers
Mix all the ingredients in a bowl with water and let it rest for a few minutes. The idea of ​​this step is to let the water be absorbed by the seeds, therefore hydrating them.
When you squeeze the dough between your hands and it stays together, it is done. Put it between two pieces of parchment paper and with a roller spread it very well.
Remove the top paper and put in the oven. Take them out when they are golden brown, let them cool and break into pieces.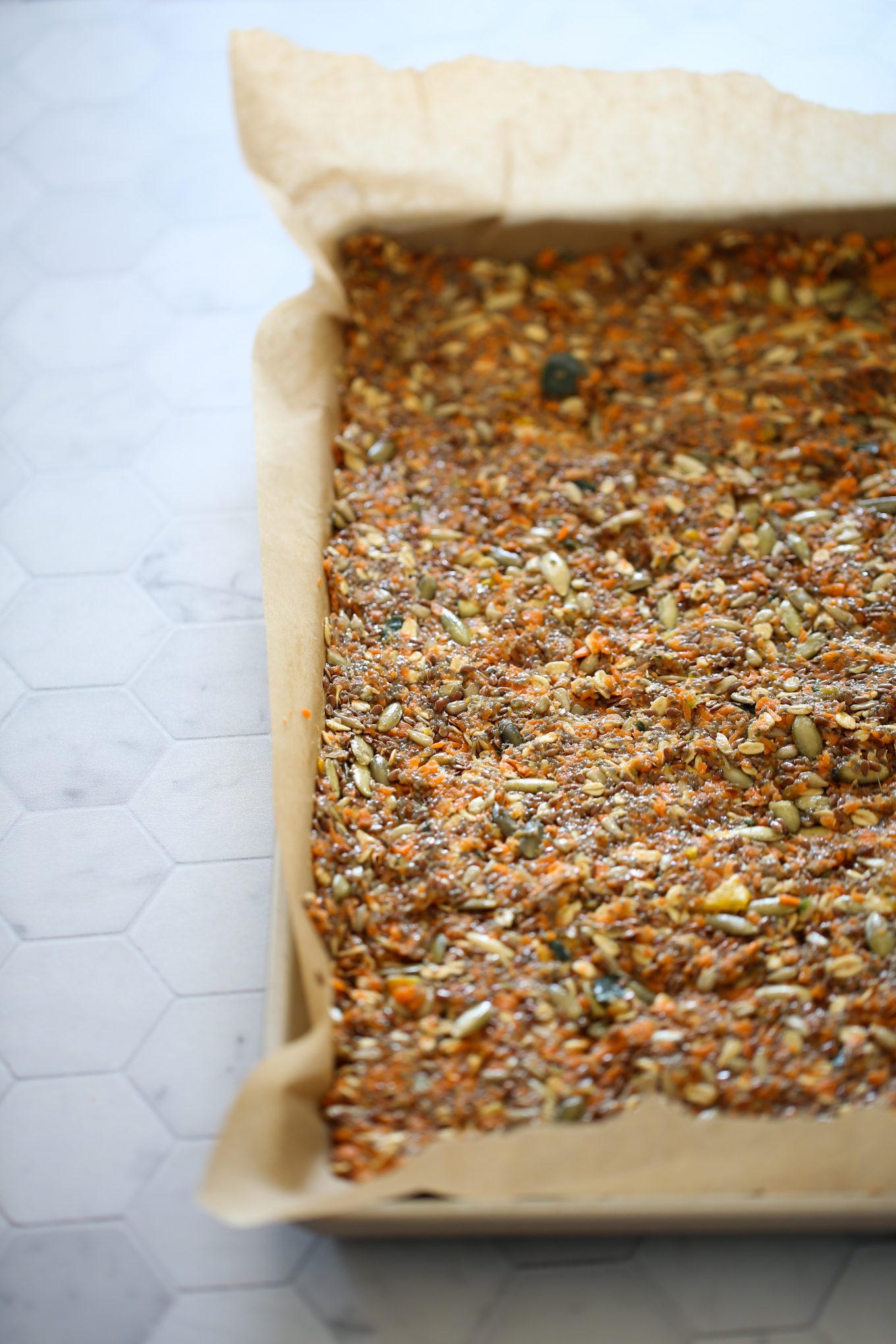 💡IMportant tips
Chia and flaxseed act as binders in this recipe, so it is important that you let the mixture rest for at least 10-20 minutes.
When you are stretching the mixture on the parchment paper, if the edges separate, lift the top paper from above and with your hands join it to the rest of the mixture and continue stretching.
It is important that you try to make the mixture of the crackers as thin and even as possible. Since they are mostly seeds, we want them to roast evenly.
When you have them in the oven, check them every 10 minutes and turn them so they don't burn.
When they are ready, let them cool before cutting or breaking into pieces. Store them in a tightly closed container, where they can last up to three weeks.`
If they lose their crunchy and delicious texture, just put them in a toaster oven or on a skillet for a little.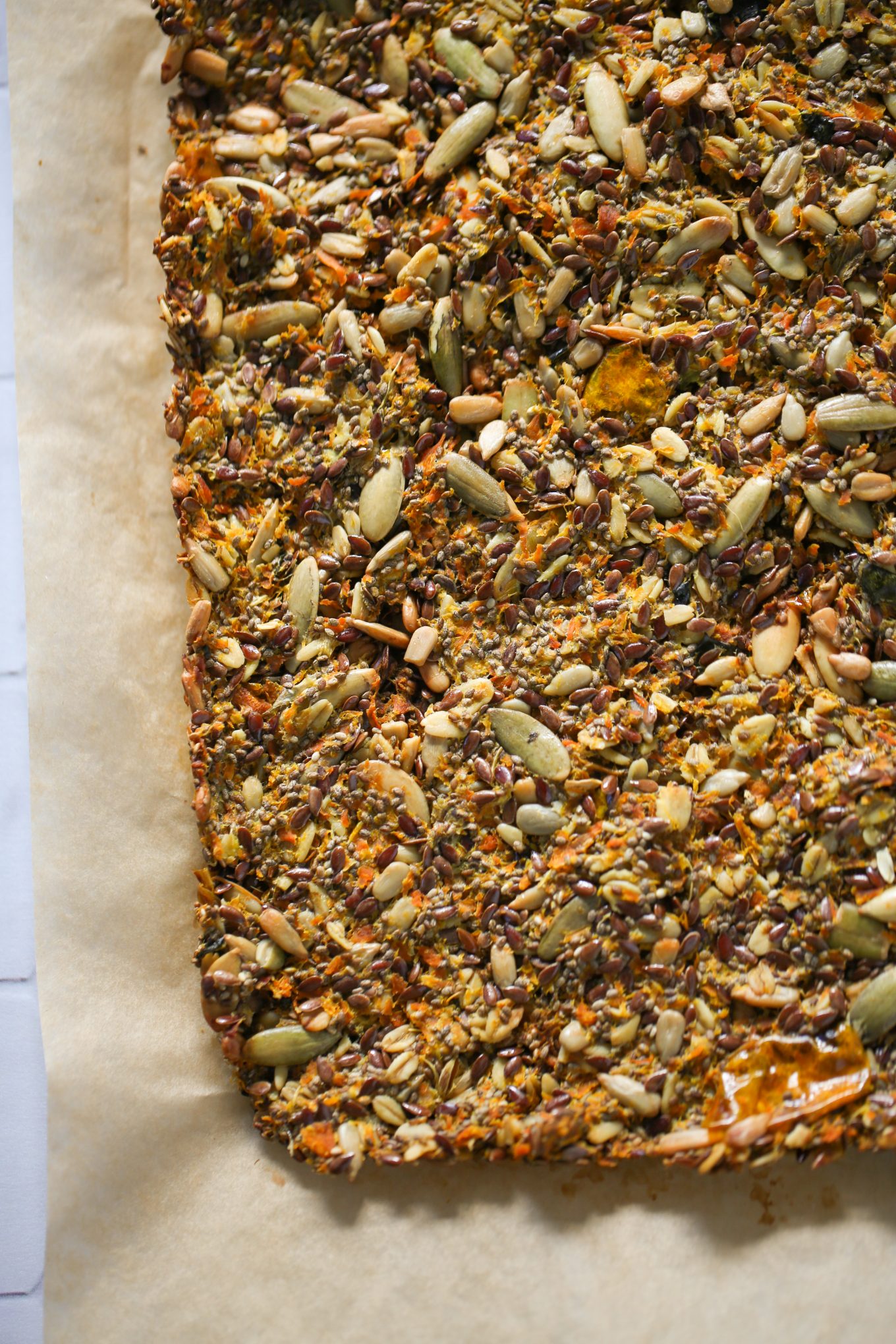 These juice pulp crackers are amazing
Here is the recipe, and I hope you like it a lot; if you like it, please take a photo and share it on Instagram or FB. If you are going to make the recipe later, save it on Pinterest.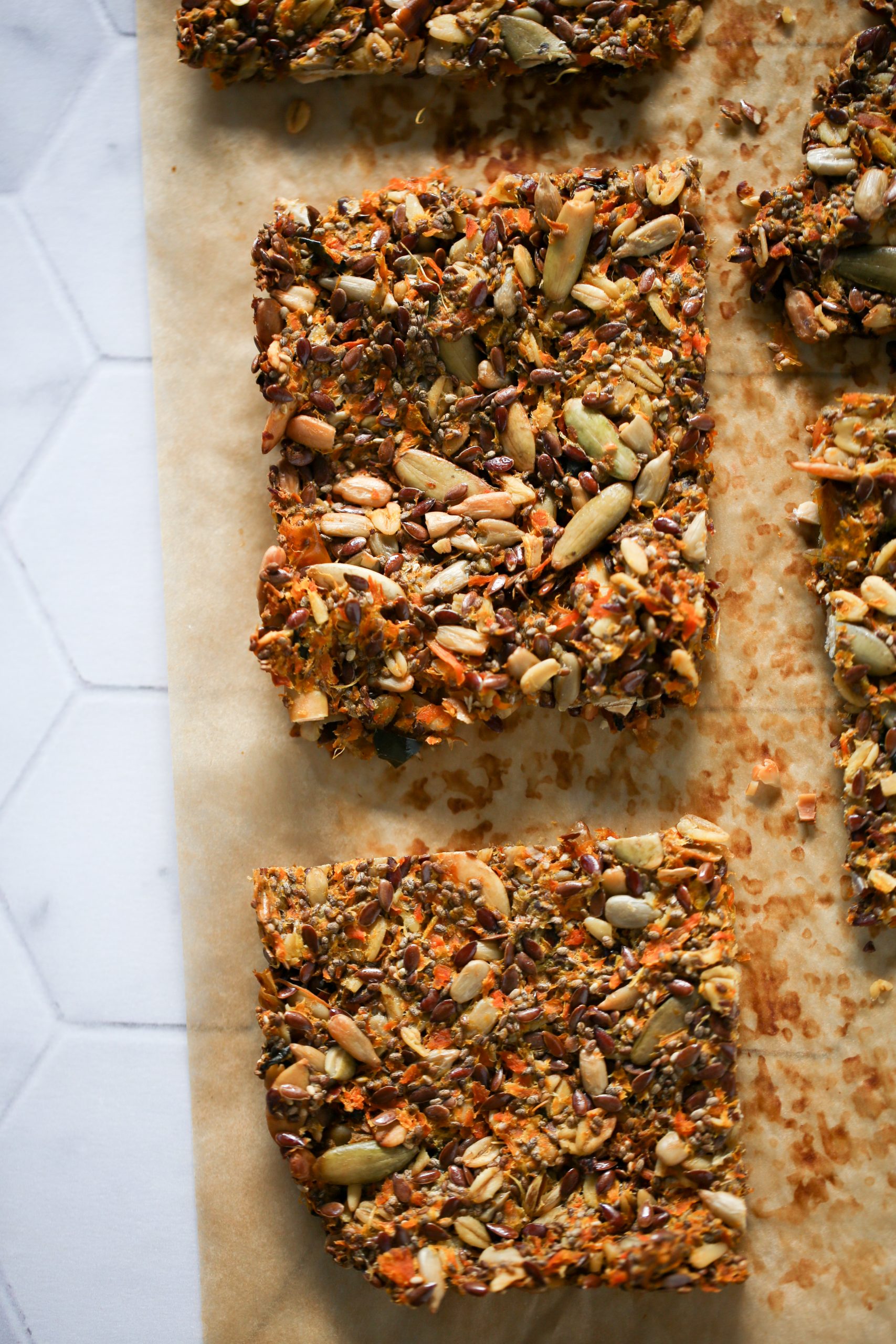 Juice Pulp Crackers
These juice pulp crackers are the perfect recipe to take advantage of all the pulp that comes out of the juice. With this recipe we take advantage of the fiber of the vegetable and the benefits of the seeds. This recipe is perfect as a snack, with a salad or to accompany a soup.
Ingredients
1/2

cup

chia seeds

½

cup

sunflower seeds

½

cup

pumpkin seeds

½

cup

flaxseeds

½

cup

oat flakes

2

cups

juice pulp

2

teaspoons

salt

1½

cups

water

4

tablespoons

olive oil
Instructions
Pre heat the oven to 350ºF.

Mix all the ingredients in a bowl and wait 10-20 minutes for all the liquid to be absorbed.

Put the mixture between two pieces of paper and stretch with a rolling pin. Remove the top paper and put in the oven for 10 minutes, turn and leave for 10 more minutes. They are ready when the edges are golden brown.

Remove them from oven and let cool. Store in a tightly closed container in the cupboard. Heat in a skillet or toaster oven if they lose their crispiness.
Nutrition
Serving:
30
g
Calories:
92
kcal
Carbohydrates:
6
g
Protein:
3
g
Fat:
7
g
Saturated Fat:
1
g
Polyunsaturated Fat:
3
g
Monounsaturated Fat:
3
g
Trans Fat:
1
g
Sodium:
204
mg
Potassium:
111
mg
Fiber:
3
g
Sugar:
1
g
Vitamin A:
1785
IU
Vitamin C:
1
mg
Calcium:
39
mg
Iron:
1
mg
information
Nutritional information of this recipe is only an estimate, the accuracy for any recipe on this site is not guaranteed.

Latest posts by Alejandra Graf
(see all)