Picadillo is a classic Mexican dish made with ground beef and potatoes cooked in tomato sauce. It is the type of recipe that gets passed from generation through generation. Every family has its version of it; this lentil picadillo recipe is my version, my home's version, and a vegan version.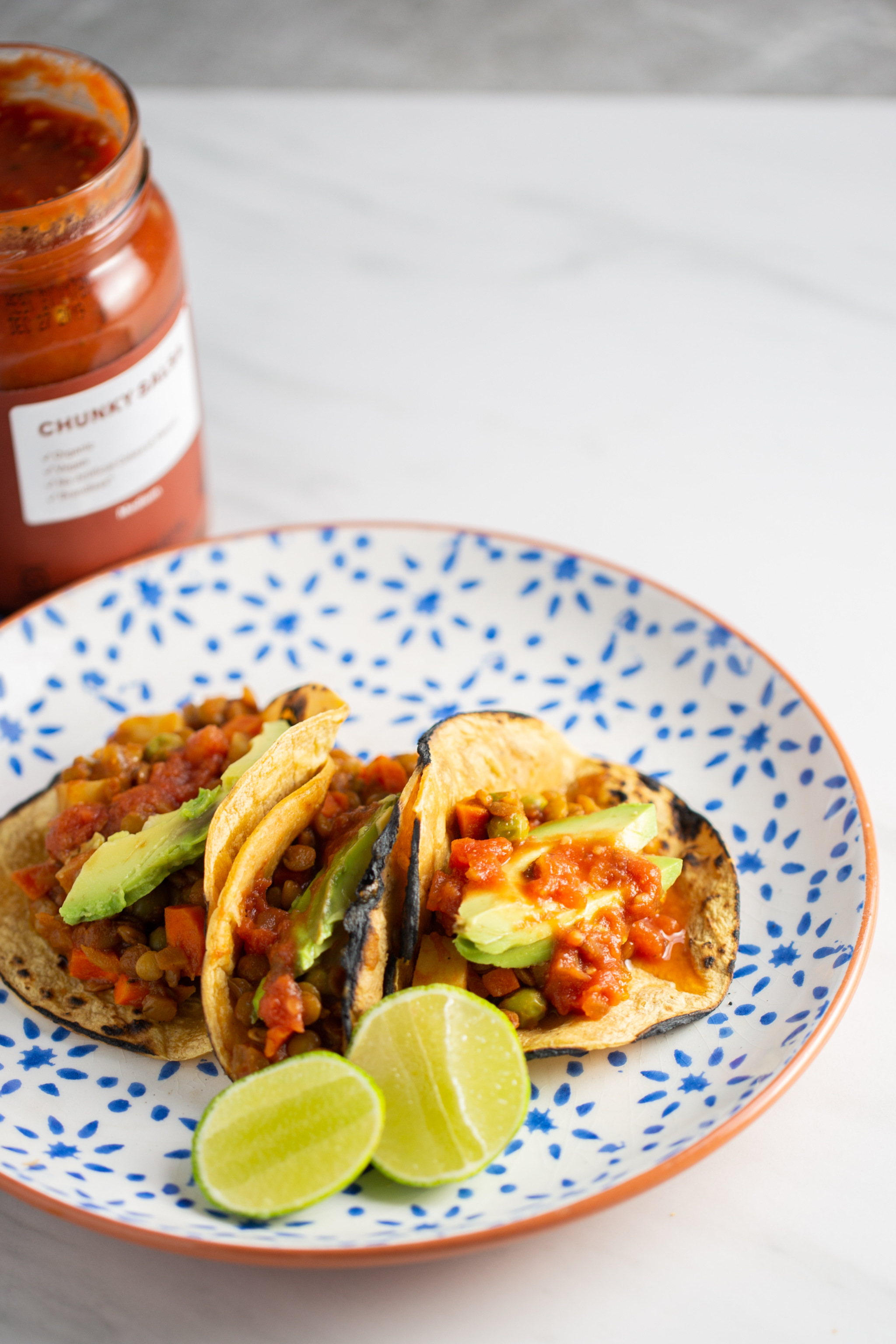 What is picadillo?
The name of the picadillo comes from the verb picar (to chop) in Spanish. Picadillo is when everything is chopped really, really small. The original recipe for the classic Mexican dish is made with minced meat or with ground meat. Some families use ground beef or a combination of ground pork and beef.
Mexican picadillo normally has potatoes and can be cooked in red or white sauce, depending on the Mexican state you are at. It was always made with potatoes, carrots, and peas cooked in a flavorful tomato sauce at my house.
You can find different versions of picadillo in all of Latin America. In Cuba, for example, they make their picadillo with bell peppers, green olives, and raisins. Some families use cumin to flavor it, other families add diced potatoes, and in others, like in mine, vegetables are a must.
This is my version of picadillo, it is vegan lentil picadillo, and it is the recipe that I want to pass over to my kids and future generations.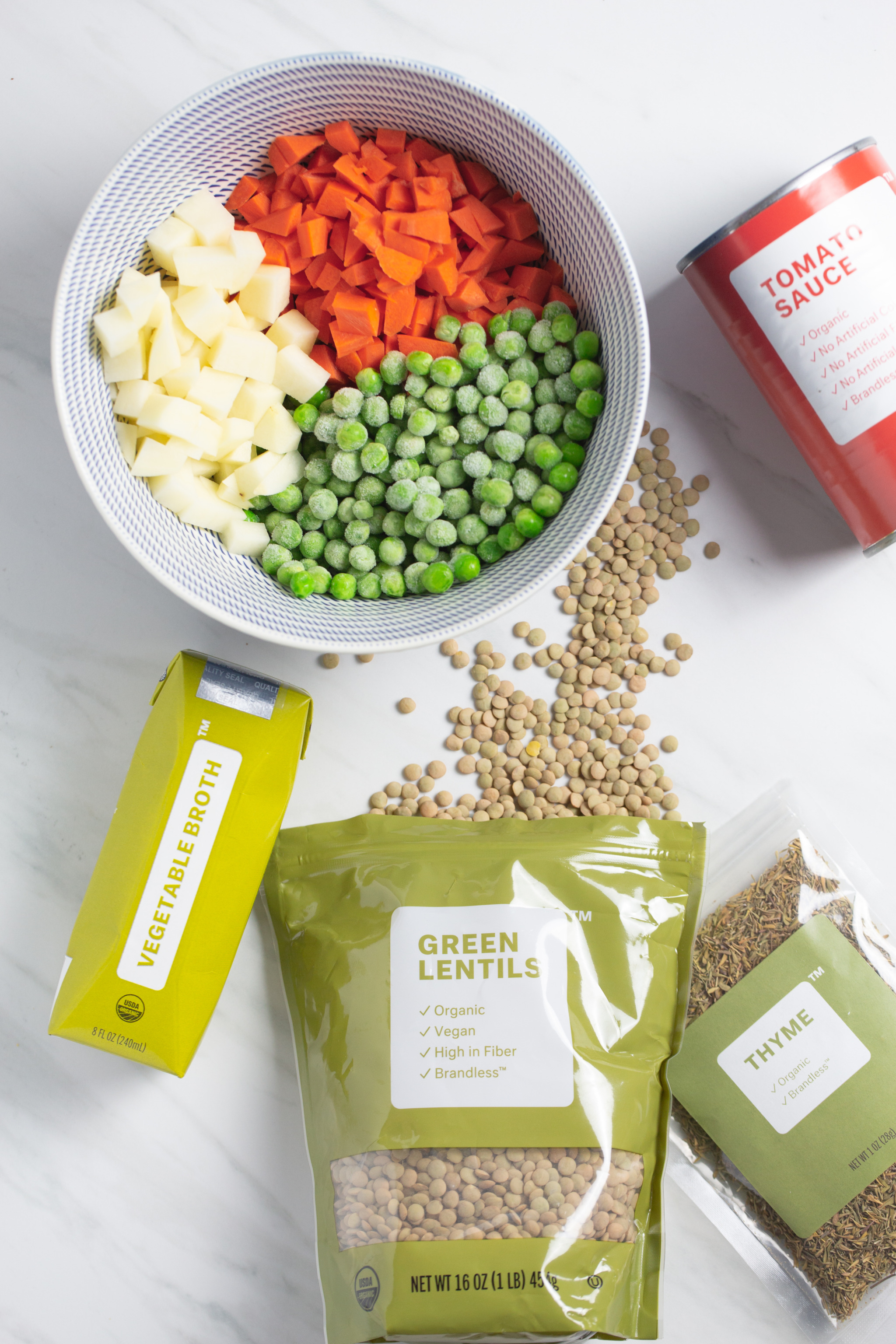 How to make picadillo?
To make vegan picadillo is super easy. You just have to replace the meat with lentils. You can continue using your family's recipe with lentils or try my recipe with potatoes, carrots, and peas. But one thing is for sure; you have to believe me that making picadillo is super easy.
First step. Brown the chopped onion and garlic in a little oil over medium heat in a large skillet.
Second step. Add the dried lentils, the chopped veggies, the vegetable stock, the tomato purée, and the sweet herbs. Cover and let it simmer until the lentils are cooked. Stir from time to time, so it doesn't stick to the bottom of the pan.
Third step. Enjoy the lentil picadillo in the way that you like the most.
✎TIP

One of the easiest ways to substitute meat and make vegan dishes is to exchange the meat for lentils or other legumes.

• Look at this example of Italian meatball sandwiches with  tomato sauce. The meatballs are made with lentils and are delicious. 😉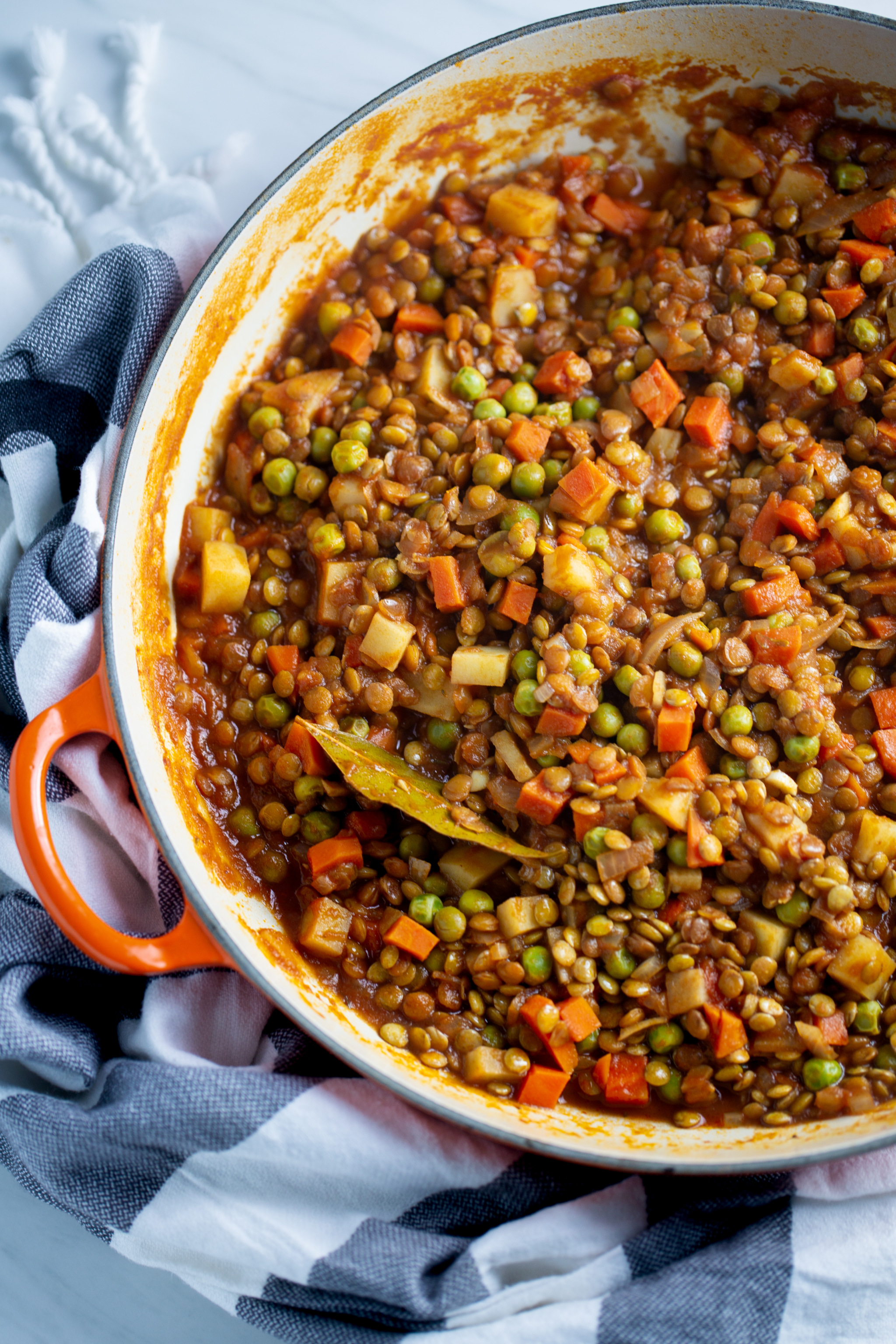 How to serve Mexican picadillo?
You can serve the picadillo with or on top of rice (in my house, we eat it with brown rice), or you can make tacos with corn tortillas or flour tortillas. If you have vegan picadillo leftovers use it to make empanadas or gorditas.
Either way, you serve them, finish with a few slices of avocado and a couple of tablespoons of any Mexican salsa. You can usestorebought salsa or homemade Mexican salsa verde, or salsa roja molcajeteada.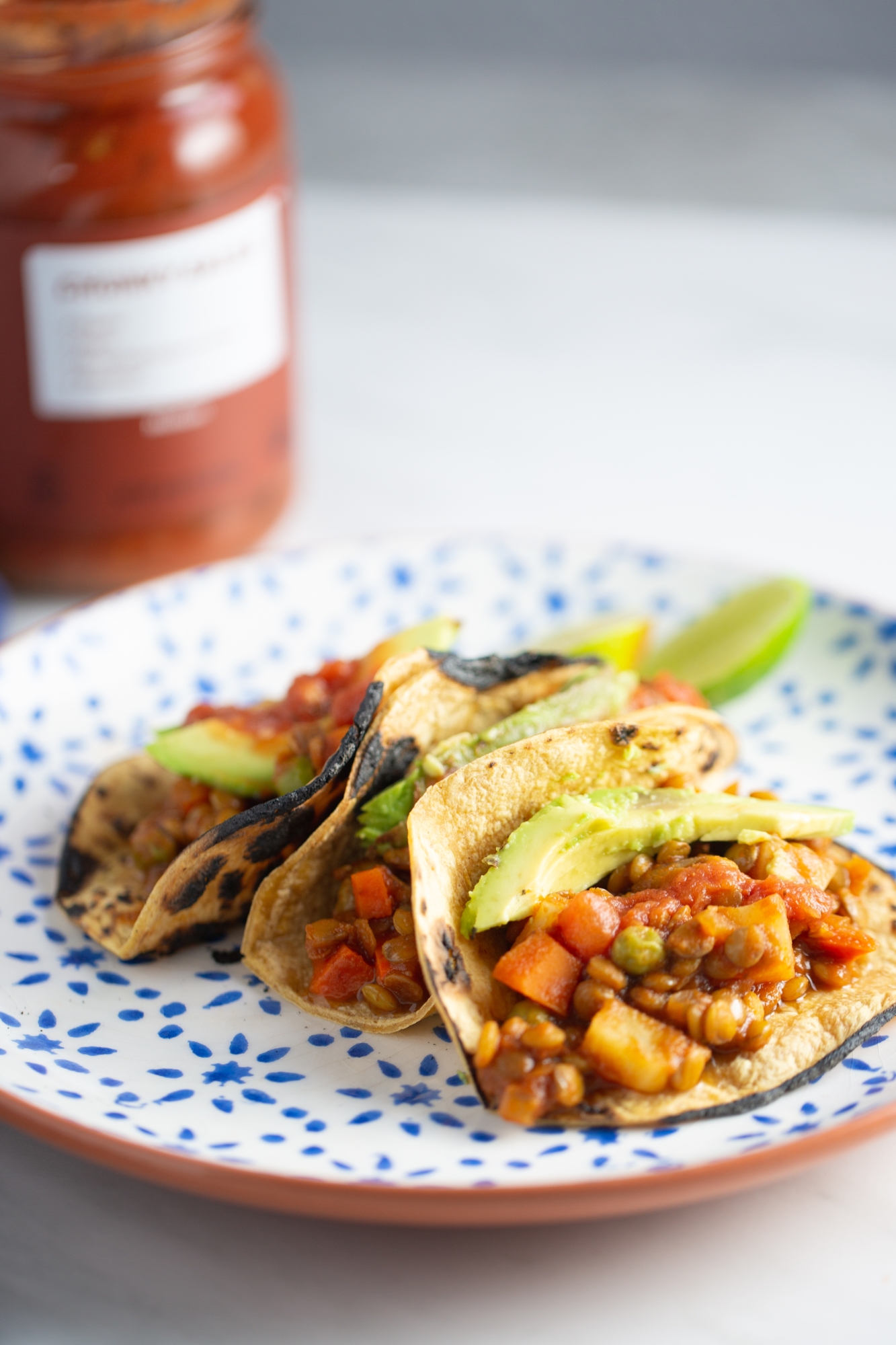 So here is the recipe for these, and I hope you like them as much as we do. This recipe is an authentic Mexican filled with delicious and comforting flavors. Serve it with brown or white rice, in flour or corn tortillas, make this recipe yours. But if you make it, take a picture of it and post it on Instagram with @piloncilloyvainilla. I love to see all your creations!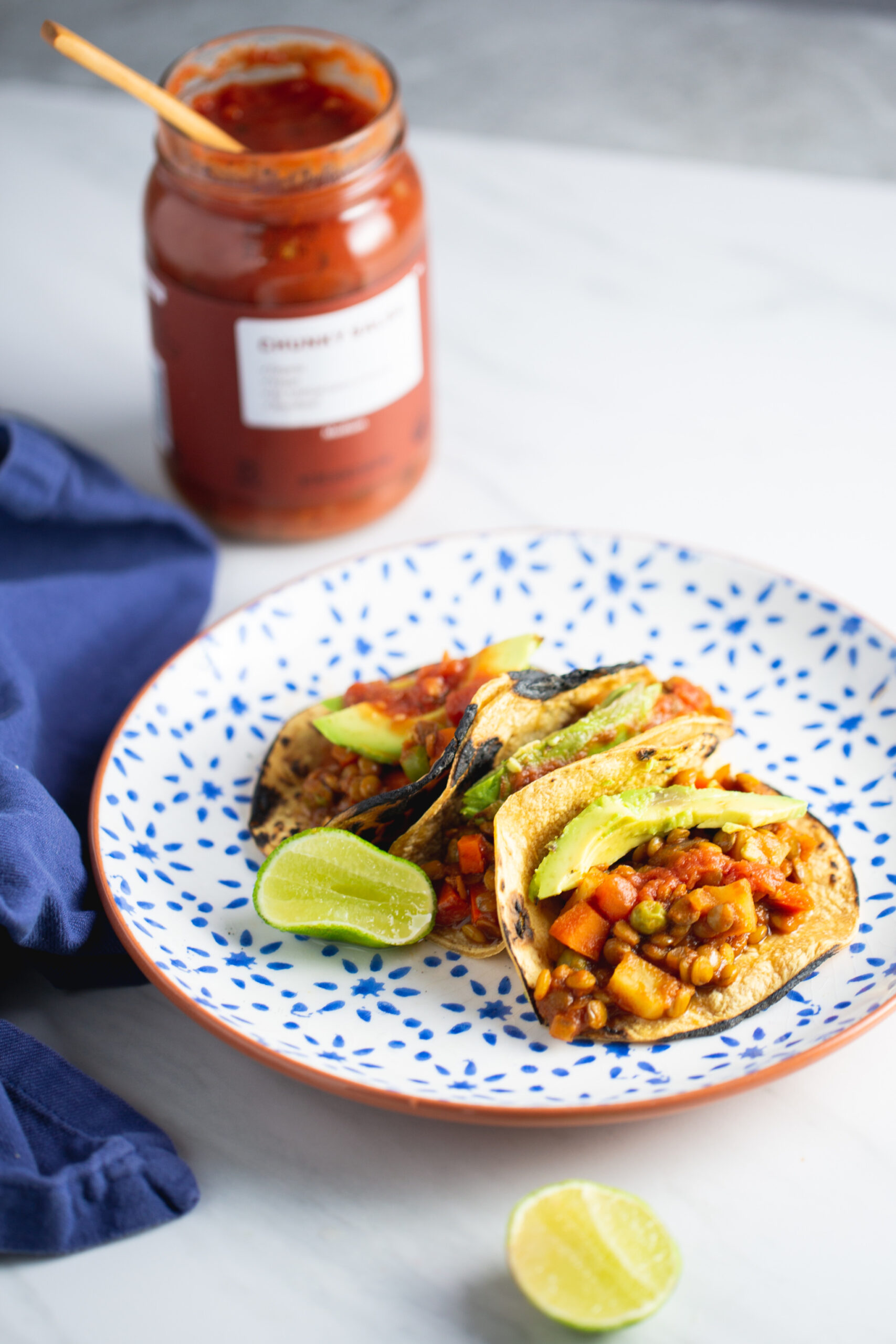 Lentil picadillo tacos
Picadillo is a classic Mexican dish; every household has its version of it, this lentil picadillo is my vegan version, my home's version.
Ingredients
1

tablespoon

vegetable oil

1

small onion, chopped

2

garlic cloves

minced

1

cup

green lentils

1 15

oz

can tomato sauce or puree

8

oz

vegetable broth

2

carrots

peeled and chopped fine

1-2

potatoes

peeled and cut into 1/2 in pieces

1

cup

frozen peas

1/2

teaspoon

dried thyme

1/2

teaspoon

dried marjoram

1

dried bay leave

1

teaspoon

salt

*optional 1 cup water
To serve:
12

corn tortillas

1

avocado

sliced and peeled

chunky salsa
Instructions
Sauté the garlic and onion in the vegetable oil for three minutes or until fragrant.

Add the lentils, the tomato sauce, the vegetable broth, the vegetables, the thyme, marjoram, bay leaf, and salt.

*add an extra cup of water if it is to dry

Cover and let it cook for 20 min or until the lentils are cooked.

Heat the corn tortillas and add two or three tablespoons of the picadillo on the tortilla.

To finish each taco, add a slice of avocado and some salsa.
Nutrition
Calories:
366
kcal
Carbohydrates:
60
g
Protein:
15
g
Fat:
9
g
Saturated Fat:
1
g
Sodium:
594
mg
Potassium:
985
mg
Fiber:
18
g
Sugar:
7
g
Vitamin A:
3811
IU
Vitamin C:
28
mg
Calcium:
116
mg
Iron:
6
mg
information
Nutritional information of this recipe is only an estimate, the accuracy for any recipe on this site is not guaranteed.