This recipe for Mexican lentil soup is delicious and very easy to prepare.
And this is the soup that I used to eat as a kid, and I always loved it. Now I prepare it for my kids, and it is one of the meals that they like the most. I feel pretty confident to feed them this type of dishes; it has everything they need in a bowl.
One of the questions I get the most as a vegan diet follower is: Where do you get your protein and iron from? And I always answer that it comes from soups like this.
Lentils are fantastic in every way. They are very easy to cook, they are filled with benefits, and are a vital source of protein and iron. I prepare this Mexican lentil soup with green lentils and add a bunch more of other veggies. So it has double the benefits nutrition and flavor wise.
This soup starts with a basic mirepoix: minced carrots, onion, and celery sauteed in olive oil with a pinch of salt. Then you add the lentils, some herbs, and the tomato puree. Really, it is that easy, here is the recipe for this
Mexican lentil soup
and if you like it, please share the recipe and the blog. I would love to see it on Instagram, so if you make it, please share with  #piloncilloyvainilla or @piloncilloyvainilla so I can see it.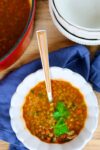 VEGAN LENTIL MEXICAN SOUP
This vegan lentil soup is the best that can be; it is easy, fast and super nutritious.
Ingredients
2

chopped celery stalks

1

carrot

chopped

1/2

onion

chopped

2

garlic cloves

minced

1

tablespoon

extra virgin olive oil

1

big pinch of salt

1 1 / 2

cups

dried green lentils

4

large tomatoes

pureed

5

cups

water

1

bay leaf

1/2

teaspoon

dried thyme

1/2

teaspoon

dried marjoram
Instructions
In a large pot over low heat put the olive oil, carrot, celery, onion and a good pinch of salt. Leave for a few minutes or until the vegetables soften.

Put the garlic and let three more minutes.

Add the rest of the ingredients, cover and leave for 20 minutes or until the lentils are soft.

Be careful not to overcook the lentils so they do not lose their shape.

RECIPE NOTES

It's ready when the lentils are soft.

Be careful not to overcook the lentils, so they do not lose their shape.

For the mirepoix, calculate that you have more or less the same amount of onion, carrot, and celery.
This recipe was originally posted in 2015.