Oat milk is going through a massive boom in the vegetable milk world. It is becoming the new favorite plant-based milk. I can truly understand why.
I got introduced to oat milk through a very special person in my life. She recommended it to me, and when I tried it, I loved it. ?
This new type of vegan milk is easy to prepare, very cheap and it has tons of benefits. I mean… Who doesn't know about how great you feel after eating a big oatmeal bowl for breakfast? Since I've tried it and discovered how easy it is to make it at home, I've been using it EVERYWHERE.
I pour it into my coffee, my tea, smoothies, my cereal… I have even cooked with it. It is creamy and delicious,… YUM. I'm pretty sure you are going to love it as well.
It is also a great base to add flavor to it.
You can use a bit with raw sugar to sweeten it up or add some dates with a pinch of salt. You could use vanilla or cinnamon when blending it. Anyway, it will taste good.
So here is the recipe for this delicious plant-based milk:
Oat milk
I hope you like it as much as I did. If you do, please share the recipe and the blog. And… do not forget to take a picture of your oat milk and post it on Instagram with @piloncilloyvainilla #brownsugarandvanilla. I want to see what you make!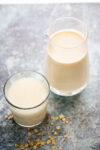 Oat milk
This recipe for oat milk is quick, easy and it only has two ingredients. You could have it plain or flavor it as you wish.
Ingredients
1

cup

of rolled oats

use certified gluten-free oats if you are gluten intolerant

4

cups

of water
Instructions
Soak the rolled oats in water for 30 minutes to an hour.

Drain and rinse well.

Put them in the blender with 4 cups of fresh water and blend for about 1-2 minutes.

Strain the milk with a very fine strainer, an old kitchen towel or a nut-milk bag.

Store it in a glass container with a lid in the fridge, it will keep for 4-6 days.
Notes
Options to flavor the oat milk:
1 tablespoon of maple syrup
2 pitted dates and a pinch of salt
pinch of cinnamon
teaspoon of vanilla