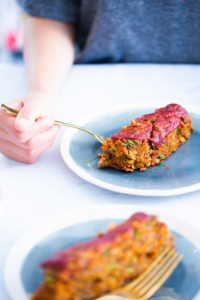 This recipe for vegan lentil loaf with tomato glaze is one of the friendliest recipes ever to start a vegan diet or a meatless day. This recipe is so easy to make and it is very "flavor friendly". Probably this term does not exist at all, but I just can't find the words to describe how every body likes this vegan lentil meatloaf. Thank goodness I learned how to take food pictures. This way I can really show you what I mean with images. I'm not the best with words but sometimes (or in my case almost always) an image speaks for itsealf. And it…

Never miss a recipe, subscribe.
Never miss a recipe, subscribe.