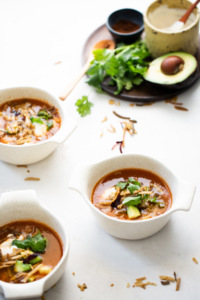 I have no idea why I felt so daunted to prepare Mexican tortilla soup. Probably it was because I felt that a tortilla soup without chicken wasn't authentic enough. But then I remembered a place we used to eat when I lived in Mexico City, they served vegan tortilla soup. They served this super tasty broth in a bowl and then they placed all the toppings on the side. I loved this… and of course, as a kid, I overdid the tortilla chips and the avocado. My soup was always looked like over sauced chilaquiles… lol. So I went and prepared my version of tortilla…

Never miss a recipe, subscribe.
Never miss a recipe, subscribe.