This pineapple salsa with black beans & avocado is bright and fresh, it is vegan, and it's crunchy, sweet, and spicy. It is so easy to prepare, and I'm sure you will want to add it to everything.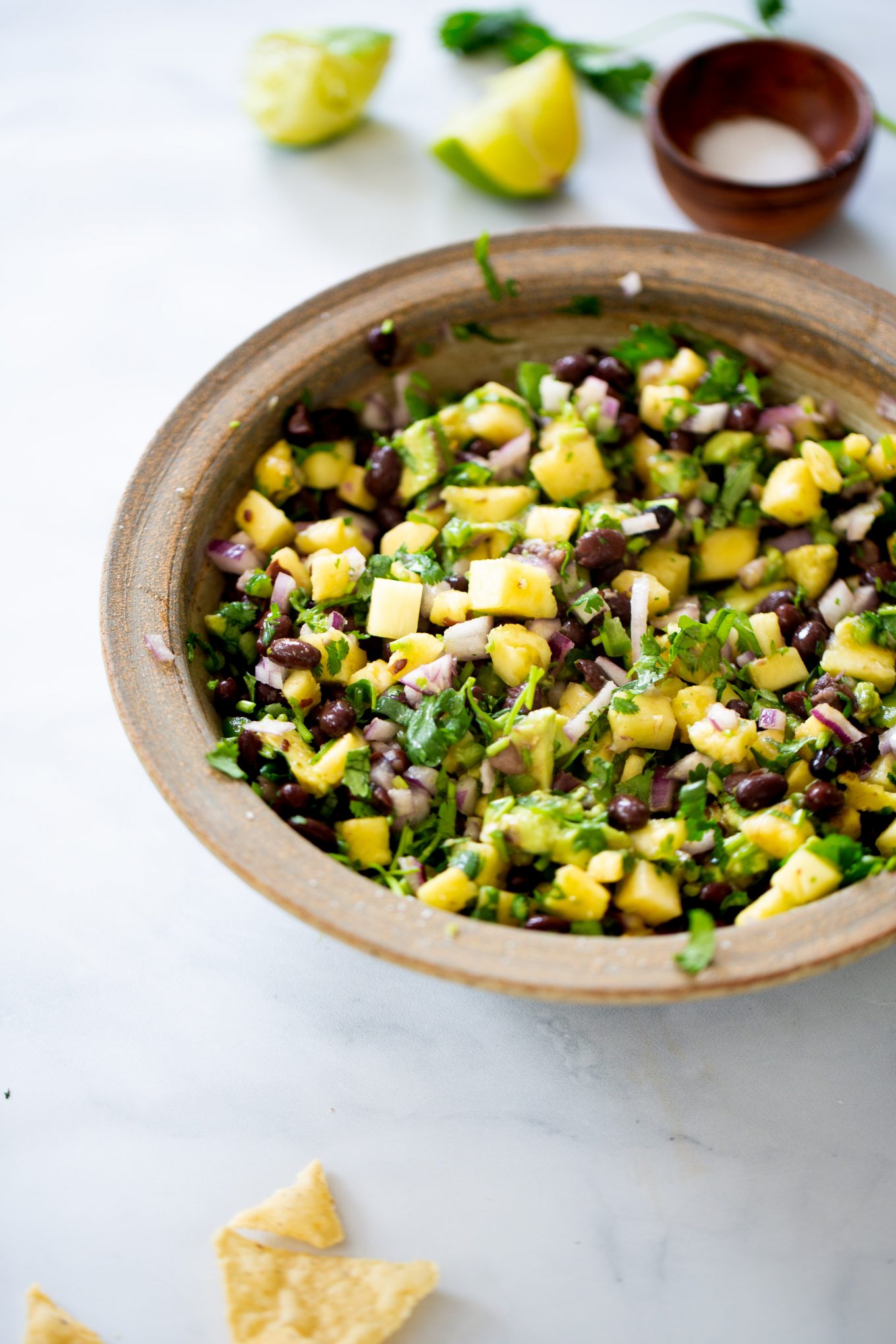 What to serve pineapple salsa with?
You can use it as you would use the typical Mexican Pico de Gallo made with tomato, onion, chile serrano, and cilantro. You can eat this black bean pineapple salsa with corn chips, to make tacos with corn tortillas, or in a flour tortilla vegan burrito. You could top roasted vegetables, fried or roasted tofu, or finish a greens and grains bowl.
At home, I like to serve it on weekends when meal times are a little more relaxed. I usually serve it as a snack along with some corn tortilla chips or chopped fresh vegetables.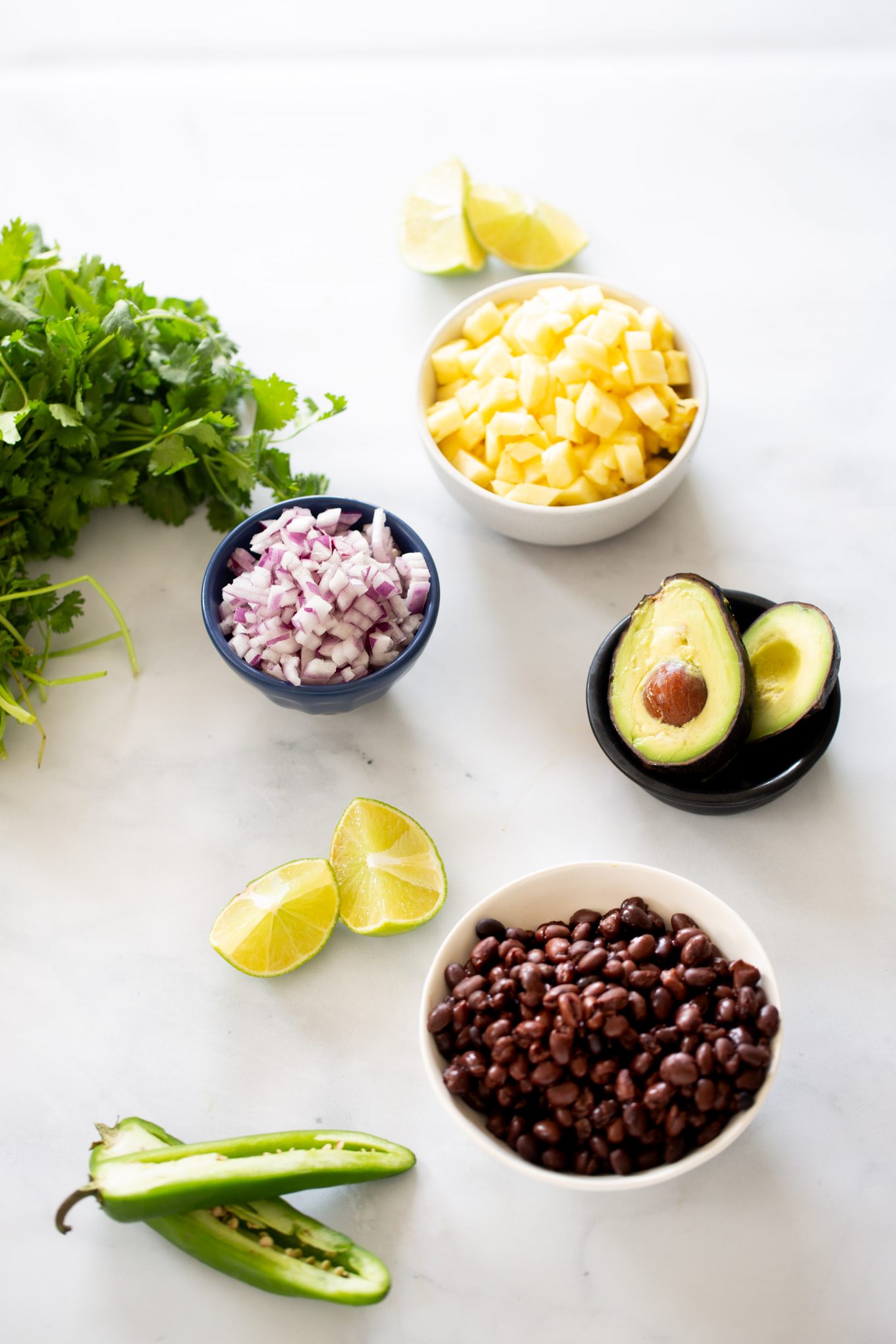 Ingredients for the pineapple salsa
Pineapple. Use natural pineapple, or fresh pineapple. It is best.

How to cut a pineapple? To cut the pineapple, put it horizontally on a cutting board and cut the bottom and the top part (the crown). The second step is to set it vertically and with a sharp knife to cut the skin off. Then, when done cutting the peel, lay it horizontally again, and begin to slice it. Dice each slice

Onion. I like to use red onion in my Mexican vegan salsas; I love the color and how crisp it is. You can use white onion or chives, whatever you have on hand.
Chile. Make your pineapple salsa spicy use jalapeño peppers or serrano peppers. The jalapeño pepper is less spicy than the serrano pepper, and if you want it to be even less spicy, remove the veins and seeds of the chiles. But again, my recommendation is to make your pineapple salsa spicy.
Cilantro. Use fresh, well-washed, and pat dried cilantro.
Black beans. You can use canned black beans or home-cooked beans. If you are using canned, look for the best option.
Lime juice. Because everything tastes better with a splash of lime, especially Mexican recipes.
Avocado. Diced avocado.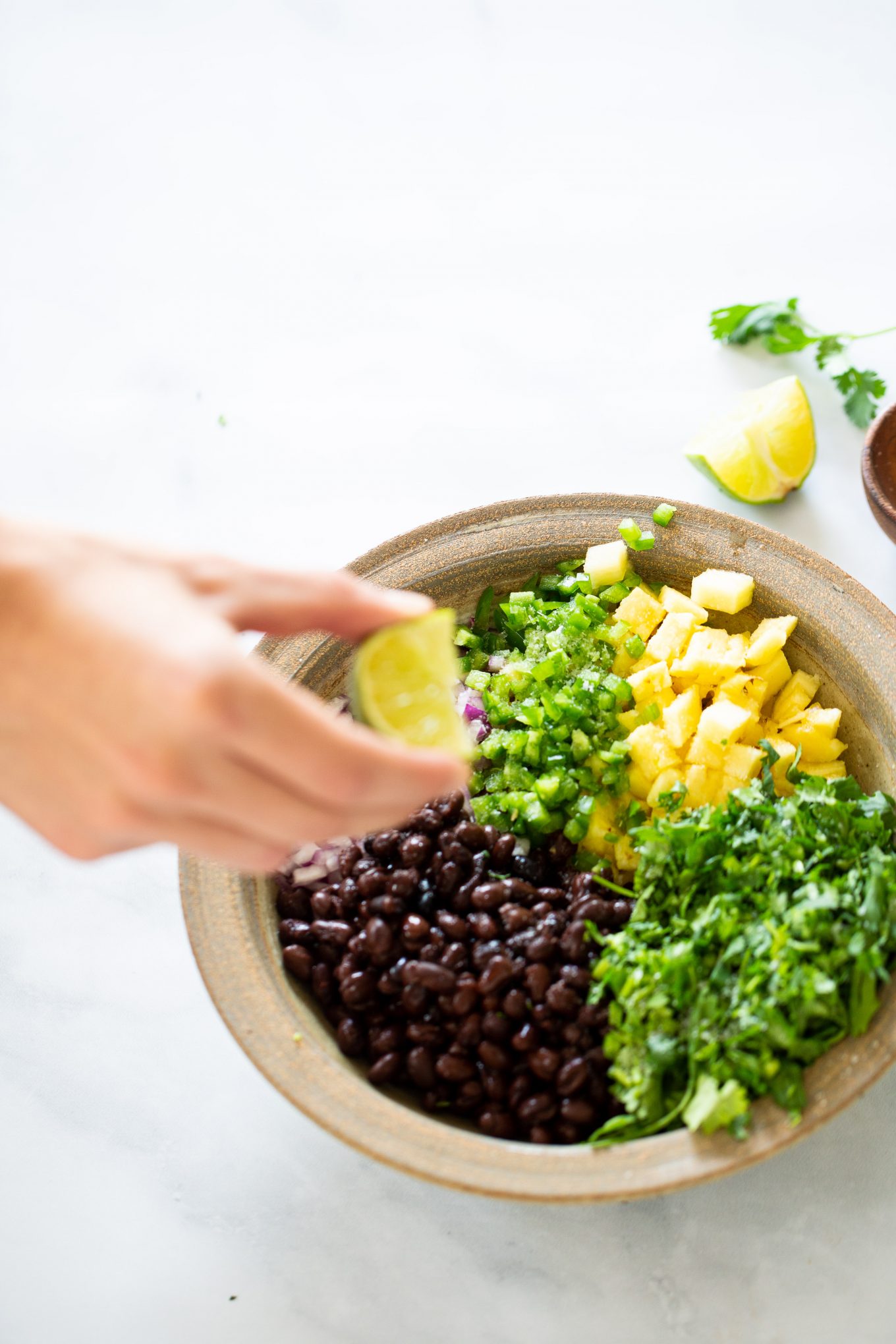 This is why I love this pineapple salsa
Eating salsa made with fresh ingredients has tons of benefits. From the number of nutritional benefits that all the plant-based ingredients of the salsa have to the delicious taste and bright taste.
I also love that with these types of dishes children learn to eat different flavors and see how a single ingredient can be used in so many different ways.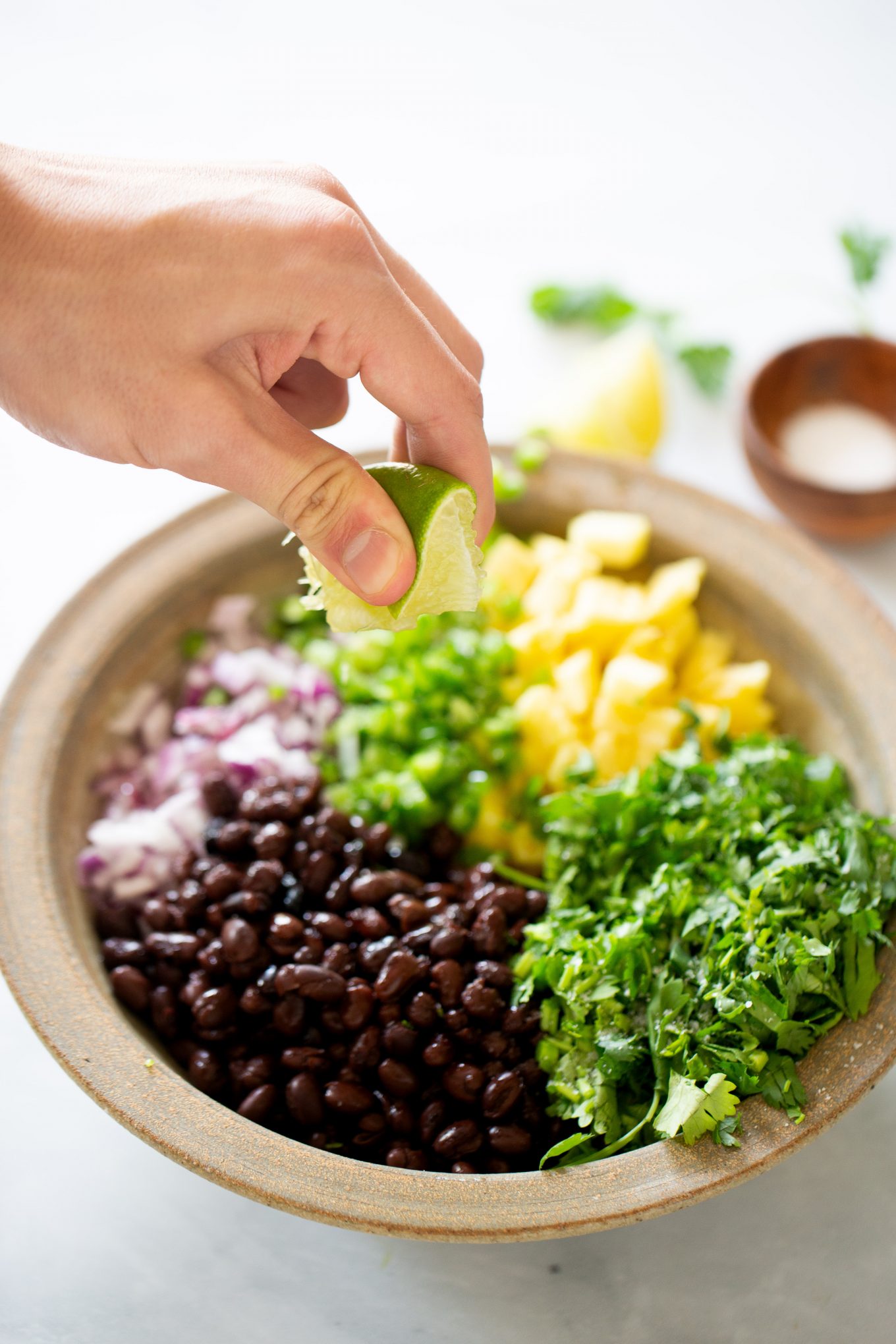 Ideas to serve the salsa
As I told you before, you can eat it as a snack or "pool day food" with corn chips. Have a glass of cold hibiscus agua fresca with it.
You can also put it on top of roasted cauliflower or other veggies or a block of roasted tofu.
You can use this pineapple salsa as a filling for soft corn tortilla tacos or jicama tortillas.
Or maybe to stuff avocados or sweet potatoes
So here is the recipe for this pineapple salsa with black beans and avocado full of Latin flavors and ingredients. I'm pretty sure you are going to love it, and if you do please share, the recipe, and the blog on FB, Instagram or save the recipe for later on Pinterest.
It would also be fantastic and super helpful if you leave a comment and/or a rating of this recipe in the comment section. Please feel free to write suggestions, ideas, or how it went when you made the recipe.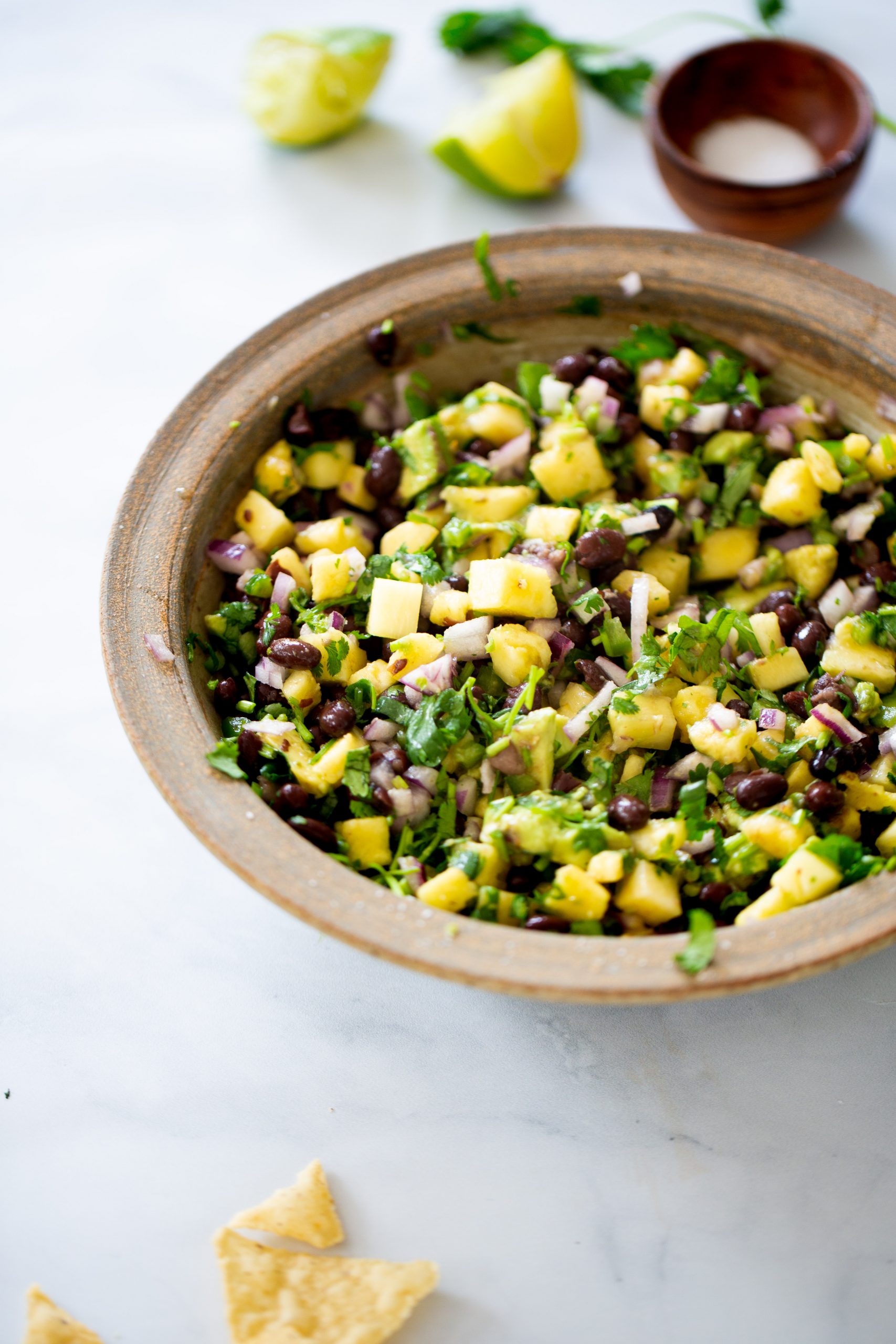 Pineapple and black bean salsa
This pineapple salsa with black beans & avocado is bright and fresh, it is vegan, it's crunchy, sweet and spicy. It is so easy to prepare and I'm sure you will want to add it to everything.
Ingredients
1 ½

cup

black beans

or one can, drained

1

cup

fresh pineapple

finely chopped

3/4

cup

red onion, chopped

1

avocado

diced

a handful of chopped cilantro

1

tablespoon

chopped jalapeno

or more, depending on your taste

1/2

teaspoon

sea salt

lime juice
Instructions
Mix all ingredients in a large bowl except the avocado. Season with lime juice and salt. Taste and adjust if necessary.

Add the diced avocado and mix carefully.

Serve immediately with tortilla chips or potato chips.
Notes
This pineapple salsa is best when eaten the same day.
Nutrition
Calories:
199
kcal
Carbohydrates:
28
g
Protein:
7
g
Fat:
8
g
Saturated Fat:
1
g
Sodium:
297
mg
Potassium:
573
mg
Fiber:
10
g
Sugar:
6
g
Vitamin A:
132
IU
Vitamin C:
29
mg
Calcium:
36
mg
Iron:
2
mg
information
Nutritional information of this recipe is only an estimate, the accuracy for any recipe on this site is not guaranteed.
This recipe first appeared as a sponsored post by Kroger in June 2016. The recipe, the pictures, and the opinions are all mine.