This potato ceviche Veracruz takes me to a summery Mexican beach moment in my childhood. Do you have a special recipe that takes you to your favorite place or moment? Plus it is delicious and it is a vegan ceviche.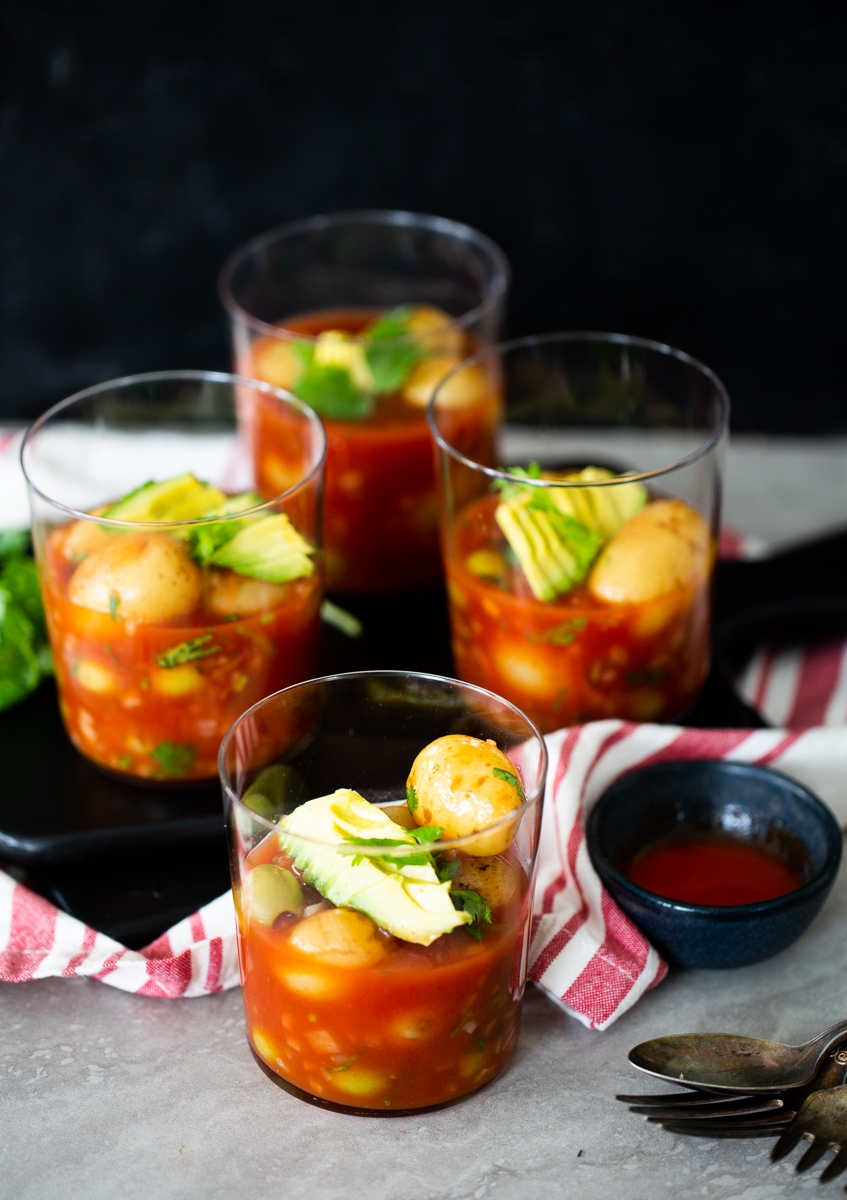 This post was made in partnership with the Washington State Potato Commission in 2018 the recipe, the pictures, and opinions are all mine.
I always spent the summers at a Mexican beach in my childhood. Honestly, it never really mattered to me which one it was. I knew that whichever one we went to, there would be good food, sunshine, ocean, and sand. I mean, what else can you ask for, right? The beach has always fascinated me and will always be my favorite vacation spot.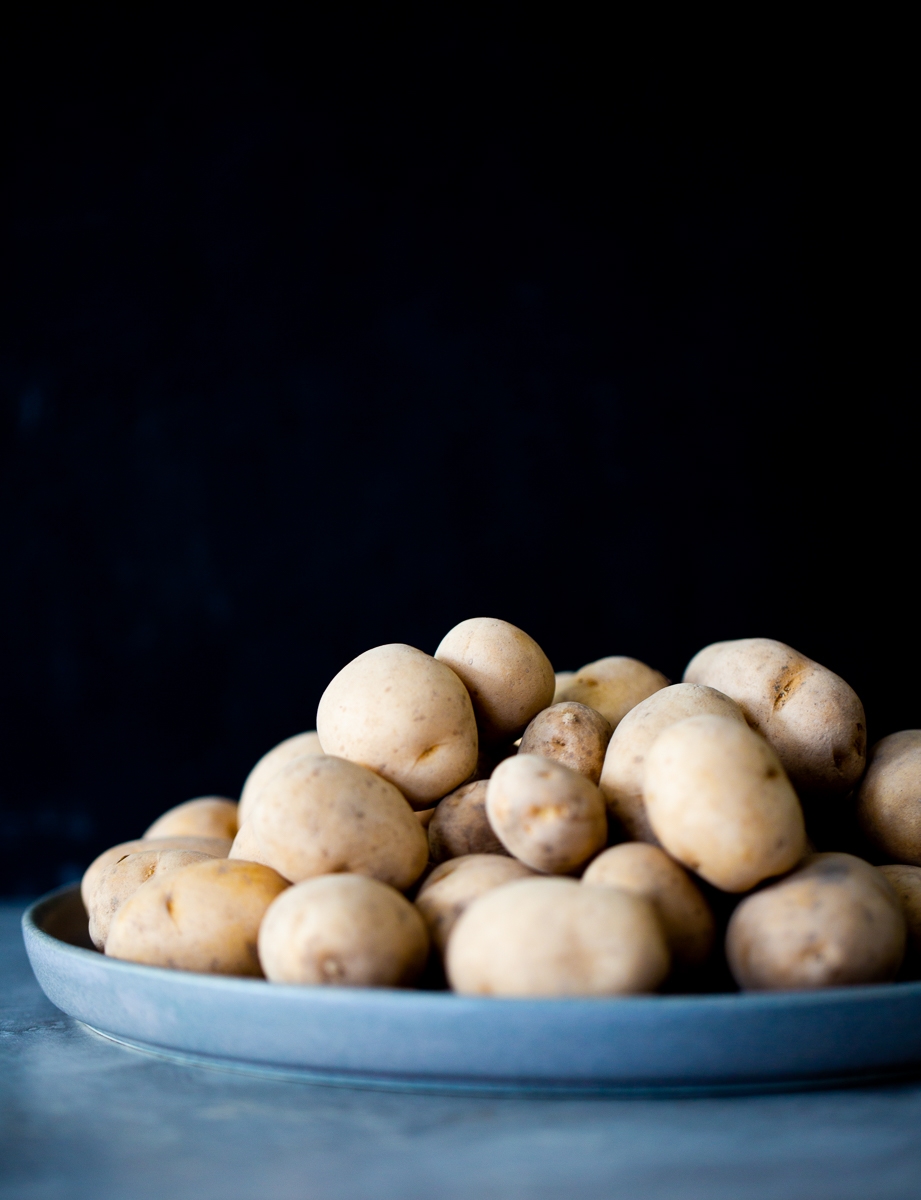 Something that never failed us during our vacation was the Mexican ceviche. I'm pretty sure that every day someone in the family would order one. We would even see who could find the tastiest ceviche during one of the vacations. The recipe of this vegan potato ceviche Veracruz is inspired by one of my favorite recipes of a classic Mexican ceviche.
I had already tried to make this classic recipe with hearts of palm, and I turned out good, but not as good as with potatoes. I almost died of excitement when I tried it! It tastes exactly like the authentic Mexican ceviche I used to eat as a kid on the beach.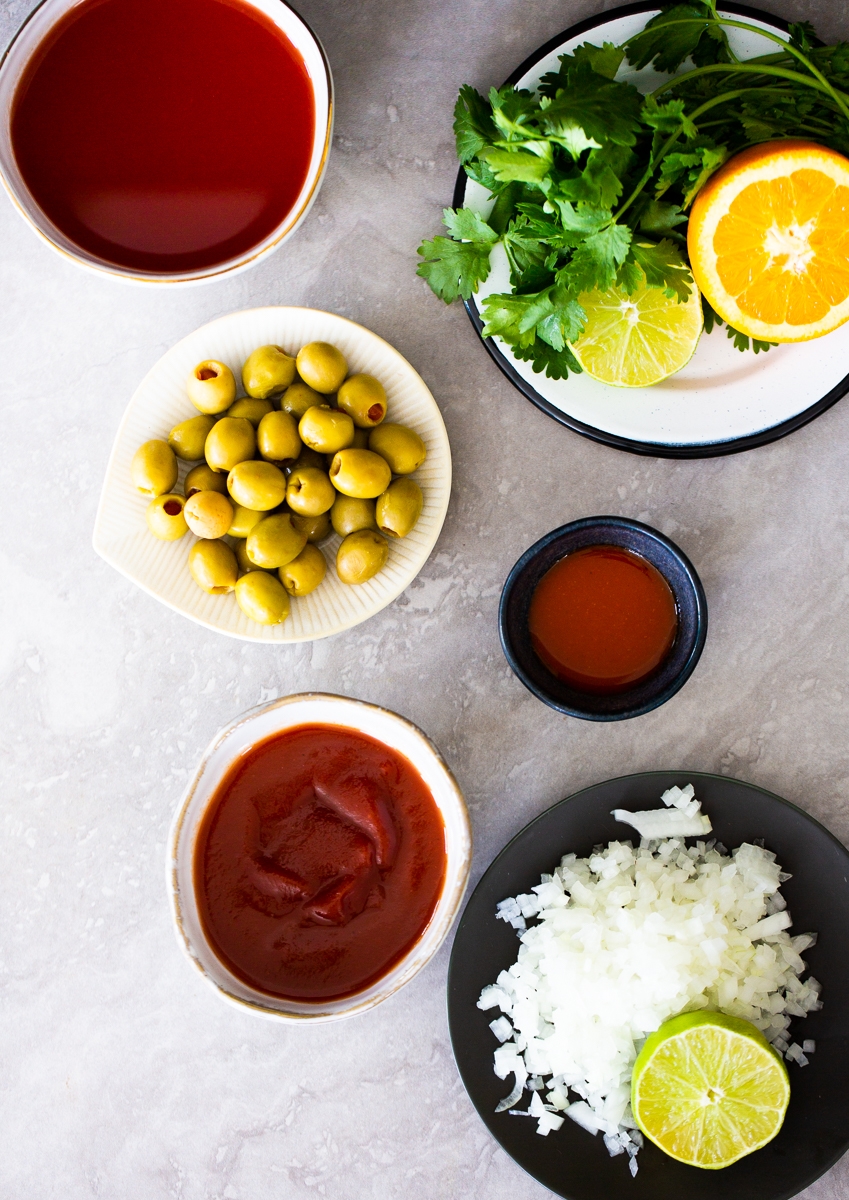 So, I got to cooking and photographing this potato ceviche Veracruz as soon as I could so you can taste it too. These potatoes that you see in the picture are from the state of Washington. They sent some to me, and they arrived fresh and even with a little bit of dirt on them. I think that they came fresh out of the ground. The real magic happened when I tried them.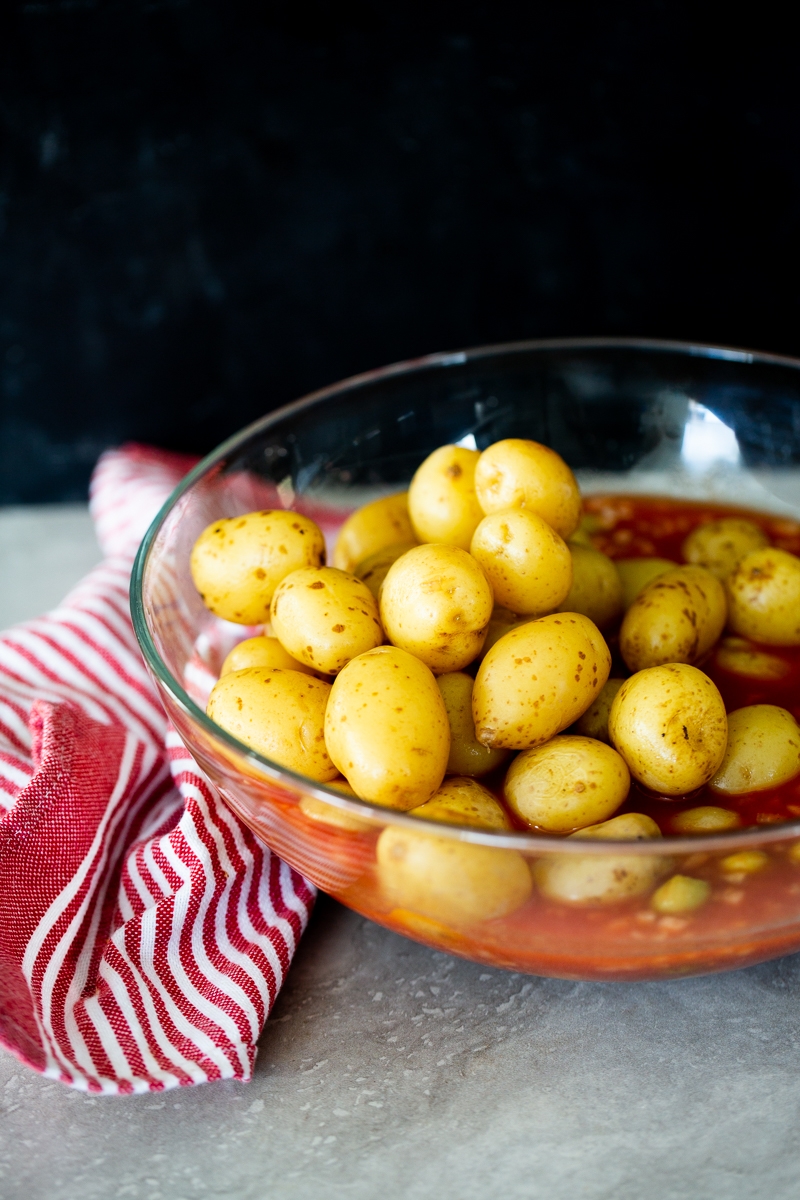 But, let me keep telling you about how delicious this potato ceviche Veracruz is and how amazing and it is perfect for those days on the beach or summer parties. It also works well as an appetizer or as a side for grilled vegetables. In Mexico, we eat ceviche with salted crackers, or with tortilla chips.
tips, tricks & other recipes
Use the smallest potatoes you can find.
You can serve them as individual ceviches or in a serving bowl.
Serve with tortilla chips, the ceviche juice tastes amazing with them
To cook the potatoes add salt to the water. This will help the potatoes to get extra flavorful.
There are a lot of ceviche recipes, and they can go from super complex to as easy as just adding lime and onion to hearts of palms if you are like me and don't eat fish or shellfish.
I have other fishless ceviches here on the blog and I hope you like them as well like my cauliflower aguachile, or my vegan ceviche tostadas that are the best EVER, or the mango ceviche that it's extremely good.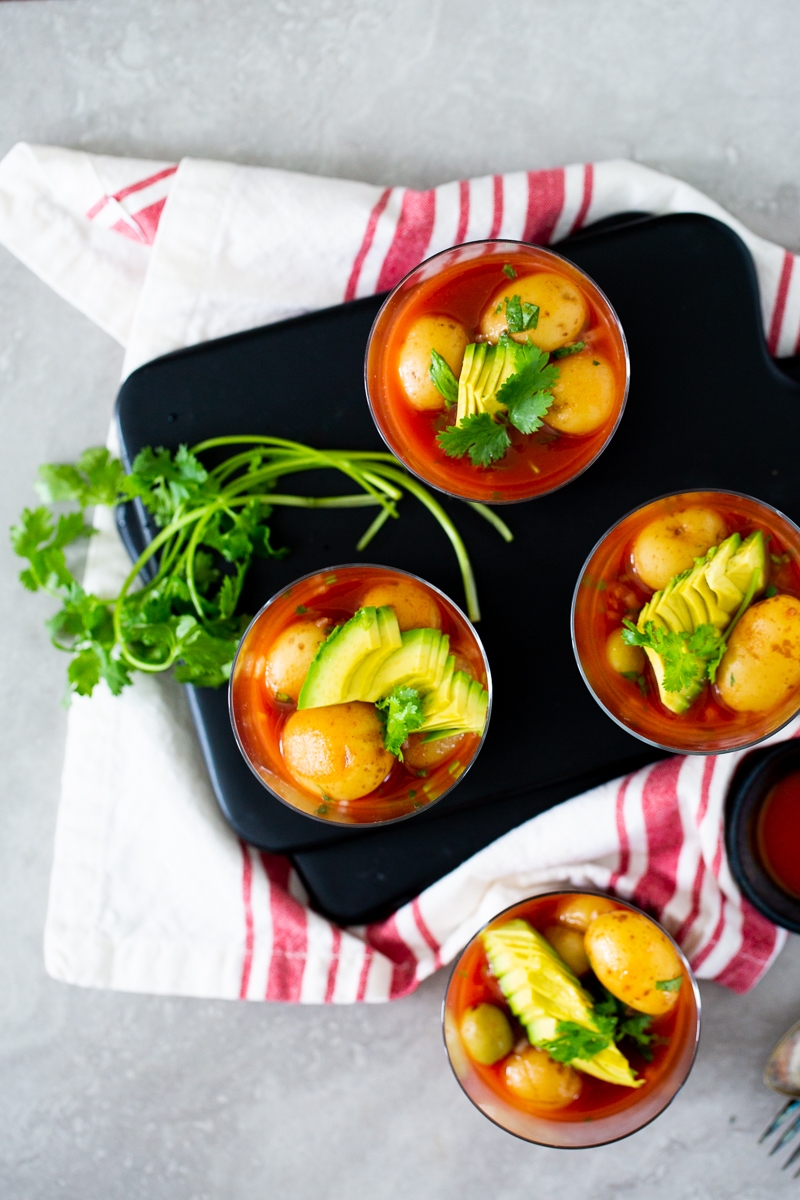 You really have to try this vegan ceviche. It is easy to prepare, delicious and very healthy. Choose the smallest and freshest potatoes you can find, to get the most flavor.
So here is the recipe for this
potato ceviche Veracruz
and I hope you prepare it and like it as much as I do. Share the recipe on Instagram, FB or save it for later on Pinterest.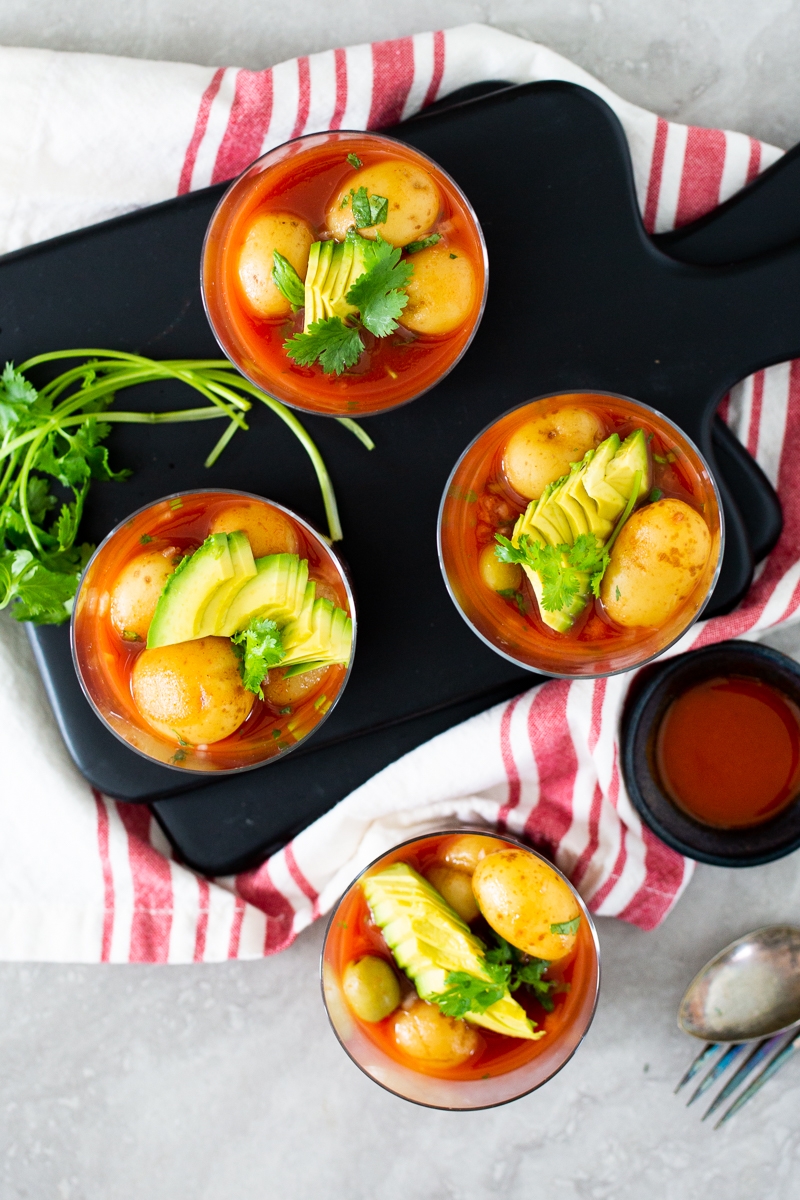 Potato Ceviche Veracruz
This ceviche is a delight and perfect for any hot day. This vegan ceviche can serve as an entree, to accompany some other Mexican dish or as a snack.
Ingredients
2

lb.

/ 900 grs. of potatoes

the smallest you can find

1

teaspoon

of salt

¼

teaspoon

of dried oregano

enough water to cover the potatoes

1

cup

of tomato juice

I use organic store-bought

½

cup

of ketchup

I use organic and low in sugar

½

cup

of lime juice

1/4

cup

of freshly squeezed orange juice

2-4

tablespoons

of hot sauce

Cholula or Tabasco

¾

cup

of green olives

with or without red pepper filling

1/2

cup

of finely chopped white onion

Pinch

salt

¼

cup

roughly chopped cilantro

1

avocado sliced or diced
Instructions
Put the potatoes in a pot with a lid with enough water to cover them with the salt and oregano. Leave them until they are fully cooked but still firm.

Meanwhile in a large bowl mix the tomato juice, the ketchup, the lime juice, the orange juice, the hot sauce, the olives, and minced onions. Add a pinch of salt and check the flavor for seasoning. Adjust if necessary.

When the potatoes are done, drain them and rinse them with cold water, put them in the bowl with the rest of the ingredients. Add the cilantro and mix carefully.

Serve in small bowls or cups. Finish with slices of avocado.
information
Nutritional information of this recipe is only an estimate, the accuracy for any recipe on this site is not guaranteed.