This recipe for baked oats with pumpkin pie spice mix, walnuts, and pumpkin puree is delicious and perfect for every day. But my favorite time of year to eat it is during fall. While it's baking, the smell of nuts and spices fills the whole house and makes everyone run for breakfast.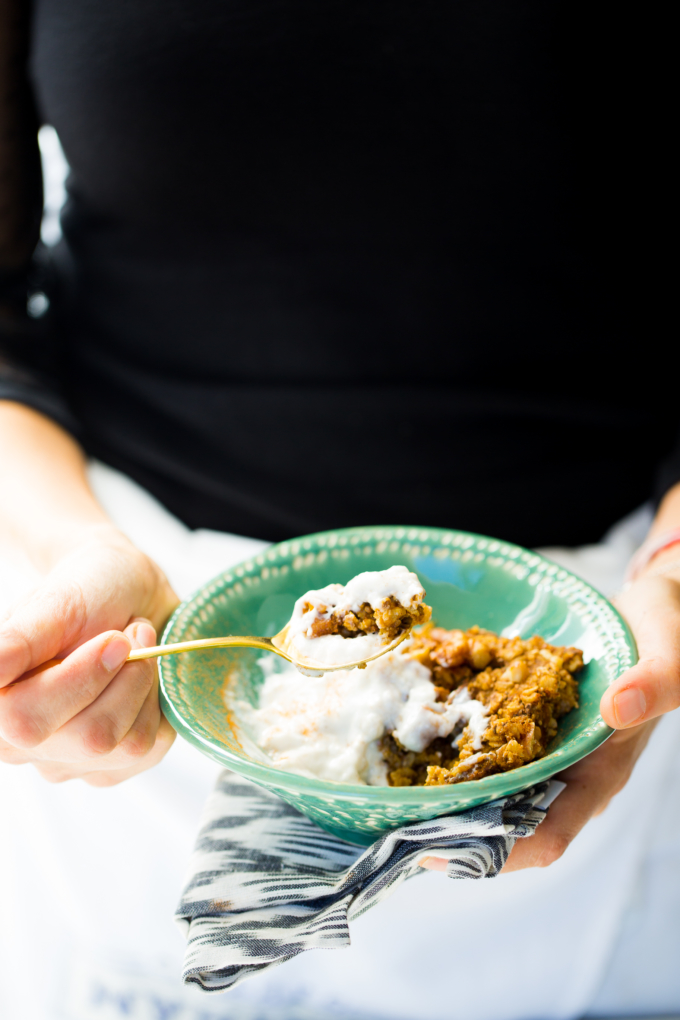 I developed this recipe with long family weekend breakfasts in mind. For those fall days, when you can sleep in a bit and have a good cup of coffee while preparing breakfast. And the smell of these baked oats fills the house with such warmth that everybody will wake up and run to the table in a great mood. You'll see.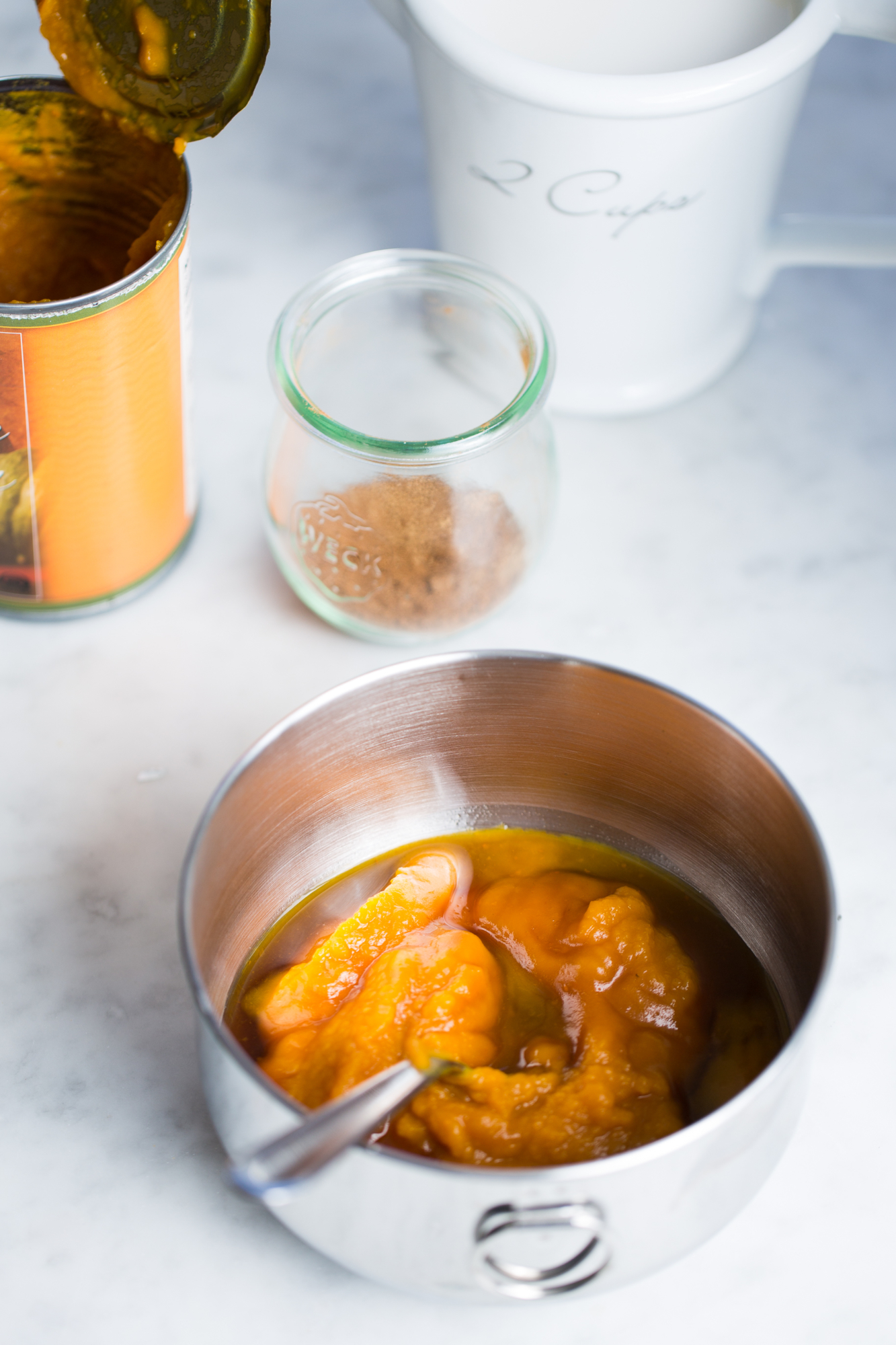 BAKED OATS?
Baked oat is like an oat casserole. To make them you mix the oat flakes with a mixture of ingredients and put it in the oven. When it comes out of the oven, the perfect oatmeal is cooked and full of flavor. You can serve it with yogurt or with homemade cashew or coconut cream.
Usually, this mix contains fruit or vegetable puree, nuts, a sweetener, and chopped fruit. It is very common to see a baked apple or banana oatmeal.
When to serve this baked oat casserole? This type of oatmeal is perfect for when you have guests at home, and you need to have breakfast on the table ready for several people. It is also ideal for making the day before as it tastes super delicious at room temperature or reheated, and the flavors concentrate, so it is pretty convenient.

INGREDIENTS OF THE BAKED OATS
Oats flakes. Use whole oats, instant oat are not good for this recipe. The whole old fashion style oats give a hearty and satisfying texture. If you are looking for this breakfast to be GLUTEN FREE, look for oats that are certified gluten-free. Although oats are naturally gluten-free, these days, due to cross-contamination, they can contain gluten. It is important to always check the package.
Pumpkin puree. You can use homemade or canned pumpkin puree. If you use canned, do not forget to read the ingredients and check that it doesn't contain sugar or other ingredients.
Pumpkin pie spice mix. You can use a store-bought mix or make your own with cinnamon, cloves, nutmeg, and ginger.
Nuts. The nuts, I love walnuts in this recipe but you can use any kind you like. Nuts and seeds, apart from giving it a lot of flavors, it also gives it texture and increases the nutritional value. Nuts have good fats for us, as well as vitamins and minerals.
Other ingredients This baked oat recipe also calls for milk, chia seeds, baking powder, salt, among others.
✨Idea✨

Here is a recipe for a pumpkin pie spice mix that I think you are going to like.

VARIATIONS or OTHER FLAVORS
If you don't like pumpkin flavor, or you can't get pumpkin puree, you can make it with applesauce or mashed banana.
If you make it with apples you can add raisins or diced apples. If you add bananas you can add dark chocolate chips or nuts and change the pumpkin pie spice mix for cinnamon or not use spices at all.
TIP

Probobly you will think that this is a lot of liquid, but no worries, it is fine. It takes that amount to cook the oats and  make them delicious and smooth.

The liquid is going to absorb and make everything delicious.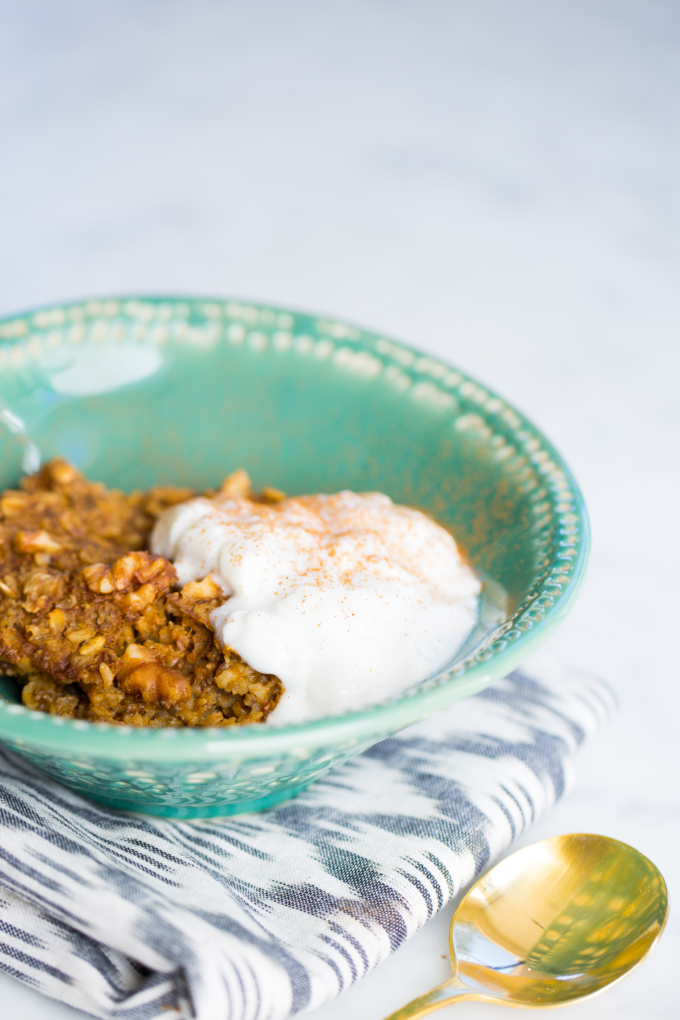 Prepare this baked oatmeal with the ingredients that you and your family like the most. The idea is that you put what you like the most so that everyone can eat it happily at home.
So here is the recipe for this casserole of baked oats with a pumpkin spice mix and I hope you like it as much as we do. It is super delicious and it is very easy to do. If you do this or any of the other ideas I gave you, please don't forget to tell me how it went and share a photo on FB or Instagram. I love to see what you do. You can also save this recipe on Pinterest to make it later.
It would also be incredible if you give it 5 stars and/or if you tell me how it went in the comments section; if you have doubts or ideas also put them there.
Here are other recipes that I think you may like: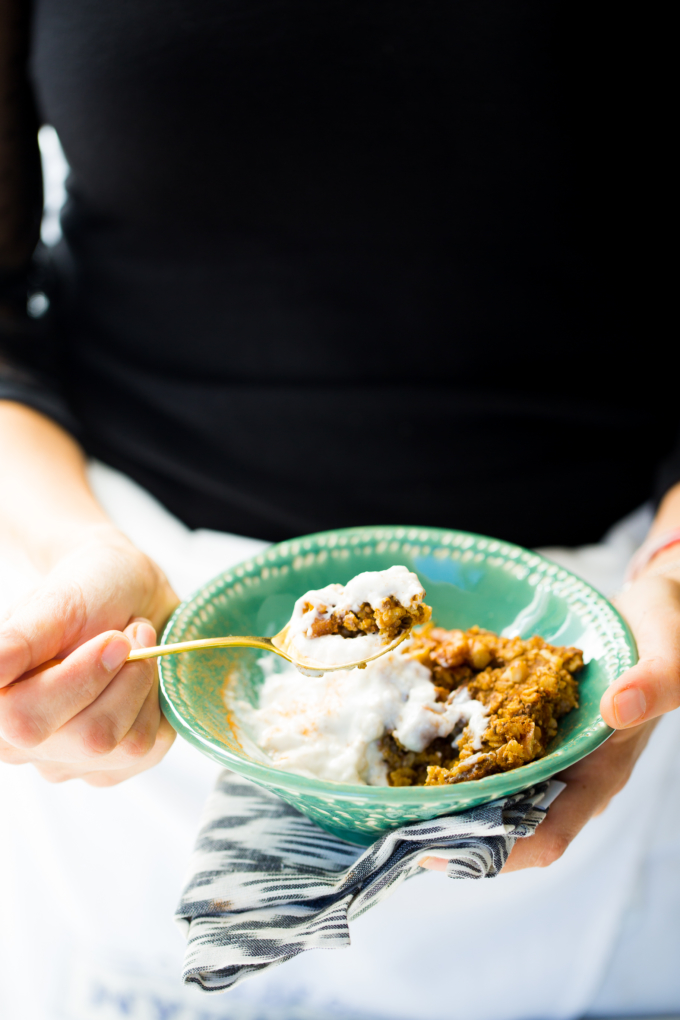 Pumpkin pie spice baked oats
Pumpkin spice baked oats, great breakfast for the Holiday season.
Ingredients
2

cups

oat flakes

2

tablespoons

cane sugar

1

teaspoon

baking powder

2

tablespoons

chia seeds

1/2

teaspoon

salt

3 ½

teaspoons

of pumpkin pie specie mix

2

cups

milk

1/2

cup

pumpkin puree

1/4

cup

maple syrup

1/2-1

cup

walnuts
Instructions
Pre heat the oven to 350ºF.

Mix in a bowl oats, sugar, baking powder, chia seeds, salt and spices.

In a separate bowl mix the pumpkin puree, maple syrup and vegetable milk. When mixed,pour over the oats, mix well.

Pour the mixture into a baking pan and bake for 20 minutes or until firm to the touch.

Serve warm, with yogurt or coconut whipped cream.
Nutrition
Calories:
231
kcal
Carbohydrates:
32
g
Protein:
6
g
Fat:
9
g
Saturated Fat:
2
g
Cholesterol:
6
mg
Sodium:
175
mg
Potassium:
295
mg
Fiber:
5
g
Sugar:
13
g
Vitamin A:
2482
IU
Vitamin C:
1
mg
Calcium:
147
mg
Iron:
2
mg
information
Nutritional information of this recipe is only an estimate, the accuracy for any recipe on this site is not guaranteed.

Latest posts by Alejandra Graf
(see all)