Add these roasted cherry tomatoes to whatever you want or what needs a little flavor. You can use them in pasta, and you can put them in a sandwich, salads or even in hamburgers.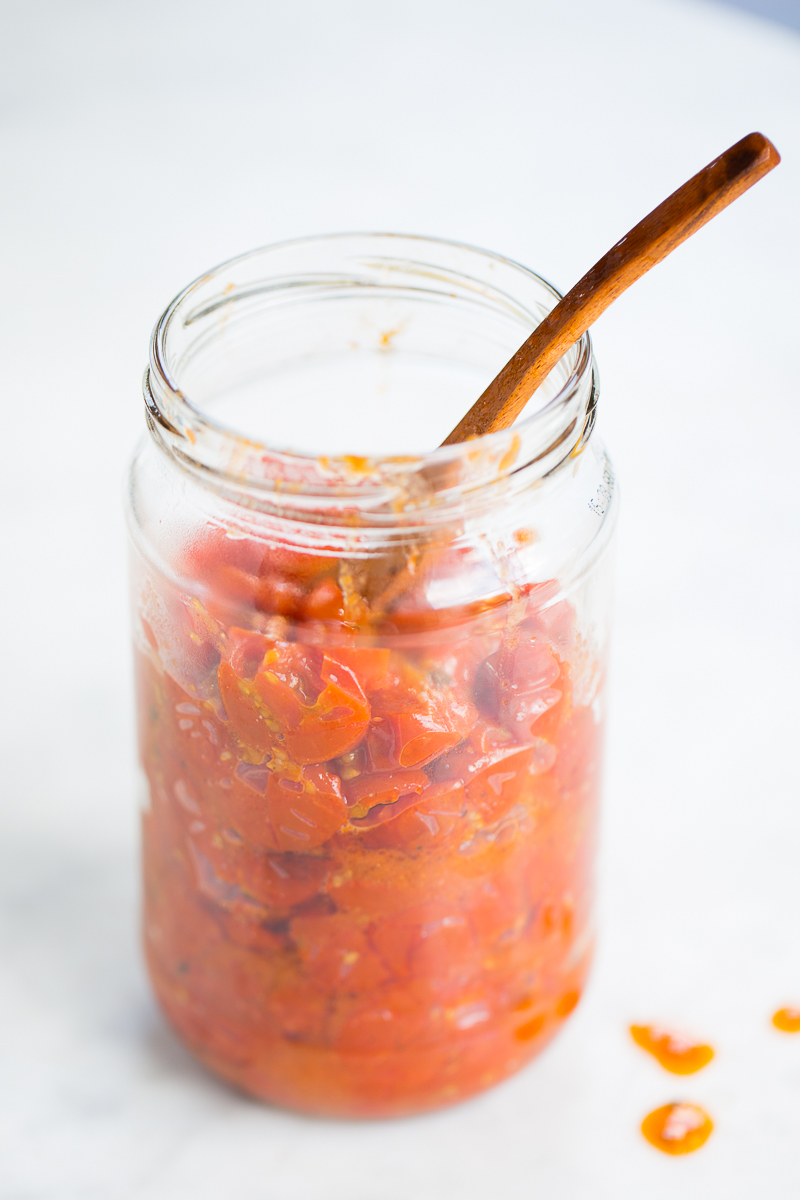 This roasted cherry tomatoes recipe is the perfect option for when you don't know what to do with cherry tomatoes or when you have a lot of tomatoes at home. Use this same method to roast cherry tomatoes with any tomato.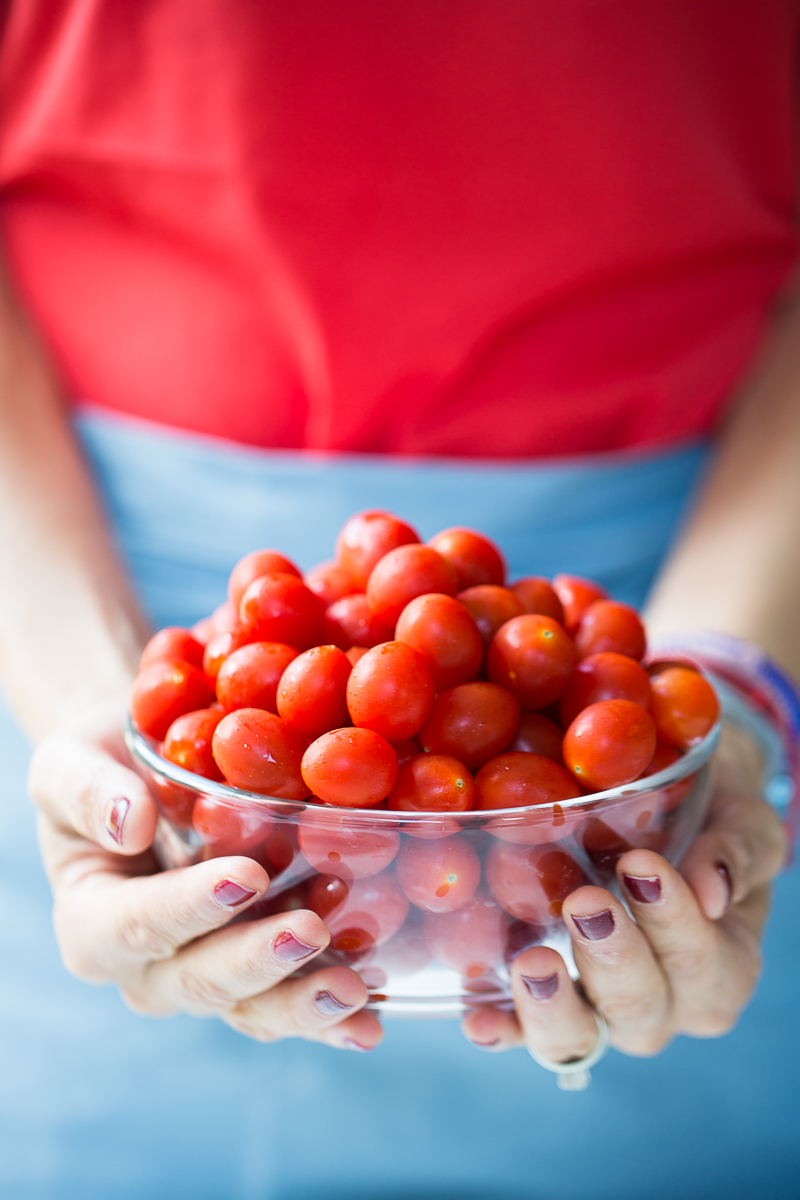 HOW TO MAKE ROASTED TOMATOES?
Making these tomatoes is very easy; there are only three steps to have a jar of roasted tomatoes for everything in the fridge ready to serve. Before you start making them, it is important to check the tomatoes and make sure they all are ripe and perfect, and there is none rotten. Then wash them and remove the stems.
Steps:
Cut.

Cut the tomatoes in half and put them on a baking sheet. If you are using another type of tomatoes, such as plum tomato or Roma tomato, cut them into the same size.

NOTE: I prefer to use parchment paper when baking them, but it is not necessary. Just be sure to use a baking sheet with the edges raised so you can keep all the juices.

Dress the tomatoes

The second step is to add a delicious dressing of olive oil with garlic powder and other spices. The important thing about this step is that you have to make sure they are completely covered by the olive oil mixture. Arrange the tomatoes in a single layer so that they roast evenly.

Bake them

Step three is to put them in the oven. When they come out of the oven you can finish them with chopped basil, with parsley, or with any other topping. I leave them as-is and depending on how I am going to use them I add or not more flavor.
💥IMPORTANT

When they come out of the oven, let them cool before tasting or storing them.

They come out very hot, remember that we season them with olive oil and the toamtes have a lot of liquid. So every thing is HOT.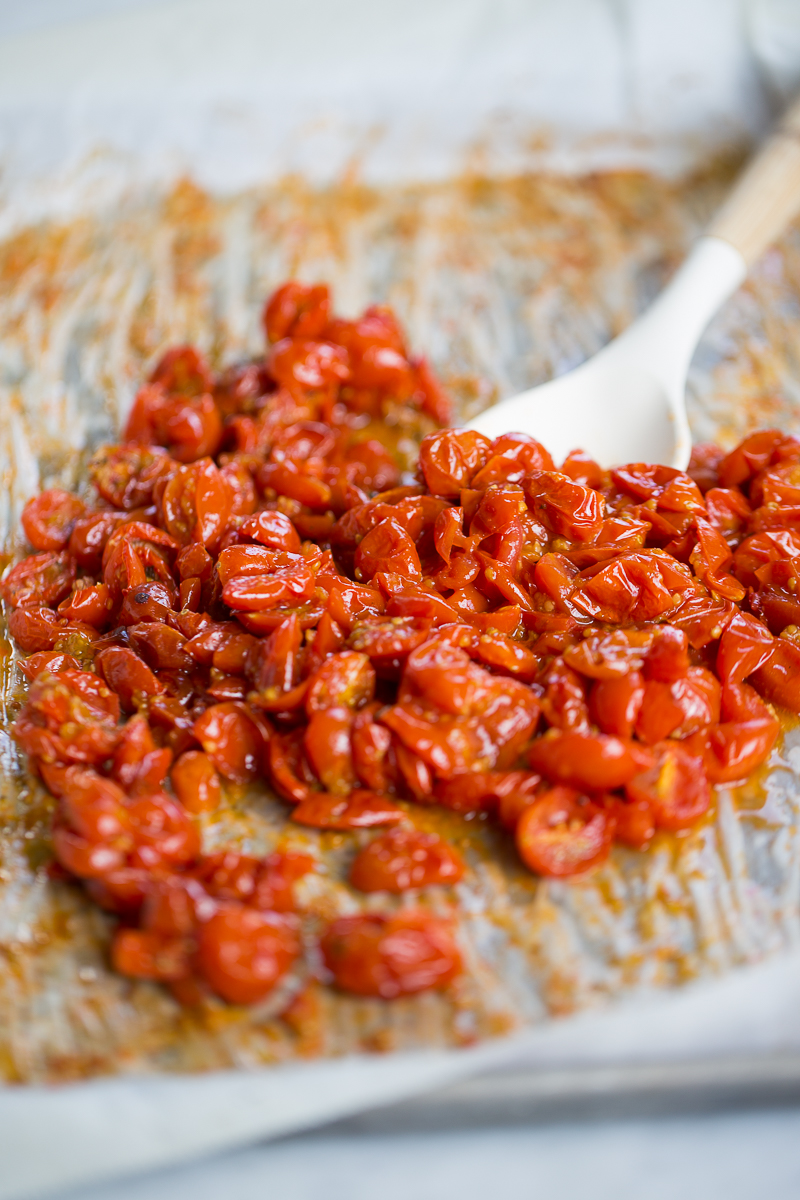 HOW TO USE ROASTED TOMATOES?
You can put them on whole wheat pasta, gluten-free, or zucchini noodles (here I tell you how to make them).
You can put them on a slice of homemade bread, just when it comes out of the oven. YUM.
You may want to serve them with hummus or mushroom tacos.
To make grilled cheese ( I use vegan cheese).
Or instead of ketchup to top a hamburger.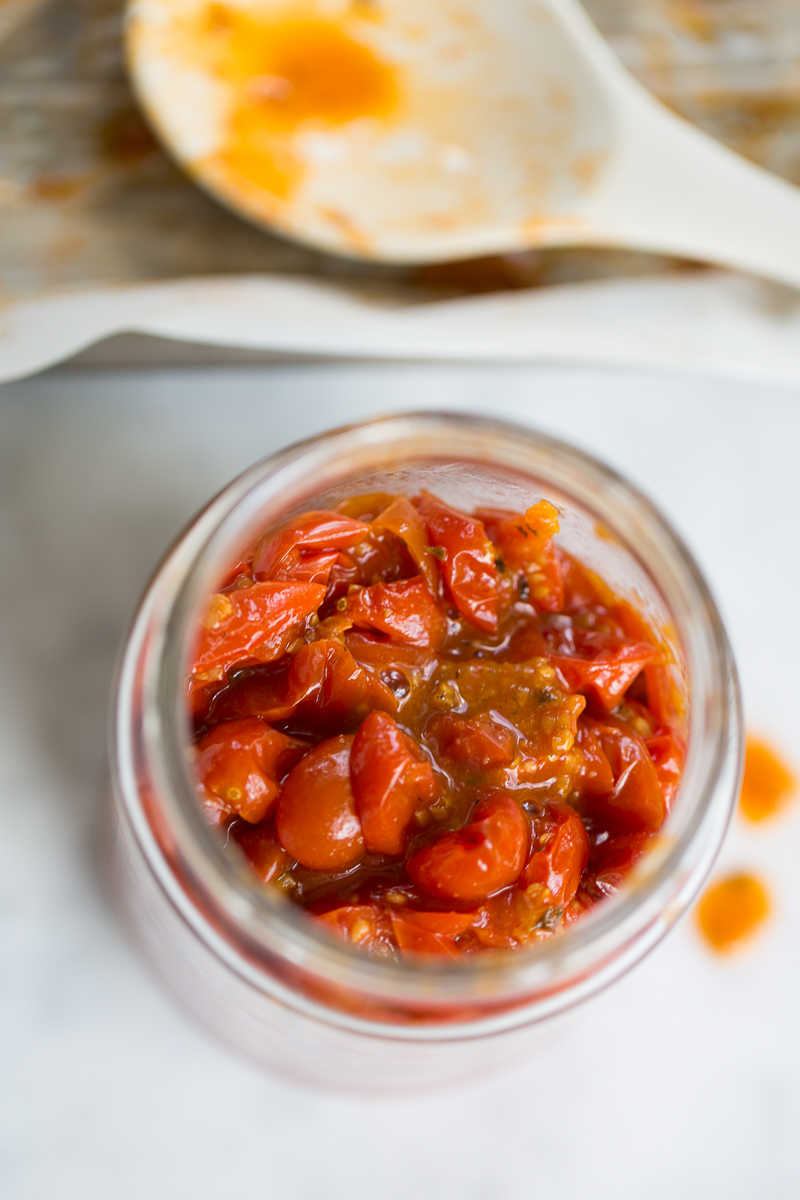 Summer is the best time of year for tomatoes. I just love to walk around the farmer's market and find all kinds of bright, flavorful, and delicious tomatoes. So here is a very easy recipe that works for everything. You could use it as a sauce for pasta, or to top a salad, or to eat over toasted bread.
Take a picture of your roasted cherry tomatoes and share it on Fb or Instagram. If you want to make this recipe for later save it on Pinterest.

It would also be fantastic and super helpful if you leave a comment and/or rating of this recipe in the comment section. Please feel free to write suggestions, ideas, or how it went when you made the recipe.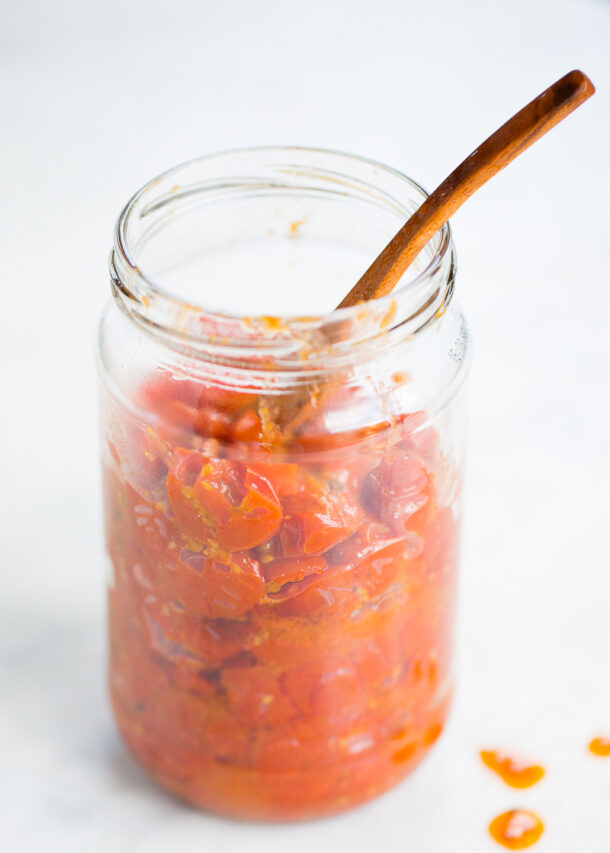 Roasted cherry tomatoes for everything
These roasted cherry tomatoes are so delicious and a time saver. Have them in the fridge and make pasta, soup, or fancy sandwiches in no time.
Ingredients
2

lb

cherry tomatoes

900 g

1/2

teaspoon

sugar

1/2

teaspoon

garlic powder

1

teaspoon

salt

1

teaspoon

dried oregano

4

tablespoons

olive oil
Instructions
Preheat oven to 350 degrees.

Prepare a baking sheet with parchment paper or a silicone mat.

Cut the tomatoes in half and place them on the prepared pan.

In a separate bowl mix olive oil with sugar, salt, garlic powder, and oregano.

Pour the mixture into the tomatoes, check that they are all well covered.

Put in the oven for 35-40 minutes or until beginning to brown.

Remove from oven, let cool and store in the fridge in a tightly covered jar.
Nutrition
Calories:
113
kcal
Carbohydrates:
7
g
Protein:
2
g
Fat:
10
g
Saturated Fat:
1
g
Sodium:
405
mg
Potassium:
330
mg
Fiber:
1
g
Sugar:
4
g
Vitamin A:
739
IU
Vitamin C:
34
mg
Calcium:
22
mg
Iron:
1
mg
information
Nutritional information of this recipe is only an estimate, the accuracy for any recipe on this site is not guaranteed.
Nutritional information of this recipe is only an estimate, the accuracy for any recipe on this site is not guaranteed.