These roasted potatoes with pico de gallo and avocado are perfect for everything. They are perfect as a side dish, for lunch, as picnic food, or as a complete meal. The minute you try this addictive salad I promise you you'll be hooked and you will understand why I could eat them all day long.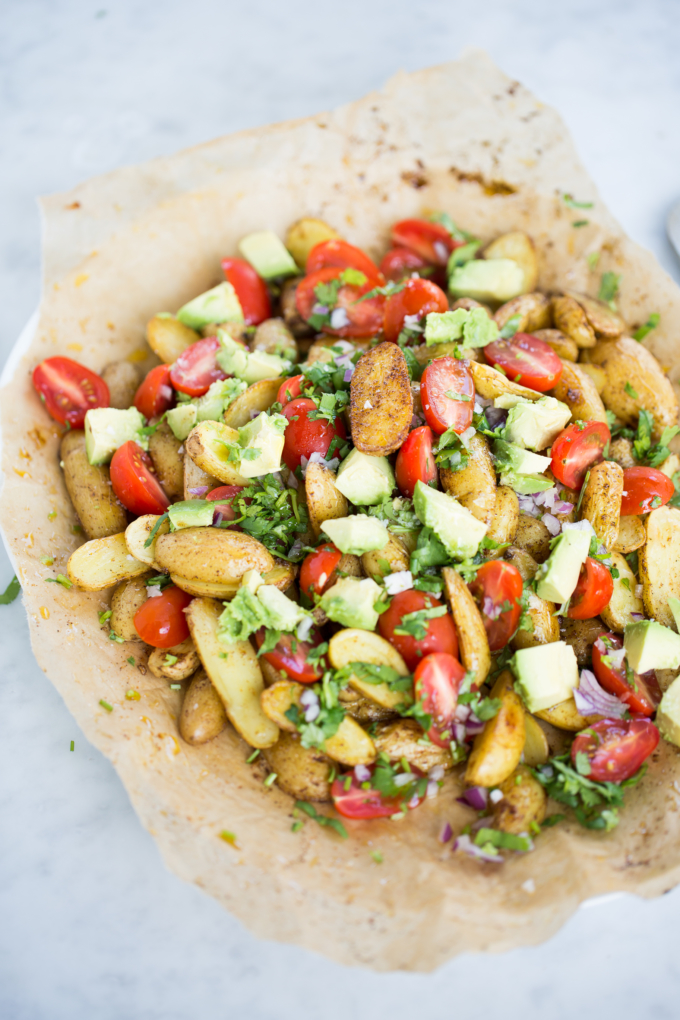 And pico de gallo is one of my favorite salsas ever. I love to finish salads with it, or tacos, or even just as a snack or party food… Who doesn't love chips and salsa? For me, pico de Gallo is that little extra something you add to a dish to boost its flavor and texture.
But if you combine this salsa with roasted potatoes, you get an out of this world salad. And better yet, when the roasted potatoes are not just roasted potatoes, they are spicy roasted potatoes.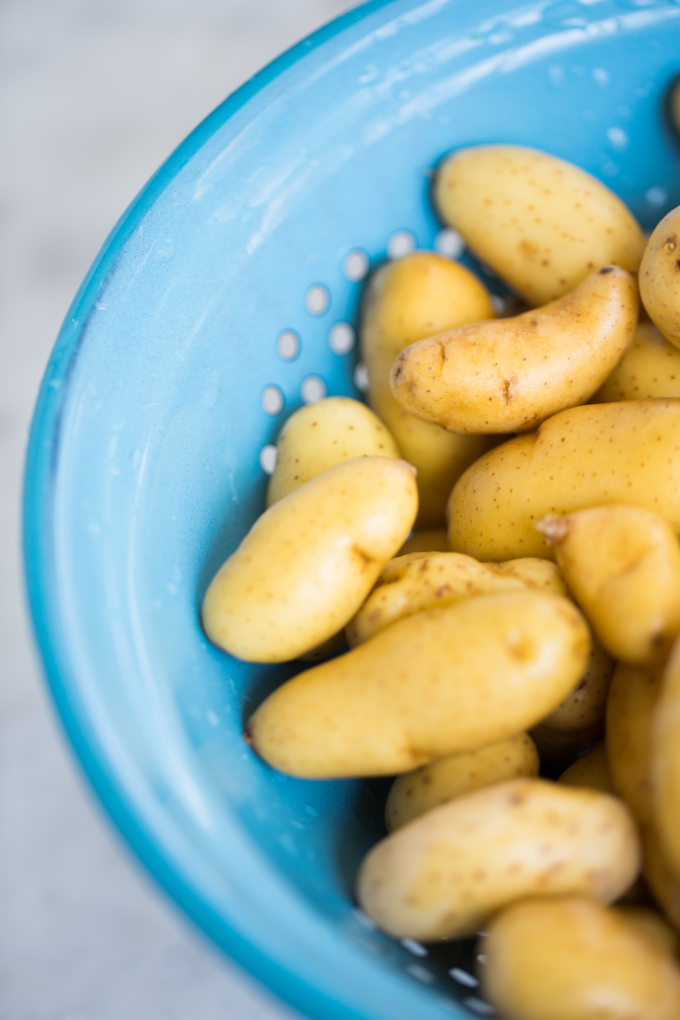 And of course, there is no vegan Mexican dish without avocado. so let's recap this absolute yumminess:
spicy roasted potatoes (fingerlings)
pico de gallo
avocado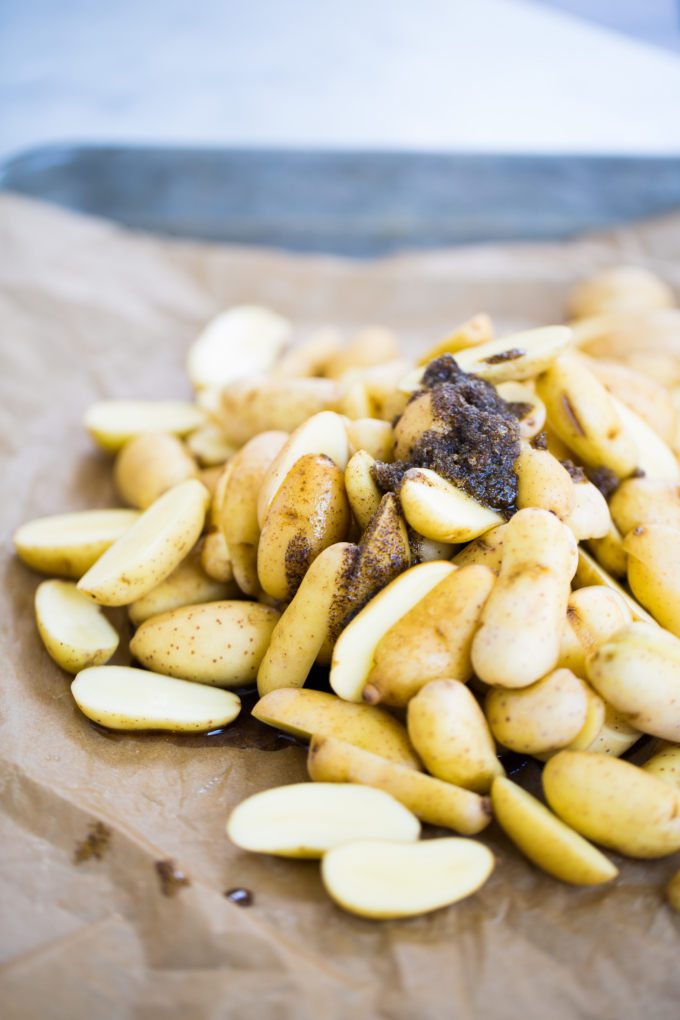 tips for roasting potatoes
If you wonder how to roast potatoes? Don't worry; it really is the simplest thing in the world. It is as simple as coating them with oil, salt, and other spices then and putting them in a very hot oven. Coating them in fat will give you the perfect roasted potato, crispy on the outside and creamy on the inside. It is important though that all the potatoes are about the same size.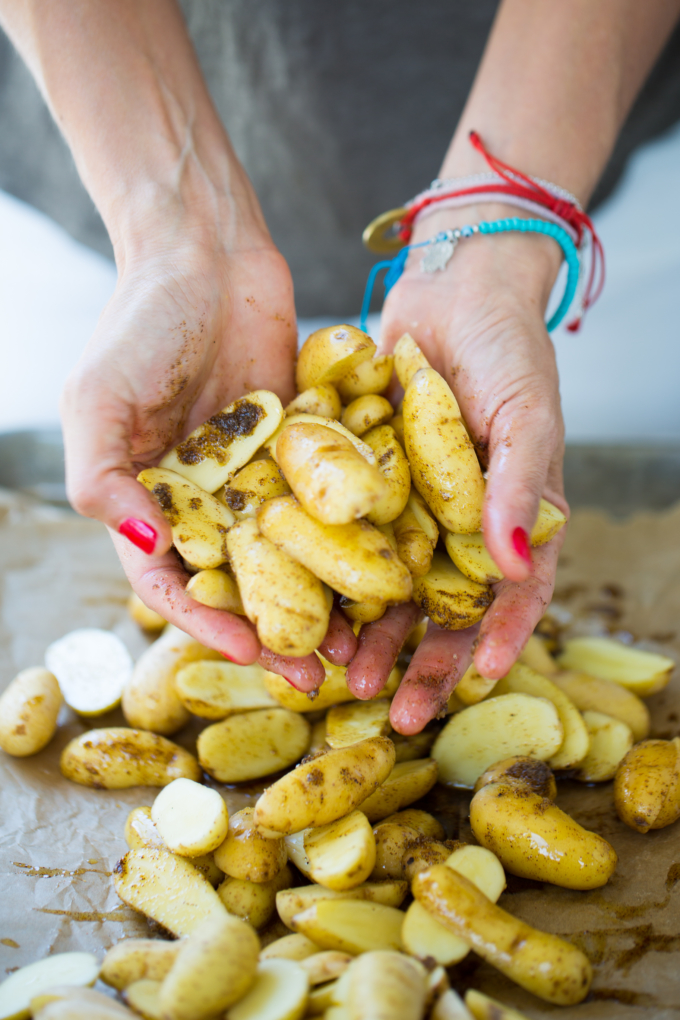 tips, tricks & other recipes
In this list you'll find the best tips and tricks to prepare the delicious roasted potato salad with pico de gallo.
If you don't have small potatoes, cut the ones that you have on hand more or less the same size.
I always put parchment paper on my baking trays. That way, it is easier to wash the baking sheet, and we do not cook our food directly on aluminum.
If your family does not like the taste of the onion so much, mince it and rinse it in super cold water. This takes away the strong bite.
Another idea to remove the strong bite from the onion is to put it first in the bowl that you are going to use to make the roasted potato salad with pico de gallo and add a splash of lemon, white vinegar or apple cider vinegar (affiliate link). This also takes away the stong and spicy bite.
Remember that it is better to let the potatoes cool down before mixing them with the pico de gallo and avocado. We don't want the heat of the potatoes to cook or wilt the pico de gallo.
This salad is delicious as a side dish, lunch, or as an appetizer.
Here are other recipes with potatoes that I have on the blog: potato and cilantro soup, mashed potatoes and sweet potatoes with vegan chipotle cheese, potato soup with red bell pepper, pambazos, and crispy potato tacos.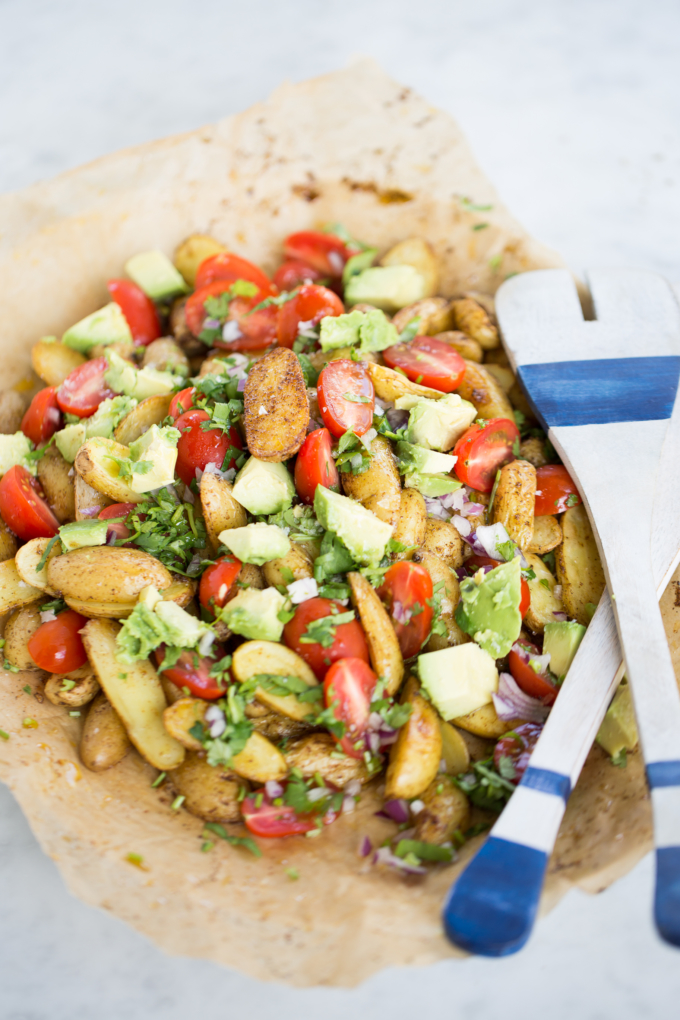 So here is the recipe for these
roasted potatoes and pico de gallo
and I hope you like them as much as I do. If you do please share the recipe and the blog on Instagram, FB or save it for later on Pinterest.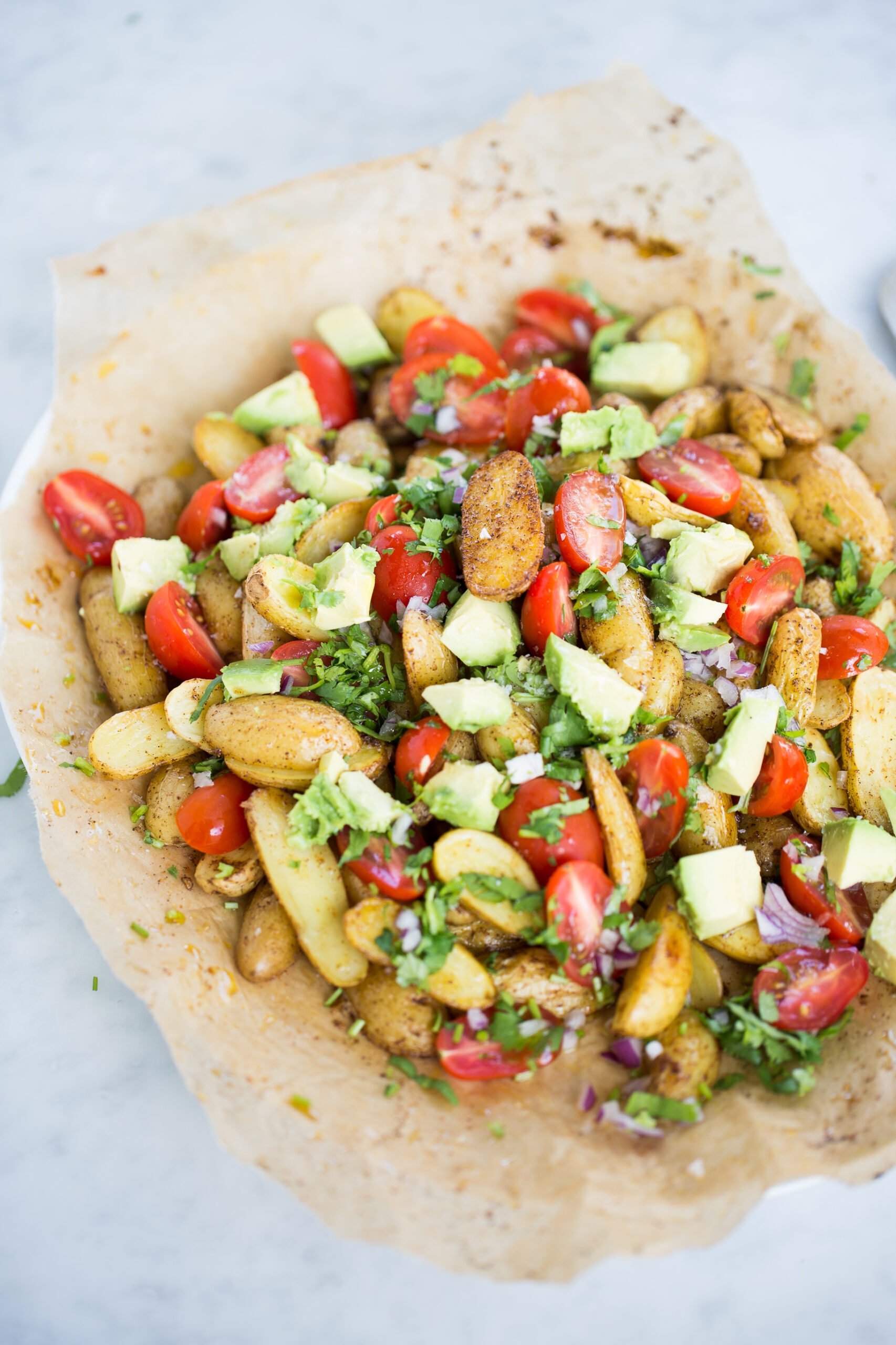 ROASTED POTATOES AND PICO DE GALLO
This is one of the most delicious roasted potato salads I have ever tried. This is a roasted potato salad with pico de gallo and avocado. It is perfect as a side dish for a sandwich or hamburger, or just as is.
Ingredients
FOR THE POTATOES
2

lb

fingerlings or other small potatoes

1/4

cup

olive oil

1

teaspoon

garlic powder

1

teaspoon

ancho chili powder or chipotle chili powder

1

teaspoon

salt
PICO DE GALLO
1

cup

cherry tomatoes

halved

1/4

cup

chopped red onion

1/2

cup

cilantro

a pinch of salt

1

avocado

diced
Instructions
Turn oven on to 450ºF.

Prepare a baking sheet with parchment paper.

Wash, dry and cut the potatoes in half and put them in the center of the baking sheet.

In a separate bowl mix the oil, the chili powder, the garlic powder and the salt. Add this mixture on the potatoes, and with your hands, make sure they are well covered. Spread them on a tray and put in the oven for about 20-25 minutes or until golden brown.

Meanwhile, cut the tomatoes, onion, cilantro, and avocado. Mix carefully and add a pinch of salt.

Take the potatoes out of the oven and let them cool for about 10 minutes and put the pico de gallo with avocado on top.

Serve immediately.
Notes
If you do not have cherry tomatoes, use regular diced tomatoes, but be that the pico de gallo does not have a lot of liquid.
If you do not like chipotle chili or ancho chili, do not use it.
Use ground chipotle chili powder if you like your dish to be spicier.
Nutrition
Calories:
389
kcal
Carbohydrates:
47
g
Protein:
6
g
Fat:
21
g
Saturated Fat:
3
g
Sodium:
613
mg
Potassium:
1323
mg
Fiber:
9
g
Sugar:
4
g
Vitamin A:
539
IU
Vitamin C:
59
mg
Calcium:
37
mg
Iron:
2
mg
information
Nutritional information of this recipe is only an estimate, the accuracy for any recipe on this site is not guaranteed.