These super powerful vegan chorizo tostadas are perfect for breakfast, lunch, or dinner. They have all the good, nutritious and flavorful ingredients that make every bite perfect.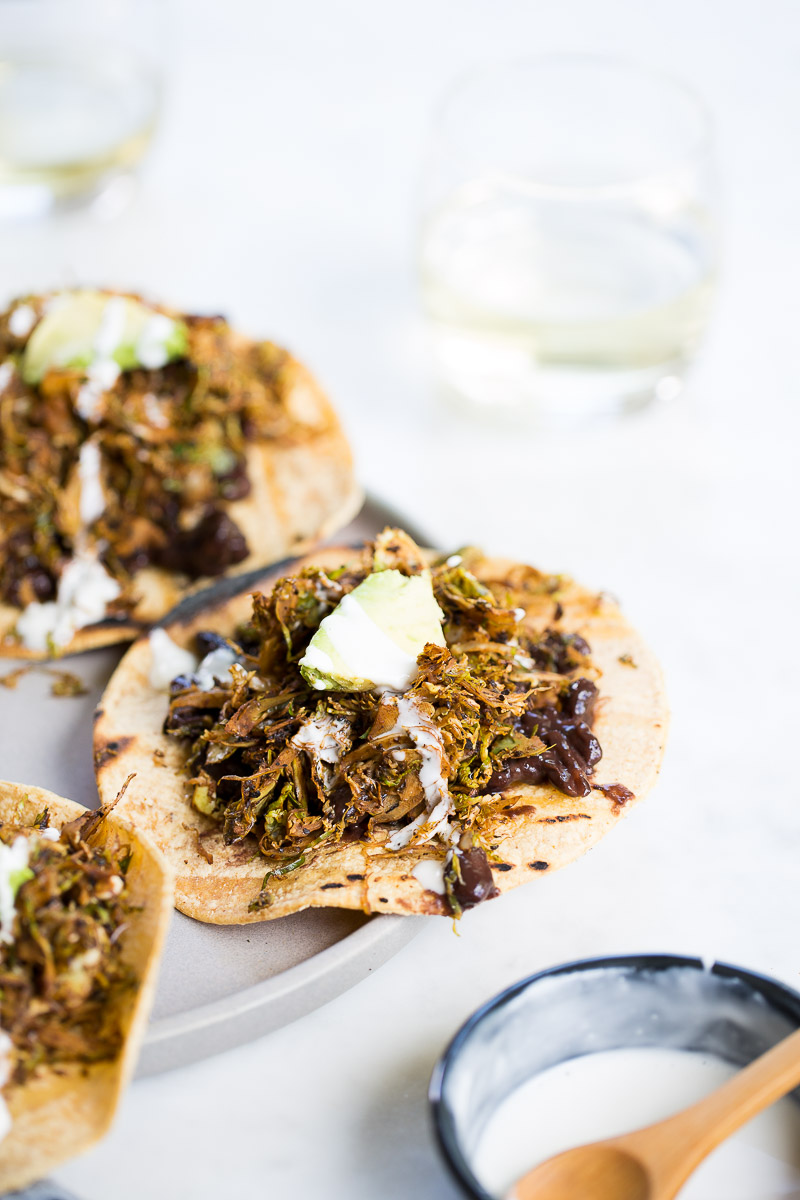 What is a tostada?
Tostada is the word in Spanish for toasted, a tostada is a toasted or fried corn tortilla until fully crisp. Tostada shells are completely flat, which is the main difference with a taco shell.
How to make a tostada shell?
It is as easy as popping corn tortillas sprayed with vegetable oil in a 400ºF oven for a couple of minutes.
Or you could deep fry or pan fry the corn tortilla in oil.
Or the easiest way and my favorite is to heat the corn tortilla over a griddle (affiliate link) or directly on a gas stove. This will burn a bit the tortilla but, for me, there is nothing better than the flavors of a burnt corn tortilla. This method is also the easiest.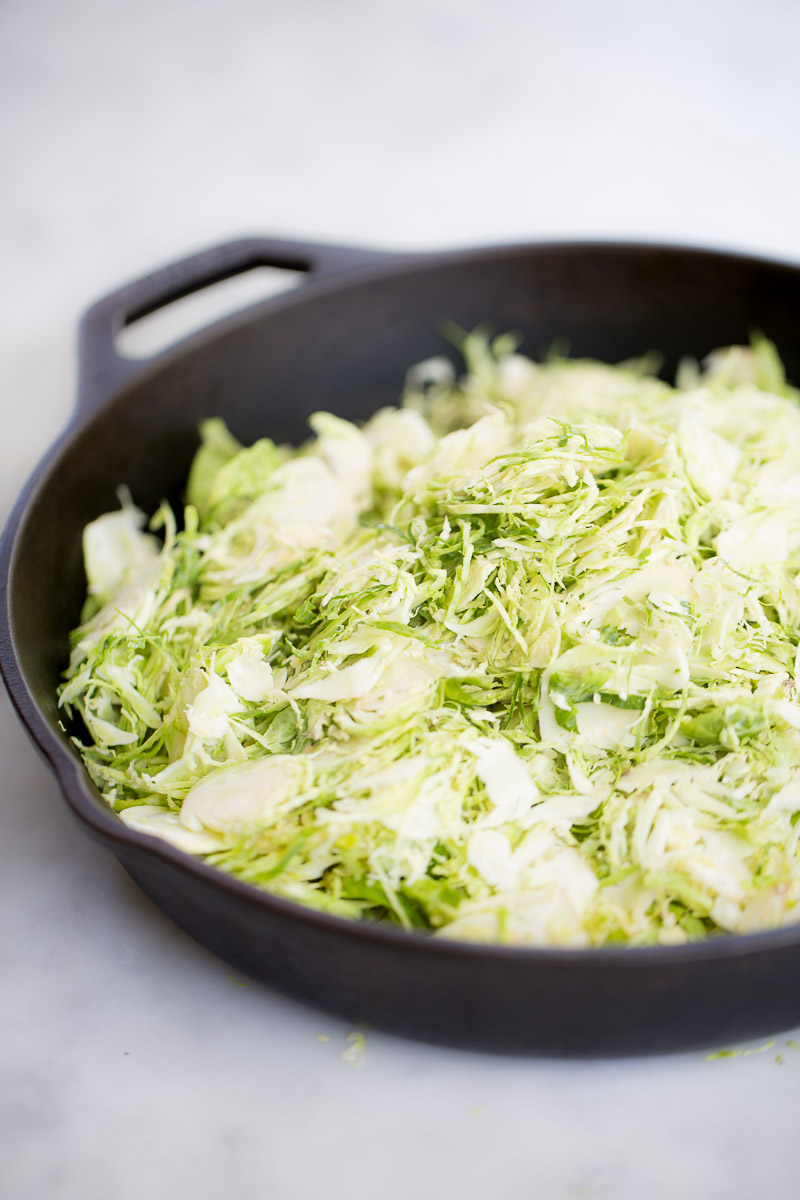 The topping for these tostadas is vegan chorizo made with Brussel sprouts which are a nutritional powerhouse. The authentic chorizo recipe calls for ground pork (not vegan friendly) and the vegetarian chorizo recipe is normally made with soy.
I decided to use shaved Brussell sprout to make a soy-free and meat-freed chorizo recipe.
The best part of these topping for the vegan tostada is that you not sacrifice flavor at all.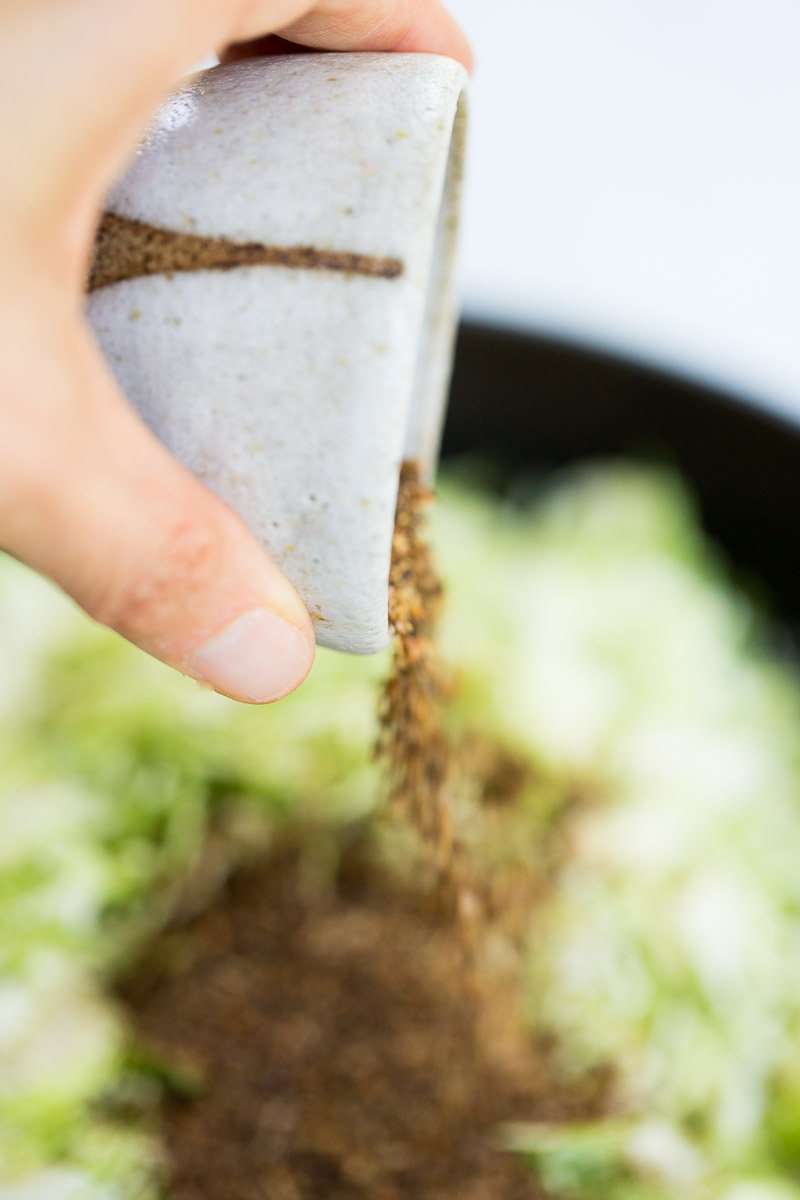 How to make Vegan homemade chorizo?
To make this vegan chorizo recipe start by sautéing the Brussel sprouts with the same spices used in chorizo ancho chile, garlic powder, cumin, cinnamon and a pinch of ground clove.
Brussel sprouts are incredibly delicious on their own, so imagine them cooked with all these spectacular flavors. They truly become delicious and out of this world.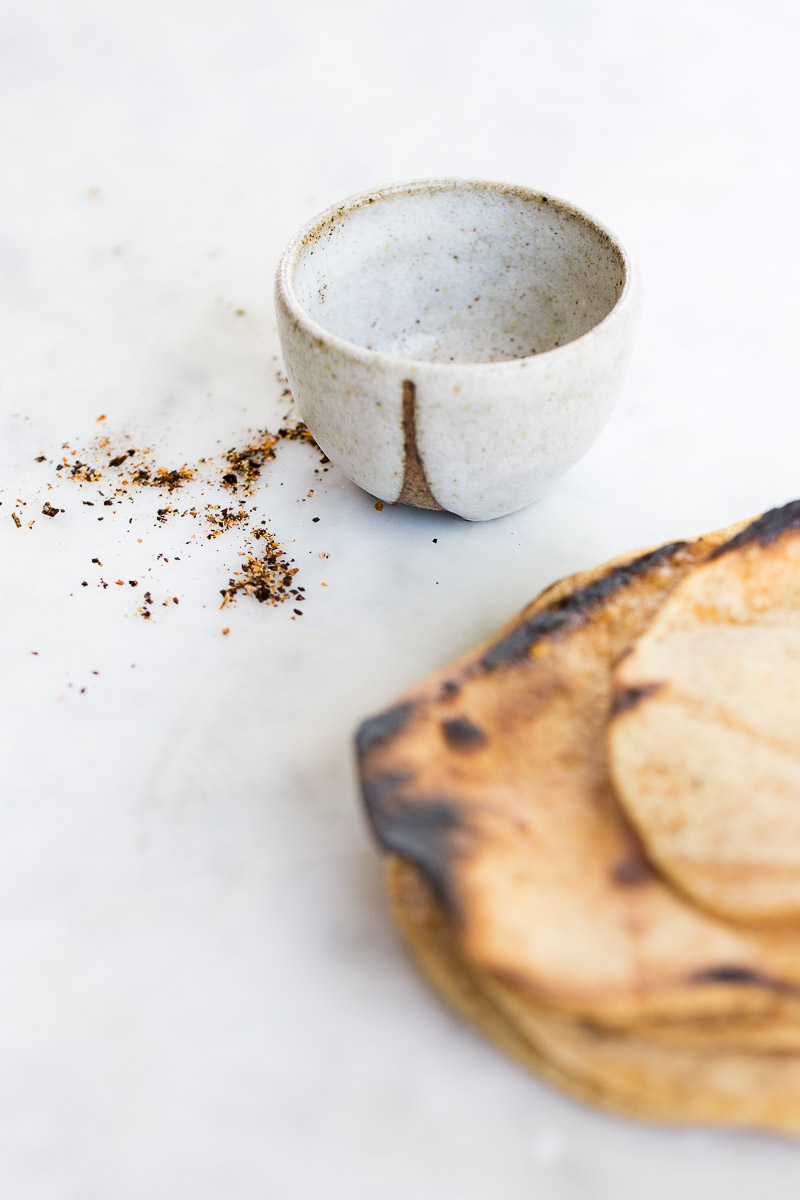 tips and tricks to make the best vegan chorizo tostadas
Shave the Brussel sprouts by using a food processor (affiliate link) fitted with the disc attachment. If you don't have a food processor (affiliate link) use a very sharp knife or a mandoline. Another option is to use store-bought.
Use fresh spices, and if you can't find ground chile ancho (affiliate link) you can always ground it yourself in a spice grinder or a powerful blender.
Make your own refired beans, they re the best.
This Mexican crema recipe has only 4 ingredients and is super easy to make.
If you want your tostadas a bit spicier finish them with authentic Mexican Salsa verde.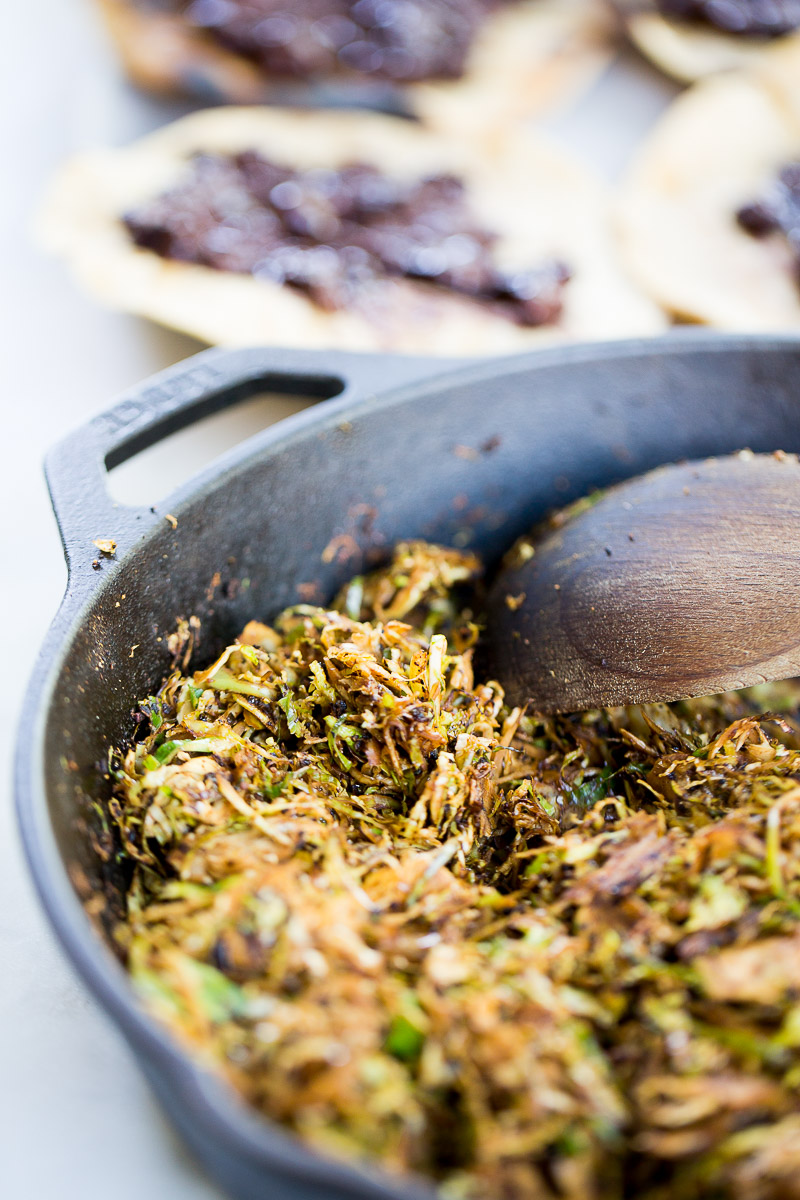 I love eating light, healthy and feeling full of energy. After I eat, I feel fabulous and ready to take on the world to finish everything I have to do. Don't you like feeling energized after a meal?? Instead of wanting to take a nap and feeling heavy and full.
Here are other healthy authentic Mexican recipes, that happen to be vegan: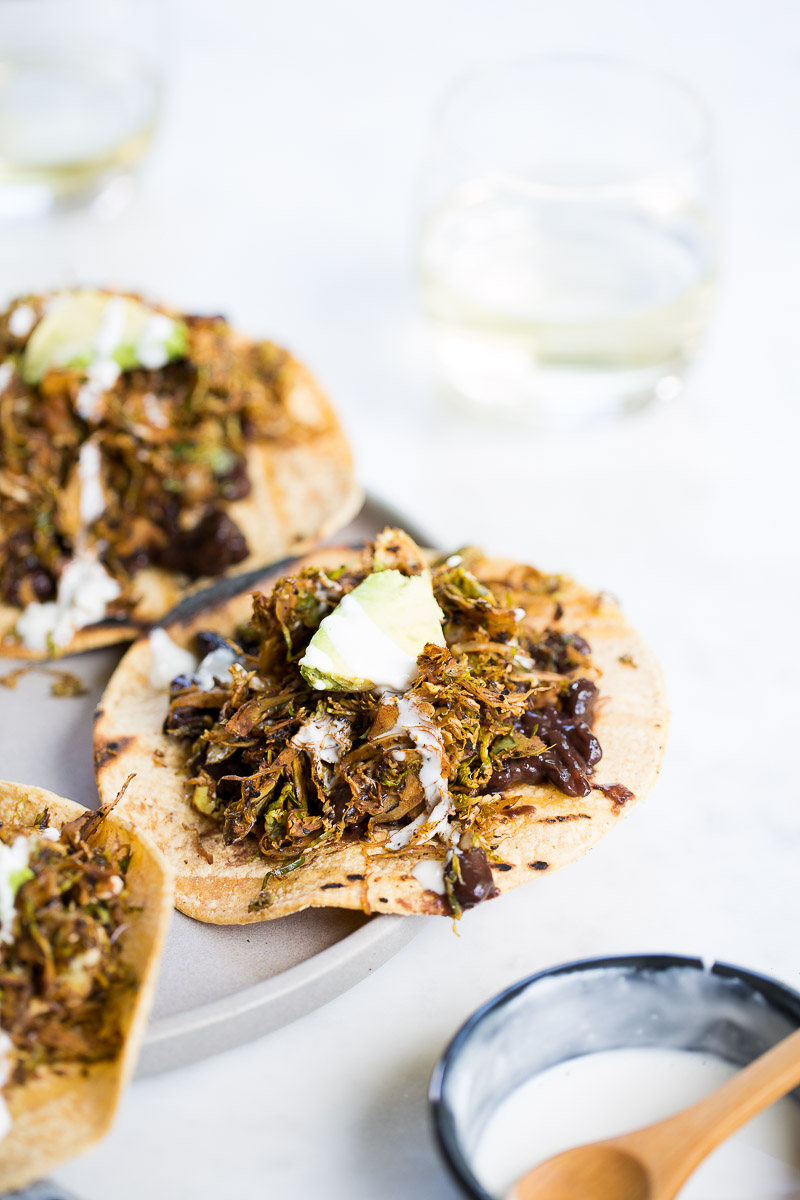 So here is the recipe for these VEGAN CHORIZO TOSTADAS and I hope you like them as much as we do. Eat them for breakfast, dinner or lunch.
If you like my recipe, please share it on Instagram, Facebook or save it for later on Pinterest. It would also be fantastic and super helpful if you leave a comment and/or rating of this recipe in the comment section. Please feel free to write suggestions, ideas, or how it went when you made the recipe.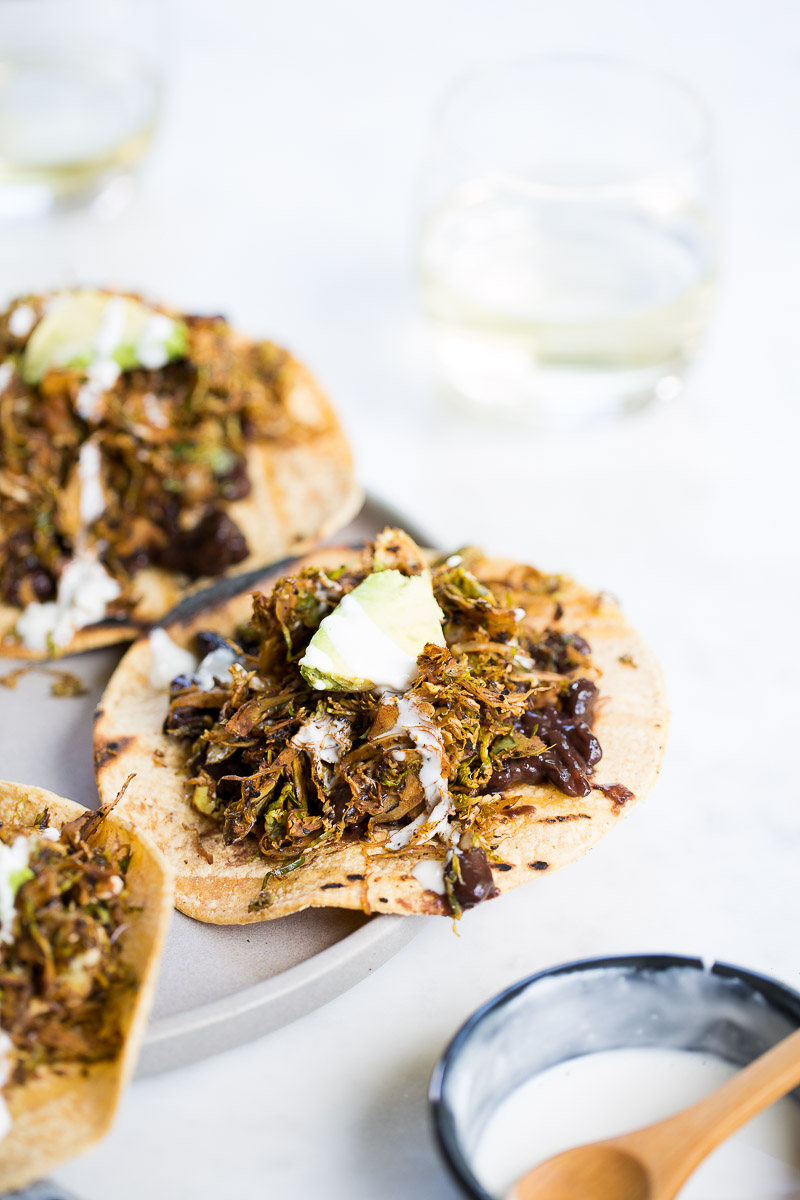 Superpowerful vegan chorizo tostadas
These vegan chorizo tostadas are perfect for breakfast, lunch or dinner. The chorizo is made with Brussel sprouts and Mexican spices.
Ingredients
4

cups

of shaved Brussels sprouts

2

tablespoons

of vegetable oil

2

tablespoons

of chili powder

ground dried chili powder

1

teaspoon

of garlic powder

1 / 2

teaspoon

of ground cumin

1 / 4

teaspoon

freshly pepper

1 / 8

teaspoon

ground cinnamon

pinch

of ground cloves

1 / 2

teaspoon

apple cider vinegar

1 / 2

teaspoon

salt
Tostadas
12

corn tostada shells

1

cup

refried beans

1

avocado

sliced

Mexican crema

I use cashew cream
Instructions
For the Brussel Sprouts, vegan chorizo
In a skillet over medium heat add the oil and the shaved Brussels sprouts.

Leave them until they are soft, like 3 minutes. Add all the species and mix well. Leave everything for 5 more minutes or until the brussel sprouts begin to brown on the edges.

Be careful not to burn them. When ready, remove from heat and add the vinegar. Mix and set aside.
Tostadas
For putting together the tostadas add 2 tablespoons of refried black beans and spread them well throughout the tostada.

Then add three or four tablespoons of the powerful vegan chorizo, a.k.a. the Brussel sprouts with Mexican spices.

Finish each tostada with slices of avocado and drizzle with cashew or tofu crema.
Nutrition
Calories:
268
kcal
Carbohydrates:
37
g
Protein:
7
g
Fat:
11
g
Saturated Fat:
4
g
Sodium:
314
mg
Potassium:
545
mg
Fiber:
10
g
Sugar:
3
g
Vitamin A:
1315
IU
Vitamin C:
53.2
mg
Calcium:
93
mg
Iron:
2.5
mg
information
Nutritional information of this recipe is only an estimate, the accuracy for any recipe on this site is not guaranteed.
Nutritional information of this recipe is only an estimate, the accuracy for any recipe on this site is not guaranteed.