Taco dorado means crispy taco, a deep-fried taco. Sinaloa is a state in Mexico, where food is delicious, as, in all the country, I know. But most importantly, I think is that these tacos dorados are drowned in a delicious sauce.
But these tacos are not filled and rolled up corn tortillas; these tacos are corn tortillas folded in half.
These tacos Sinaloa style were one of my favorite dishes growing up. We did not have them that often because these tacos are deep-fried. So we did not have them as a weeknight meal, but we did have them for special occasions or during vacations.
I make these tacos vegan, but believe me when I tell you that they are 100% authentic. My mom's family is from Sinaloa, and this recipe is from my grandma's teachings.
These tacos are vegan because I make them only with potatoes and an all veggie broth (for the TACO-drowning sauce 😉). There is a recipe that calls for meat and potato filling, but NOT this version.
what is a taco dorado Sinaloa style?
The tacos dorados Sinaloa style are a corn tortilla filled with mashed potatoes and deep-fried. Then you open up the tortilla and fill it up with shredded lettuce, sliced cucumber, sliced radishes, and Mexican pickled onions. And then the magic happens … a tomato-based broth with cilantro and Mexican oregano is poured over them.
✎ These tacos dorados will get soggy, and you will need some silverware to finish them up.  

But in the broth at the bottom of the plate is the true magic. 



It is were the flavors of the fresh veggies, and the fried corn tortilla with the bits of potatoes get together and make a perfect flavor party.
Here are some …
tips, tricks & other recipes
What tortilla should I use? I use storebought tortillas for these tacos. You don't want your tortillas to be thick. You want them thin but sturdy. You want tortillas that can hold their shape.
I also buy authentic tortillas made with 100 % corn and no fillers or wheat flour. Yoli tortillas are very good.
How to prepare the tortilla for the taco? You just need to warm it up a bit to make it pliable. Warm the tortilla on a griddle (affiliate link) for 2-3 minutes.
For the potato filling, you can use any type of potatoes or even leftover mashed potatoes.
How much filling do you put in a taco? For these tacos dorados, you don't need to fill them out with a lot. Remember that you are gonna fill them with fresh veggies later on. So a tablespoon at the most will be good for these. Just be sure to spread it out all across the tortilla.
You can make the broth ahead of time and just reheat before pouring over the vegan taco dorado.
These tacos are best when eaten the same day.
Here is the recipe for quick pickled onions, Mexican style.
Here are other Vegan Mexican recipes that I'm sure you are going to love: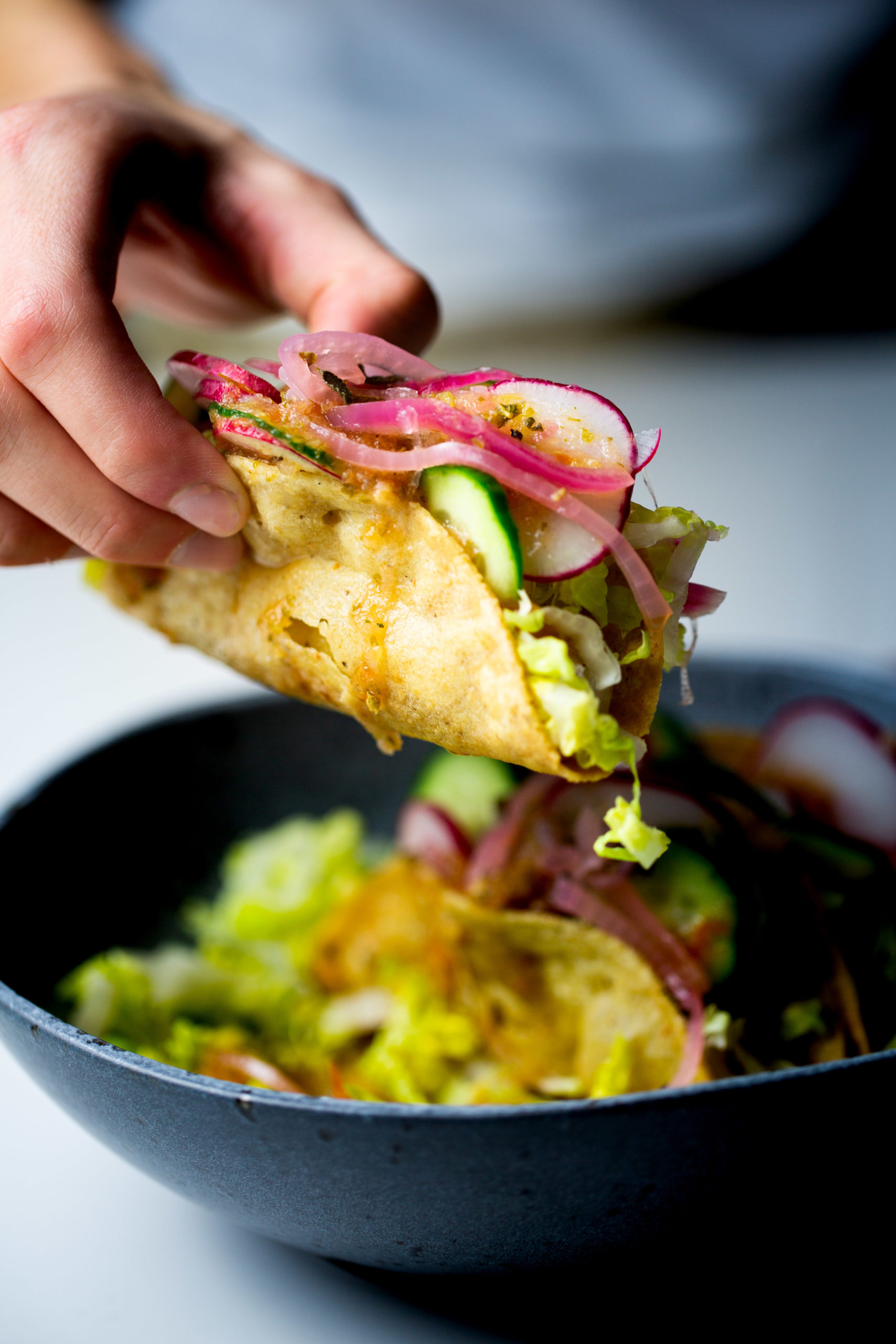 So here is the recipe for these delicious
tacos dorados sinaloa style
and I hope you like them as much as we do, and they soon become one of your favorite Mexican dishes. If you make them, please share a picture on Instagram, FB, or save it for later on Pinterest.
This is not a complicated recipe, but it calls for more steps than my usual recipes, so be sure to plan ahead.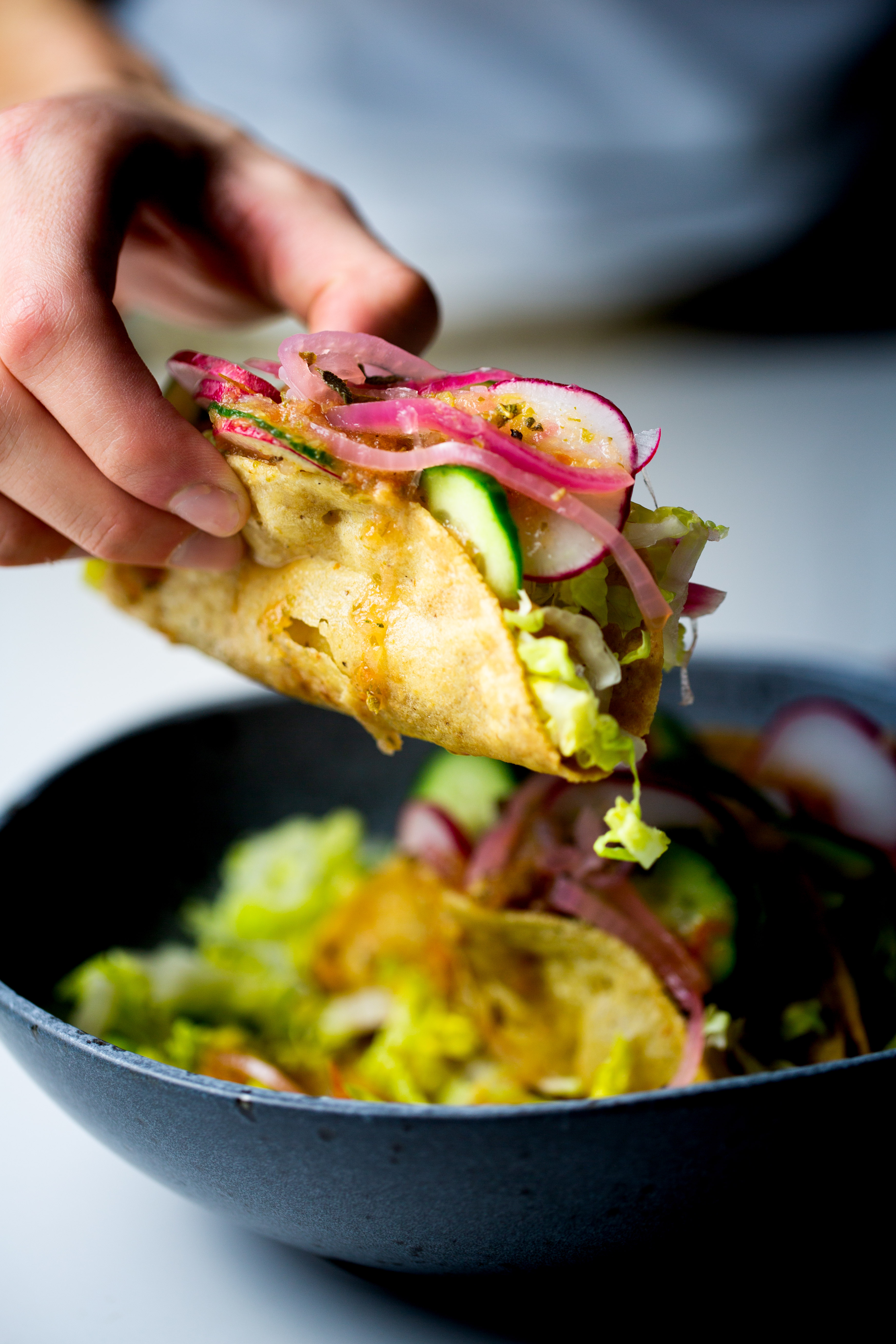 Tacos dorados
Tacos dorados, Sinaloa style. Corn tortillas filled with potatoes and finished up with lettuce, cucumber, radishes, pickled onions and covered with tomato based broth.
Equipment
Thermometer

Dutch oven

Tooth picks
Ingredients
2 ½

cups

cooked and mashed potatoes

Pinch

of salt

12

corn tortillas

4-6

avocado oil or safflower oil

or frying oil of your taste
For the tomato-based broth
4

large tomatoes about 1lb/450g

¼

large onion

1

garlic clove

10

cilantro sprigs

½ to 1

tablespoon

dried Mexican oregano

Pinch

of salt
For serving:
Mexican Pickled onion recipe in notes

4-6

cups

shredded lettuce

2

thinly sliced cucumber

4-6

thinly sliced radishes
Instructions
To cook the potatoes start by adding 1lb/450g of small potatoes to a pot of salted water. Make sure the water covers them completely. Boil until the potatoes are completely soft. Drain and mash with a potato masher. Taste for seasoning and adjust if necessary.

Put the tomatoes, onion, garlic, cilantro, and oregano in a pot with 1 cup of water and cover. Cook on medium-high heat for 10 -15 or until the all is completely soft. Add a big pinch of salt, blend all the vegetables using a blender, or use an immersion blender. Taste for seasoning and adjust if necessary.

To form the tacos, heat the corn tortilla until pliable, add one tablespoon of mashed potatoes. Make sure the filling covers the tortilla from side to side. Fold in half and secure with a toothpick or bamboo skewer.

Heat the oil to 350ºF. Fry two by two the tacos until golden brown, about two to three min on each side.

Drain the tacos on a baking sheet lined with paper towels.

To serve the tacos, put three on a bowl, remove the toothpicks. Open the tacos carefully so they do not break and fill with lettuce, cucumber, radishes, and top with pickled onion.

Pour over some tomato broth and enjoy. Eat immediately.
Nutrition
Calories:
366
kcal
Carbohydrates:
76
g
Protein:
10
g
Fat:
4
g
Saturated Fat:
1
g
Sodium:
95
mg
Potassium:
1199
mg
Fiber:
11
g
Sugar:
9
g
Vitamin A:
1831
IU
Vitamin C:
57
mg
Calcium:
123
mg
Iron:
2
mg
information
Nutritional information of this recipe is only an estimate, the accuracy for any recipe on this site is not guaranteed.