Learn how to prepare mushrooms for easy recipes your family will love! I'm sharing my tips and tricks for cooking mushrooms and all the ways to enjoy them including a mushroom tacos recipe!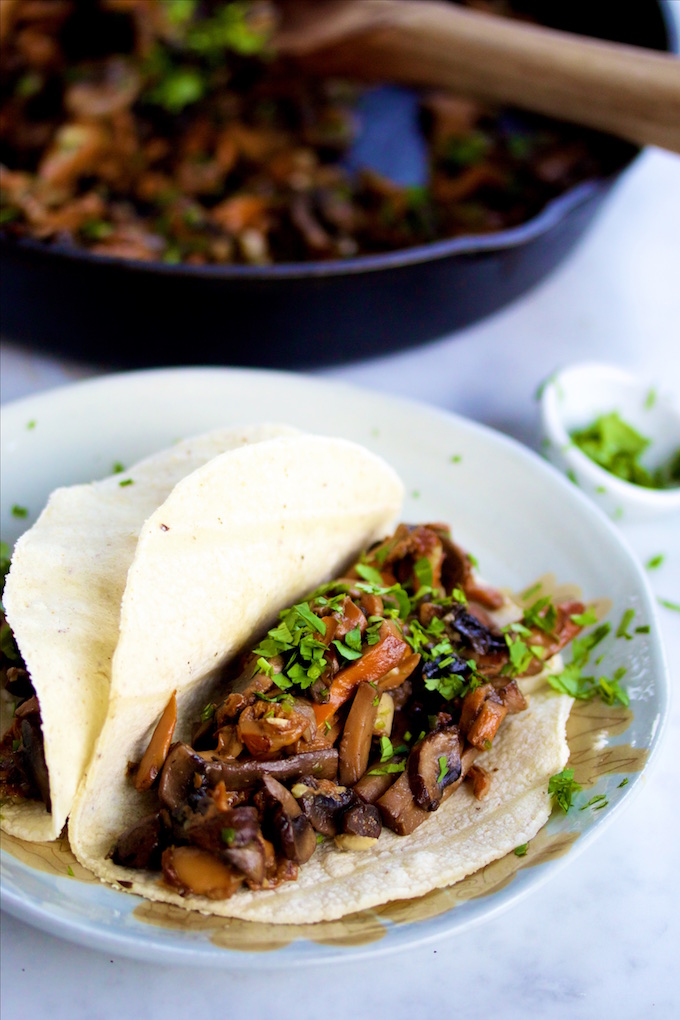 My family loves mushrooms (even the kids!), so I always make sure they're on my grocery list. They're easy to prepare and a great way to add veggies to your meals. You can enjoy them as a side dish or as a main meal, like in the mushroom tacos I'm sharing today!
Before we talk about the taco ingredients, let's talk about the different kinds of mushrooms and how to prepare them for cooking!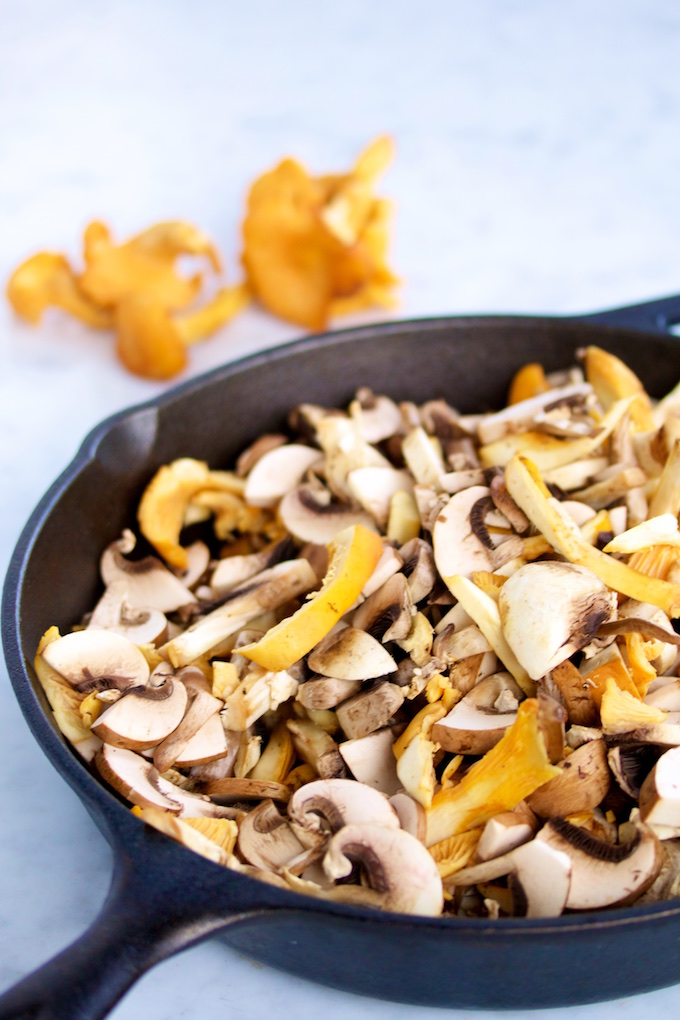 Types of mushrooms
There are so many different types of mushrooms. Here are just a few that we enjoy:
Button – This is probably the most common type of mushroom. They're white with a mild flavor and come in different sizes ranging from small (button size) to large.
Cremini (or Crimini) – They are in between a button mushroom and a portobello, and for that reason, may also be called baby bellas. They're brown with a firm, meaty texture and earthy flavor.
Portobello – This is a cremini mushroom that's fully matured. They are brown in color, with a meaty texture and large shape, making them perfect for stuffing or using as a bun for vegan burgers.
Chanterelle – These are a beautiful golden yellow. They taste earthy and nutty but milder than cremini mushrooms. They are a little more expensive but definitely worth the splurge. 
Oyster – They can vary in color from light grey or beige to dark brown and have a cap that resembles a fan or an oyster. They have a mild flavor and work well in veggie stir-fries.
Shiitake – They have a brown cap that resembles an umbrella and a meaty texture. These mushrooms are also great in stir-fries and pastas. Their stems are tough so I recommend removing them before cooking and eating.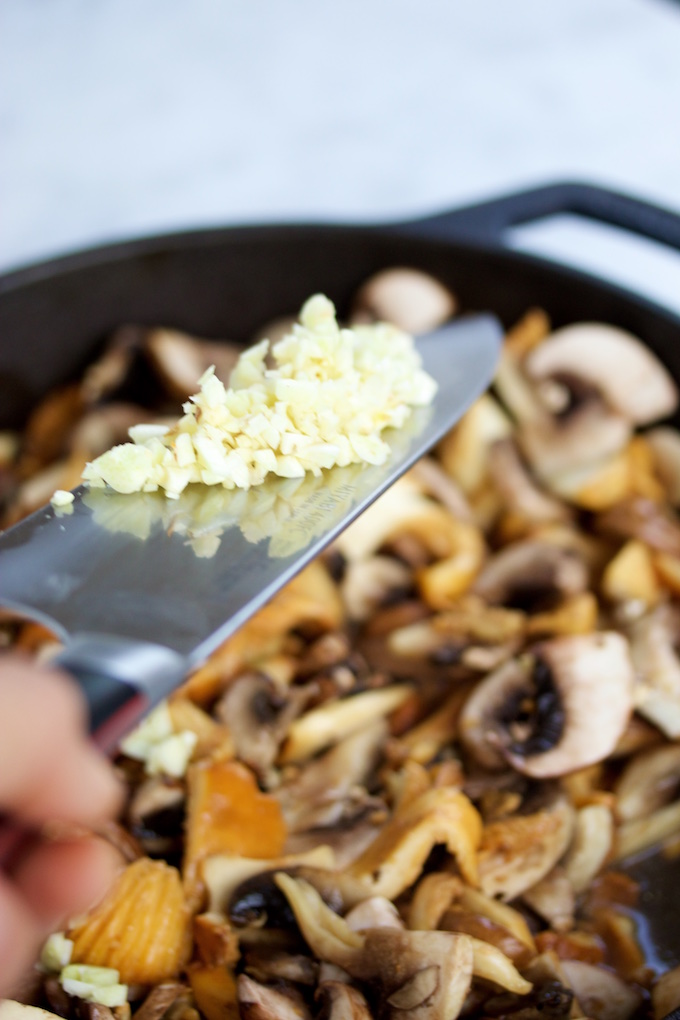 How to store fresh mushrooms
They are best stored in a paper bag on a shelf in the refrigerator. Keep them out of the crisper drawer as there may be too much moisture in there.
How to clean mushrooms
Use a dry paper towel to rub any dirt or debris off the mushrooms.
If your mushrooms have a lot of dirt on them, give them a quick rinse under some running water and pat them dry with a paper towel.
It's important not to soak mushrooms as they absorb water and this will affect how well they cook.
Ingredients for vegan mushroom tacos
Mushrooms – You'll need 4 ½ cups of sliced mushrooms. You can use any kind, but meatier mushrooms like cremini or portobello work well.
Olive oil – For flavor and to help sauté the mushrooms.
Garlic – There is no better flavor to go with mushrooms than garlic so I use 4 cloves of garlic in this recipe. You'll want it minced so it easily mixes in with the mushrooms.
Jalapeño – It's optional but a finely chopped jalapeño adds some heat to the mushrooms and works well in tacos.
Sea salt – For maximum flavor, make sure you use sea salt and not table salt.
Pepper – You'll just need a pinch of freshly ground black pepper.
Lemon juice – One tablespoon is added at the end to enhance the flavor of the mushrooms and garlic. Make sure it's freshly squeezed and not bottled lemon juice.
Cilantro – Chopped fresh cilantro is added to the mushrooms just before serving. This is optional but it adds a pop of flavor to the tacos.
Tortillas – You'll need some corn or flour tortillas to enjoy the mushroom filling as tacos.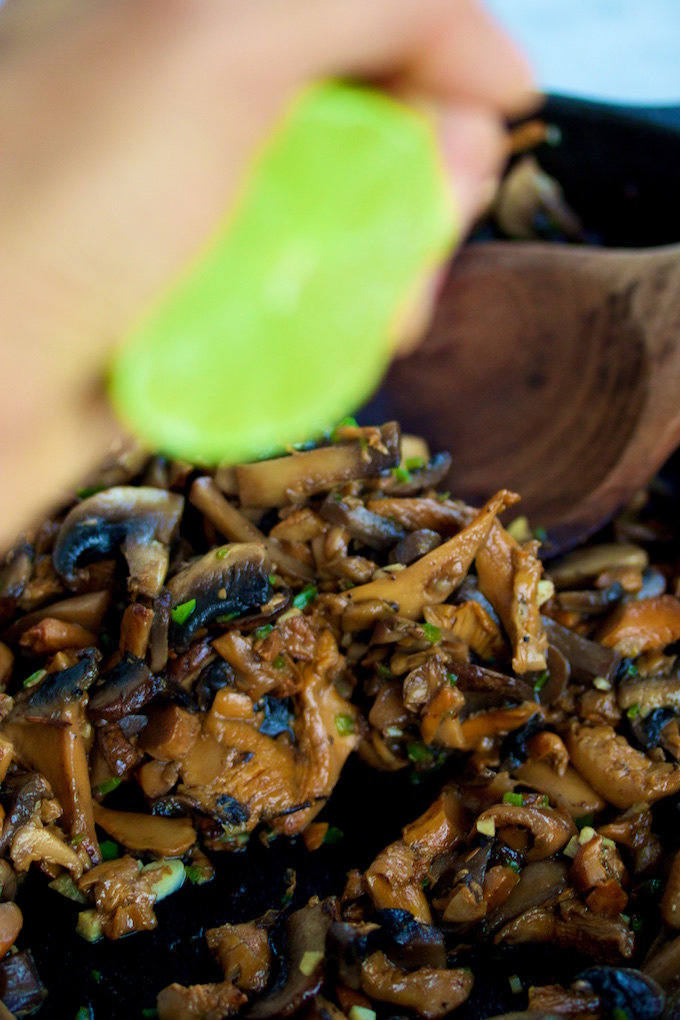 How to sauté mushrooms for mushroom tacos (or any recipe!)
Once cleaned, cut your mushrooms into slices. Make sure they're roughly the same thickness for even cooking.
Add the mushrooms and oil to a large skillet and stir around until the mushrooms are well coated with oil.
Add the minced garlic, salt and pepper and sauté over medium-high heat. The mushrooms will release some juices. Be sure to stir the mushrooms occasionally to prevent sticking but don't stir them too much as you want them to brown quickly.
Cook for 5 -7 minutes and then add the jalapeño (if using).
Keep cooking the mushrooms until the juices cook off. Remove from heat and stir in the lemon juice.
Sprinkle the chopped cilantro on top and serve in warmed tortillas.
Serving options
Tacos (obviously!) or quesadillas would be delicious too.
Serve them on a baguette or a slice of toast (mushroom toast is so tasty!)
Try them as a topping for pizza.
Serve them on top of brown rice, pasta or risotto.
Include them as a side dish to your main meal (think BBQ season!)
Add them to soups or stews.
Try adding them to sauces and dips for extra flavor.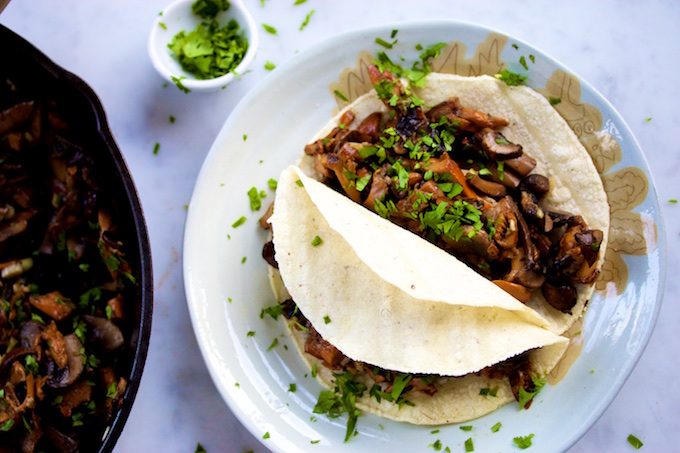 Storage and freezing tips
Storage: Since the mushrooms take very little time to prepare, I think they are best enjoyed right after they are sautéed. If you want to prepare them in advance, leave out the lemon juice and cilantro and store them in the fridge in a covered container for 3-4 days. When ready to eat, reheat them in a skillet and then add the lemon juice and cilantro.
Freezing: You can freeze sautéed mushrooms, but again, I think they are best enjoyed freshly cooked, especially in these tacos. If you want to freeze them, leave out the lemon juice and cilantro and let them completely cool in the fridge. Once cooled, arrange in a single layer on a baking sheet and pop them in the freezer. Transfer them to a freezer bag and store in the freezer for up to a month.
Additional recipe tips
For the best taste and texture, make sure you're using fresh mushrooms. Fresh mushrooms should be dry and firm without any soft spots.
You can use any type of mushroom for the tacos (or even a mix of mushrooms), but our favorite for this recipe are the meatier varieties like crimini and portobello.
Before sautéeing, make sure your mushrooms are dry and cut them into the same size slices to ensure even cooking.
If you want bigger pieces of mushrooms, try quartering them instead of slicing.
You can use a cast iron pan or a non-stick skillet to sauté the mushrooms. Just make sure it is a large pan so the mushrooms can be spaced out in a single layer.
To ensure your mushrooms brown evenly, don't overcrowd the pan.
Cook them over medium-high heat to help them brown and caramelize quickly.
Other mushroom recipes to try
These mushroom taquitos are the simplest thing; I think more than a recipe is an idea or method I like to prepare mushrooms. You could add the mushrooms on a slice of baguette, or top brown rice, or eat them with pasta.  For me, as a Mexican and Mexican food lover, tacos are my way to go. Here is the best way to prepare mushrooms, and I hope you like them. I loved how these mushrooms turn up, and I almost ate all of them. I had to use all my strength and willpower not to eat all the pan. LOL. If you like the recipe and blog, please share it on Instagram, FB or save it later on Pinterest.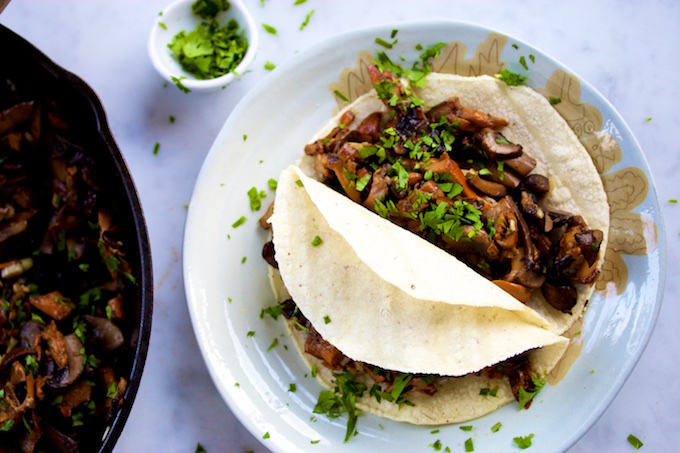 Mushroom tacos
Learn how to prepare mushrooms for easy recipes your family will love! I'm sharing my tips and tricks for cooking mushrooms and all the ways to enjoy them including a mushroom tacos recipe!
Ingredients
4 1/2

cups

sliced mushrooms

2

tablespoons

olive oil

4

cloves

garlic

minced

1

jalapeno chopped minced

*Optional

1/2

teaspoon

sea salt

freshly ground black pepper

1

tablespoon

lemon juice

1/2

cup

chopped fresh cilantro
Instructions
Clean the mushrooms with a dry paper towel, scrape out the dirt only. Slice them more or less all the same thickness.

Put a large pan to heat. Add the 2 tablespoons of olive oil, mushrooms and mix well.

Add the garlic, salt and pepper. The mushrooms will release some juice, stirring occasionally to prevent sticking. Let them 5 -7 minutes add the jalapeño, if using

Let them until the juice from the pan dries, remove from heat and add lemon juice.

Mix, sprinkle the chopped cilantro on top and serve.
Nutrition
Serving:
2
piezas
Calories:
61
kcal
Carbohydrates:
3
g
Protein:
2
g
Fat:
5
g
Saturated Fat:
1
g
Sodium:
198
mg
Potassium:
247
mg
Fiber:
1
g
Sugar:
2
g
Vitamin A:
90
IU
Vitamin C:
3
mg
Calcium:
7
mg
Iron:
1
mg
information
Nutritional information of this recipe is only an estimate, the accuracy for any recipe on this site is not guaranteed.