This recipe for vegan chilaquiles with red sauce, salsa roja is one of my favorite Mexican breakfasts. This is my easy and super-fast version of this authentic Mexican dish. This recipe comes together in under 20 minutes.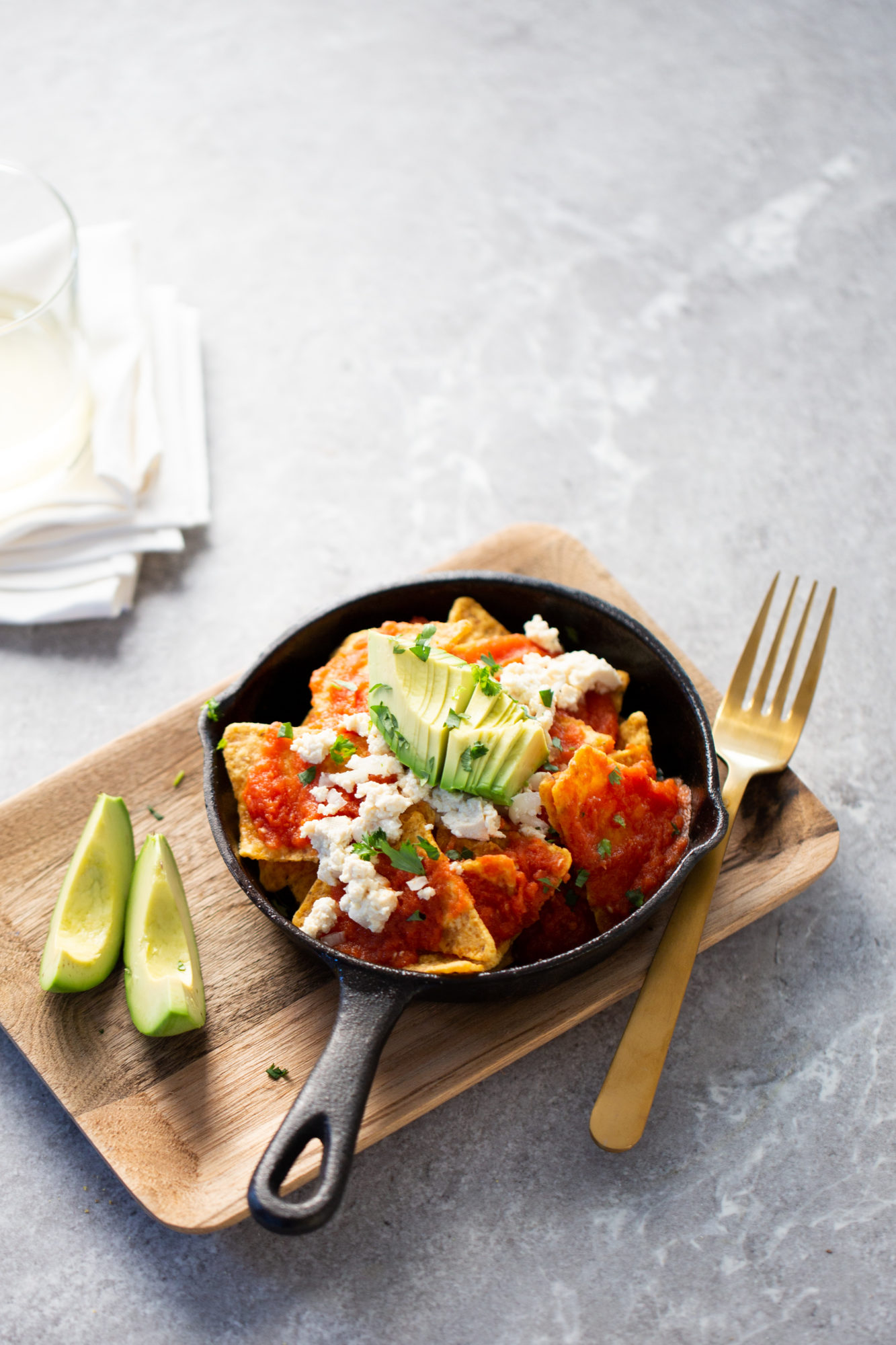 What are chilaquiles?
Chilaquiles (pronounced "chee-lah-KEE-lays") are deep-fried tortilla chips in Mexican salsa. Usually, this authentic Mexican dish is a weekend breakfast and often comes with a side of refried beans. In some states, they serve it with a fried egg on top.
Are chilaquiles and migas the same thing?
No. But be sure not to get confused between migas and chilaquiles. Migas are fried tortilla pieces mixed in with scrambled eggs. There is no sauce involved in the cooking of the Migas. On the other hand, salsa is essential in chilaquiles.
About this vegan chilaquiles recipe
This is my vegan and light version of this traditional Mexican dish, which I love. I have to confess that I made this chilaquiles recipe with store-bought tortilla chips. As I mentioned before, the traditional and authentic Mexican Chilaquiles are to deep-fry small pieces of corn tortillas.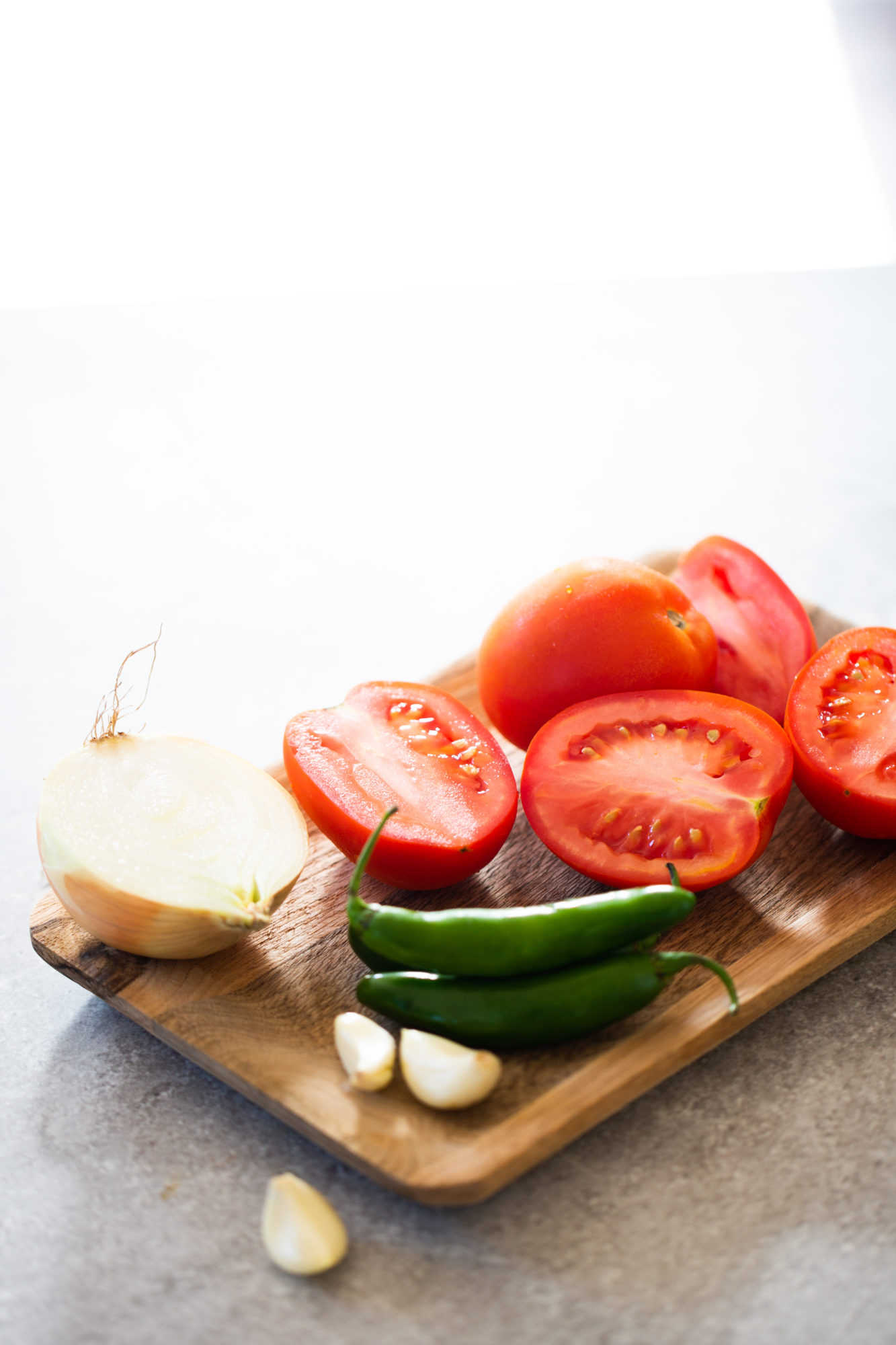 Is this an authentic Mexican recipe?
It is an authentic chilaquiles recipe, but with a slight twist. I like to think I'm adapting a traditional recipe to modern times. Here is my secret: I use storebought corn chips, but the rest of the ingredients for this recipe are fresh and super healthy. The sauce is made with tomatoes, onion, and garlic. It is served with sliced avocado, tofu instead of queso fresco, and diced red onions.
Ingredients
Tortilla chips. I'm not a fan of deep-fried foods, and deep-frying is always messy. So this idea of making vegan breakfast chilaquiles with store-bought tortilla chips cuts the work and time of making them in more than half.
Salsa. Roast the ingredients and then blend. Adjust the seasoning and pour over the tortilla chips. You can use premade or storebought salsa and in a pinch, you can use enchilada sauce.
💡How to make tortilla chips at home?

Oven-baked. Cut the tortilla into triangles and place on a baking sheet, do not overlap. Lightly spray with vegetable oil and bake for 10 minutes at 350ºF. Flip half way and leave until until golden and crispy.


AirFryer method. Cut corn tortillas into triangles, lightly spray with vegetable oil, put in the airfryer basket for 6 minutes. Turn and leave for 4 more nimute. Trepeat the process until crispy and delicious.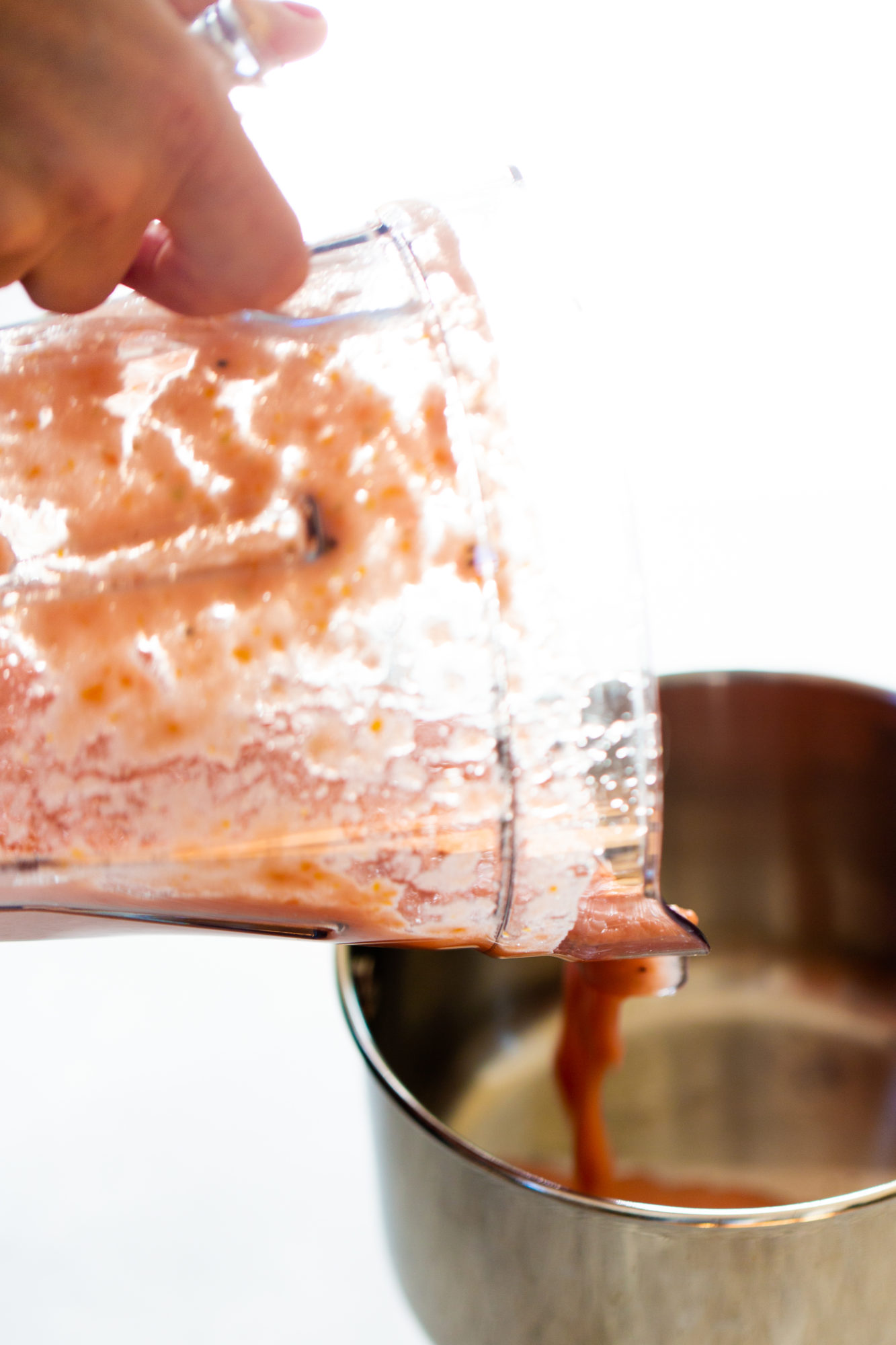 Tips & tricks
The only trick here is to buy the best tortilla chips that you can find I usually buy the baked and organic ones.
You want thick corn tortilla chips with a lot of flavors. I use baked tortilla chips, and they work perfectly with the salsa roja, red sauce. But maybe you will have a bit of a trial and error situation until you find the perfect brand.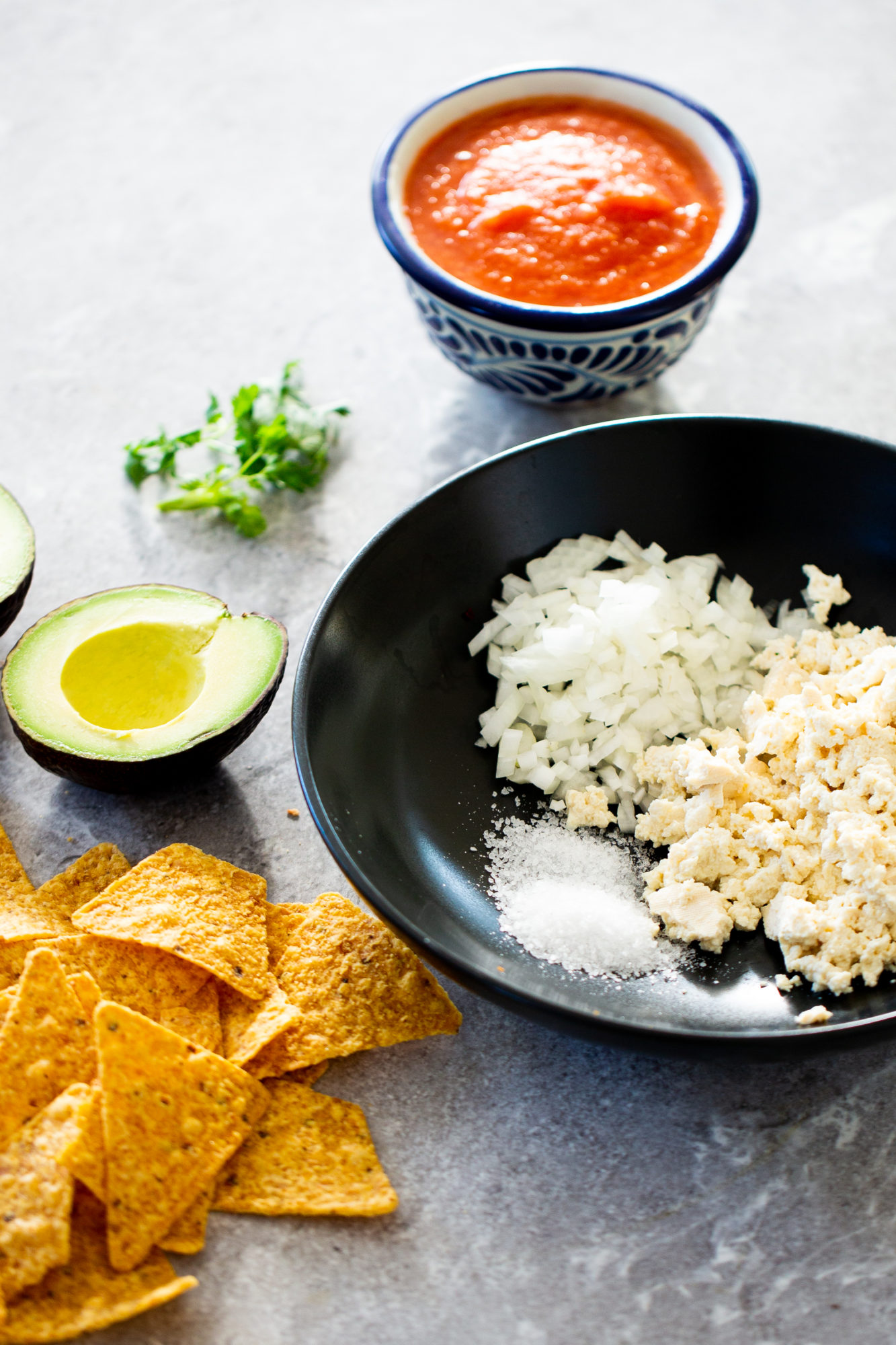 How to make the perfect easy chilaquiles
First, you have to make the red salsa. Blend the ingredients and cook them in a saucer for 10-15 minutes.
Second, meanwhile, the Mexican salsa is cooking; prepare your tofu. Squeeze the liquid, crumble, add the diced onion, and season.
Third, place the baked tortilla chips on a plate ( I like to use pasta bowls).
LASTLY, serve the sauce over the chips. Top with the queso fresco prepared tofu and finish with sliced avocado and chopped cilantro. Here are other ideas to finish the vegan chilaquiles: Mexican crema, red pickled onions, guacamole, vegan sour cashew cream
Other recipes that you may like: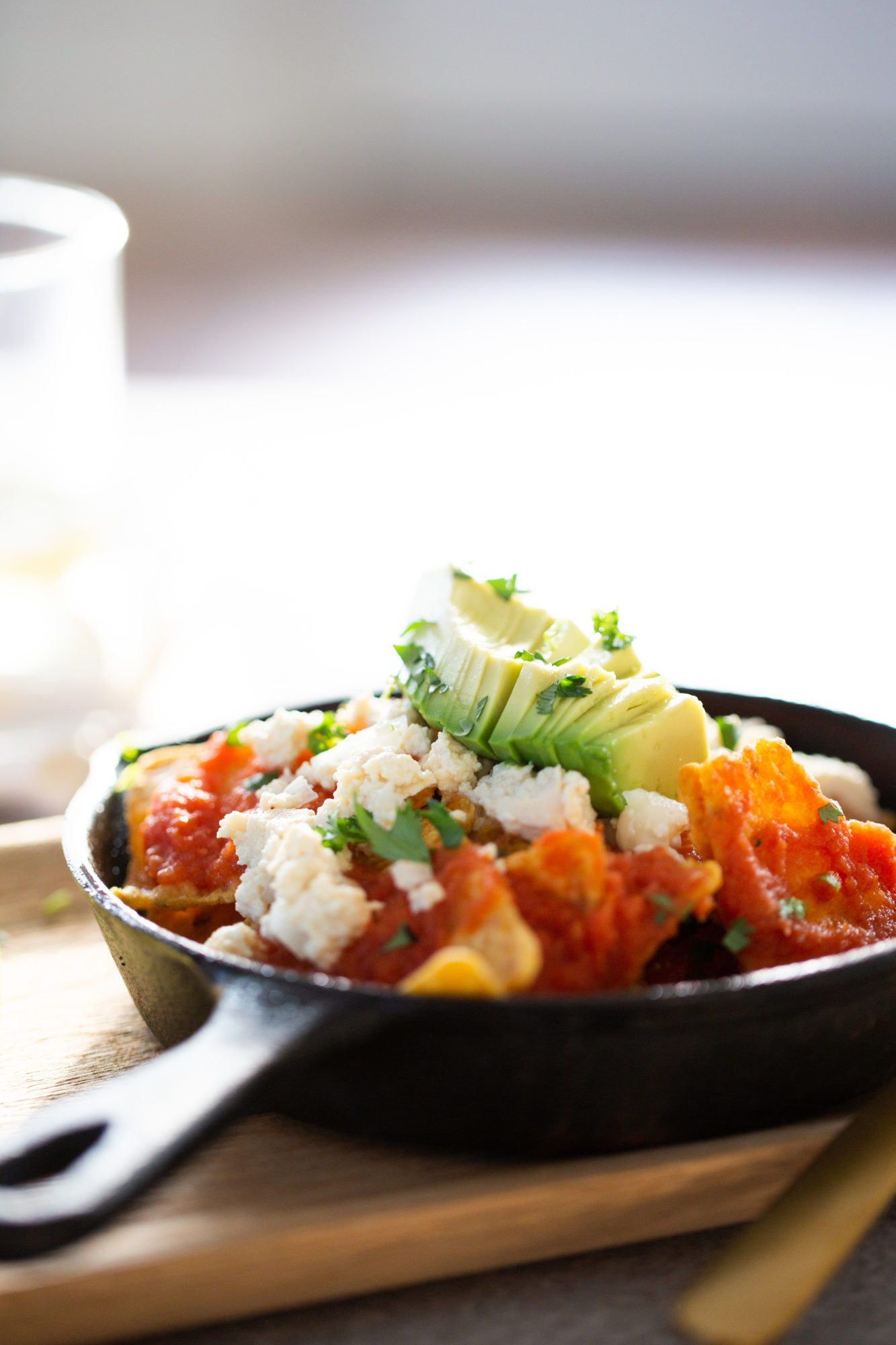 So here is the recipe for this Authentic Mexican breakfast vegan chilaquiles with red sauce and I hope you really, really like them. If you do, please share the recipe and the blog on Instagram, Fb, or save this recipe for later on Pinterest. Please let me know your thoughts in the comment section, and it would be GREAT if you can give this recipe 5 stars.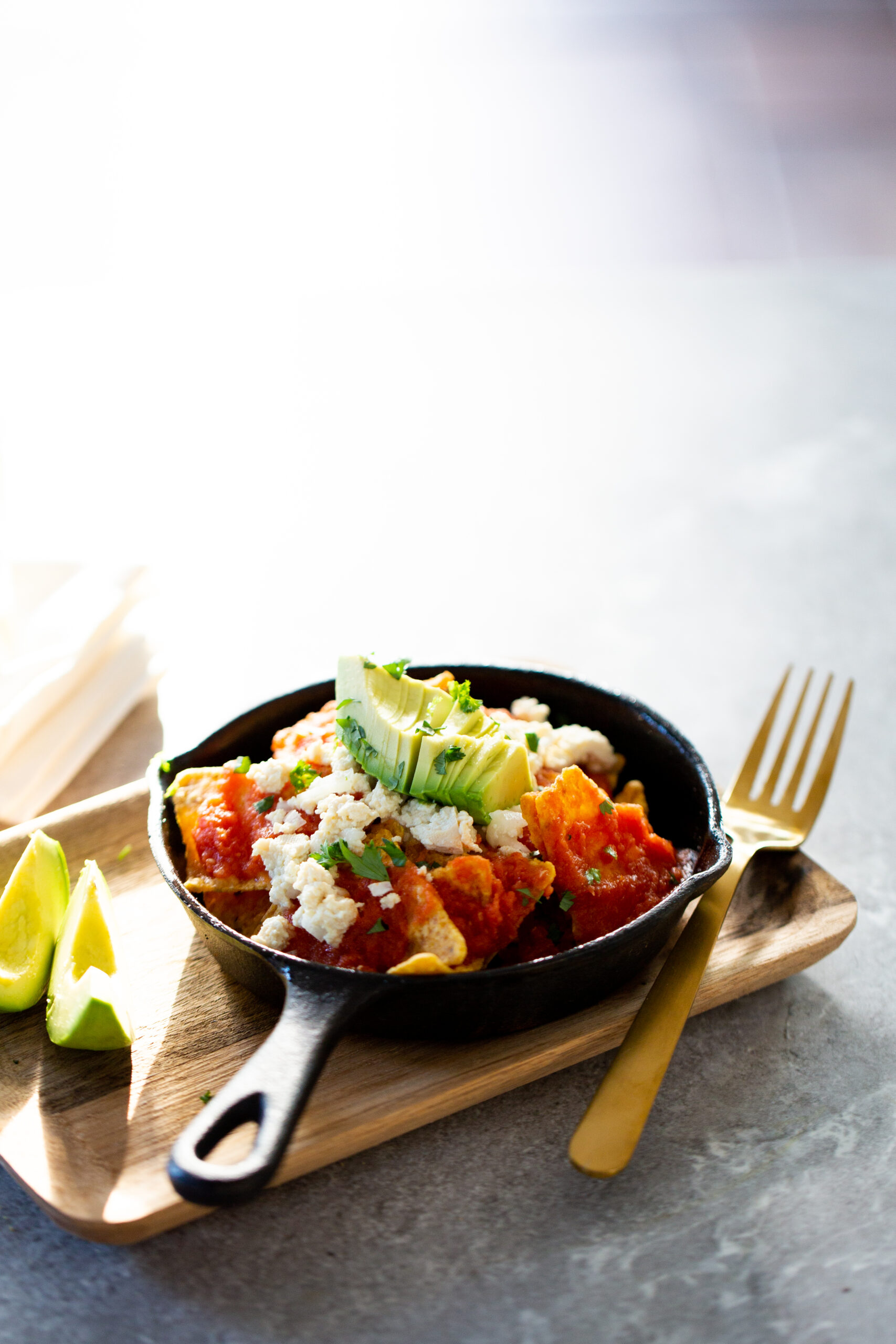 Vegan chilaquiles
This recipe for vegan chilaquiles with red sauce is one of my favorite Mexican breakfasts ever. This is my easy and super-fast version of this dish.
Ingredients
Sauce
4

tomatoes

1

serrano pepper

½

small onion

2

garlic cloves

Salt

1

tablespoon

of vegetable oil
Tofu
1

block of extra-firm tofu

drained and crumbled

¼

of chopped onion small

½

teaspoon

of sea salt
Chilaquiles
1

bag of baked corn tortilla chips

Avocado sliced

Chopped cilantro
Instructions
Blend tomatoes, serrano pepper, onion, and garlic cloves. If the blender does not run add water, one or two tablespoons.

In a small pot, add oil and pour the sauce, add the salt and leave until it starts to simmer, lower the heat and leave for 5 more minutes.

On a plate crumble the drained tofu. Remove any excess liquid. Mix with the chopped onion and salt.

In an extended dish or bowl put two or three handfuls of tortilla chips, lather some sauce and finish with the crumbled tofu and avocado slices.
Nutrition
Calories:
121
kcal
Carbohydrates:
10
g
Protein:
9
g
Fat:
6
g
Saturated Fat:
3
g
Sodium:
364
mg
Potassium:
474
mg
Fiber:
2
g
Sugar:
5
g
Vitamin A:
1039
IU
Vitamin C:
20
mg
Calcium:
49
mg
Iron:
2
mg
information
Nutritional information of this recipe is only an estimate, the accuracy for any recipe on this site is not guaranteed.
Nutritional information of this recipe is only an estimate, the accuracy for any recipe on this site is not guaranteed.