What are enmoladas? Enmoladas are a type of enchilada. It is a typical Mexican dish where a corn tortilla filled with beans, chicken, cheese, meat, or plantain is bathed with a type of mole sauce. They are finished with sesame seeds, sliced onion, Mexican crema, and queso fresco. This recipe for plantain enmoladas is a vegan recipe for vegan mole enchiladas.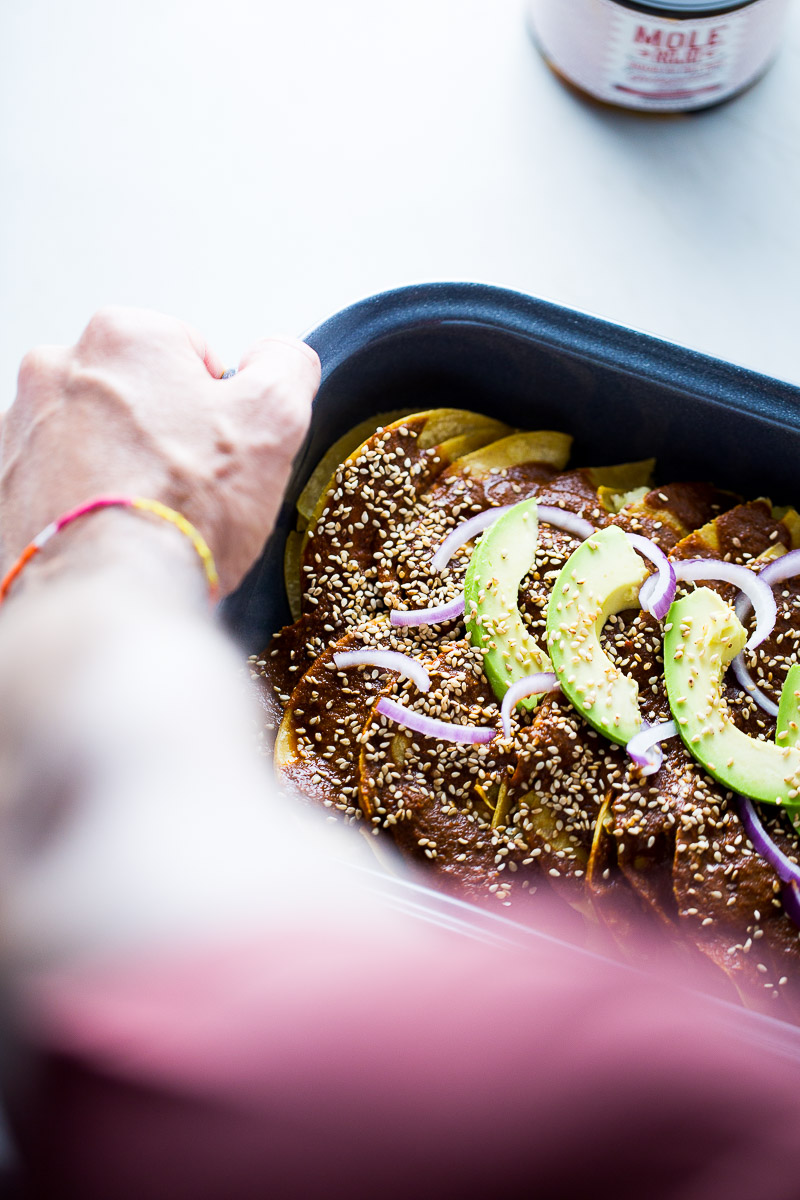 WHAT ARE VEGAN ENMOLADAS MADE OF?
Vegan enmoladas or vegan mole enchiladas are made with hot or lightly fried corn tortillas and stuffed with mashed plantain. They can be made like quesadillas or rolled up like a taco. When the tortillas are filled and ready, they are bathed with mole and finished with avocado, onion, and toasted sesame seeds.
WHAT IS MOLE?
Mole is a dish from pre-Hispanic times that has become an icon of Mexican food. Mole is a sauce made with different fresh or dried chilies, seeds, vegetables, spices, and in some cases chocolate. There are many types of mole and they vary from Mexican State to towns state to regions. There is red mole, black mole, poblano mole, coloradito, mancha manteles (tablecloth stains), etc. The mole can be made at home or store-bought. If you want to buy a good mole, try the ones from The Guelaguetza (I Love Mole).
FREQUENTLY ASKED QUESTIONS ABOUT vegan mole enchiladas
Is a mole enchilada the same as an enmolada?
Yes, it depends on the state of Mexico, in which you can tell them one way or another. But yes, they are the same.
Are these vegetarian enmoladas?
This recipe for enmoladas is vegan because it does not contain cheese or sour cream. The vegetarian enmoladas are finished with Mexican Crema and queso fresco. If you want, you can finish them with this homemade vegan Mexican Crema.
What kind of mole can I use?
You can use the type of mole you want or the one you have at home. You can use black mole, red mole, coloradito, poblano mole, etc.
Can I use beans for the vegan enchilada filling?
Absoulutely! You can use refried beans, or any other vegetable.
INGREDIENTS TO MAKE ENMOLADAS or vegan mole enchiladas
Tomato, this recipe calls for roasted tomato and then blended.
For the mole, you can use the mole you want, red mole, black mole, poblano mole. I really like a good and spicy red mole.
Corn tortillas. Look for tortillas that are 100% corn and that are delicious. You can heat the tortillas on a comal or in a frying pan with little oil. They must be warm so that they are soft when folding or rolling.
Plantain, look for plantains that are ripe but still firm. The easiest way to peel a plantain is to cut the ends first and then cut the entire length.
✨Plátano macho or plantains in Latin cuisine✨

It is very common in Latin cuisine to use plantain in savory dishes. Have you tried the banana chips? They are the best right?

Do you like Colombian tostones? They are delicious with salsa or on its own, or cuban tostones with beans and rice. There are many more examples where the banana is used in salty and spicy foods in Latin cuisine.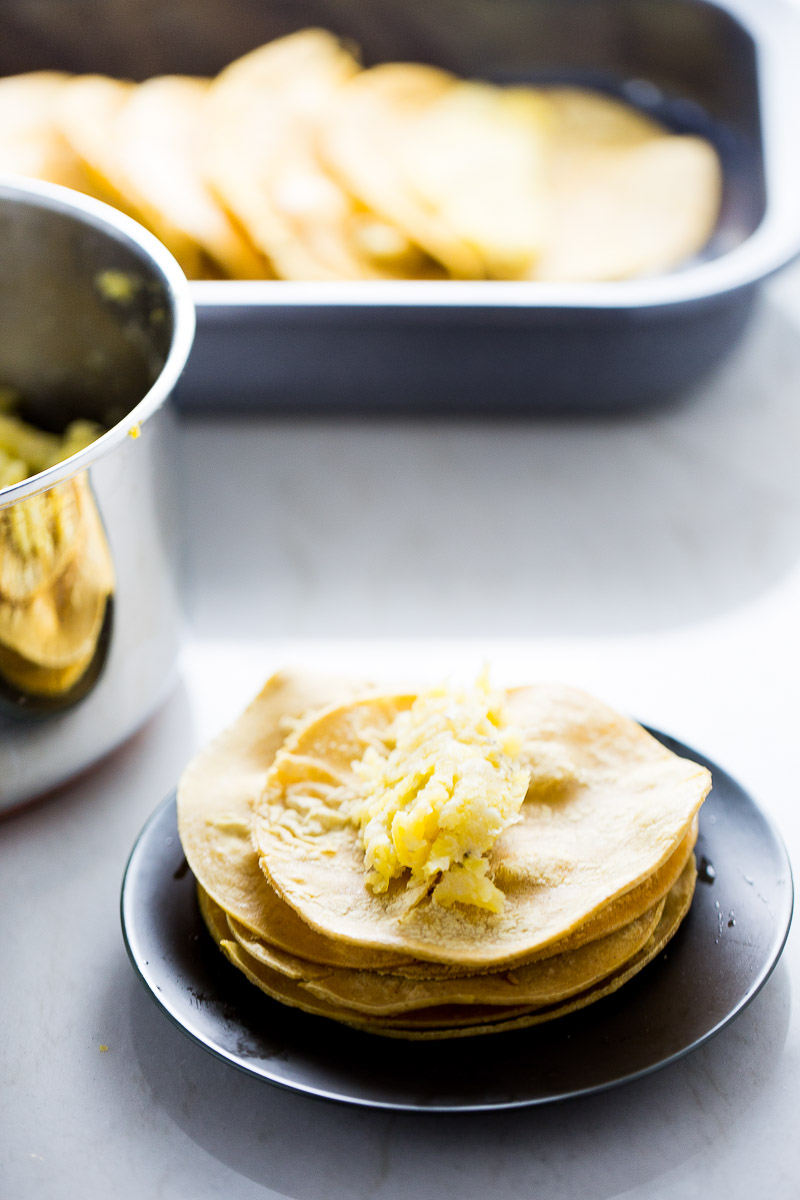 HOW TO MAKE ENCHILADAS DE MOLE?
First, you have to prepare the mole. The tomatoes are roasted and blended with a little liquid (it can be vegetable broth or water) and the mole paste. You put the sauce in a small saucepan or pan and leave it there until it comes to a boil. Then lower the heat and move from time to time so that it does not stick.
Prepare the plantain. To prepare the vegan filling of the mole enchiladas, you have to cook the banana with water and salt. When it is ready, peel it, mash it and make it a puree.
Heat the tortillas. You can heat the tortillas in the microwave, griddle, or frying pan with oil. For me, this is the best way, put a little vegetable oil in a pan and put the corn tortilla for a minute on each side or until it is hot and manageable.
Filling. The tortillas are filled with one or two tablespoons of plantain puree and rolled or folded in half. When you have them ready you can either put them on a large platter or serve them on individual plates.
Finishing up the enchiladas. After you have your enchiladas done you bathed them with mole sauce, sprinkle with toasted sesame seeds and a sliced avocado, and red onion slices.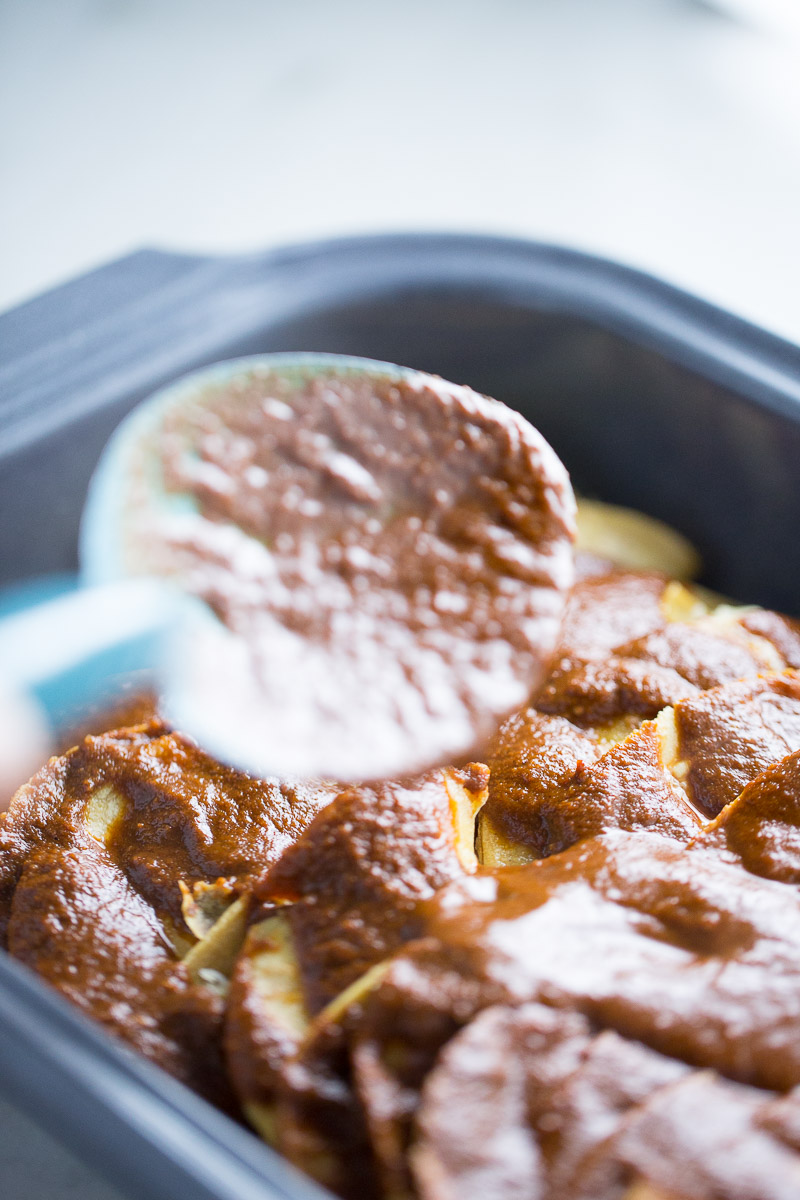 HOW AND WHEN TO SERVE THE ENMOLADAS?
These enmoladas can be served for lunch, breakfast, or dinner. When I serve them for breakfast, I serve them on their own. Maybe to start on a healthier note I will serve fresh fruit or green juice. If I serve them as a dinner, I serve them with brown rice and refried beans. And if I serve them for lunch, I serve them with a light salad with cilantro dressing.
Other recipes that you may like:
So here is the recipe for these vegan mole enchiladas, which are so good. Make them, and please share a photo on Instagram or FB. Give it 5 stars and leave me your questions, comments, and ideas in the section below.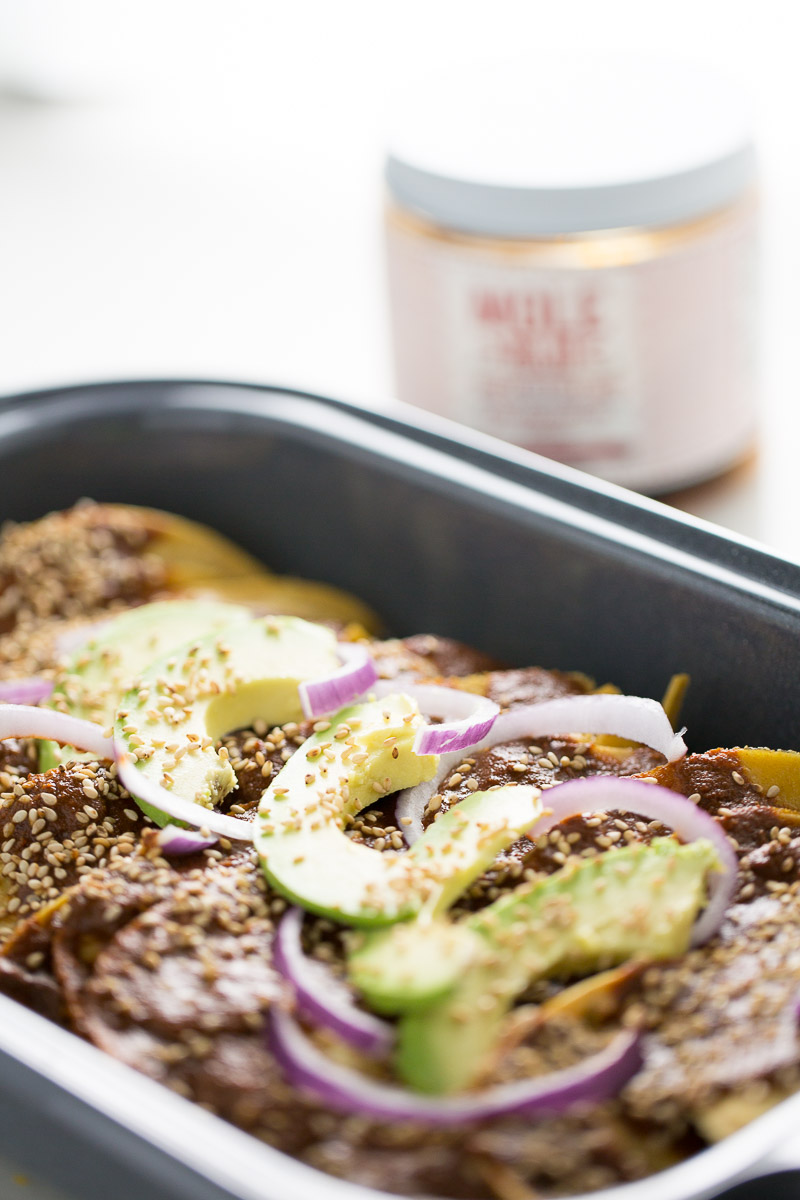 Vegan mole enchiladas
Corn tortillas filled with plantains and covered in mole sauce, topped with avocado, red onion slices, and toasted sesame seeds.
Ingredients
Mole sauce
3

small/medium roasted tomatoes

4

tablespoons

red mole paste

I use the one of La Guelaguetza

1/2

teaspoon

salt
Enmoladas
2

ripe plantains

12

corn tortillas

or 24 small corn tortillas

Neutral flavor oil

the necessary

1

sliced ​​avocado

Sliced red ​​onion

Toasted sesame seeds
Instructions
Roast the tomatoes on a frying pan or in the oven on a baking sheet or toaster oven. Turn frequently, so all the tomatoes are completely roasted. When ready, put them in the blender with the spoonfuls of mole and the salt. Blend until everything is perfectly integrated with a cup of liquid (water or vegetable broth).

Pour the sauce into a frying pan and simmer for 5-7 minutes. Stir occasionally so that it does not stick. When done, turn the heat off and leave aside until needed.

In a small pot with a lid, place the bananas cut in half, cover with water, cover the pot and simmer until very soft, about 12-15 minutes. When the plantains are soft, drain, peel, add a pinch of salt and puree with a fork.

Heat the tortillas by passing them through a frying pan with a little oil neutral flavor. Be careful not to get them brown; the idea is to get them warm, soft and pliable.

Place one or two tablespoons of banana puree in each tortilla and fold in half, or roll forming an enchilada and put on a platter. Repeat the same steps with all tortillas.

Bathe with the mole sauce, finish with avocado slices, red onion, and toasted sesame seeds. Serve immediately.

Finish with avocado slices, red onion, and toasted sesame seeds.
Notes
If you do not want to use oil to heat the tortillas, you can use hot water or soak the tortilla before heating it; this will soften them. You can also use black mole paste or the coloradito one to make these enmoladas. Serve with white rice and refried beans.
Nutrition
Serving:
1
serving
Calories:
264
kcal
Carbohydrates:
50
g
Protein:
5
g
Fat:
7
g
Saturated Fat:
1
g
Sodium:
782
mg
Potassium:
703
mg
Fiber:
8
g
Sugar:
13
g
Vitamin A:
1235
IU
Vitamin C:
23
mg
Calcium:
54
mg
Iron:
1
mg
information
Nutritional information of this recipe is only an estimate, the accuracy for any recipe on this site is not guaranteed.
This post was made in partnership with La Guleaguetza, all photos, opinions, and recipe, are mine.