This vegan posole or pozole Rojo recipe is authentic, easy, healthy, and the only one you will ever need to make an authentic Mexican pozole. Just imagine a spoonful of homemade chili broth filled with hominy corn and delicious crunchy toppings.
What is Pozole?
I could eat Mexican food every day, not just because I am Mexican because it is delicious. I love that Mexican food is flavorful, full of different textures, colors, chilis, ingredients, and that we have dishes for every occasion and every party.
Pozole is a party dish or a party in a dish, as I love to call it. We Mexicans typically serve pozole at special celebrations or during the holiday season on Christmas or New Year's eve. It is also a very common dish at the end of a wedding before the guests return home.
This vegan posole is a party of flavor and textures and all in a bowl. Pozole is made with hominy, processed corn, cooked in a flavorful broth, and some type of meat, traditionally pork or chicken. Here is how to pronounce pozole, poh-sOH-lay.
The base for the broth is made with a three-chili puree that turns into a flavorful broth that infuses the hominy and the meat you add—making each spoonful lightly spicy and heartwarming at the same time.
You usually serve this in a big bowl or a cazuela and top it with shredded lettuce, sliced radishes, fresh chopped white onion, dried oregano, a good squeeze of lime juice, and tostadas on the side.
Ingredients for the Vegan Pozole rojo
Chiles.The chile puree for the broth is made with chile ancho (affiliate link), chile guajillo, and chile pasilla. Each of them has different flavor notes. I couldn't pick one all of them are delicious.
Onion. When cooking Mexican, specially this vegan pozole recipe I like to use white onion. But I am totally aware that red onions or yellow onions work perfectly well in the recipe.
Liquid. In this recipe I use water or vegetable broth. The traditional recipe is made with chicken or any other meat broth. It is not necessary, trust me, all of the flavor of this soup is in the chiles and the hominy. Water works just fine as your liquid. Or you could do a combination of vegetable broth and serveral cups of water.
Vegetable oil. Use aneutral tasting oil, like avocado oil, sawflower or canola. I wouldn't use olive oil here as I feel it may alter the flavor.
Sea salt
Hominy corn. i use canned hominey and it is very easy to find. Normally you will find it in Latino food aisle in the supermarkets.
Oyster mushrooms. I love to use shredded oyster mushrooms for this recipe because of the texture they have. When they are shredded and cooked they have the same chewy texture as shredded pork.
- What is chile ancho. It is a dried chile poblano (poblano peppers) and its flavor is deep and rich with a bit of fruitiness to it. 


- What is chile guajillo is a very mild chile; this guy is not spicy at all but is very flavorful.


- What is chile pasilla is excellent for finishing soups or making sauces. They are mildly spicy, earthy, and with a touch of sweetness to them. 


Why is this pozole recipe vegan?
The original posole is made with pork or chicken, but I make my posole vegan since I am 100 % plant-based. I use oyster mushrooms to prepare it, and it comes out as delicious (even more) than the original one. This posle is hearty, and you get a sense of nourishment in your body, mind, and soul.
Using oyster mushrooms and water instead of some animal-based broth are the perfect swaps from the original recipe; the richness of the Soup and overall yumminess is preserved.
Check the video for steps involved in making pozole
How to make vegan pozole rojo
The chile puree is super easy to prepare; you have to soak the stemmed chiles in hot water in a pot until soft ans pliable. Blend them with the soaking liquid, the onion and voilá. Your delicious three-chile- Mexican-pure is done.
Then you add the oil to a large soup pot or Dutch oven, set the stove at medium heat and add the bleneded chiles and let them cook for two to three minutes.
Add your liquid. You can use water or vegetable broth. Rinse you blender with it and then add it to the pot.
Then put the hominy and the shredded oyster mushrooms, cover with the lid and let it simmer for 10 to 15 minutes. Stir from time to time just to double check it is not scortching.
Serve with a big handful of shredded lettuce ( some families serve it with shredded cabbage), finly diced white onion, Mexican dried oregano, thinly sliced radishes and a good squeeze of lime juice, not lemon juice.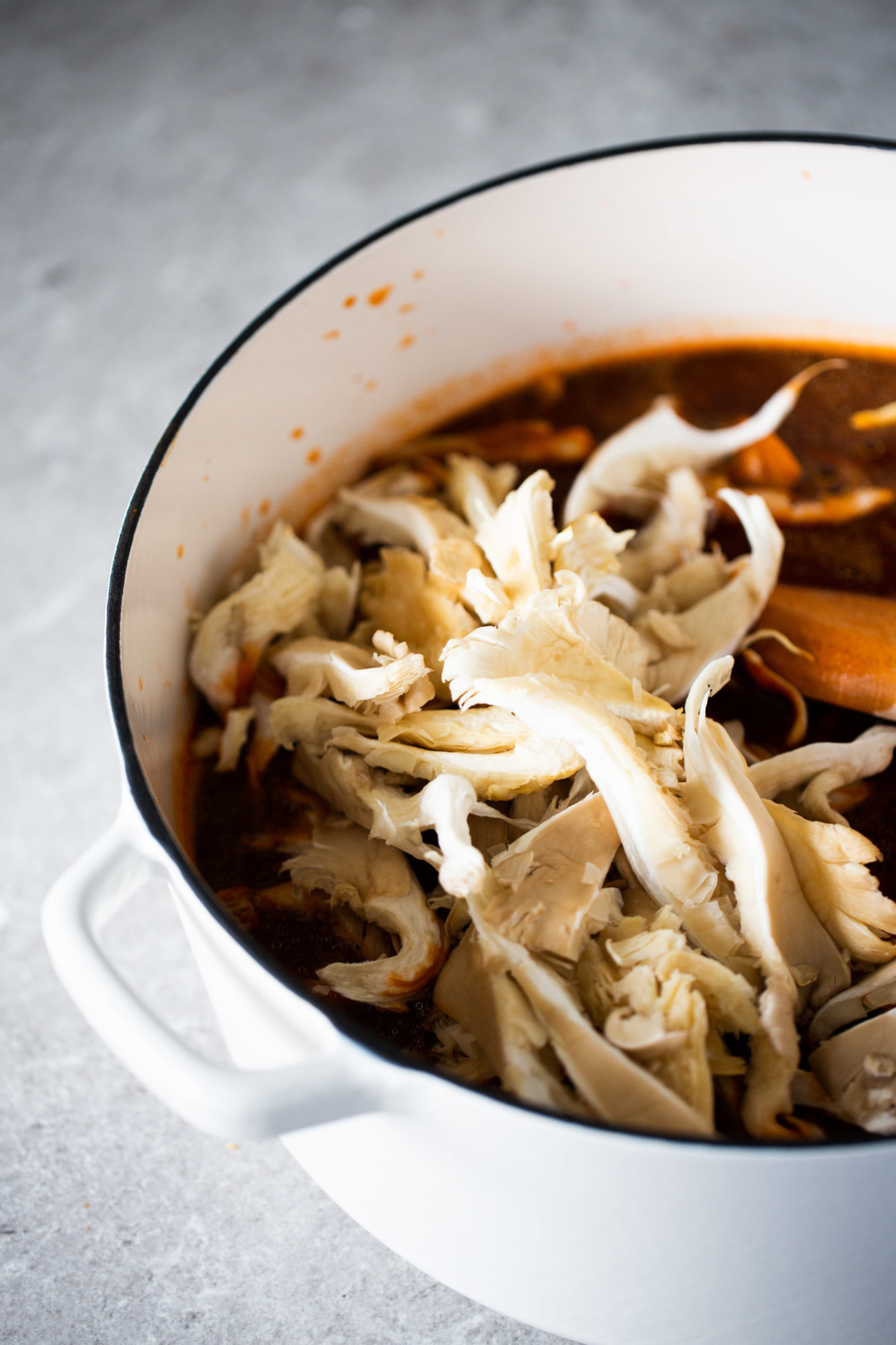 Some tips to make this recipe easier
Hominy. I use canned hominy to make this dish. It is easier to find, It is a huge advantage that it is already cooked and it really is flavorful.
Chiles. When choosing your chiles, choose chiles that have a similar size, this will give a balanced flavor to the soup. If you are having a hard time finding one of the chili peppers use 1 tablespoon of chile powder instead.
On straining. I have to confess that I never strain things. I have a Vitamix (affiliate link) blender and that gets all the work done. If you don't have a high speed blender, strain the puree. This way your soups will be smooth and tasty.
Where to buy chiles? On Amazon you can find Mexican dried chiles:

Ole Mission is a good choice and I know that The Spice House has a good selection of dried chiles. But check your local supermarket, I'm pretty sure you'll find some there.
Can it be made ahead of time?

Yes, leftovers taste amazing sometimes it tastes better the next day. And if you want to meal prep you can make the chile puree ahead of time and store it in the fridge

or in the freezer. It will last in the fridge from 3 to 5 days and in the freezer upto 3 months.
Substitute. If you can't find oyster mushrooms you can substitute the with jackfruit, chickpeas or pinto beans. But be aware that the pinto beans may change a bit the authentic flavor of the pozole. I have seen other recipes which they add carrots and potatoes instead of meat to make it vegan or vegetarian. This would be a no for me, it will completely change the authentic pozole flavor.
Other Mexican Vegan recipes that you may like
So here is the recipe for my vegan posole (pozole) Rojo, and I hope you like it as much as we do. And please, when you make it share the recipe and blog on Instagram, Facebook or save it for a special occasion or party on Pinterest.
It would be fantastic if you could rate this recipe with five stars and leave your comments, questions, and ideas in the section below.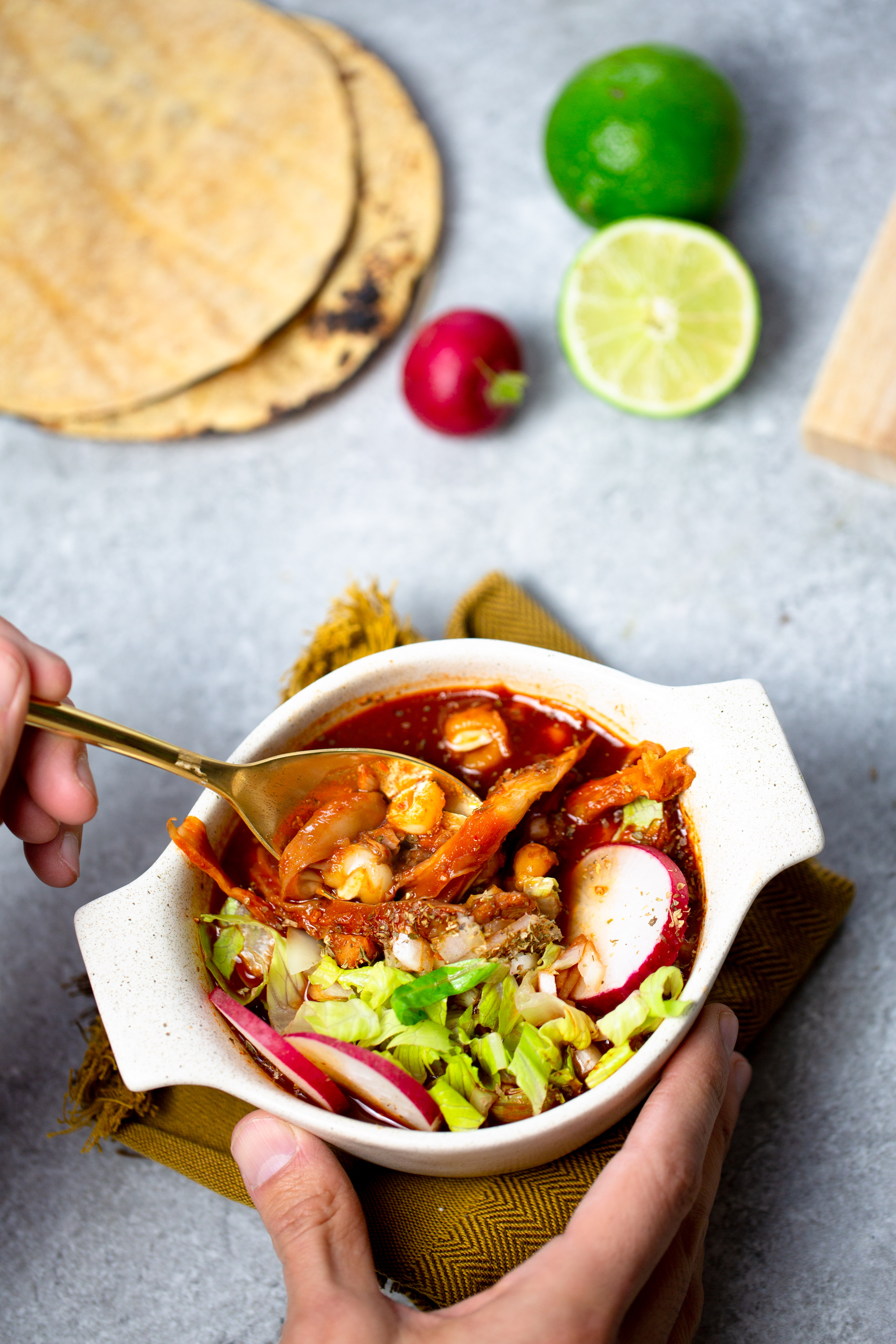 Vegan Pozole
This pozole rojo recipe is an authentic Mexican recipe; it is an easy, delicious, and nutritious dish. This vegan pozole recipe is the perfect recipe for any cold and rainy day, to serve on the holiday season, or at a party or at the end of the party.
Equipment
blender

Dutch oven or large soup pot
Ingredients
2

ancho chiles

2

guajillo chiles

2

pasilla chiles

½

medium onion

2

tablespoons

vegetable oil

1

teaspoon

sea salt

2

lb

hominy corn, cooked

2 1-lb cans

10.5

oz

of oyster mushrooms
To serve
Sliced ​​lettuce

Sliced ​​radishes

Dried oregano

Chopped onion

Lime juice

Corn toastadas
Instructions
Clean the peppers with a dried kitchen cloth and remove the stem.

Soak them in hot water for 10-15 min. Just add enough water to cover the peppers. Soak them until soft and pliable.

Meanwhile, shred the oyster mushrooms.

Add the peppers and the soaking-chile liquid in the blender with the onion and blend well. Strain if needed.

In a large soup pot, add the oil over medium heat and pour the chili paste. Leave for about three minutes or until it begins to change color, and the peppers release their aroma.

Add to the blender container about 4 cups of water and get all the chili puree stuck in there. Pour this water into the soup pot.

Add the salt, hominy corn, and oyster mushrooms. Cover and leave simmering for 15 minutes or until it starts to release a boil.

Taste and adjust the seasoning if necessary, add more water if the chili flavor is too strong.

Serve in large bowls and top with sliced ​​lettuce, chopped onion, radishes, oregano, and lime juice. Eat with corn tostadas.
Nutrition
Calories:
81
kcal
Carbohydrates:
10
g
Protein:
3
g
Fat:
4
g
Saturated Fat:
3
g
Sodium:
309
mg
Potassium:
380
mg
Fiber:
4
g
Sugar:
5
g
Vitamin A:
3193
IU
Vitamin C:
3
mg
Calcium:
6
mg
Iron:
1
mg
information
Nutritional information of this recipe is only an estimate, the accuracy for any recipe on this site is not guaranteed.