These vegan pumpkin scones are perfect for a rainy afternoon with a good cup of tea or coffee. When baking them the house smells amazing, it smells like fall spices. I know you are craving some, aren't you?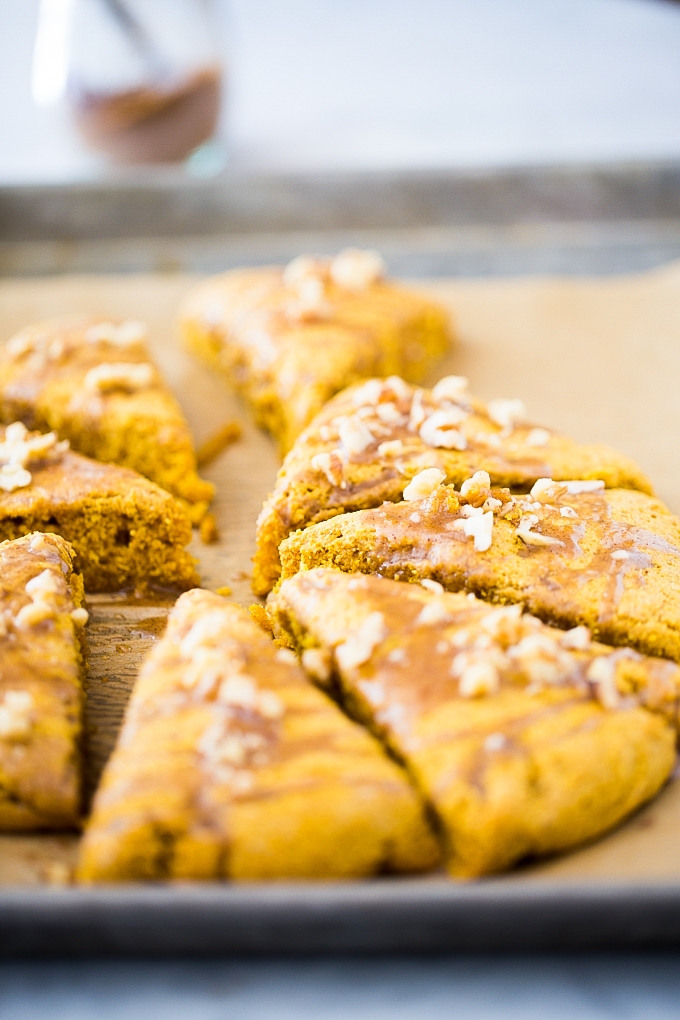 I am.
And I'm so happy that fall is here. Fall weather is the best time to eat things with delicious species and warm flavors. Like cinnamon, clove, etc. Whenever I think about this type of food I imagine that I am in a cabin, covered with a blanket, a coffee or and reading an incredible book.
And I open my eyes and no, it turns out that I'm at home and it's still not cold (because I live in Texas and it's HOT… ). But anyway, I'm always very happy to eat warm and delicious pumpkin scones with spices and maple glace.
I know that we are going to start seeing everywhere these fall flavors (pumkin latte, pumkin pie creamer, cereal, etc.) … and it is ok, they are the best … don't you love them? Well, I love all times of the year. I enjoy the weather and all kinds of food there is and the dishes we can prepare with seasonal vegetables and fruits. But there is something about fall that fascinates me.
Spices like cinnamon, clove, all-spice … I love them … they always give the feeling of calm and good moments, don't you think? Well, I love making these pumpkin scones because I take them everywhere during the chilly weather season. I love them with a good cup of coffee at children's soccer games (yes, I'm that mom who comes to the game with a thermos and everything).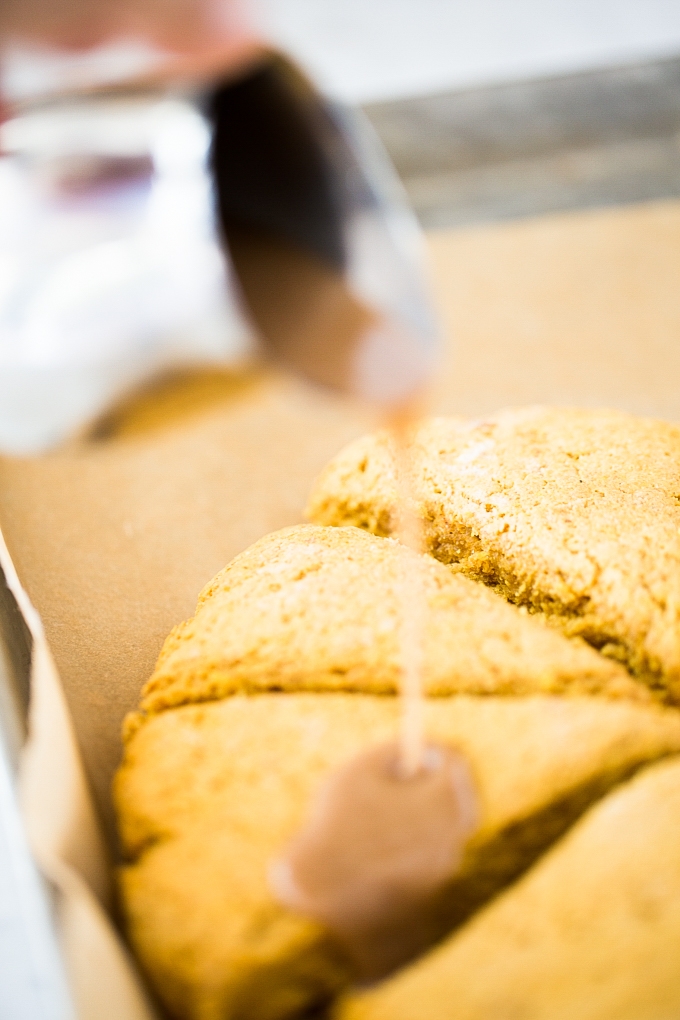 Tips, tricks & other recipes:
I have always loved scones. They are my perfect pastry. They are soft, flavorful and sweet but super sweet. I love them so much that I have tons of vegan scones recipes, like these with blueberries, these with strawberries and coming soon a chocolate chip scone recipe.
Vegan scones are super easy to prepare, the only trick is not to over mix the dough. Other than that you just mix the ingredients, form the scones and bake them.
I use this pumpkin puree from Amazon but any other will work.
In the note section of the recipe card, you can find a homemade recipe for pumpkin pie spice mix.
I like to form a disk with the vegan scone dough and then cut them in 8 pieces. But if you prefer, you can bake them in separate triangles.
The maple syrup glaze is the best, if you love maple syrup you should also try these vegan banana doughnuts with maple glaze…yum.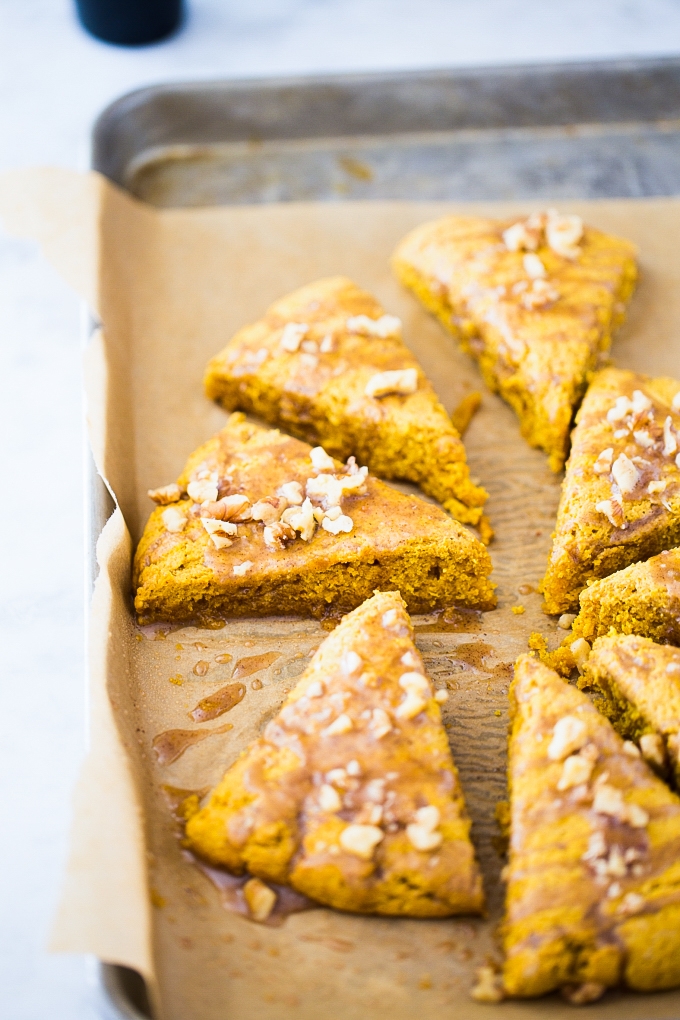 So here is the recipe for these
vegan pumpkin scones with maple glaze
and I hope you like them as much as I do. Please share on Instagram, Fb o save it for later on Pinterest.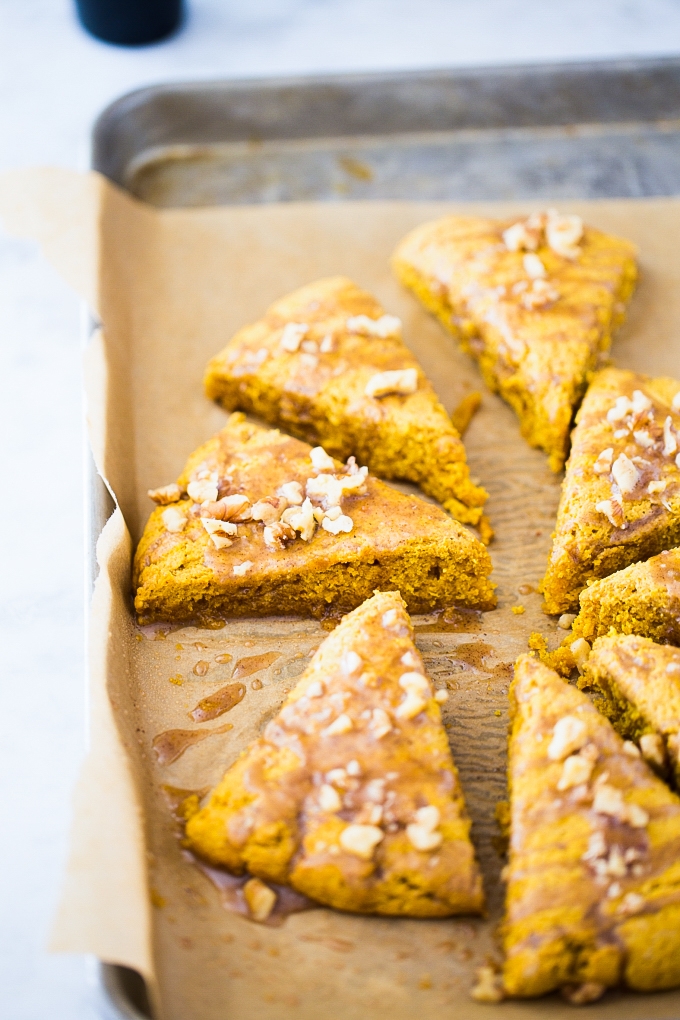 Vegan Pumpkin Scones with Maple Glaze
These vegan pumpkin scones with Maple glaze are perfect for every morning witha. good cup of coffee.
Ingredients
2

cups

flour

1

tablespoon

baking powder

1

tablespoon

pumpkin pie species

1/2

teaspoon

salt

1/3

coconut oil

3/4

cup

pumpkin puree

1/4

cup

vegetable milk

1/2

cup

maple honey
Maple Glaze
2/3

cup

confectioners sugar

1

tablespoon

coconut oil

2

tablespoons

maple honey

1/2

teaspoon

of pumpkin pie spices

1/4

cup

chopped walnut
Instructions
Turn the oven to 350ºF.

In a large bowl, mix the flour, baking powder, spices, and salt.

Add the coconut oil, pumpkin puree, milk, and maple syrup. Mix well.

Prepare a baking sheet with baking paper or a silicone mat. Put the mix on it and form a disk.

With a chef's spatula or a large knife, divide the dough disc into eight pieces.

Bake for 18-20 minutes or until you insert a toothpick and it comes out clean.

Meanwhile, prepare the glaze in a bowl mix the confectioners' sugar, coconut oil, maple honey, and spices. If the mixture is very stiff, add water little by little, not more than one teaspoon at a time.

Remove the scones from the oven and let them cool for about 5 minutes. Pour the icing on top of the scones and sprinkle with the chopped walnuts.
Notes
Homemade pumpkin pie spice mix:
21/2 tablespoons of cinnamon powder
2 teaspoons of ginger powder
1 teaspoon of nutmeg powder
1 teaspoon of allspice powder
1 teaspoon of clove powder
Mix everything in a jar. Cover the jar and store.
Nutrition
Calories:
277
kcal
Carbohydrates:
55
g
Protein:
4
g
Fat:
5
g
Saturated Fat:
2
g
Cholesterol:
1
mg
Sodium:
155
mg
Potassium:
320
mg
Fiber:
2
g
Sugar:
26
g
Vitamin A:
3587
IU
Vitamin C:
1
mg
Calcium:
120
mg
Iron:
2
mg
information
Nutritional information of this recipe is only an estimate, the accuracy for any recipe on this site is not guaranteed.