This zucchini carpaccio is healthy, easy to prepare, great for summer, and a crowd-pleaser. If you have never tried raw zucchini, this is the perfect recipe for you to try it out.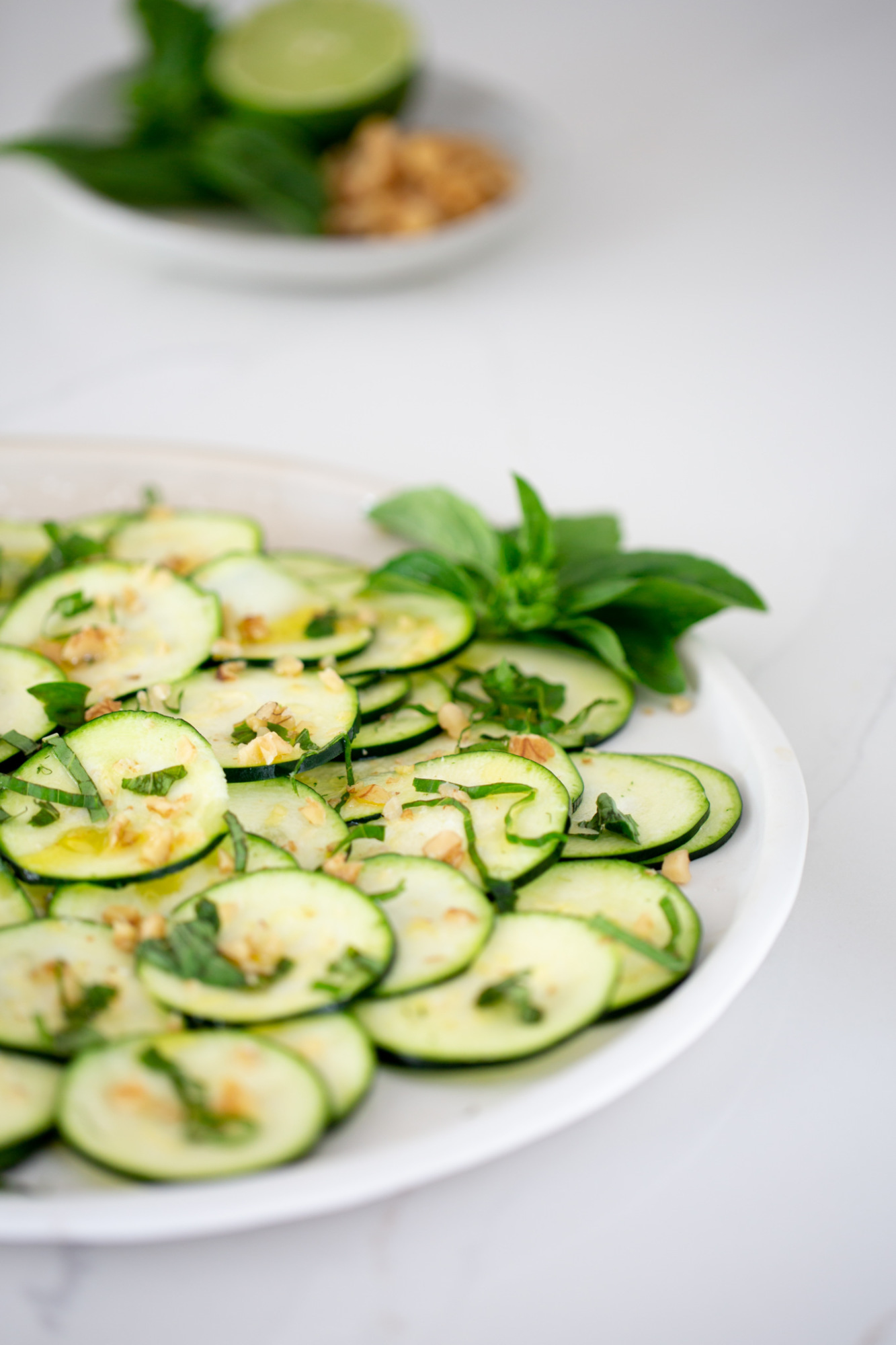 What is zucchini carpaccio?
Zucchini carpaccio is a dish of thinly sliced raw zucchinis dressed with olive oil, lemon or lime juice and salt. Topped with fresh basil and chopped walnuts.
How to prepare the zucchini for the carpaccio?
The best way to slice the zucchini is with a mandoline. You could also use a very sharp knife or a vegetable peeler. If you use a vegetable peeler, the slices will be lengthwise.
The main idea is to slice them thinly and plate them in a single layer. This way the raw zuchinni can "absorb" the flavors of the olive oil and lemon juice.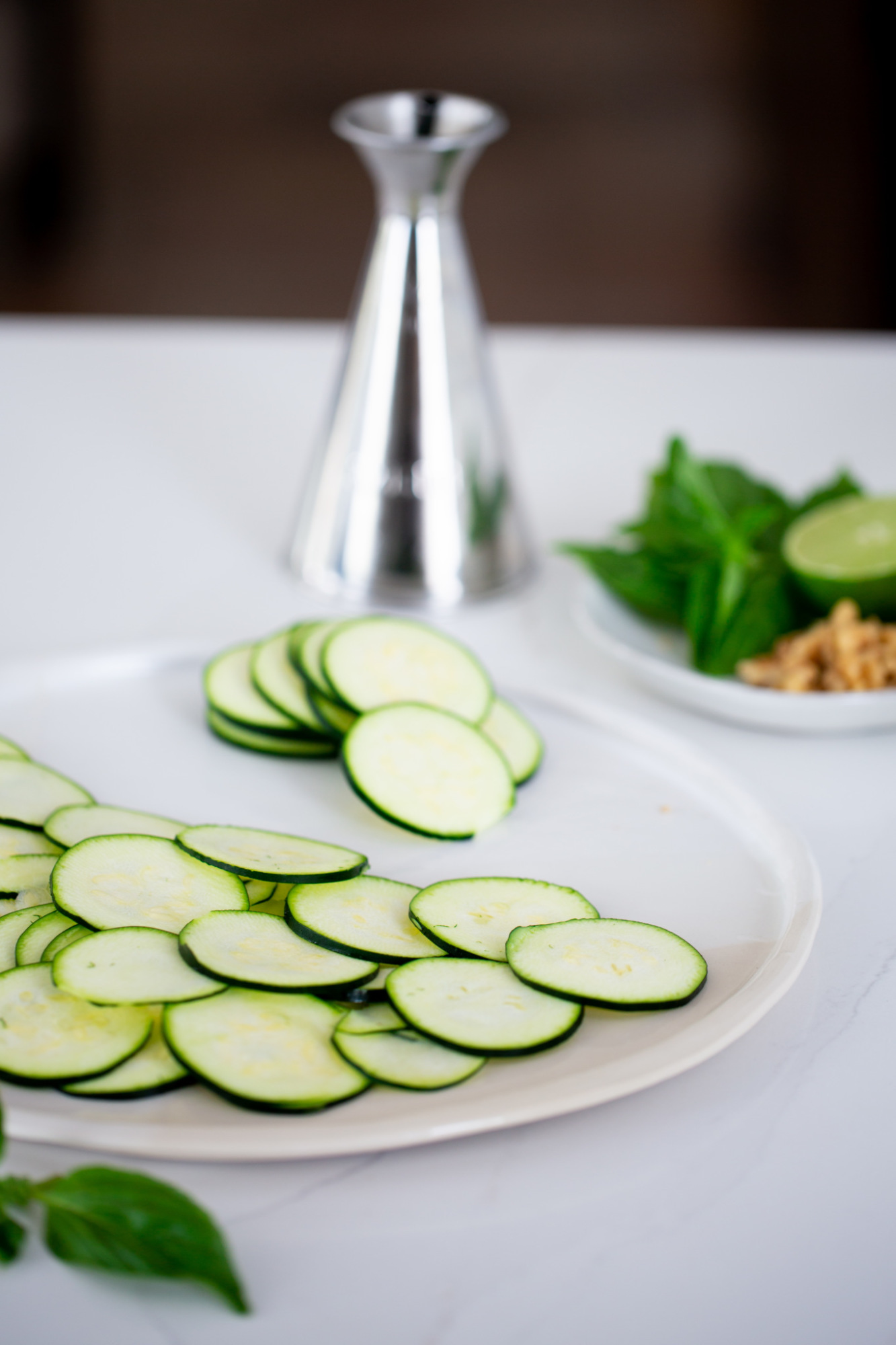 I got the inspiration for this zucchini carpaccio recipe when a friend of mine arrived with a huge basket full of produce from her garden. The zucchinis were so beautiful that I just had to eat them raw. I could not bear the idea of cooking them.
What is the flavor of raw zucchini? First of all, yes, you can eat raw zucchini, yellow and/or green zucchinis. They have a mild flavor so it is best not to use strong flavor dressings as you could overpower them, use mild dressings to just enhance them.
Here are some tips and tricks to prepare this zucchini carpaccio:
Don't follow this recipe EXACTLY.Use this recipe as a guide, you don't have to follow the exact measurements or do any other of fancy preparing methods.
On the slicing part. Just slice the zucchini very, very thin. You could use a mandolin (affiliate link) or a food processor (affiliate link) to achieve a more consistent size and thickness of the vegetable.
This zucchini carpaccio goes well with:
✨✨  Switch it up 

•by adding jalapeño slices

•by using pistachios instead of walnuts

•by grating some vegan parmesan cheese on top
So here is the recipe for this zucchini carpaccio, and I hope you like it as much as we do. If you prepare it, please share it on Instagram, FB, or save it for later on Pinterest. I love seeing all your creations!
It would also be fantastic and super helpful if you leave a comment and/or rating of this recipe in the comment section. Please feel free to write suggestions, ideas, or how it went when you made the recipe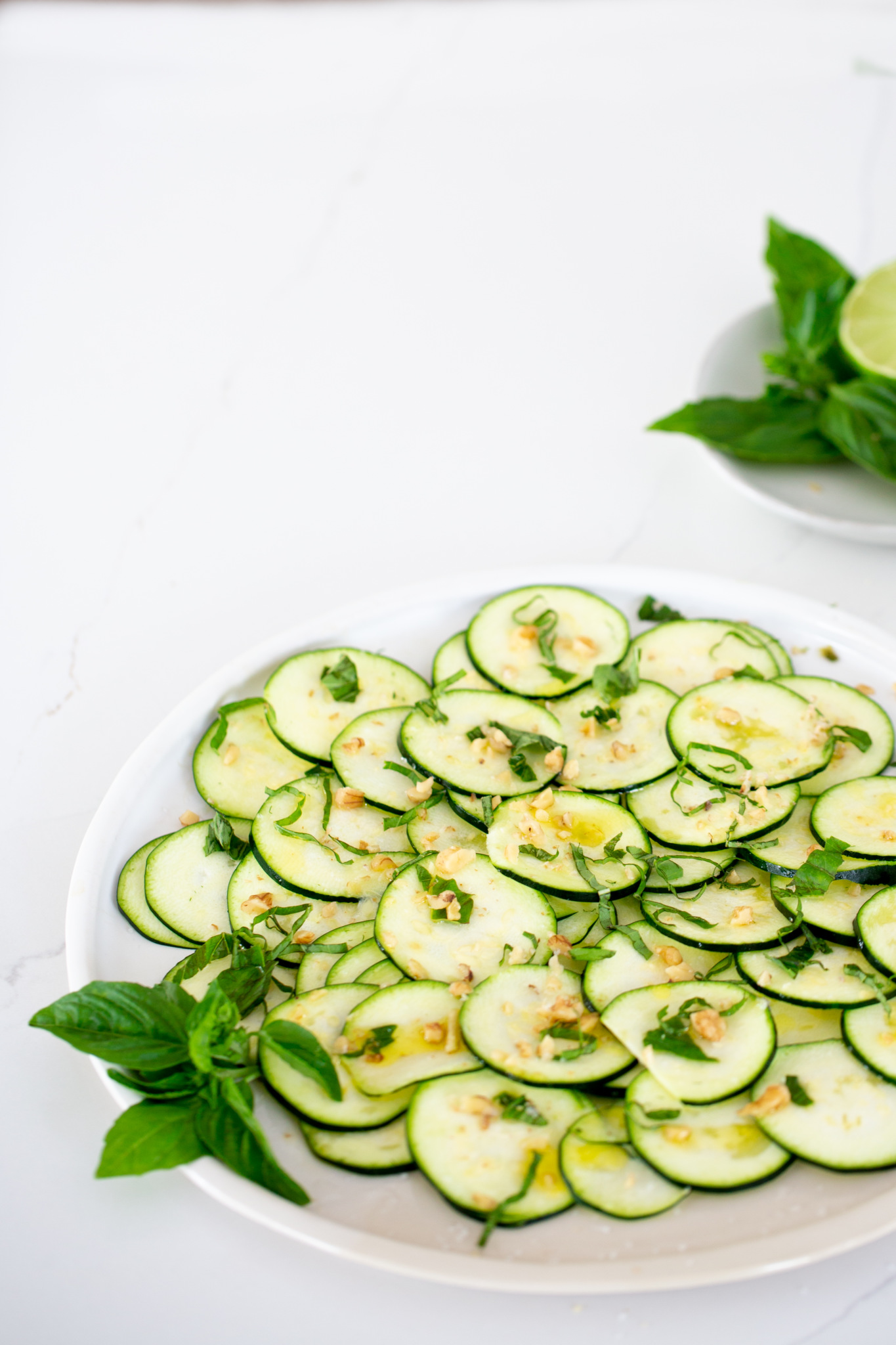 Zucchini carpaccio
This zucchini carpaccio is very easy to prepare. Enjoy as a super healthy and easy side dish or serve it as an appetizer.
Ingredients
1

zucchini

1

Lemon, the juice

2-3

tablespoons

Olive oil

pinch

sea salt

1/4

cup

walnuts, pecans or pinenuts

10

leaves

basil, julienned
Instructions
Slice zucchini with a mandolin or food processor. If you don't have any of these things use the sharpest knife you have and slice it the thinnest you can.

2 Set the slices on a platter in a single layer. Drizzle with lemon juice, olive oil. Finish with salt, pepper, basil and nuts.

3 I usually use one part lemon juice for 2 or 3 of olive oil.
Nutrition
Calories:
33
kcal
Carbohydrates:
6
g
Protein:
2
g
Fat:
1
g
Sodium:
16
mg
Fiber:
2
g
Sugar:
5
g
information
Nutritional information of this recipe is only an estimate, the accuracy for any recipe on this site is not guaranteed.
Nutritional information of this recipe is only an estimate, the accuracy for any recipe on this site is not guaranteed.