I love having guests at home. I love everything about having people over, I kind of feel it is like a grown-up sleep over. We have family all over the world, for real, from totally different cities and countries. So, we have grown-up sleep overs pretty often.
Some of our visits, mostly all of them, always bring presents. And it is so fun to receive them, I always tell them that they should have not bothered, that just having them over is a true treat. But deep in my heart, well not so deep, I love their presents.
I got the inspiration for this zucchini carpaccio because of one of my guests present. She brought tons of gifts and good things. When she arrived it was like having a Santa Claus visit in the middle of spring. She arrived full of fresh organic produce from her garden. Tons of kale, collard greens, basil and the freshest and most amazing zucchinis I have ever seen. They were so perfect that I had to eat them raw, I just could not bear the idea of cooking them.
So, I remembered my mom talking about some beet and zucchini carpaccio she had in a very fancy restaurant. That gave me a starting point, and thinking in their mild flavor, I knew I needed some flavors that did not overpower the zucchinis, just enhance them. And, what a better combo, made in heaven, than lemon, olive oil and salt. The perfect balance of flavors for a dish.
Use this recipe as a guide, it has no exact measurements of fancy preparing methods. Just slice the zucchini the thinner you can get them. You could use a mandolin or a food processor to achieve a more consistent size. Drizzle it with lemon juice and olive oil, sprinkle some sea salt and pepper. Top it off with some chopped basil and toasted pine nuts. Really, it can not get easier than that to enjoy a super healthy and easy side dish or you could even serve it as an appetizer.
Zucchini carpaccio! Yei!! The best.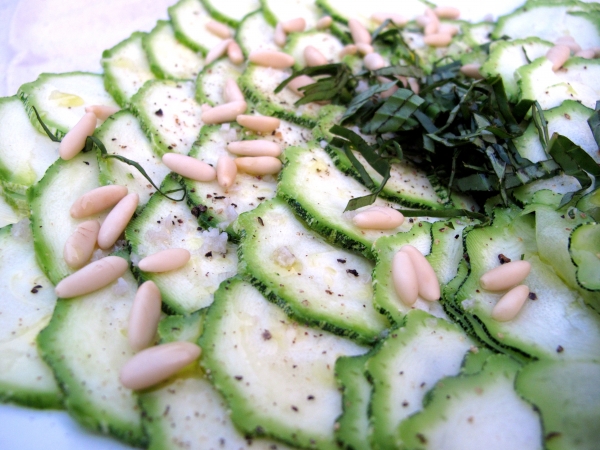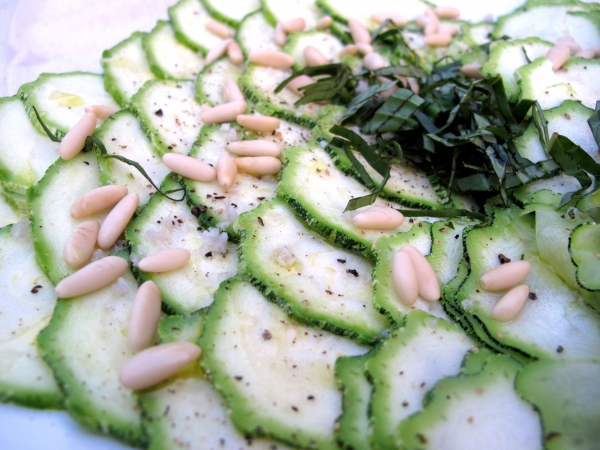 Zucchini carpaccio
Ingredients
1

Squash and zucchini

Lemon juice

Olive oil

sea salt

Toasted or raw pine nuts

Chopped basil
Instructions
Slice zucchini with a mandolin or food processor. If you have any of these things use the sharpest knife you have and slice it the thinest you can.

2 Set the slices it on a platter in a single layer. Drizzle with lemon juice, olive oil. Add salt, pepper, basil and pine nuts.

3 I usually use one part lemon juice for 2 or 3 of olive oil.
Nutrition
Calories:
33
kcal
|
Carbohydrates:
6
g
|
Protein:
2
g
|
Fat:
1
g
|
Sodium:
16
mg
|
Fiber:
2
g
|
Sugar:
5
g